Everyone needs their personal space where they can feel relaxed & express themselves truly. Man caves are that sacred place for every guy. But it's not only about the serenity of the atmosphere but the need to enjoy yourself in your space.
With that thought in mind, we have prepared 17 innovative ideas that might make your man cave extravagant for yourself. Not only would you enjoy them, make sure you modify the ideas to make them your own. Let's dive right into the details. 
Nanoleaf Aurora Rhythm Panels
The Nanoleaf Aurora Rhythm Panels are a set of nine triangle-shaped LED panels that come with power modules, solid connectors & 2 power adaptors for the whole setup. You can easily see your setup by placing tracing paper that comes with it before putting the panels.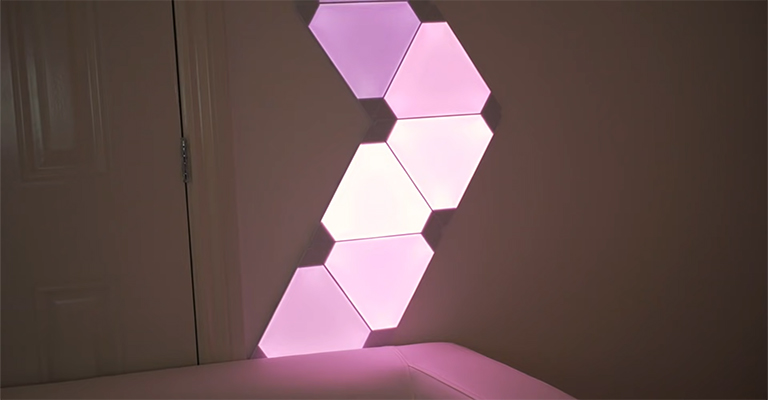 source- https://www.youtube.com/watch?v=en1QLmFNT7w
After finishing the setup, you can control the panels via the mobile app. The App allows you to set it at basic. You may put it in Rhythm mode too where they change according to music. The app allows you to modify the panels any way you want. The panels are extremely saturated & advised to put a 50% brightness.
Nanoleaf Canvas Smart Lights
These panels from Nanoleaf are 9 square-shaped LED panels in a unit. They are a bit smaller than Aurora ones.  Every panel has 4 connector links, so they can easily be connected with one another. You can control it by the buttons on the rhythm module.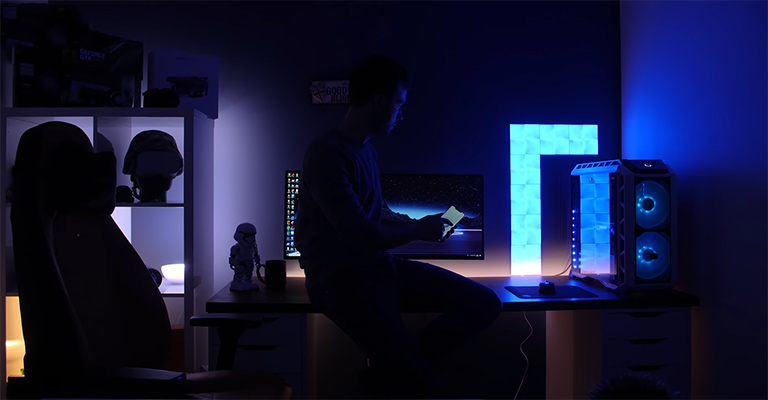 source- https://www.youtube.com/watch?v=vnOxsjcXb9s
You can shuffle the lights according to music, shuffle through different colors or even stand by one color. All these can also be performed through the Nanoleaf App. But these 9 panels may not be enough for you to do a stylish design & they are a bit lowkey too. 
RGB Strips on Ceiling
If you are unto LED strips across your man cave then here are 32 feet of RGB strips. They have adhesive on the back to easily be attached to the wall. Setting it up with the power adapter is easy, but it has many connections. The colors are very much bright but adjustable.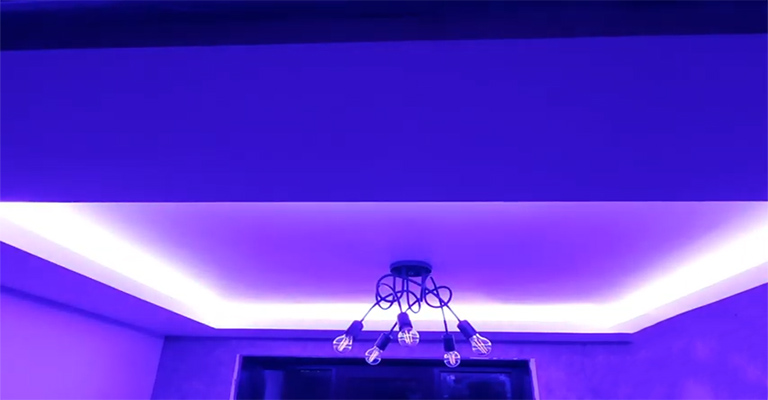 source- https://www.youtube.com/watch?v=lUydN6QE2cg
There is a remote to control strips. You can have solid colors or a mixture of different colors all through your room. There is also a DIY option as you like. Connections are messy as there is a lot to connect & not so classy in your room.
Creative BlasterX Katana Gaming Soundbar
For all those gamers out there, Creative Labs has come up with an innovative solution to both your gaming audio needs & an RGB lighting solution. They designed it as an actual katana sword which is almost 2 feet long. The build is perfect to place under your monitor space.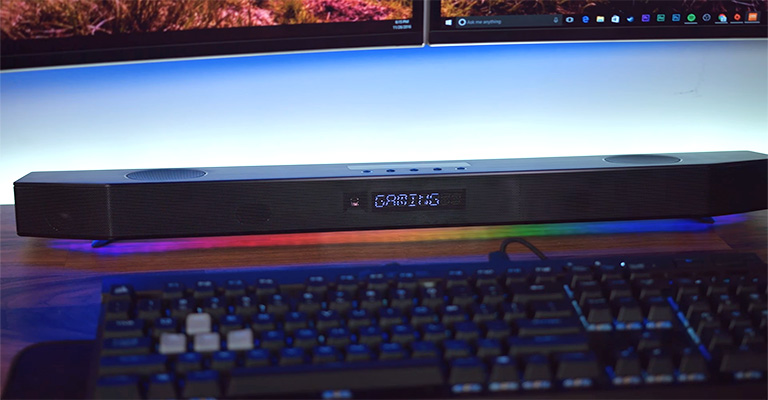 source- https://www.youtube.com/watch?v=asE8ekKT9eQ
It has a built-in RGB light stream at the bottom. There are a lot of options for the light strip in the library & a remote to control them according to your setup. For the sound quality, you can't complain at all as it delivers zero distortion. This is more like a computer setup than a man cave lighting system. 
Philips Hue
For the starter kit of Philips Hue, you will get 3 light bulbs & a Hue bridge to control the bulbs via your phone. The setup is extremely easy & the app would immediately recognize the bulbs after you've stuck the bulbs. If you want more physical control then there is a dimmer switch.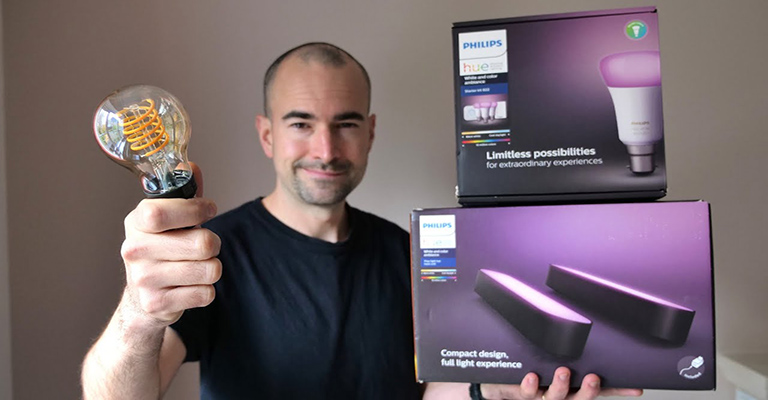 source- https://www.youtube.com/watch?v=8ujEXgdcbu4
You can even assign each bulb to a specific room to control them individually. You can set a variety of colors according to your moods or you can set a specific theme. Other than the light bulbs there are light bars if you want to get more creative with your design. But the Philips Hue would only show colors rather cool design.
TV Backlight
Setting a mood to the big screen in your living room is a trendy outlook. That's why we have LED strips to easily attach at the back of your TV. These strips are 118 inches long which is more than to cover your whole perimeter. They have a strong adhesive at the back to stick tightly to the surface.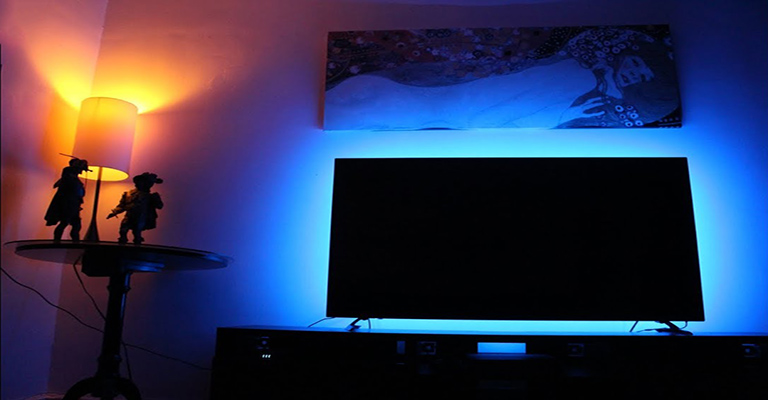 source- https://www.youtube.com/watch?v=y93aqzHEn9Y
If you want the strips to be mounted flush against the TV then you can connect them via L-shaped 90-degree connectors. The operation is fairly easy, just follow the instructions. You control the lights using the remote control from solid colors or to set your own rhythm. 
RGB Strip on Desk
When you can backlight your TV or ceiling, why not your desk. You have 5 meters of RGB strips to showcase your desk. The adhesive on them will stick nicely to your desk. But you need to make sure you have L-shaped connectors to easily bend the corners.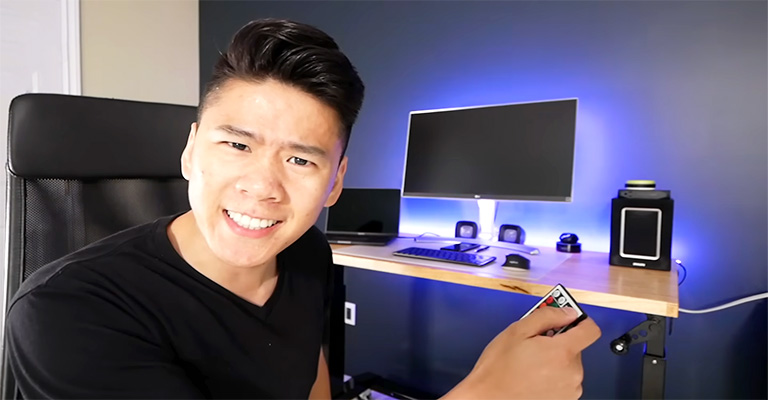 source- https://www.youtube.com/watch?v=Oh3oGAVYMFc
Setting up the whole strips along your desk is easy but make sure you are cutting in the right area. The remote control allows you to easily control the colors according to your room. But unless you have your gaming setup to showcase, then they really are not a 24×7 lighting system.
DIY Neon Light
If you are looking for a more personal lighting arrangement, then these can make you feel whole. You have 2 meters long battery-operated Neon nights of different colors. You can use these against a canvas to make anything you want of your choice. You can even make your name in a cool font.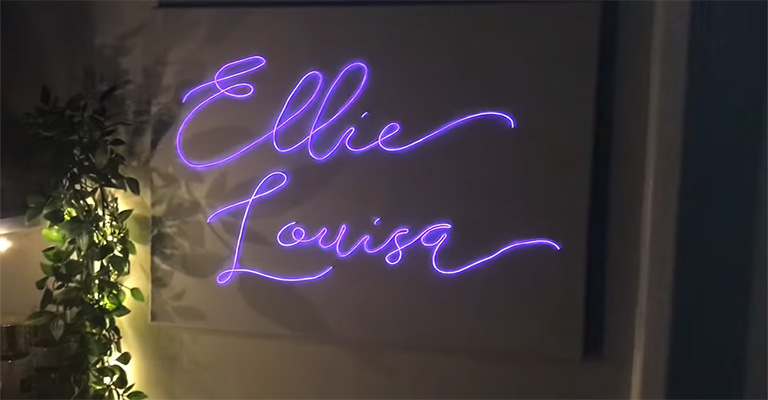 source- https://www.youtube.com/watch?v=xB8v_REk76o
You just need a canvas that goes according to your wall & then traces what you are interested in. After that hot glue the lights on according to your design. They look great in the dark giving an 80's disco vibe to your whole atmosphere. 
LED Infinity Illusion Monitor
Illusion lighting setups are a new trend for a modern-day design for your man cave. It looks as though there are infinite LED strips inside the mirror. In order to do so, you need a one-way mirror at the back, a two-way mirror in the front & LED strips in between. First, you need a frame made out of aluminum to put the LED strip's across the frame.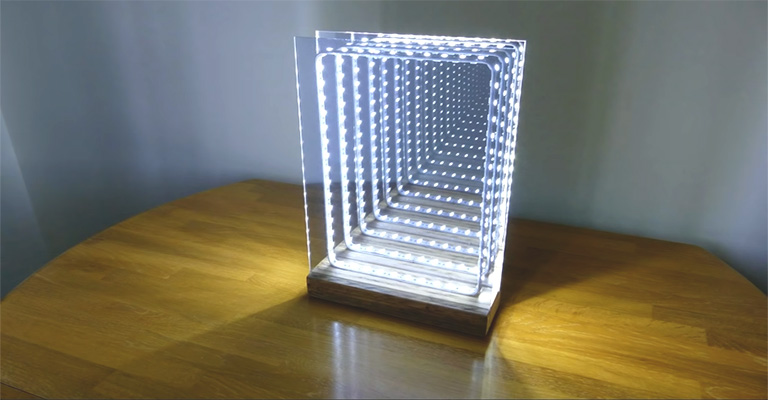 source- https://www.youtube.com/watch?v=sAPGw0SD1DE
Then you need a sturdy base to put up the mirror & the frame. Before positioning the frame test the LEDs if they work perfectly. The connection should be done through the base where it shouldn't be visible. After placing the mirrors you have a modern infinite mirror that gives a  futuristic look to your room. 
Acrylic LED Decoration
Acrylic decors look great in any place but people tend to avoid the DIY part due to the hard work. Here we have a DIY acrylic LED decoration with just some tools & less work. Print out your design then tape it underneath the acrylic sheet in order to engrave. Though you are not a professional, doing it with amateur hands gives a great look.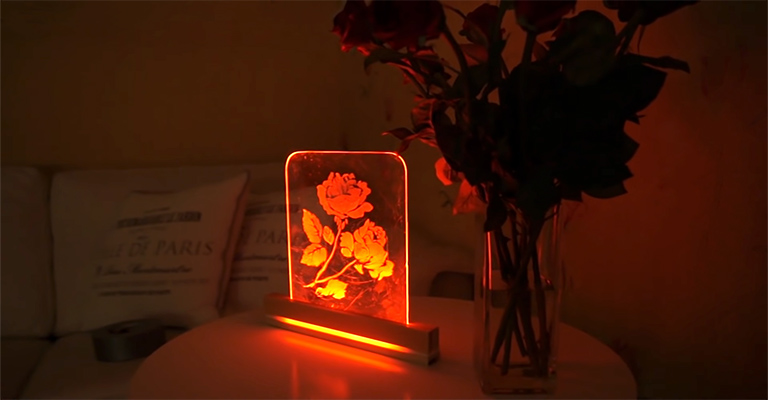 source- https://www.youtube.com/watch?v=oaEI7R5tATs
The base for the sheet should be made of a well-shaped piece of wood. Place the LED strips with a hot glue gun on a foam. The connections should be hidden. After giving the connection your Acrylic LED would look stunning with different light modes. 
3D Illusion LED lamps
3D illusion lamps look great on a desk or on a shelf giving a sci-fi look. The unit comes with an acrylic piece that's etched with patterns all around for the design. You need to put it inside the base which is powered by USB slots. There are 8 color-changing LEDs inside the base.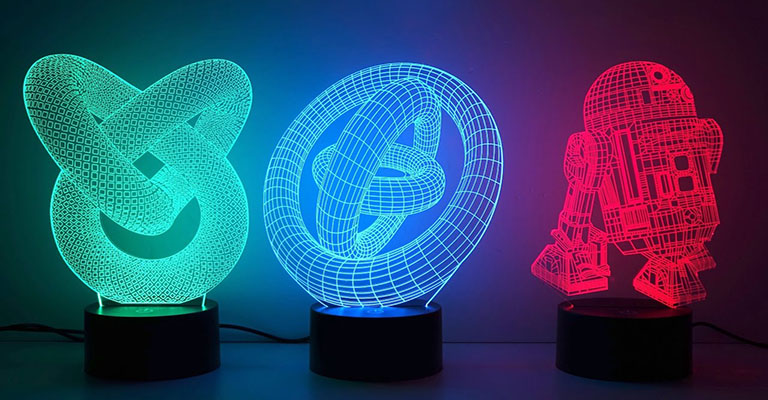 source- https://www.youtube.com/watch?v=CgLrkWbLCF4
Every time you switch it on, you will find a different color for the design. In the dark, you will find a great 3D effect due to the etching design on the acrylic. You need to see all the designs carefully as not all give a great 3D effect. The ones with a lot of lines have a better effect but with this price, it certainly is a great lamp. 
LIFX Beam
Apart from all the light bulbs & LED tiles in the market, her LIFX has a completely automated Light Beam. There are 6 light beams all that can be connected together. The beams can be attached to the wall with velcro-based adhesives.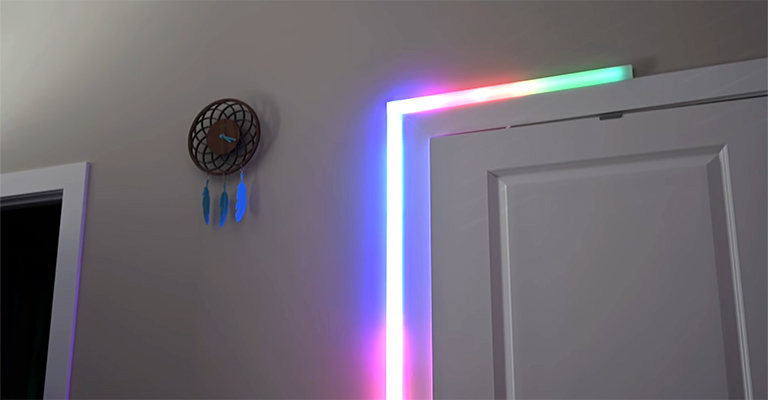 source- https://www.youtube.com/watch?v=bJo5pgVdfII&t=147s
You can control the lights via the LIFX app. You can mount the beam behind a desk or dresser that transmits a majestic flow of effects. You can adjust the beams according to your music through the app. But you only have options to create either a straight line or put a curve in the middle. 
Fiber Optic Star Ceiling
Who doesn't want the sky in their living room or bedroom ceiling? At first, you need to prepare the structure that would go up to the ceiling of the room. After you have prepared the structure, you need a black felt that goes as a black background. To make a part of the sky, you need almost 800 fiber optics.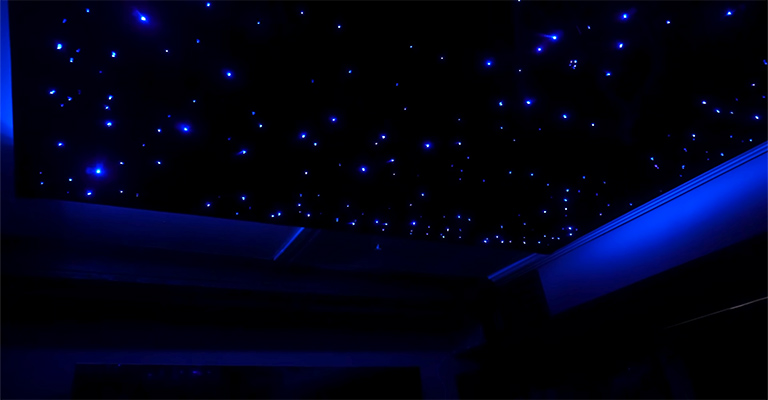 source- https://www.youtube.com/watch?v=MKi-zWyyF5I
After placing all the fiber optics in place, all of them go into one module that controls them. As you are placing a drop-down ceiling, you need to place it carefully in place. Though it is a costly project, it certainly gives the room a stunning look for everyone. Following the instruction will do the trick. These are stunning lighting for sloped celling.
Illusion Hypercube 
If you think the illusion mirror is cool, then wait until you see an illusion hypercube. Here you need to make the structure of the cube in order to place the two-way mirrors in place. You can do using well-cut glass too.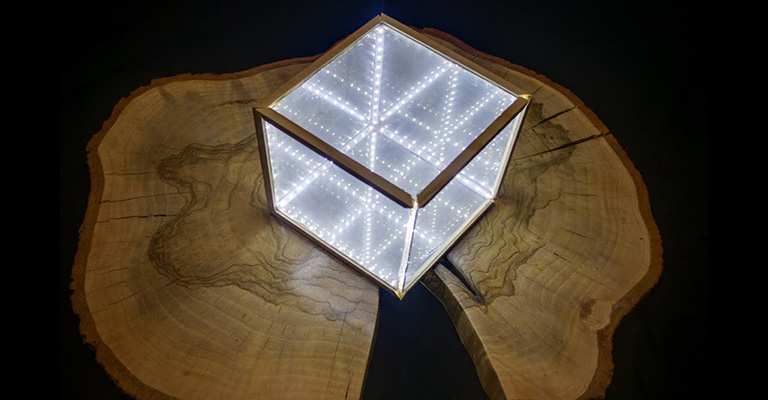 source- https://www.youtube.com/watch?v=Kb1iVo2D-2A
After you have completed the mirror structure, the LED strips need to be placed in every cover of the lines of the cube by hot glue. The connections of the LED strips need to well adjust to being hidden from the main cube. After that, if you light the LEDs, the cube will give you a stunning illusion from every side. 
LED Wood Block Lamp
In order to build a lamp with wood blocks, you have to cut the wood in the same appropriate sizes for a lamp. Make sure to put space on some blocks for the lampshades. All the blocks need Holes in the middle to travel through. After that glue down the woodblocks until it's dry.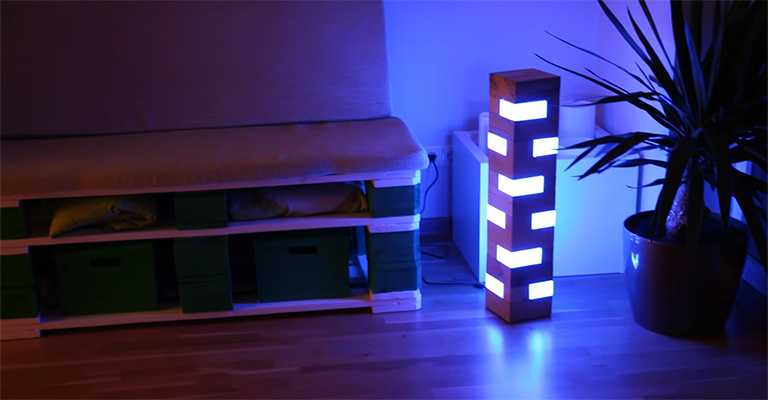 source- https://www.youtube.com/watch?v=2SuhlItm_-w
The LED control unit goes underneath the whole blocks so it should have some space there. Then the LED strips are connected through the holes all the way to the top. After that glue down the open shades with semi carbonate Whitehall turbinate. Now use the remote to control this beautiful lamp. 
LED Bed Frame
Making your whole bed lit would certainly change the whole atmosphere of your man cave. But you need almost 50 feet of LED strips in order to cover the backside as well as the underneath diameter of the bed. You're gonna need L-shaped connectors in order to bend those corners easily. But make sure you follow the instructions in doing so.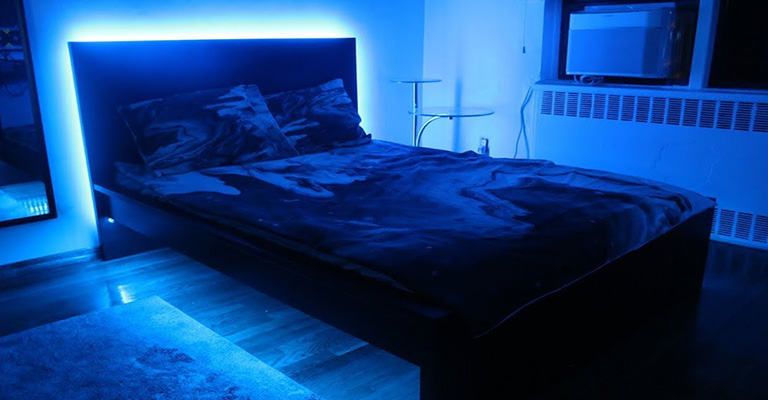 source- https://www.youtube.com/watch?v=APnYBkdoP6I
The LED strips go well against the bed because of their adhesive side. The connections of the LEDs should be on one side where you can drag the power easily. It takes time & hard work as you need to move your bed, but it's all worth it in the end. 
Digital RGB Clock
In our last section, we are covering a DIY digital RGB clock. In order to get started, we have to first print out the initials of the clock numbers where there's, digit eight as it has all lines. Then you need to cut the board according to the print. After you have done so, you need to make boxes for every line.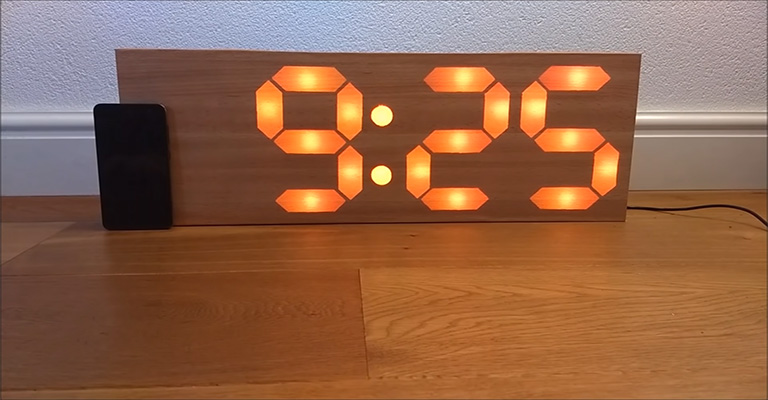 source- https://www.youtube.com/watch?v=1aNHF5tcTpw
Then place the LED strips accordingly to each box. The clock programming needs to be done as it is operated through Arduino nano. Luckily you have the programming done for you, you just need to be careful with the connections. After that, close the wood board & enjoy the RGB lighting of your man cave.  
Conclusion
We have worked hard to gather all these amazing ideas & put them all together for you. There are a lot of options ranging from price & personal preferences. So, give it a hard thought on how you can take these ideas to light your mancave atmosphere. 
Meta
Your man cave is a reflection of who you truly are. Express that true self through some of the best lightings for man cave ideas from a variety of choices.