Did you know a fantastic photo taken under the right light helps sell your crafts online faster than hot cookies in a bake sale?
Yep!
But before posting your creative work in the internet, first, you need to make sure the photos turn out as good as it can possibly get!
And that's where the best lighting for craft room comes into play by doing justice to your DIY projects and making them a star in every photo you take!
A craft light also allows you to concentrate on work at night in a comfortable environment. While the rest of the world is sleeping, it stays awake to give you company and helps get in touch with your inner artist by illuminating the way!
Want one of these little helpers at your home that keeps on giving daylight even when the sun sets down?
Keep reading and find out which light suits your style the most!
Best Lighting For Craft Room Review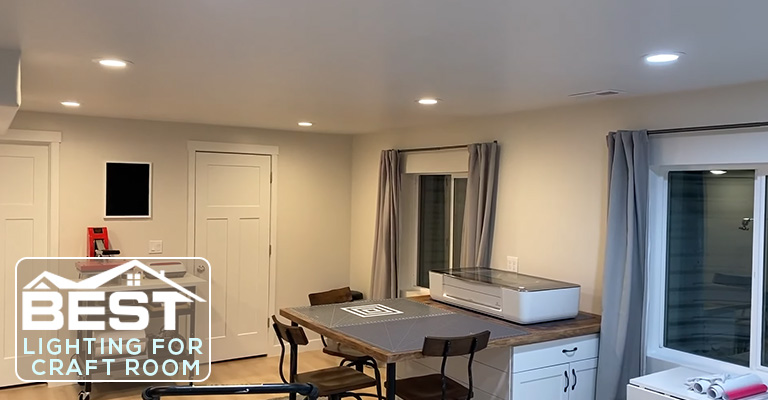 1. Brightech Litespan LED Bright Reading and Craft Floor Lamp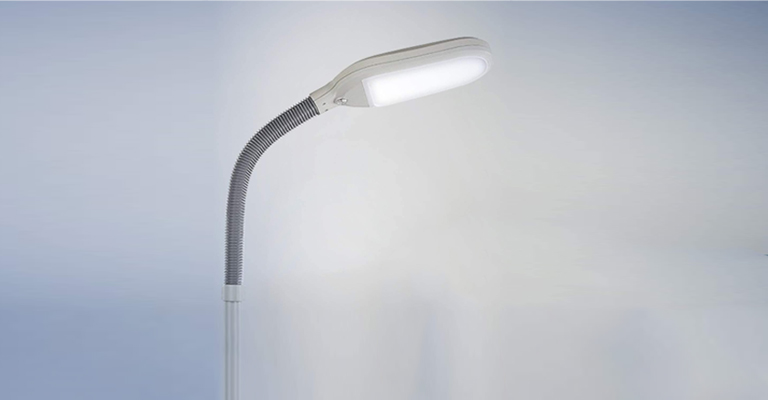 Buy on Amazon
Natural light is hands down the best thing for your craft room.
However, most creative people get inspired in the middle of the night when the sun is no longer available!
For times like this, Brightech manufacturer has come up with Litespan LED Bright Reading and Craft Floor Lamp that drives away the darkness of night with its 2000 lumens of brightness!
Although the lamp emits around 6000K of cool white light, it doesn't put any strain on your eyes as the luminance is almost similar to natural daylight.
Need to stay up for a long period of time?
Litespan will stay awake with you all night long without getting hot and bothered! As it doesn't generate heat while operating and requires a 12-watt power-saving LED bulb to illuminate your room, this lamp outlasts all of its other competitors including CFL, incandescent, halogen etc.
Highlighted Features
With 2000 lumens of brightness, it helps you see small details clearly.
The 12-watt LED bulb is energy-efficient.
It doesn't produce much heat while operating.
The bulb has a long lifespan of 20 years.
You can choose from its 5 different color variations.
2. Miroco LED Floor Lamp with 4 Brightness Levels & 4 Colors Temperatures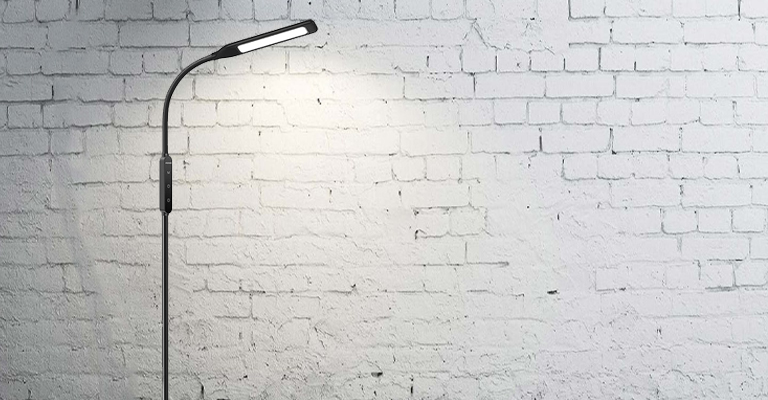 Buy on Amazon
Whether you choose to sew, draw or read a book, the best overhead lighting for craft room will help you get the right amount of light needed for that activity.
However, when it comes to working with different types of projects, you are going to discover that each one requires a slightly different level of brightness than the others!
That's why, Miroco LED Floor Lamp has included 4 brightness levels (25%, 50%, 75% and 100%) in this product so that you can pick up your favorite one according to your needs.
Wait, there's more!
This standing lamp also offers 4 different types of color temperatures (Cool white, natural white, warm white and candle) for you to choose from. So, you get to enjoy a total number of 16 different combinations once you buy this product!
Unlike the traditional bulbs available on the market, Miroco LED consumes less energy and saves up to 80% in your electricity bill. With over 20,000 working hours, it lasts for a long time with little to no maintenance.
Highlighted Features
With 450 lumens, it's suitable for brightening up any small craft room.
It allows you to choose your favorite settings from its 16 combinations.
With adjustable neck design, you can adjust its head easily.
It saves 80% of your electricity bill.
3. TaoTronics Aluminum Alloy Dimmable LED Desk Lamp with USB Charging Port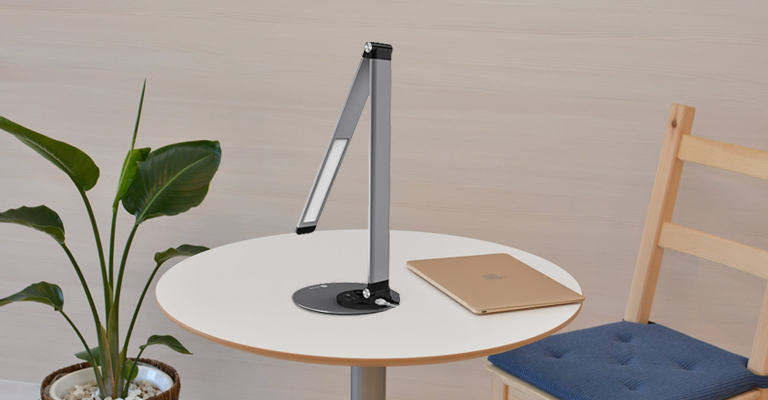 Buy on Amazon
Want to add a funky touch to your craft room?
Perhaps the best way to do that is to get your hands on a lamp that's designed to give your space a cool, futuristic vibe to it!
TaoTronics Aluminum Alloy Dimmable LED Desk Lamp looks like something out of this era with its ultra-slim arms and a minimalistic appearance. The brushed metal construction of this product never fails to add a touch of glamour to your interior as well!
Even the best craftsman gets tired and sleepy while working on its project and we assume you do too!
To help you adjust the lighting according to your need, TaoTronics has included color temperatures and 6 different brightness levels. Ergo, you can just dim the light and catch up on some z's if you want to!
Highlighted Features
It comes with a USB port that charges your smartphones while you work.
The minimal design of the device gives your interior a cool look.
It offers you to choose from its 18 adjustable options.
Once you set your preference, it automatically remembers it the next time.
The lamp has been designed to protect your eyes.
4. Kenley Natural Daylight Floor Lamp – Tall Reading Task Craft Light
Buy on Amazon
Thinking about what to gift your crafty friend this birthday?
A brand-new lamp like Kenley Natural Daylight Floor Lamp might be the answer you are looking for!
With a color temperature of 6400 Kelvins, this lamp emits light that resembles noon sunshine in your room. Whether your friend is a designer or a woodworker, the lamp will benefit him/her a lot as it makes it easy to see every object's true color under its light!
Consuming only 27-watt of electricity, Kenley Floor Lamp helps keep your utility bill under control. The energy-saving bulb that comes with the lamp lasts for a good 8000 hours before you even have to think about a replacement.
Tired of sitting in the same direction?
Ah! We all know the feeling.
Luckily, this lamp features an adjustable swivel neck that allows you to point it to any direction you want!
Highlighted Features
The daylight color temperature of this lamp helps boost energy.
It has a swivel neck that can rotate in any direction you want.
The bulb can last up to 8000 hours while using only 27-watt of power.
It allows the user to see clearly without blinding their eyes. 
5. Daylight UN1072 Naturalight Hobby Floor Lamp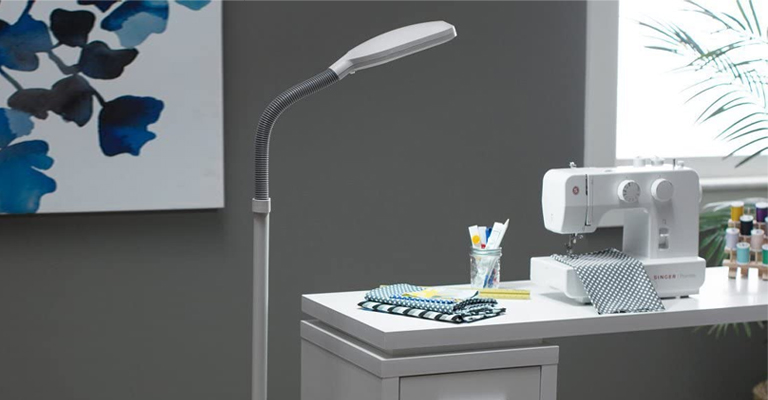 Buy on Amazon
Feeling tired even after 9 hours of peaceful sleep at night?
You, my friend, aren't tired.
Just low on energy!
Meet UN1072 Naturalight Hobby Floor Lamp manufactured by Daylight, which is designed to uplift your mood by producing a warm sunlight effect even on the harsh mornings in the winter!
If you are fond of doing needlework, then this lamp is a must-have item for you as it helps distinguish different thread colors pretty easily. This is also the best lighting for basement craft room as it has the perfect amount of brightness to illuminate even the darkest room quite easily!
Our planet is getting destroyed day by day with unnecessary packaging that doesn't even decompose naturally.
Keeping that in mind, Daylight has made its packaging box out of paper and cardboard, which are 100% recyclable and environment-friendly. The 27-watt bulb also uses less energy to operate and as a result, doesn't put a load on your monthly utility bill as well.
Highlighted Features
It helps boost your mood and concentrate on your project.
The 27-watt tube conserves 80% of energy.
The packaging is made in an eco-friendly way.
It allows you to see an object's true color.
The bulb is bright enough to illuminate your room in the basement.
6. Daylight Company LLC UN1530 Daylight Duo LED Art & Craft Floor Lamp-White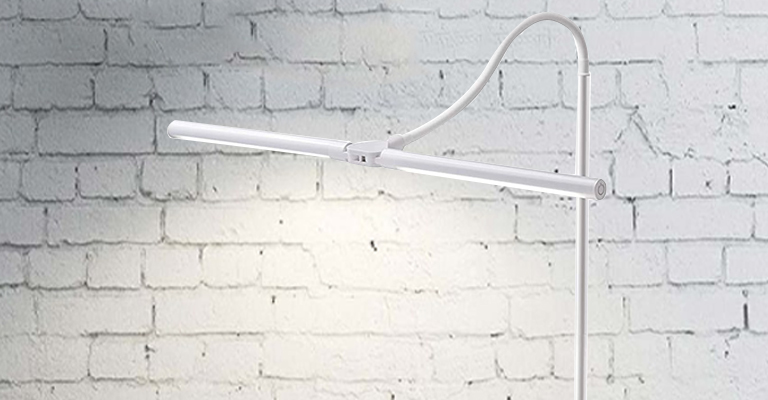 Buy on Amazon
To master the art of crafting, you need to give undivided attention to your projects at hand.
And that means you don't have time for adjusting the lamp's position constantly!
Instead, you need something like Daylight Company LLC UN1530 Daylight Duo LED Art & Craft Floor Lamp that has flexible arms to direct the light anywhere you want without moving an inch!
Don't want the lamp illuminating your entire room?
As the UN1530 model features 2 shades with independent switching systems, you can easily place them in a way so that they only focus on your table instead of the whole room!
To switch it on, you just have to touch on the end of each bulb and voila! They light up individually! Equipped with 56 high-quality LEDs, the lamp offers 700 lumens of brightness and consumes only 10 watts of energy in the process.
Highlighted features
The lamp switches on and off by touch.
It offers its users 4 different brightness levels to choose from.
The flexible arm of the lamp can easily be adjusted according to your needs.
It doesn't generate much heat even after using it for a long time.
7. FaithSail 4FT LED Light Fixture 50W 5600lm Flush Mount Linear Lights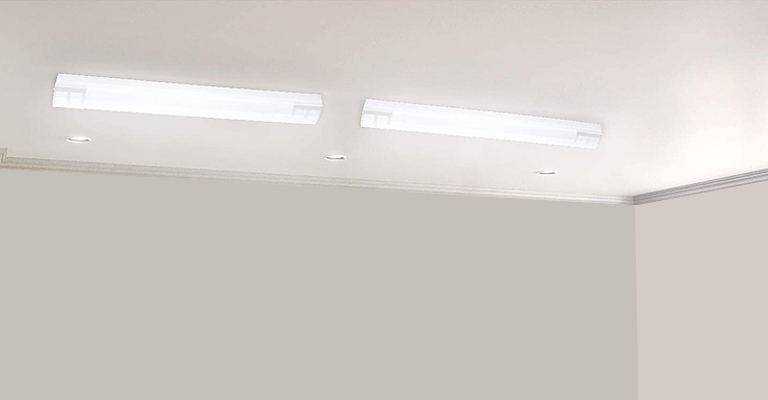 Buy on Amazon
Have you been suffering from frequent headaches or sore neck muscles?
A poorly-lit environment might be the problem that's causing you all these!
Tasks that need your full concentration of eyes, like sewing, for instance, requires you to observe fine details of the threads. And that's why you need a bright source of light like the FaithSail 4FT LED Light Fixture that illuminates the workspace without causing you to squint your eyes!
With 5600 lumens od output, this LED lighting for craft room works as good as a 240-watt fluorescent tube, saving at least 70% of the total energy consumption. Compatible with most 1- to 10-volt dimmers, the tube gives you the opportunity to adjust brightness according to your needs.
Does the traditional bulb make your eyes uncomfortable?
With a frosted cover on top, FaithSail LED emits a soft glow that doesn't hurt your eyes as well as distributes light uniformly all over your room!
Highlighted Features
It's compatible with most 1 to 10-volt dimmers.
The 5600 lumens LED brightens up an entire room.
It's ETL certified and quite safe to use.
With durable frosted cover, it doesn't put any strain on your eyes.
Frequently Asked Questions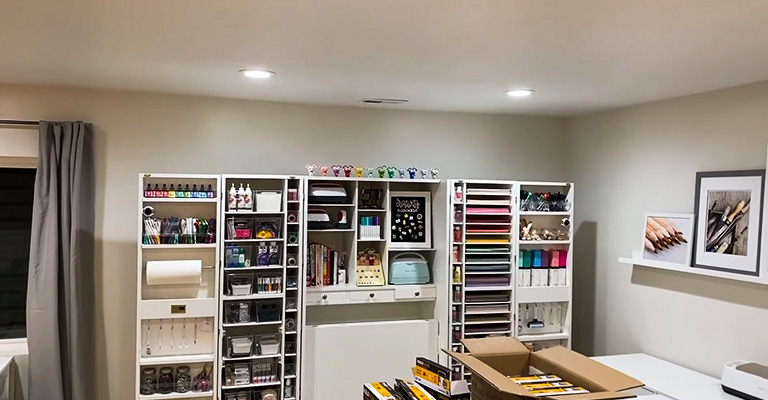 Q: What Color Temperature Is Ideal For Crafting?
Answer: It depends on what type of activity you are doing.
Usually, a color temperature that resembles daylight works best for crafting purposes. So, you will most likely want your lamp's color temperature to be higher than 5000 kelvins.
Q: How Do I Choose The Right Size Lamp For My Room?
Answer: Do you want to illuminate your whole room?
Then, you need a LED tube that distributes light evenly. If you want the brightness to be focused on your table, then a stand-lamp will suffice.
Q: Why The Brightness And Color Options Are Needed?
Answer: People who do arts and crafts stuff require 3X or 4X light we need in doing general things in our life.
Depending on what type of work you are doing, you might need to alter the brightness level or adjust the color temperature sometimes. That's why it's advised to go for devices that offer those options.
Q: Is There Any Special Maintenance Required For These Lamps?
Answer: Not at all!
Just keep the lamps clean and make sure you don't drop water on top of it. Also, it's probably best to store these lamps in a cool environment and away from direct sunlight.
Q: Is Battery-Operated Lamps Are Better Than The Electric Ones?
Answer:  It depends on your preference really.
However, take note of the fact that the electric lamps don't require a lot of power to operate. On the other hand, a battery-operated device requires you to change its battery frequently to operate smoothly.
Conclusion
Let's be honest, when your DIY project turns out to be better than expected, you can't help showing them off!
Well, one way of sharing that with the rest of the world is to take a snap of your projects, post them on Pinterest and let everyone else get inspired by your creative ideas!
And that's what the best lighting for craft room helps you with!
It helps you concentrate on your fantastic projects, take great snaps and make memories that you will always remember!
Hopefully, our article has inspired you to make the right choice regarding this matter.
Until next time, stay blessed and encouraged as always!