Some install it on the ceiling. Others fancy it on the wall.
And for some people, it works better when it spreads light from the ground under them!
Yes, ladies and gentlemen, today, we are going to talk about recessed lighting aka Canister aka Pot lights (As a Canadian would say!).
Recessed lights can be decoded into two words: Simple and elegant.
Perhaps you want to prepare your outdoor for the entertaining season?
Or just want relaxed lighting to wind down when the kids finally go to sleep?
On either occasion, the best recessed lighting can complement your home style as well as take your property value to the next level!
Along with their timeless appeal, these can lamp come in a variety of styles and different sizes for you to enjoy. Some lights even feature dimming capabilities so you can adjust the lighting to a setting that works aptly for your home.
Want to try one of these on your stairway and elsewhere?
Let's give you some options to explore!
Best Recessed Lighting Reviews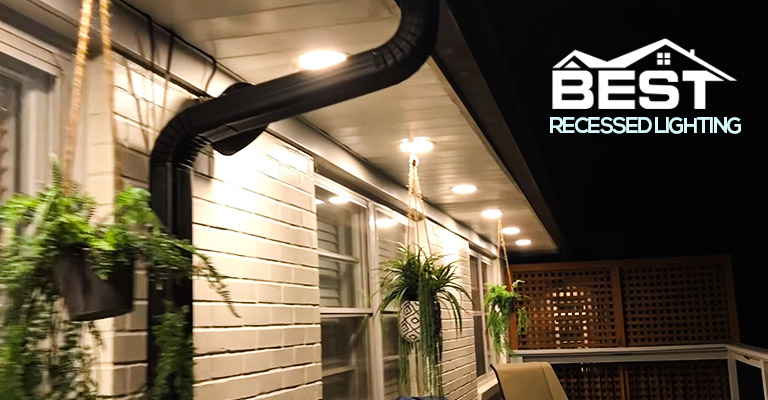 1. Parmida 5/6" Dimmable LED Disk Light Flush Mount Recessed Retrofit Ceiling Lights, 15W, Energy Star, Installs into Junction Box Or Recessed Can
Want a sleek, minimalist appearance inside your house?
You will need modern recessed lighting that makes your room effortlessly beautiful!
It's not easy finding a lamp that gets your décor style and compliments your house personality at the same time, is it?
Well, it is easy when you have a fixture that can change its brightness according to your mood!
Keeping your needs in mind, Parmida LED Technologies has built a retrofit recessed light that gives you a smooth 100-10% dimming experience.
Meaning, you get to amp up the brightness while you do laundry and dim the lights later to create a home-theatre effect while watching movies!
With only 0.2 inches of thickness, this particular model is ultra-thin and gives your room a simple, yet refreshing with its 1050 lumens of brightness. To keep the looks updated, it even offers several different color temperature options, so that you can choose the one that suits your style and personality!
Highlighted Features
The DOB LED Technology makes the lamp long-lasting.
It comes with a 120-Degree beam angle for your convenience.
It provides 100-10% of dimming facilities.
With an advanced aluminum heat sink, it regulates the device's temperature.
It can be installed in a 5/6-inch can or 2.75/3.5/4-inch junction box.
2. Sunco Lighting 6 Pack of 4″ inch Remodel LED Can Air Tight IC Housing LED Recessed Lighting- UL Listed and Title 24 Certified
Traditional fluorescent bulbs will soon be a thing from the past.
Why?
Come on, after all that flickering, overpaid electricity bill and frequent ballast-related issue, don't tell me you still love that fixture!
If you too have one of these old fellows at your home, let's give you an idea why the best retrofit LED recessed lighting is a much better fixture to install!
Meet Sunco Lighting 6 Pack of 4-inch Remodel LED, which comes with a promise not to overheat no matter how much load you put on it. Cool, isn't it?
Wait, there's more!
These cans are airtight and thermally protected so that it doesn't let the heat escape into your house roofs and cause a fire hazard by accident.
Did you know purchasing a Sunco product means you are actually taking part in their green initiative as well?
The manufacturer uses technologies that consume less power and chemicals. And it also donates money to organizations that help conserve our environment.
Highlighted Features
The cans are airtight and thermally protected.
The product meets "Title 24" energy efficiency standards.
LED bulbs use less harmful chemicals for environmental benefits.
You can install the device right into the fixture without the junction box.
Best Recessed Lighting For Kitchen
3. TORCHSTAR 12-Pack Essential Series 12W 6 Inch Low Profile Ultra-Thin Recessed Ceiling Light with Junction Box, Daylight, Dimmable Can-Killer ETL and Energy Star
Some tasks, such as cooking and food preparation require special attention. Whether you are cooking for two or twenty people, you will always have areas in your kitchen that need to be highlighted for safety.
And that's where this fine recessed lighting for kitchen comes in for the rescue!
As kitchen is a place where you need practical lighting the most, a low-profile lamp like the TORCHSTAR Essential Series 12-Pack 12W 6 Inch Recessed Lighting fits in perfectly.
Interestingly, this LED lamp doesn't require more than 2 inches of clearance to install! Ergo, you can attach it with high as well as low ceilings according to your need.
It's never fun to keep working under a light that glares into your eyes, is it?
The slim lamp is covered with an anti-glare and scratch-resistant frosted LED lens that protects your eyes from harmful radiation. While this lamp consumes only 12 watts of power, it actually as good as a 100-watt incandescent one! Not a bad bargain, huh?
With 850 lumens of brightness, it's pretty easy to work around your kitchen and see things clearly. However, you can also dim the lamp from 100 to 10% when you don't need the brightness at its full effect.
Highlighted Features
It has an anti-glare and scratch-resistant cover.
It requires only a 2-inch clearance to install.
The 12-watt bulb works as good as a 100-watt incandescent one.
It has 100 to 10% dimming capabilities.
Best Recessed Lighting For Basement
4. Lithonia Lighting WF6 LED 30K MW M6 13W Ultra Thin 6″ Dimmable LED Recessed Ceiling Light
Finding the perfect light fixture for your basement requires time, patience and some crazy analytic skills.
On one hand, the basement is a dark, scary place where you need a sufficient amount of light to see properly.
Then again, too much light can make this place look a bit artificial and take away the beauty from it as well!
So, you got to be careful and use the right recessed lighting for basement that makes your space look bigger without creating an odd corner!
Keeping this in mind, Lithonia Lighting has come up with an innovative fixture that provides 1020 lumens of brightness to illuminate your basement in an instant. And in case that feels too harsh for your eyes, then you always have the tone it down to 10% with the help of its dimming capabilities!
Thinking how long this little soldier will last?
Well, you are good to go for at least 36,000 hours, which roughly converts to more than 16 years (if you use it for 6 hours on a daily basis).
Not to mention, this bulb is also safe to use in a wet location and therefore, it's actually a good choice for your outdoor as well!
Highlighted Features
It provides your room with 1020 lumens of brightness.
It requires only a 2-inch clearance to get installed.
As it's safe to use in wet locations, it's good for outdoor too.
It has a rating of 80 CRI (Color Rendering Index).
It lasts about 16 years on average.
5. Bbounder Lighting 12 Pack 5/6 Inch LED Recessed Downlight, Baffle Trim, Dimmable, Damp Rated, Simple Retrofit Installation – UL + Energy Star No Flicker
Do you already have recessed lighting at your house that's got a bit of rusty spots and therefore, is starting to look a bit odd?
The Bbounder Lighting will fit in perfectly in that existing 5/6-inch housing and make it look fabulous in a blink!
The beauty of this particular retrofit model lies in its simple installation. It can attach itself right into any old settings without an issue. And guess what?
You will require NO new accessories as it doesn't have those springy thingies your old recessed can have! What's more, this lamp has corrosion and rust-resistant surface that looks as shiny as the very first day even after years of use.
If you are looking for the best LED recessed lighting, then this particular model might be all you need!
As it's compatible with most standard dimmers, you can adjust its brightness according to your need quite easily. The 5-100% dimming function helps protect your eyes as well as shed lights in places you need in the perfect amount.
Highlighted Features
It has a lifespan of more than 50,000 hours.
It's UL and Energy Star-certified.
The 5-100% dimming capability helps protect your eyes.
The fixture is built with anti-glare and stress-free technology.
It fits in easily into 5/6-inch housing can.
6. Ensenior 12 Pack 6 Inch Ultra-Thin LED Recessed Ceiling Light with Junction Box, Dimmable Can-Killer Downlight, 1050LM High Brightness – ETL and Energy Star Certified
Bathroom is often an overlooked part of the home.
Is it that much difficult to deck up this small space?
Not when you have the best recessed lighting for bathroom to help you out!
Apparently, a little lighting goes a long way! And with Ensenior 12 Pack 6 Inch Ultra-Thin LED Recessed Ceiling Light on your side, it will create a style that blends in perfectly with retrofit as well as new housing at the same time.
Before going any further, let's clear the air a bit.
The Ensenior Ceiling lamp is IC-rated. Meaning, it can come in contact with insulation on the ceiling without a problem as its junction box is thermally protected. Also, the 6-inch fixture is ultra-thin and requires only a 2-inch of ceiling space to get installed properly.
Moving onto the performance of this recessed can, one thing for sure, the 12-watt bulb is built to exceed anyone's expectation.
With only 12 watts of power consumption, this little thing produces around 1050 lumens of brightness, which is equivalent to a 110-watt halogen lamp!
Can you guess how much energy you end up saving once you replace your traditional setup with this recessed can?
Almost up to 88%!
If you don't care much for high brightness, then you can also switch to the dimming option, which has a range of 5-100%.
Highlighted Features
It's ETL and Energy-certified.
The LED lamp saves up to 88% energy consumption.
It produces 1050 lumens of brightness and has a dimming function available.
It needs only a 2-inch ceiling space to install.
7. Hykolity 12 Pack 6 Inch LED Recessed Lighting with Junction Box, Wet Rated, Daylight White, 900lm Dimmable Wafer Light, Canless Soffit Lighting for Shallow Ceiling, ETL
Even if you are one of those people who like to shower in the dark, still you are going to need proper lighting when it's time for shaving your legs!
And mind it, you can't just use any bulb inside your shower arena. It HAS to be wet-rated or things might become a bit dicey otherwise!
And that's why we think Hykolity 12 Pack 6 Inch LED Recessed Lighting is the best recessed lighting for shower in our list. As the bulb is wet-rated, you can install this particular model in your shower, bathroom, kitchen, outdoor and other places without a problem.
The thing that makes this fixture stands out from the rest is that it doesn't need much hassle to get installed.
For instance, you don't need any pre-existing housing for J-box for this model. The fixture comes with a spring clip that attaches itself with the ceiling and keeps itself secured in that place.
Do you live in an old apartment that has a shallow ceiling?
Hykolity has good news for you if you fall into this category! With an ultra-slim design, it requires only 2/5-inch of depth to get installed in those narrow ceilings of old apartments quite easily.
Highlighted Features
It doesn't require housing or J-box to get installed.
It's wet-rated and safe to use in the shower.
It has dimming facilities that come down to 5%.
It can fit into a shallow ceiling of 2/5-inch depth.
8. JJC 13W 6 Inch Ultra Thin LED Recessed Lighting with Junction Box,5000K Daylight White, CRI90+, IC Rated, Lumens 65W Eqv. Dimmable LED Downlight ETL and Energy Star Certified- Pack
A living room is used for a number of different purposes.
For instance, this is the place where you entertain your friends while chatting with them over a glass of drink. Then again, it's also the place to unwind yourself at the end of the day by curling up on the armchair and binge-watch a season of "F.R.I.E.N.D.S"!
Since this space is used for multi-purpose, we reckon it deserves the Best recessed lighting for living room to make it more comfortable for you!
The JJC 13W 6 Inch Ultra Thin LED Recessed Lighting with Junction Box is such a fixture that makes your living room come to life. With its 100-5% dimming capabilities, it creates the perfect atmosphere to go with your every mood.
Are you still frustrated about your last month's electricity bill that has risen up again?
Well, things like this happen when you invest in a cheaper bulb that consumes too much electricity!
JJC recessed bulb is energy certified and saves up to 80% of your total energy consumption. The 13-watt bulb provides 850 lumens of brightness which requires an incandescent lamp 65 watts to perform.
Highlighted Features
It requires a 6.2-inch hole and 2-inch ceiling space to install.
The IC-rated bulb can be installed surrounded by insulation.
It saves 80% of energy consumption.
It has a lifespan of over 50,000 hours.
The lens of the lamp is anti-glare and scratch-resistant.
9. Freelicht 10 Pack 5/6 Inch Slim LED Downlight with Junction Box, Dimmable, Daylight Recessed Lighting, Simple Retrofit Installation ETL
Don't have a can installed?
That's not a reason for not getting this gorgeous Freelicht 10 Pack 5/6 Inch Slim LED Downlight!
These 5/6-inch canless beauties come with junction box and only requires you to cut a 5 to 7-inch hole in the ceiling to get it installed. Its simple, all-in-one design makes it ideal for your bedroom, kitchen, living space and other residential/commercial areas.
Freelicht comes with a CRI rating of 90+ out of 100. This means it makes an object's color pop, gives the texture a lot more volume and helps you in tasks that need you to differentiate between colors a lot.
The installation process of this retrofit fixture is quite simple and secure. The junction box that comes with the product is thermally protected and can easily be installed in a ceiling that's surrounded by insulation.
Whether you are an environmentalist or not, one thing for sure, we all love the mother-nature of our beloved planet!
And so does Freelicht, apparently!
The LED bulb doesn't contain any mercury components that are harmful to the environment and conserves energy by requiring only 15-watt of power to operate.
Highlighted Features
It produces 1200 lumens of brightness with 5000K color temperature.
It comes with more than 90+ CRI rating.
The clamp is IC-rated and can be installed with insulation.
It has a beam angle of 100-Degree.
The lamp is dimmable and can be adjusted to suit your mood.
Recessed Lighting Buying Guide
Size
Although you will find a variety of sizes available on the market, there are typically 3 models that are pretty popular: 4,6 and 7-inch.
Among these three sizes, fixtures with 6-inch diameter are mostly common in all households. It's the perfect size for an average-height ceiling in your room.
The 4-inch lamp fixture is more suitable for a higher (e.g. 10-foot) ceiling. It helps spread the light more evenly and illuminate a wider area quite easily.
A 7-inch fixture, on the other hand, is ideal for ceilings that are around 8-foot. It creates a wall-washing effect by covering the area from top to bottom without creating any shadow.
IC Rating
While browsing through the products online, you will find that some are listed for IC-rated whereas some are not.
IC stands for Insulation Contact. It means that the fixture can come in direct contact with thermal insulation. Ergo, it reduces the chance of overheating.
A non-IC device, on the other hand, can't come in contact with insulation and you should maintain at least 3 inches away from any insulation while installing.
Housing
New Construction, Remodel and Retrofit.
These are the 3 types of housing a recessed lamp can offer!
A new construction lamp is meant for, well, NEW building/unfinished wall or ceiling, where it attaches itself directly to structural support.
A remodel fixture is attached to the ceiling with the help of a clip and installed through a pre-existing small hole.
A retrofit lamp is a bit different from these two. It's the most economical option out there. All you have to do is to switch the previous lamp and attach the retrofit to the housing with clips to install this device.
Extra Facilities
The more, the merrier!
It's better to purchase lamps that offer you some extra benefits.
The best smart recessed lighting products will make your life easier by turning lights on/off on your voice command. Bulbs with dimmers will help you adjust the brightness whenever you want. And multi-color LED recessed lighting will bring a festive look in your house!
Frequently Asked Questions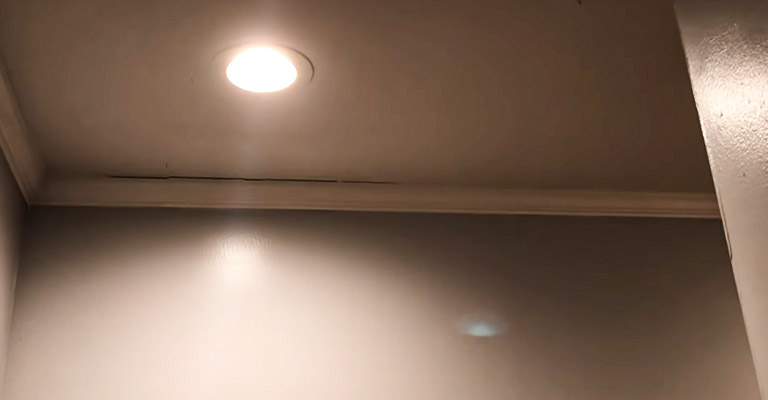 Q: What Is Air-Tight Lamp Fixture?
Ans: When it's said that a fixture is air-tight, it means that the lamp is built in a way to prevent air from flowing into the light. As it doesn't waste its energy on heating and cooling activities, this feature helps save your money and make the fixture long-lasting.
Q: What's Called "Trim" In Recessed Lighting?
Ans: It's the visible part of a recessed lamp. There are different trim styles you can choose from including decorative trim, lensed trim, reflector trim, baffle trim, adjustable trim etc.
Q: Where Should I Install Recessed Lighting?
Ans: Actually, it's the fun part!
Recessed lighting can be installed on the wall, in the ceiling and even on the ground beneath you (to illuminate a pathway!). However, most people tend to prefer installing them in the ceiling.
Q: Can I Use A Recessed Lamp In The Shower?
Ans: Of course, you can.
However, make sure to check if the bulb is rated for wet locations as water could come in close contact with the trim and damage the fixture otherwise.
Q: What Is The Ideal Brightness For My Room?
Ans: It depends.
For kitchens and bathrooms, we recommend using 700 to 1200 lumens per lamp as these areas need task lighting. For the hallway and living room, 400-800 lumens is enough. And for dining space, it's advised not to exceed 600 to 1000 lumen limit.
Conclusion
While installing can lights, always remember: Do NOT create a shadow in a corner of your room, even by mistake!
This will ruin the whole settings and make your ceiling look lower than it actually is!
Try arranging your surroundings in a way so that the best recessed lighting helps you draw your attention to a particular moment in the room.
It could be a family photograph. A stunning artwork. Or perhaps a piece of antique furniture you would like people to admire!
Hopefully, our article has helped you make the right selection that makes your room POP and keep the SPARKLE spreading to every corner of your home!