A material that absorbs sound is called a sound absorber. There are plenty of soundproofing materials available on the market today and, even though they're all pretty good, some stand out as being better than others.
The examples of sound absorbing materials can be anything from foam, to wool, to egg cartons, and even furniture such as sofas and chairs. What they all have in common is that they can reduce sound reverberation and absorption.
There are many sources of noise that can be found in our homes or studios. These can include music playing, people talking, cars driving by, and even the noise coming from our heating and cooling systems.
As a result, sound absorbing materials are needed to reduce the effects of this noise.
Types of Sound Absorbers
Sound absorbers use their acoustic features rather than their mass to combat echo in a space. There are three main types of sound absorbers:
Porous Absorbers
Porous absorbers are perhaps the most popular sound absorbers in the market. If you're looking for a budget-friendly option, porous materials will do the trick.
Porous materials work by exposing small pockets of air or other gas to pressure waves that leave with little or no energy. They also help prevent unwanted vibrations and echoes from forming when reflected waves collide with an opposite wave before they completely die away.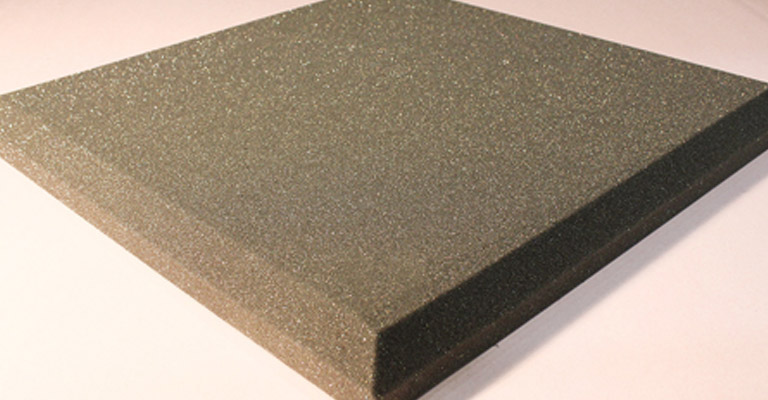 Membrane(Panel Boards) Absorbers:
Membrane absorbers are a great option if your goal is to reduce reflections from large surfaces such as glass windows and mirrors, while resonance absorbers provide a more unique sound absorption solution that can be used in different types of spaces.
This is an effective way to absorb sound waves because it's a thin membrane that flexes when sound waves hit them, so the vibrations are prevented from traveling through the material.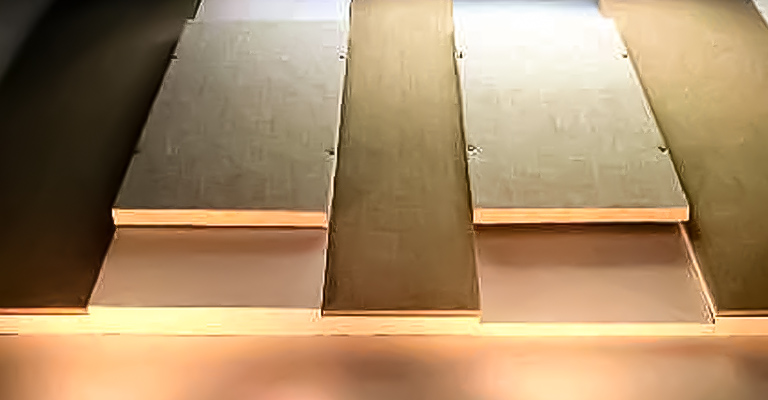 Resonance Absorbers
These work by making use of structures that create resonant frequencies in order to disperse waves effectively. An example of this is the Helmholtz Resonator which makes use of standing waves for this purpose.
What are The Best Sound Absorbing Material
Some of the most popular sound absorbers are foam rubber, wool, and wood.
Foam rubber has an acoustic impedance that matches the acoustic impedance of air. This makes it a good material for absorbing sound waves since they will pass through it easily.
Wool also has an acoustic impedance that matches air but its surface area is much greater than foam rubber's making it more effective at absorbing waves.
And wood has an acoustic impedance higher than air so sound waves cannot pass through it as quickly as they can with other materials like foam rubber or wool.
15 Sound Absorbing Materials to Use at Homes or Studios
Sound absorbers come in different shapes and sizes. They also have different purposes depending on the type of noise they need to absorb.
For example, wall panels are best for absorbing low-frequency noises while carpeting is useful for high-frequency noises like footsteps on hardwood floors.
If you're looking to soundproof your home, here's a list of what we think are the best materials for the job. This list of 15 examples of sound absorbing materials to use at homes or studios can help you find low cost, quality soundproofing options:
1. Soft Furnitures
If you're trying to solve noise problems in your home or office or at other places, why not try soft furnitures for solutions?
Sofa: A strategically placed sofa can really help. This doesn't have to be expensive; after all, you're only using stuff you already own.
Pillow: A soft pillow is the most common and effective way of sound blocking due to its soft and pliable nature which makes it easier to mold into any type of shape while still maintaining its form.
Cushions: Sound absorbent cushions are designed to reduce sound pollution.
They are composed of polyester fiber, foam, or cotton depending on the material they're made out of, and they're usually placed underneath chairs, in corners, or in other areas where sound is an issue.
They can also be used in many other ways around the home to help you stay calm and happy without the constant ringing in your ears.
Covers: The covers of your furnitures should be considered to absorb sound problem. Leather covers are much more reflective than fabric ones- so if you have a leather sofa, it may be best to choose something with fabricated ones.
However, it's important to point out that, not all furniture will provide the same level of acoustical absorption.
For example, large and plush sofas might be a good place to sit and chat with friends- but they won't do much for sound deadening. Foam-filled furnit
2. Wallpapers
Wallpaper is a great sound absorbing material that is put on the walls of a room. The purpose of this material is to reduce the noise coming from outside and inside of a room.
It doesn't only absorb sound but also reduces reverberation effect.
The main materials that are used for this purpose are: paper, fabric and vinyl. They come in different colors and patterns and some come with glitter particles too!
3. Sound Absorber Ceiling
Many people have a hard time sleeping due to the sound of traffic or other noises that they hear. This is because sound can travel through windows, doors, floors and ceilings. Sound that is absorbed by these surfaces will not disrupt your sleep because it cannot pass through them.
It is important for architects and designers to think about how they plan to use sound absorbing ceilings in their design process. This material can be used on walls, floors or ceilings in order to reduce reverberation and noise pollution.
Sound Absorber Ceilings are an essential component of any home or theater system. Not only are they the finishing touch on a room, but they are also what helps to make sure that all that sound doesn't bounce back into the room.
4. Sound Absorber Tiles
Sound Absorber Tiles are tiles that can absorb or deflect sound waves. The tiles are an effective solution for noise reduction and sound dampening.
The materials that these tiles are made of, usually give them a hard and thick feel which makes them capable of holding their shape when they are in use.
Sound-absorbing tiles can be used in a variety of areas. They are installed in a variety of ways and have a variety of textures.
5. Acoustic Curtains
Acoustic curtains are an excellent way to control the noise levels of a space. Acoustic curtains work by absorbing sound waves through their fabric and through their porous construction.
This process reduces the amount of noise transmitted into the space behind them which means that they can be positioned between two noisy rooms or near an external noise source to protect other areas.
6. Blankets
Blankets are well-known for their sound absorbing properties. Sound Absorbing Blankets are made of cotton, polyester or wool. They absorb sound in a different way than other materials do because they're bulkier and not as dense.
The type of fabric that your blanket is made of will determine what kind of sound it absorbs the best – whether it's high frequency sounds or low frequency sounds.
Blankets are also known for trapping heat in the winter time, which can make you feel like you're warmer than you actually are.
7. Room Devider
Sound absorbing room divider is a decorative and functional way to reduce noise pollution. And a room divider can serve a variety of purposes from sound absorption to privacy.
They can be used as an aesthetic addition that not only improves the look of the room, but also reduces environmental noise pollution.
They are found in many homes and public places such as airport terminals, banks, hospitals, and schools.
These dividers reduce noise pollution by absorbing sound waves and preventing them from bouncing off walls and coming back into the environment. This ultimately helps people to chat more comfortably in a loud environment.
8. Carpets
Carpets are not just for decoration. They can also help create a sound-absorbing environment in the house.
The carpet is not only a beautiful floor covering but also an effective sound barrier.
The carpet absorbs sounds and creates a noise-reducing barrier between rooms or spaces that could cause serious damage to your hearing if you live in this area continuously for long. The carpet absorbs the impact that comes from the movement of furniture, feet, etc.
Carpets reduce noise by preventing the echo of the sound.
9. Area Rugs
Area rugs are one of the most important materials that provide both aesthetic and functional value to your living space.
Area rugs are a great investment for buying sound insulation. They can absorb noise and create a peaceful environment for your home.
10. Egg Cartons
Egg cartons are an affordable and eco-friendly solution for sound absorption. These egg cartons can be used for different purposes, such as studio monitors and headphones.
There are 2 main components to an egg carton: the shell and the paper liner. The shell is made from a thin layer of shredded cardboard and the liner is made from paper and has a transparent front which allows you to see into it.
Egg cartons are made of paperboard and coated with a thin layer of plastic. They can be easily broken open and recycled.
11. Acoustic Door or Window Film
Acoustic window films are films that are designed to absorb sound waves. They work by reflecting the sound waves so they can't penetrate into the room where they are installed.
The films can cover windows or doors, and they come in various colors. This material is typically used for noise reduction, energy conservation, and acoustics.
An acoustic door or window film is usually placed on the inside of any type of glass or transparent material, but it can also be placed on the outside of a wall.
12. Sound Absorber Painting
Sound Absorber painting is a technique that utilizes the properties of a sound absorbing material to create a unique abstract work of art. The technique is based on the idea that when color and sound come in contact, they become one.
13. Acoustic Partitions or Room Deviders
Acoustic partitions or room dividers are sound absorbing materials that are used to break down the sound waves of a specific room.
They can be made both with different types of materials and with anti-vibration features. They can be found in office settings, factories, labs, hospitals and warehouses.
An acoustic partition is a sound-absorbing material which is used to break down the sound waves in a specific room for multiple purposes including noise reduction, improving the acoustics of a space, anti-vibration feature that prevents vibration noise from reaching sensitive areas or people.
14. Acoustic Foam Panels
Acoustic foam panels are a form of sound absorption material that is made from a type of foam. These panels make it possible for people to create an area where their workplace can be quiet and peaceful.
Acoustic Foam Panels are one such sound absorbing material that is versatile enough to be used in a variety of applications. They can be used as a sound-absorbing lining in the walls of a school, as an isolation barrier for any large space, or as a sound-deadening material for any room.
Depending on your needs, you can use acoustic foam panels in many different ways. They can also be used to create a more professional look for a music studio or recording booth.
15. Soft Wall Hangings
Soft wall hanging is a type of sound absorbing material that is installed on the walls of living rooms, concert halls, auditoriums, music studios, home theaters and more. These materials can absorb noise and provide quiet getaways for people who want to live in peace.
Soundproofing vs Sound Absorption
A soundproof room is a room that is designed to minimize the transmission of sound. Soundproofing can be achieved by using certain materials, such as concrete or walls with fiberglass.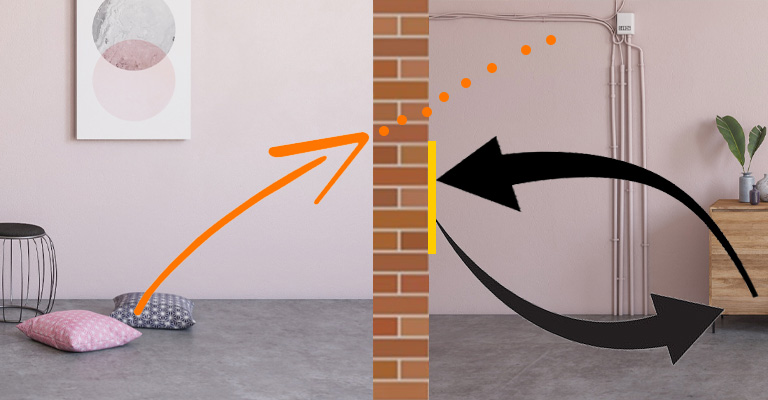 Sound absorption has been used in order to reduce the impact of noise on different surfaces and materials. This can be achieved by applying a sound absorbing material on different surfaces and materials, such as furniture and bookshelves.
Sound absorption is used in interior rooms, where it can help with noise reduction and acoustic comfort. There are also some deck paints to absorb sound, which you can try!
It acts like a sponge and absorbs sound in order to prevent noise from passing through walls, floors, ceilings, or other objects that will then pass on to the listeners lying down below them.
Conclusion
Sound absorbing materials are objects that reduce the intensity of sound waves by either absorbing them or reflecting them. Sound absorbing materials are used to reduce sound and reverberation in a space. This is often done by filling up the space and trapping it.
Sound absorbing materials can be classified as natural and artificial. Natural sound absorbents include materials such as wool carpets, curtains, clothes, and so on.
Artificial sound absorbents can be things such as acoustic tiles, acoustically transparent glass, and many others.
Making sure that we have a peace and quiet environment is very important for our well-being. The sound-absorbing material can help us achieve that.
This type of material is commonly used in rooms where people spend a lot of time like bedrooms, living rooms, and offices and also used in concert halls, auditoriums, music studios, home theaters and more.