There is no problem when you need to cover an electrical outlet in your home. In fact, it is a safety measure, and professionals instead of individuals should do it.
This article talks about the importance of covering an electrical outlet. It also includes some things you can do if you have a breaker box and cannot reach the outlet on the wall because it is too high or too far away.
It would be best if you covered electrical outlets. Wall outlet covers are a great way to stay safe from potential electric shocks. They protect small children and pets from potential electric shock by covering outlets and preventing live-wire contact.
They also keep your outlets clean! Placing plastic covers on wall outlets prevents debris from clogging the sockets. The plastic covers also make it easier for you to plug in your electronics and other appliances.
How To Cover an Outlet With Drywall?
You typically have an empty electrical box nailed to a wall stud when you relocate an outlet. Unless you are going to cover the box, removing the box won't be necessary. However, if all you want to do is cover it, it may be difficult to remove it. You can cover the box with the drywall as long as it does not contain any wires.
Wires must be joined inside the junction box if the box is still acting as a junction box. You can attach plastic or metal covers with machine screws.
Step 1
Before removing the outlet and disconnecting it, turn off the power to the circuit. Screw drivers are required to remove the machine screws at the top and bottom of the outlet. Next, take the outlet off the wall.
Step 2 
It can be disconnected by loosening the wires and removing the terminal screws. Using wire snippers, cut the wires plugged into the outlet's back.
Step 3
The power cable needs to be removed from the electrical box. A second cable connecting the circuit to another device should also be removed. Power cables should be pulled through the attic or basement, depending on how they are routed to the panel.
Step 4 
Either reroute it to a new electrical box or disconnect it from the panel. Using a tape measure, measure the dimensions of the electrical box. Use a utility knife or drywall saw to cut a piece of drywall to fit inside the opening.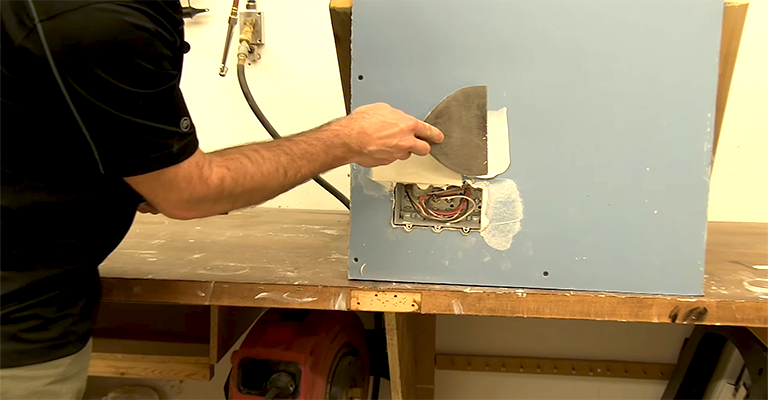 Step 5
The foam insulation should be sprayed inside the box until it expands and protrudes. Then, the drywall should be placed on top of the fully expanded foam and worked into the box while it is still wet.
Step 6 
This task should be done with gloves to prevent getting sticky foam on your hands. When the foam has dried, use a utility knife to cut off the hardened parts that surround the patch.
Step 7
You should cover the vertical joints on both sides of the patch with drywall tape. Position the two pieces to meet in the center after cutting enough tape to cover the horizontal joints at the top and bottom. With the knife, flatten the tape.
Step 8
Spread a second coat of joint compound and scrape it flat. Repeat after the second coat has dried. Paint the patch the same color as the wall after priming it with drywall primer.
Can You Put Tape Over Electrical Outlets?
Tape is typically used to wrap boxes and other objects. In some cases, it can also be used to cover up an electrical outlet to keep children or pets away from electric cords.
Most electrical outlets that power your home are grounded and use the third wire to deliver electricity to the outlets. The third wire is connected directly to the ground in your home's electrical system and keeps electricity from traveling back into the building.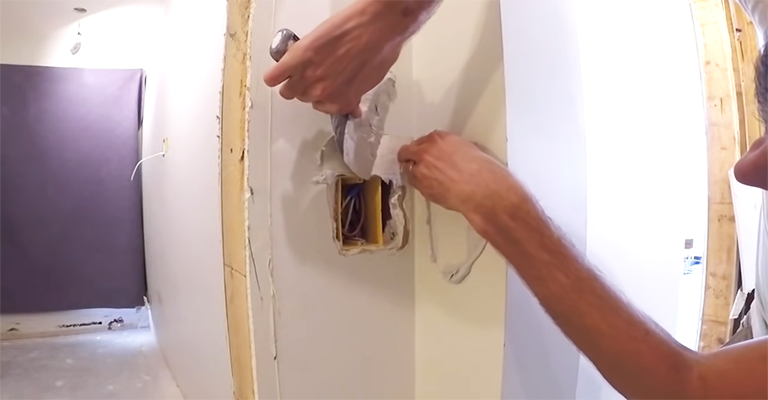 You can cover an electrical outlet with an electrician's tape or duct tape. This is an easy way to ensure that the electricity doesn't come out of the outlet and provides a barrier from dust and moisture.
You can also use a heavy-duty trash bag as makeshift electrical tape. You just need to cut off one end of the bag, wrap it around the outlet, then secure it with whatever you use to seal it, like duct tape or rubber bands.
Using Safety Plugs
When an outlet isn't in use, you should use safety plugs. As a result, pets and children will be protected from sticking their fingers or paws into the outlet. The most common sources of electrical damage are dust and static electricity. You can easily prevent these hazards in your home by using safety plugs.
The safety plug is still a good idea whether or not you have children or pets. Your sockets will remain dust-free, and static electricity will not accumulate. 
Electricity is automatically shut off when plugs are installed when an outlet isn't in use. Therefore, fingers and paws cannot be stuck into outlets that are not switched on.
Cove plates are made from durable, high-quality materials and have a weather-resistant seal that creates an airtight closure. As a result, they protect electrical components from rain and snow or exposure to the elements. 
How Do You Cover An Unused Electrical Outlet?
The use of electrical outlets is very common in residential and commercial spaces. However, it is not uncommon to find an unused outlet that you can upgrade the outlet to use for other perposes.
The US law prohibits the burying of junction boxes from installing a new outlet. If you want to remove an existing outlet, take it apart and put it into another outlet cover plate. Unplug the old wires first, then cap them and leave the box blank.
Final Words
Certain outlets must be covered, and others that can be, but it is always best to follow the manufacturer's instructions for the outlet and see if there are any specific instructions on how you should cover it. 
Make sure the outlet is covered even if it isn't working. The cover can be replaced easily, so there is no reason to excuse yourself.