Recessed lights add a sleek look to your interior. Can be recessed lights are held up inside an upturned can that is set fully above the ceiling line. A canless light isn't contained up in a can. It makes them easier to install and more energy sufficient.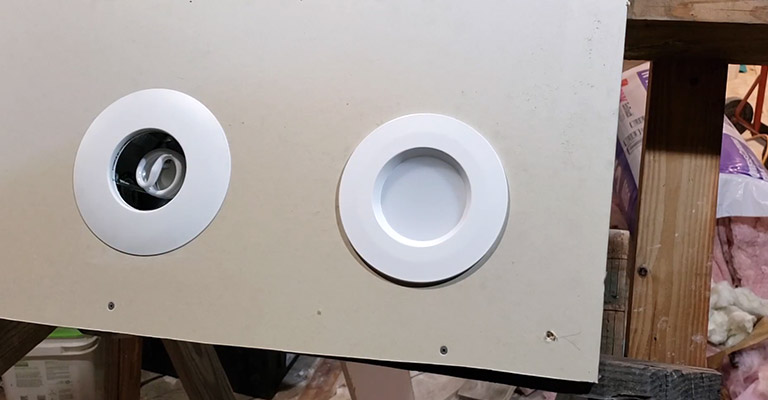 Are Can Lights the Same as Recessed Lights
Recessed lights are also known as can lights. They are regarded as metal light housings that are set up in an opening in the ceiling. The diameter range of the lights is usually from 3 inches to 6 inches. 
These sleek, versatile and downcast lights are like a light bulb put inside an empty can and buried in the hollow of the ceiling which merges with the ceiling wall and doesn't take any extra visual space.
Can vs Canless Recessed Light
Recessed lights have gained huge popularity due to their simplicity and outstanding output. If you're thinking about purchasing one for your interior, spend a little bit time for research to pick up the best recessed light.
Halo Canless Recessed Lights vs Can Lights
Halo canless recessed lights are circular light with a white edge and run on edge-lit technology. It's an energy-saving light. It's very easy to install and serves a wide range of the spectrum. You can choose among various options with a particular specification. 
Spring-loaded clips secure the units. These recessed lights usually provide powers of 8W, 12W 24W. Even distribution and minimal glare make them a perfect option for leisure faculties, domestic lighting design, and commercial office spaces. 
Halo recessed lights come with a five-year warranty card. They offer an average lifespan of 20 years. The lights can be a better alternative to bulbs and trim rings. However, they are a bit costly and aren't proper for the lightning of huge spaces.
Can lights are a good option for low ceilings. The non-descript style and illumination provided with the lights are appreciable. This sleek light blends with the wall and is not visible. Thus, your ceiling space won't be busy. You can use this light as a spotlight to display any work or highlight any space. 
Can lights are regarded as the only model of light which can be mounted in a water-exhaustive environment. However, a legit drawback is you can't light a single room with one single light. 
Besides, a large hole is needed in the ceiling to fit the light properly. This can cause air leaking problems through the voids between the ceiling and the light if not installed properly.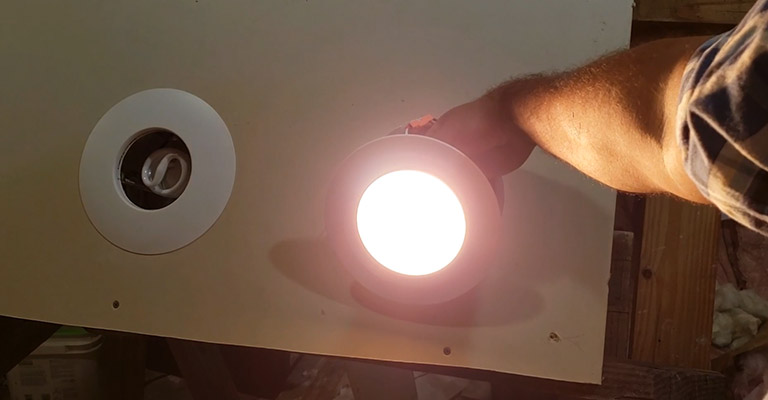 Recessed Lighting vs Flush Mount
Flush mount lights lie directly against the wall. There's practically no gap between the wallboard and the light itself. This light is available in tons of designs and sizes. These lights are perfect for keeping debris away from the shade and the bulb. 
You can light a whole room with this light and also you can use them as cool-toned lights as they are available in all types. However, the light is not invisible like can lights. It may seize the design of your room making the light the central point. But a unique flush mount can increase the beauty of your room dramatically. 
Recessed lights are smaller and sleeker. But one or two lights can't cover a whole big room such as bedrooms, dining or kitchens like flush mount lights. Two lights are different and specific in their own way. According to your need, you should choose the light suitable for you. 
Disk Light vs Can Light 
Disk light is a very thin light that is mounted to the face of the ceiling wall. It is about one inch tall and very easy to install. You can easily use it as an alternative to any ceiling or recessed light. As it's attached to the surface of the wallboard, it doesn't need any cutting or digging of your ceiling. 
Disk lights add a modern look to your room. It is wet and sodden rated providing a significant amount of efficiency. Disk lights are renowned for offering bright lightning. Their awesome light quality can easily solve the lightning problem of a space delivering an extra smooth look. 
Can lights are harder to install compared with disk lights. Both lights are durable and waterproof.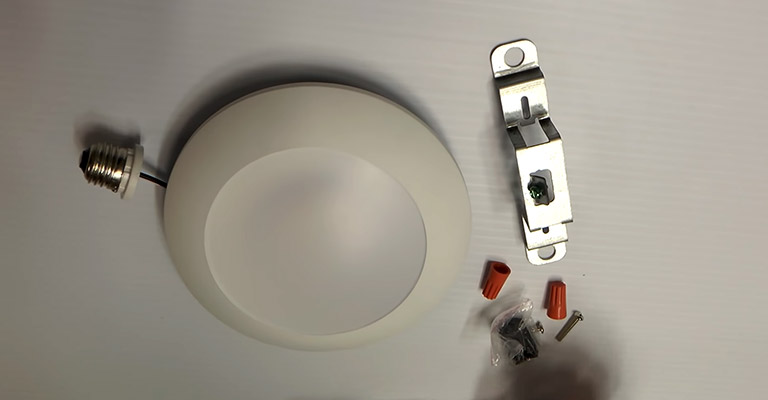 Canless Wafer Lights vs Can Lights
Wafer lights are trimmed, recessed, and housing-free. You can install a wafer light pretty much everywhere, even in the places where a can light may not be fitted. It is very cost-effective and uses less power. Wafer lights offer a variety of designs and sizes. These lights offer a very bright light across the room. 
Between canless wafer lights and can lights, can lights are a lot more reliable in terms of replacement than the wafer lights. Can lights are super simple to change as you only have to unscrew them. But for wafer lights, non-standard lights mean non-standard holes. Thus changing a wafer light may need a little rewiring.
Wafer lights can make color temperature matching difficult if used for several years. You will not face this problem with can lights. Also, holes for can lights leave rooms for more wires through the ceiling. But as said before this leaves room for air leakage as well. Wafer lights will provide a flat and smoother look to your room. 
FAQ
Q: Which is the standard size of a recessed light?
Ans: To determine a standard size for your recessed light, you have to acknowledge the ceiling height and size. 4 inches and 5 inches fixtures are suitable for kitchens as they provide aerial countertop lighting. For usual lighting purposes, 6-inch fixtures are ideal. To develop a wider wash of light, you can purchase 7 to 9 inches fixtures.
Conclusion
Canless or can recessed lights have added a new dimension in the lighting of our rooms and other spaces. It creates aesthetic vibes and also meets our needs. It's normal to arise confusion when you have so many options out there. Hopefully, this article has been able to cover basic information and comparison among different ceiling lights.