A rough estimation for the cost to install a window in an existing wall is around $6000, taking labor costs into account. However, each project is unique, and yours may have specific requirements like plumbing or electrical rerouting. So, you can expect the overall cost to fluctuate from as low as $2,950 to a whopping $9,350.  
And that too covers the installation process only without costs to create an opening or add a personal touch. Needless to say, there are other factors like window type, material, size, and brand that affect the expense.  
How Do You Put a Window in an Existing Wall
First of all, you have to do your research depending on the condition of your home or material choice. After that, take each of the measurements twice to ensure the topmost accuracy. Then comes the process where you create an opening in the existing wall. Don't forget to make the last opening larger than the rough one.  
At this point, use any of the mainstream framing methods to secure the window structure. Once the framing process is complete and there's adequate support for the windowsill, use a 12-inch drill bit to create pilot holes. Finally, the opening will be ready for the window placement.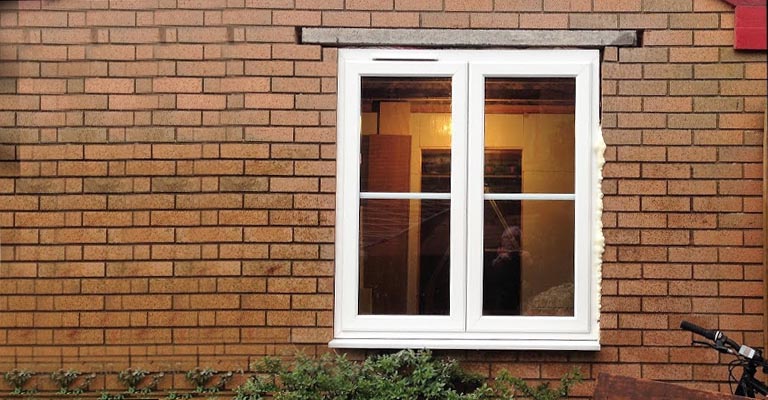 How Much Does It Cost to Create a Window Opening
Creating an opening in wood framing can cost you anywhere between $36.75 to $41.19. When you add the price of materials alongside the labor charge, the cost per opening can go as high as $186. However, you can save a few bucks on deals that cover up to six window openings at $715-$915 or so. 
On the contrary, you will have to spend double the amount for cutting window openings into concrete walls. For example, the overall cost will be more or less $475 on average regardless of the opening size.
Cost to Install a Window in an Existing Wall
As you can already tell, the installation amount needed per window is not the same for two different projects. Window prices start at a minimum of $85 and can go all the way up to $2500, while the installation takes an extra 150-600 dollars. Such a scope is the result of diversity in the following aspects.
Cost by Type
You'll find a wide range of window types in the market, including single-hung, double-hung, sliding, and so on. No two types cost the same, mainly because they often have different installation processes. Below we have discussed the cost for each of the types.
Fixed 
As the name suggests, fixed windows have a single sheet of glass that does not open or move. Thus, you can find them at a price as low as $65 onwards. 
Single-Hung 
In single-hung windows, the bottom sash is usually the one you can move. Due to such a confined functionality, these come at a relatively low price of $100-$350. 
Double-Hung 
Unlike single-hung, you can move both the upper and lower portion of a double-hung window. Consequently, its starting price is a bit high, around $150. Anyhow, you will have to spend a hundred or two more to get a decent deal. 
Sliding 
You can probably guess how it works from the name. That is, by moving horizontally from one or both sides. These windows come at a price range similar to double-hung windows, from $150 to $800. 
Casement 
Since casement windows open using a hand crank, they offer more ventilation as compared to other types. You can expect them to cost anywhere between $180 and $950. 
Egress 
Egress windows are a lifesaver, working as an escape route if a fire breaks out. So, their fare is usually pretty high, retailing at around $650-$2,500.  
Custom 
Custom windows are the ones you have to order directly from the manufacturer as per your size requirements. You will have to spend at least $500 to get your hands on them and $10,000 or more against heavy customization.
Framing Cost
The frame quality depends on the material used, which is typically vinyl, wood, or aluminum. Vinyl is the most widely used frame material, requiring $250-$600 for the window installation. Despite a moderate cost, these windows are durable and don't need much maintenance. So, vinyl is a proven way if you don't want to splurge on new windows. 
Besides vinyl, wood is also pretty popular despite having a high installation cost. Usually, the average amount required to place a window with wooden frames is $600-$2000. Although wood frames look flawless, they have a significantly higher upkeep cost behind repainting and recoating. 
Also, you can opt for aluminum which costs around $400 to $1,100. But it, being a bit too hard to paint, has not gained much popularity yet. Therefore, it is not a great option if you're new to home improvement. Another option, however, can be using fiberglass that offers enhanced durability at $750.
Electrical Rerouting Cost
Sometimes, you may have to consider plumbing or electrical rerouting when installing a window in an existing wall. That is because an existing wall might consist of wirings, power sockets, switches, and more. And the expense for rerouting these electrical components is usually around 150 to 500 dollars.
Add-Ons
Aside from cutting window opening, rerouting, and framing, there are other sectors where you might have to spend. For example, $450-$3000 is the typical cost for installing insulation, whereas trim and siding repair take $650 each. And for installing drywall, the figure will be $1.50 multiplied by the total area in square feet.
Labor Cost to Install Windows
The labor cost for installing windows into existing walls can vary from $40 to $60 per hour. And the average time required is somewhere around 1.5-2 hours for each window installation. Now, you can add the cost of creating window openings to get the total estimated amount.
Do note that windows with complex or modified structures, custom installation, and aged homes can affect the installation time. Usually, installers will need 6 hours or more for such conditions. Hence, the cost will increase as well.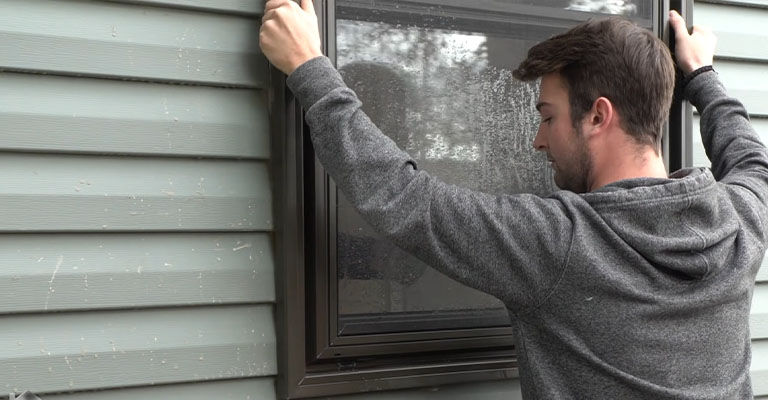 Frequently Asked Questions
Can I install a window in a load bearing wall?
Yes, installing a window in an existing load-bearing wall is possible. The process is identical to that of installing a window in walls that are not load-bearing. Yet, the only difference is in the size of the lintel. For a load-bearing wall, you must use wider lintels to support the extra weight.
Do I need planning permission to add a window? 
Planning permission is not mandatory, especially if the window you wish to add will replace an existing one. But if you want to make room for a window in a load-bearing wall, try seeking permission from the local authority. Still, you can go for it without planning permission as per the Permitted Development Rights (PDR).
Can You Put An Air Conditioner In A Horizontal Window?
You should replace the windowsill or you also can select another window.
Bottom Line
Installing windows in an existing wall is more or less the same as a regular wall, except for the cost to create openings. And so, there will be a 50% or more increase in the overall expense. Besides, you have to consider trim repair, siding repair, electrical rerouting, and their respective costs.