Everyone wants a delegate decoration in their living room, don't they? Floating shelves are extensively adopted furniture with hidden support for house décor at present mostly installed in bedrooms, hallways, living rooms. Also, they enhance storage space and fill up blank walls without interrupting light and air circulation. Combined with some lighting, they extend the home artistry even more.
It is quite challenging to get a perfect floating shelf with lighting well suited with your other furniture and wall paint. This is because the advertised pictures seem fascinating but proves to be misleading after getting the product in hand. So, it is always wise to do a little research before remorse after purchasing.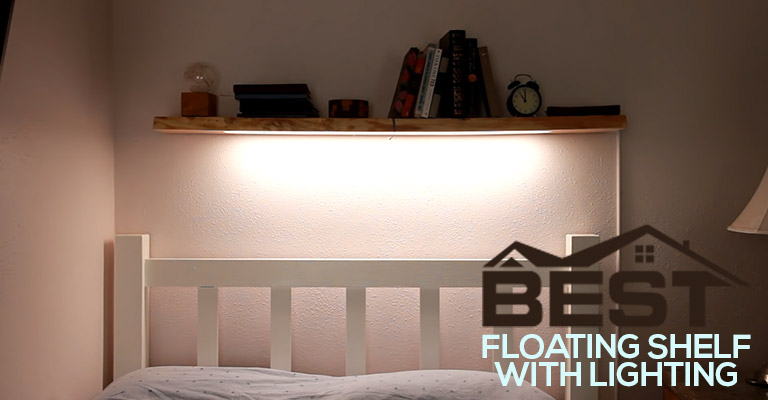 Top 5 Picks of the Floating shelf with lighting
Apart from the appealing outlook, floating shelves can be scrutinized with the material, weight and size, weight carrying capacity, and installation method. In this section, we have piled up 5 floating shelves keeping in mind these aspects to help you out in your search. Let's have a look. 
1. Evonne 2 Piece Solid Wood Pine Floating Shelf
Assets
To start up the list, we have first Evonne Floating Shelf: a set of 2 shelves with a unique rustic look. This is for the wooden material and matte finish.
Now let's talk about the material. They are manufactured in the USA using high-grade pine, solid wood. The walnut and dark walnut stain made of paint thinner and paraffin oil functions as a sealant and effectively avert stains. So, there is no compromise made with quality.
Thanks to the invisible 4.75 inches brackets. The metal brackets are designed to be completely hidden after you are done screwing it 2.25 inches inside the wall. So, you don't need to be worried as this is an authentic floating shelf.
With the included mounting hardware, install this in 15 minutes with 8 holes on your blank wall and add some lightings if you wish. You can also try paints on the shelves. Shelf assembly is required for installation.
These rectangular shelves are available in two sizes: 2" H x 16" W x 5.5" D and 2" H x 20" W x 5.5" D. the first one weighs 8 pounds and for the second one its 9 pounds. The shelves have a weight carrying capacity of 20 pounds which is enough I guess.
Downsides
The stain is not sealed so it gets dusty intermittently.
The shelf keeps leaning forward and there remains a gap.
2. Tishie 2 Shelves 2 Piece Pine Solid Wood Floating Shelf
Assets
Tishie Floating Shelf is another shelf with a wooden and rustic finish on our list. This is a set of two rectangular shelves with white, gray, and dark walnut finish. Construction-wise they are much sturdy as they are made of solid pine wood planks.
They are featured with a 1-inch lipped edge. So, they are designed to display decorations and many other things while keeping in mind the security of the contents. 
There are rectangular backplates included attaching the shelves with the wall. These backplates are clean-lined and identical with the style of the shelves. The backplate and front lip have a depth of space of about 8.5 inches.
With the incorporated mounting hardware, you can install this set of shelves quickly in 10 to 15 minutes approx. You can also buy the two shelves to form a single long shelf.
Here no shelf pre assembly is required. All you are going to need is 4 holes, including 4 anchors and 4 screws. There are pre-drilled holes on the shelves 33 inches apart for installation.  
They are available in two sizes. One is with an overall 6" H x 24" W x 10" D dimension, overall weight 10 pounds, and an individual weight capacity of 20 pounds. Another has a dimension 6" H x 36" W x 10" D, an overall weight of 15 pounds, and an individual weight capacity of 25 pounds.
Downsides
The shelves are comparatively heavy and may bow with time.
3. Adalyn Floating Shelf
Assets
Next, we have on our list Adalyn Floating Shelf, a perfect platform for showing off your photos, curios, books, or any type of decorations. This is a set of a single shelf available in a different color to match your intended room environment. 
Talking about the material, the shelf is made of sturdy manufactured wood (MDF) with an elegant finish. These are featured with a rectangular silhouette. Thanks to the crown arch moldings that help to provide a traditional and contemporary appeal.
There are brackets and mounting hardware provided with the shelf. They are the perfect floating shelves as there are no brackets or hardware seen after installation is complete.
For installing this, no shelf assembly is required and it will cost nearly 15 minutes.  Add some lighting to extend the charm even at night. To complete the installation, you will need 2 holes and screws and anchors. 
Now let's talk about the weight and dimensions. They are available in two sizes: 1.75" H x 24" W x 8" D with 5 pounds weight and 1.75" H x 36" W x 8" D with 7 pounds weight. Both have an overall weight capacity of 35 pounds. So, they are pretty light in weight and hopefully not bow with time.
Downsides
The shelf is not suitable for heavy decoration.
This does not include anchors and sufficient screws.
4. Abarca 3 Piece Pine Solid Wood Floating Shelf
Assets
Abarca Floating Shelf is a complete set of three shelves. This trio set of shelves is made in the USA and is well crafted with solid pine wood. They are designed to show off natural wood grain variations, making every single shelf unique and distinctive.
These shelves are featured to affix to the wall with hanging brackets. The brackets have a depth of 4.65 inches and a diameter of 1.25 inches. The brackets have ready-made holes 4 inches apart to mount them with screws and anchors. The brackets are well hidden after installing so no sacrifice with the appearance.
You can also cut or put them together or stain them according to your taste and style. With the included mounting hardware complete installing these yourself in only 20 minutes. This requires shelf assembly before installation. You will need 12 holes.
As far as the weight and size are concerned, the shelves are all in the same size. They have side to side width of 20 inches with a dimension of 2" H x 5.5" D. Overall weight of the shelves is 10 pounds with an individual weight carrying capacity of 25 pounds.
Downsides
The shelves don't sit evenly on the wall.
These are pretty difficult to install.
The stain smell takes time to go away.
5. Oldbury Naite Floating Shelf in Shabby White/Gray Solid Wood
Assets
Finally, we have Oldbury Naite Floating Shelf to complete our picklist. This single shelf classic set is handmade. The paint and distressing is done to feature a rustic and shabby appearance. They are available with white and gray finishing.
This rectangular shelf can be installed easily on a blank wall with hanging brackets. The number of installation holes needed is 4. Just 30 minutes and your floating shelf will be ready to show off decorations.
Extend the charm a step ahead by including some alluring and eye-soothing lightings. No shelf assembly is required here. As it is a complete wooden piece, make sure to install this at least 24-inch far from a fireplace.
The shelf is made of solid pine wood, so it is sturdy enough to hold your heavy decors. The weight carrying capacity of the shelf is 50 pounds.
 These shelves are featured in 5 different sizes to accommodate your needs and taste. They all have the same height and depth of 4" H x 8" D. The Only difference is in width and weight: 22inch 7 pounds, 36 inches 10 pounds, 44 inches 15 pounds, 56 inches 18 pounds, and 64 inches 19 pounds.
Downsides
The paint may seem a little patchy.
The shelves tend to come forward from the brackets.
Frequently Asked Questions (FAQs)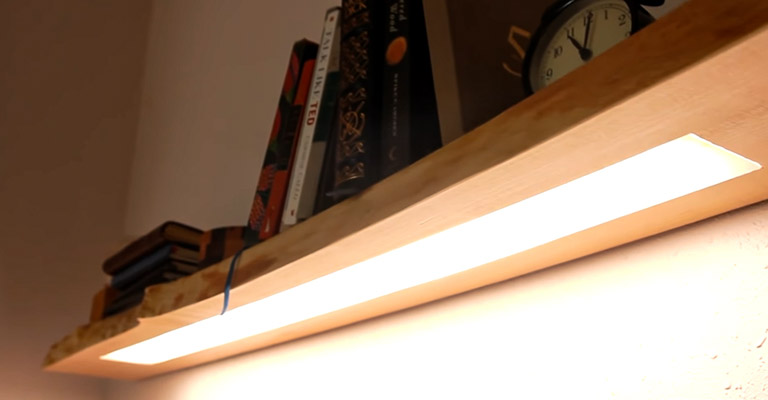 Q: How much weight floating shelves typically hold?
Ans: Floating shelves can typically hold weight around 20-30 kgs.
Q: Do floating shelves need studs?
Ans: It is good to use studs as they give a more supportive base.
Final Note
Floating shelves have become not only contemporary style decor for most of the household but also, they are quite fruitful for storage purposes. To assist you to get the finest floating shelf with lighting, in this content we have reviewed the top 5 floating shelves available for you now.
Adalyn Floating Shelf is outstanding for its classic appearance and lightweight. If you are looking forward to getting an outdoor rustic environment inside your home, then Evonne or Abarca Floating Shelf will be splendid for you. Pick up the perfect floating shelf suited with your style.  
If there is a floating shelf at your home without any light you can enlighten the shelf by installing cove light as cove light is great for enlightening floating shelf.