There's a reason why people love to change into clean clothes and fresh sheets in the morning. It is a motivation for a successful workday. You can wear your best perfume, have your hair done, and put on your favorite outfit to get pumped up with positive energy before you begin your day with a beautiful start.
You don't want to wear smelly clothes first thing in the morning. The dryer can also be responsible for smells. If your clothes are too wet inside the dryer, they will act like a sponge and soak up any smells around them. The more recently this happens, the more pungent the smell will be. 
Gas dryers are used to dry clothes, but it can be a nuisance when people's gas dryer smells like gas. The smell can also be a health risk. In this blog, we will learn about the causes of gas dryer smells and prevent them from happening in the future.
Why Is My Gas Dryer Smells Like Gas?
Gas makes up a small part of the air you breathe in every day but generally, the less you breathe in, the less you will smell. So, for your gas dryer to work properly, it needs proper ventilation, and good ventilation means good airflow.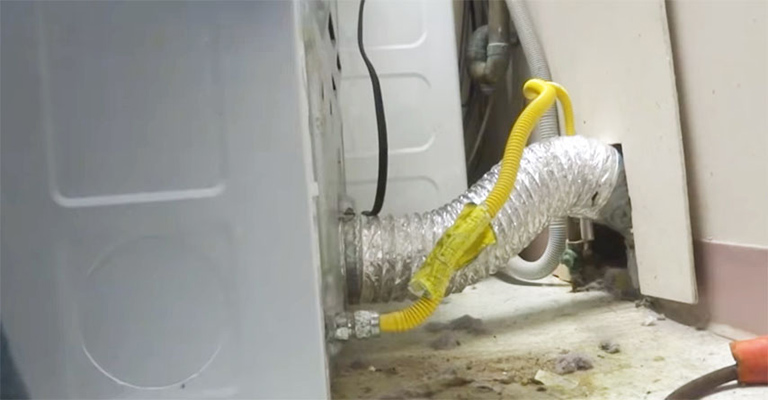 Understandably, you are concerned about a gas leak, but it's more likely that one of your vents or filters is clogged. We recommend calling a technician whenever you smell smoke or gas coming from an appliance, no matter how small the problem might be.
The smell of gas or if you notice it on your clothes indicates a bad igniter, so open your dryer early in the cycle. A dirty filter or a leak in the exhaust system can cause this ventilation issue.
When your dryer isn't running, you might smell the same kerosene smell, which means the gas valve isn't shutting off properly. In this case, call the appropriate services immediately and shut off the gas to your house. Here are some possible reasons.
1. Gas Valve Seals Are Defective
A damaged valve can cause gas to smell even when the dryer is off. In order to prevent gas from escaping, the valve should seal shut when your dryer is off. However, if the valve fails, a small amount of gas might be released into the air regardless of whether the dryer is running. 
Contact a dryer repair specialist to evaluate the valve's condition. Turn off the dryer's main gas line and shut off the dryer's main gas lines. In that case, he'll likely suggest that you exchange it for a new one.
2. Igniter Not Aligned
The igniter is mounted on a bracket to ensure a good connection to the gas. Metal brackets are attached to dryers with screws and are made of thin metal. A loose screw could cause the igniter to wobble, which would prevent it from connecting with the released gas. 
Gas odors would thus be prominent. An out-of-alignment igniter will glow or spark but not generate a flame when the dryer is turned on. If the igniter is broken, you must have it replaced if you cannot tighten the screw and realign it.
3. Igniter Malfunction
Ensure that your dryer is equipped with a glow or spark igniter by checking its manual. A glow igniter is a rod made of metal that gets extremely hot and eventually becomes orange red in color. The spark igniter starts aflame with a spark. 
Make sure the igniter is visible by removing the dryer's main access panel. Let the dryer run for a few minutes. Depending on which type of igniter your dryer has, you should see an orange-red glow or spark. The igniter has likely burned out if no flame appears after 15 seconds.
Gas Dryer Smells Like Gas: Quick Fixes
We all know what a gas smell is and how it can be so unbearable. What is less familiar to us is the smell of a gas dryer after it has been turned off.
When you start up a gas dryer, the smell that comes out might not be what you expect. This article will help you find out what type of smell might come out of your dryer and how to identify the source of the smell and some quick fixes.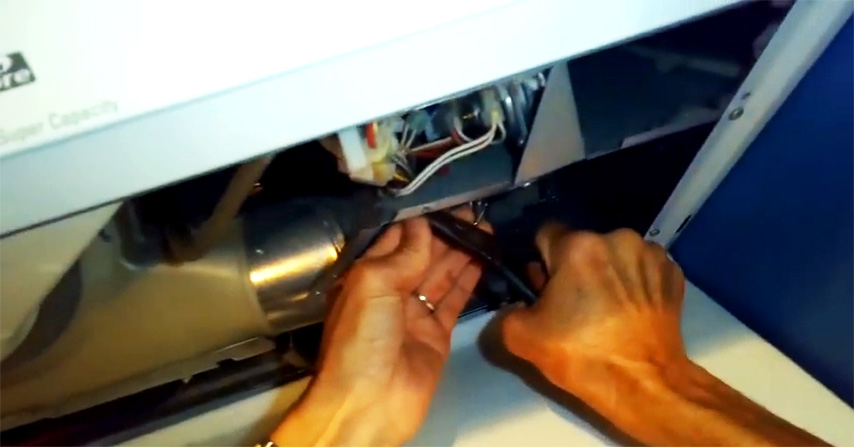 1. Removing Smells
Immediately after the regular drying cycle has ended, run your dryer on "Air Fluff" for at least 10 minutes. This setting circulates air in the drum without heating it, thus preventing clothes from smelling. 
After running the setting on the clothes, rewash them if they still smell like lighter fluid. You can also dry several damp towels by running them on a high heat setting in the dryer at the same time. 
You should be able to get rid of the lingering smell of butane in the dryer's drum by using the towels. Repeat several times until you are sure the smell has been completely eliminated.
2. Changes In Gas Formula
If you use natural gas for your dryer, make sure a chemical additive hasn't been mixed with it. For example, the smell of butane might be coming from newly formulated gas. Consider switching to a new gas supplier if the composition of your gas has changed and it is producing an unpleasant odor.
3. Combustible Materials
Flames from gas dryers ignite combustibles such as paint, stains, and varnishes because they produce a strong enough flame to supply heat. Heat will intensify the scent of the fumes produced from these products, making them smell like lighter fluid. 
A dryer's intake vent allows the odor to enter the drum and reach fabrics being dried. It is important to open windows and doors so that combustible household materials will vaporize faster and dry faster. Make sure your laundry room is well-ventilated if you have to run the dryer before the vapors are completely gone. 
Other Type Of Smell That Might Come Out Of A Gas Dryer
The dryer is a source of many smells. From the clothes that are being dried to the detergent being used to keep them smelling fresh. But sometimes, there could be a gas leak in the line, and it can smell like gas. The cause of this may be a faulty burner or a clogged vent that is leaking gas into your laundry room.
1. I Smell Dead Animal Odors Coming From My Dryer
I hope you will never have to deal with this unpleasant smell. But, in case you find yourself in this uncomfortable and unsettling situation, we're here to help. The chances of finding a dead rodent inside your dryer door are slim, but there is always a possibility of finding one in the dryer vent or behind the dryer panels.
As long as the pet isn't found, the smell won't go away. Cleaning the whole vent system is the best solution, from the hose to the outside vent. Remove the front and rear panels of the dryer if you can still locate the animal after disconnecting it from power. Then, inspect the dryer's interior to see if the creature is inside.
2. There's A Burning Smell Coming From My Dryer
While any weird smell coming from your dryer can be annoying and inconvenient, this one is particularly hazardous. If you find yourself wondering if the burning smell is coming from your dryer, you must address the issue right away. 
Because this issue can potentially lead to a house fire, it should be fixed by a professional. You should contact a technician to determine the cause of this smell and stop using the dryer.
3. The Smell Of Mildew Is Coming From My Dryer
Sadly, this is a common occurrence. Opening the dryer door and being greeted by that moldy, moist smell will never get old. Fortunately, there are simple solutions to this problem.
Wet clothes are more likely to smell like this if they are left in the dryer too long before they are used. Therefore, we recommend that you do your laundry regularly. The dryer starts in a matter of seconds, but a smelly dryer can be the cause of a lot of headaches.
You should check your dryer to ensure there is no moldy lint if you haven't been leaving wet clothes in it for long periods. Lint can be removed from the screen by removing visible lint and wiping the screen with a dry towel to remove small bits of lint.
The lint trap should be vacuumed with a vacuum hose attachment. Alternatively, if the quick fixes above don't work, dampen a few towels with white vinegar and place them in the dryer while they dry. This is an easy and safe way to reduce odors. Make sure you wash your towels right away so that they don't end up smelling like vinegar.
4. I Smell Burnt Rubber When I Use My Dryer
The reason behind this not-so-pleasant scent can be divided into two categories. First, it is often forgotten to follow the washing and drying instructions on clothing labels. Tending to throw all your clothes in at once, assuming that everything will be fine, is easy to do. 
One of the items in the load may not be visible because it is made of synthetic fabric. Synthetic fabrics can't withstand high temperatures. Depending on the care instructions, you can either reduce the temperature or hang dry.
A possible wire short may also be contributing to the burnt rubber smell emanating from your dryer. If the dryer's power cord shows any defects, you will need to replace it. 
The rubber coating that surrounds a frayed wire can melt if the wire is exposed or frayed. Be careful when replacing this power cord with a new one. If you are using an electric dryer, turn it off completely before removing the old power cord. 
Final Word
Gas dryers are typically made with an aluminum or stainless-steel drum with an internal combustion engine to heat up the hot gases released from burning natural gas, fuel oil, or propane.
Since they are used to heat up gases, they produce small amounts of ozone which can cause problems for people who have sensitivities to this gas. Also, after a while of use, you will notice that the smell coming out of the gas dryer is not pleasant anymore.
It is because of the buildup of some nasty particles in the machine. These particles are byproducts of the usage, which leave a bad taste in your mouth. If you notice any unusual amount of odors in your laundry room, call an experienced professional for assistance immediately.