If your GFCI outlet is buzzing, there is probably an "electrical leak" on the downstream circuit. And you should probably call an electrician to investigate the situation. But if your GFCI is buzzing loudly, it is most certainly malfunctioning and has to be replaced.
Buzzing outlets are always the result of faulty electrical function, regardless of the cause. If you have buzzing outlets, you should have them checked and repaired as soon as possible.
Why Is My GFCI Outlet Buzzing | What to Do
A buzzing noise coming from an electrical socket indicates that there is a major problem with the socket or the wiring to the socket. A buzzing noise is frequently caused by a faulty connection, either because something is loose or because the wiring is rusted or burnt.  When your outlets aren't operating properly, you and your home are at risk of electrocution, fires, and other hazards.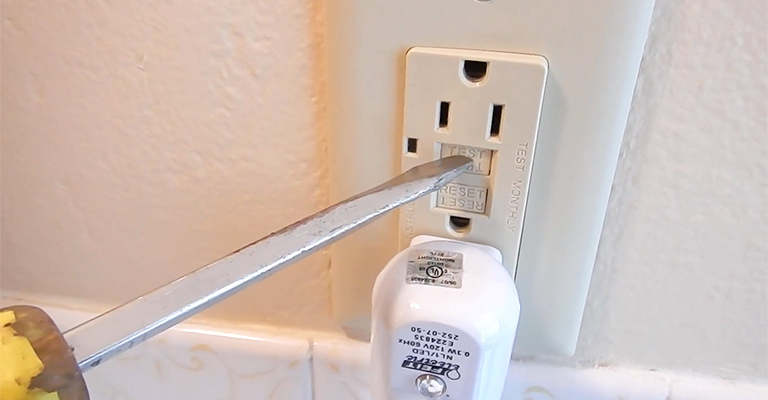 The possible reasons behind the buzzing sound from your GFCI outlet can be loose wires, old wiring, appliance sound defective GFCI, or breaker problems. While you may easily perform some basic troubleshooting operations, we recommend having an electrician come out to inspect the situation.
Old Wiring
Arcing can be caused by old, worn-out, or defective wiring. This can sometimes result in a hissing or buzzing. Some people, however, have reported hearing crackling sounds. If your receptacle has burn marks and the wires are shredded and damaged, you should consult an electrician to see if you need a new receptacle.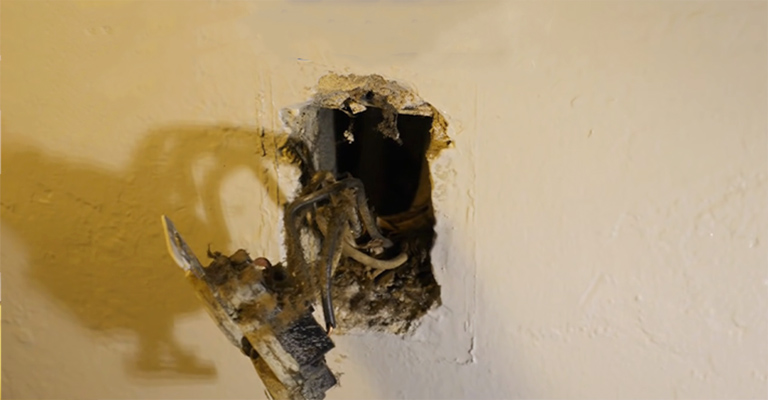 Breaker Problem
By sending too much current to the outlet, your home's breaker can cause your GFCI receptacles to buzz. If you've checked your outlet and it appears to be in good working order, but the buzzing continues, look at the breaker. Because noises you hear are not usually caused by GFCI receptacles.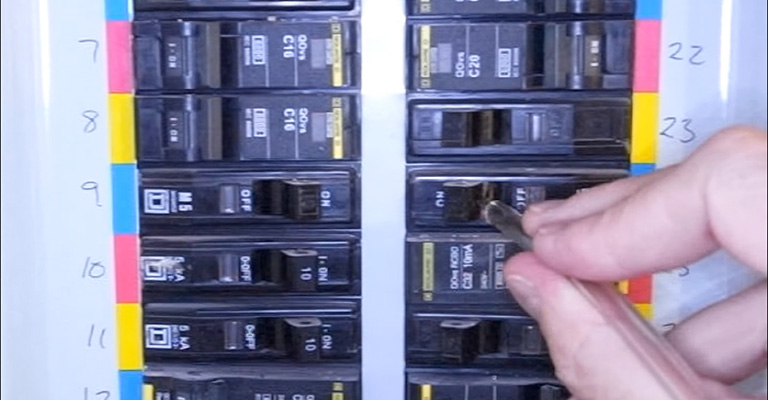 Appliance Sound
There are situations when the GFCI noise is created by an appliance plugged into the socket rather than the GFCI itself. Crackling, hissing and buzzing sounds are produced by a faulty plug with loose connections and damaged wires. However, determining whether the fault is with the receptacle or the plug may be difficult.
The simplest solution to solve the problem is to plug the device into a second outlet. If the buzzing continues, the appliance is the source of the problem. However, if you can't hear the buzzing, the GFCI is the culprit.
Faulty Receptacle or Outlet
The most common cause of an electrical outlet buzzing is the corrosion of the inner components. Contact blades inside the outlet are in charge of keeping plugs in place. If these blades are damaged or loosen, they will no longer maintain proper contact with the plug, resulting in buzzing.
In these circumstances, having an electrician come out and replace the entire GFCI outlet is the simplest way to stop the buzzing. These types of outlets are reasonably priced at a local hardware store. Hiring a certified electrician will guarantee that the new outlet is properly placed and that the connections make adequate contact.
Loose Connections
When there are loose connections, the wires that are capped and twisted together inside the outlet box, as well as the wires that are attached to the outlet, can all vibrate. Furthermore, when there are loose connections underneath, the entire outlet can vibrate and buzz.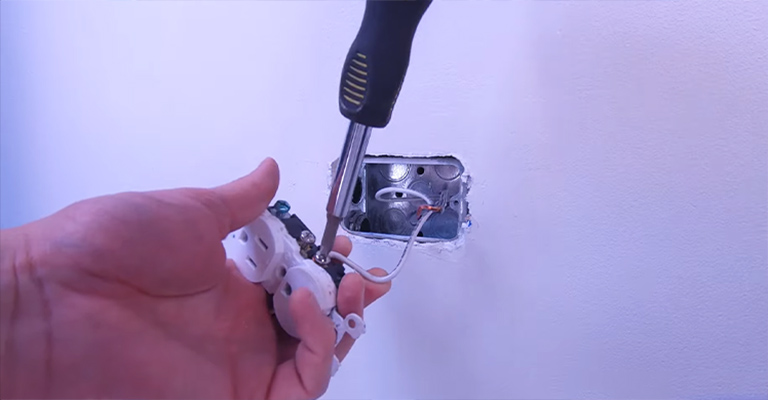 While weak connections are more common among older outlets, they can also be the result of poor installation. Regardless, GFCI outlets with improperly secured connections should be adjusted or professionally replaced to cease the buzzing. You can eliminate the noise by tightening the connections yourself.
Dimmer Switches
If your dimmer switches are on the same circuit as other outlets, they can cause buzzing at both the outlet and the light fixture. Shut off the dimmer switch fully and listen to buzzing at the outlet to see if it's your dimmer switch that's making the noise.
If you notice that the buzzing noise stops when the dimmer switch is turned off, this could be the source of the noise. You can try to fix this by replacing your light bulb with a rough service bulb. If this does not work, you will most likely have to replace the dimmer switch with a normal switch.
Temperature Changes
Temperature variations are another less common, but still relevant, cause of your GFCI outlet buzzing. Temperature fluctuations can cause electrical equipment to expand and contract. These conditions can cause connections within the outlet to loosen.
Different Kinds of Noises From GFCI
There can also be different kinds of noises coming out of your GFCI. Faults inside the wall can make humming, chirping, crackling, or popping sounds. You may also hear a loud noise or high-pitched noise from your outlet.
Humming GFCI
Humming GFCI the vibrations caused by electrical transmission generate sound. When humming becomes buzzing, you should be concerned. A loud humming sound may indicate a faulty GFCI.
A little humming isn't a big deal. It is, however, rather uncommon. Many people would tell you that they have never heard their GFCIs hum. Others, however, will attest to the fact that they always hear humming.
Chirping GFCI
Chirping can be caused by weak connections, overloading, or faulty receptacles. Most GFCI owners have never heard their GFCI receptacles chirp. They may be surprised to learn that some customers have reported hearing chirping from their GFCIs.
Chirping is more noticeable in transmission lines as a result of corona discharge. It's not the kind of noise most people associate with GFCIs. Some GFCI devices, on the other hand, are especially intended to chirp when they trip.
Crackling GFCI
Arcing and crackling sounds are produced by GFCIs as a result of loose connections and temperature variations. Crackling is risky because it indicates internal arcing.
Loud GFCI
A loud GFCI noise is never a good thing unless your GFCI is engineered to chirp and click loudly when it trips and resets. Consult the instruction manual. If there is no mention of loud noises, the GFCI is faulty.
Once you notice alarming symptoms such as the smell of burning plastic, flickering lights, frequent visits, and heated outlets, I want you to contact an electrician.
High Pitched GFCI
When GFCIs trip, some are designed to emit a high-pitched sound. But usually, high-pitched sounds are not normal, especially if they can be heard. You could check the manual for your GFCI to see if the high-pitched sound is normal.
If the manual says nothing about high-pitched sounds, you should look into other causes that can cause high-pitched buzzing and chirping, such as loose connections and faulty GFCIs.
Popping GFCI
Popping sounds in any outlet are hazardous, especially if they have begun to emit a burning odor. The sound of popping is comparable to that of cracking. Many individuals use the names interchangeably.
Consult with an electrician before the receptacle burns down your house. The popping sounds could be caused by a faulty device rather than a faulty GFCI, according to the electrician.
FAQ
Can a buzzing outlet cause a fire?
While an outlet generating noise is frequent, it is not a problem that should be ignored. If an electrical outlet buzzes, it might lead to a dangerous situation if not corrected. You may notice flickering lights, blown fuses, or warm outlets, all of which can cause a fire in your home.
What does it mean when lights buzz?
It can happen regardless of whether you're using incandescent or LED light bulbs. Electrical shorts or unsecured light fixtures in your room can create buzz. However, the most common cause of buzzing lights is an imbalance in the voltage provided to the bulb.
Conclusion
Whether it's a loose connection, a broken outlet, a faulty light fixture, or a breaker issue, the best way to stop your GFCI outlet from buzzing is to replace it. And when working with electricity, always turn off the power at the circuit breaker and make sure there is no electrical current within the outlet.