Greenworks and Ego both are pretty well-known companies for their home and gardening tools. Both of these companies have their own lawn mowers, trimmers, leaf blowers, and so on. 
So here we are going to look at these products and try to figure out which product is the best in their respective catEgory and which product is the better one for your work.
Greenworks vs Ego Lawn Mowers
Buying your first lawn mower could be difficult. Because there are a few options around and you don't really know what to go for. So we will do a comparison between GreenWorks and Ego's electric lawn mowers to figure out which is better.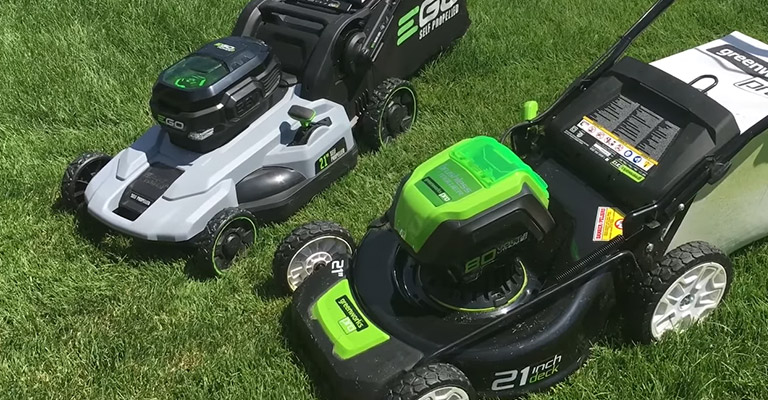 Power
Greenworks' mowers are all 80V while Ego's ones are all 56V. Even though GreenWorks has a bigger number, that doesn't mean it is better. Ego's lawn mowers are actually more efficient. 
As far as the power goes, both of these machines get the job done perfectly without any problem. So, power will not be an issue with these machines no matter which one you choose.
Durability
Both GreenWorks and Ego's machines are durable enough for use in the long term. But in comparison, the greenworks' falls behind the Ego's mower.
Greenworks lawn mowers are made out of plastic completely. So, it is not as durable as Ego's ones. But it should last at least five years before it runs into any major issue. GreenWorks come with 4 years warranty for the body.
On the other hand, Ego lawn mowers have a much better build quality with a much sturdier material. So, you can use it without worrying about durability. It comes with 5 years warranty for the body.
Battery and Efficiency
Greenworks mower has a bigger battery which sits at 80V comparing to the Ego's 56V. Sometimes, greenworks' mowers run two batteries. That is because even if it has a bigger battery it is not efficient.
You can use the greenworks' mower for about 30 minutes. Then you have to recharge the battery for an hour. So it is not really efficient for using over a long period of time.
But on the other hand, Ego mowers can be used up to 45 minutes and then you just need to charge it for 30 minutes. So, if you have two batteries then you can just swap out the batteries and can use the mower for as long as you want.
Weight and Handling
In terms of weight, even if the greenworks' one has a bigger battery it is lighter than Ego's ones. GreenWorks' ones are lighter and smaller than Ego's ones.
But even if the Ego's one is a little heavier it has the self-propelling system. Which makes it easier to handle than greenworks' ones as you don't need to push as hard. Again, the Ego is bigger than the GreenWorks mower but you can fold it to store it. So it is much easier to handle.
So even if the Ego is heavier we can say it is more comfortable to use because of the self propelling and folding system.
Other Stuff to Know
Being the bigger machine out of the two, the Ego one has more capacity in its bag. It also comes with a blade height adjustment that you can use to make the grass the level you want.
Ego is also more cost-effective in the long run even if it costs more than the GreenWorks ones. Because you need to charge more time if you are using a GreenWorks mower. It is going to quickly add up to the electricity bill.
And if you are worried about the noise level, then both of them are on the same level. So, it will be always better to go for the Ego lawn mowers as they are the overall better-performing ones in every way.
Greenworks vs Ego Trimmers
Ego Trimmer
Ego ST1501-S is the best trimmer you can get in the market. It has much more going on for it than any other trimmers in the market.
It has a 15'' cutting swath comparing to GreenWorks' 12'' swath which makes it much easier and faster to use and work with. It has three different battery types and depending on which one you choose it can last up to 1 hour.
Like the other products, it also comes with 5 years warranty. But the only downside is you have to buy the battery separately if you don't have any other Ego products. If you have other Ego products then you can just swap the battery when you use it.
Green Works Trimmer
It is heavier than the Ego one. It has almost doubled (a little less than double) the weight that Ego trimmer has. Also, the 12'' swath makes it cover less area when using it.
In terms of battery, it does come with a battery unlike the Ego one but you can also swap the battery with any other GreenWorks tool that you may have. But it can only be used for 30 minutes before charging.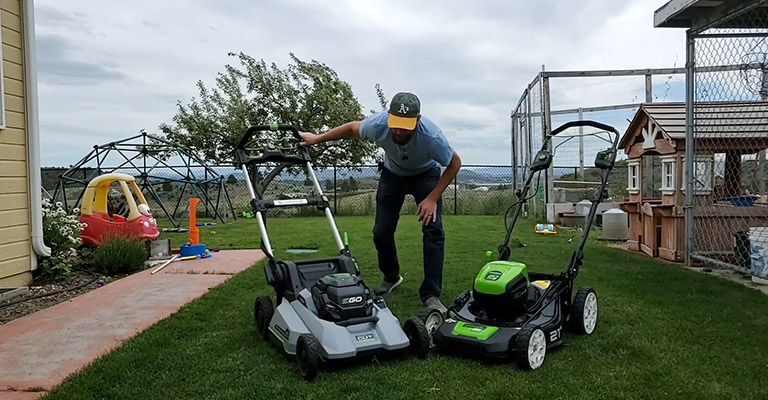 80v Greenworks vs. Ego 56v | High Power Electric Leaf Blower
Both of these leaf blowers are a pretty good choice. It doesn't really matter which one you choose. It will get the job done. But there are some niche features and stuff that we can talk about.
Greenworks has a less efficient battery than Ego. Both of these batteries are interchangeable with their respective company's other products. The Ego 56V while having a smaller battery has better power output.
Also, Ego has some different modes that you can switch between. Greenworks doesn't have any. Both of them have led indicators to show the charge and both Ego and GreenWorks products have 5 years and 4 years warranty respectively.
Ego vs Greenworks Chainsaw
Greenworks Pro 80V 18-Inch Cordless Chainsaw GCS80420 was the best chainsaw in the market until recently. It has great cutting time. Although it says it can make 150 cuts in a single charge, customer reviews say it closer to 100 than 150.
But recently in 2020, the EGO 18-Inch Cordless Chainsaw CS1800 has taken the lead in being the best chainsaw with its improved features. Ego's battery has always been more efficient than the GreenWorks and it is still true here.
It can cut through 20 inches of wood without any problem. It is capable of withstanding any weather. You can buy the Ego chainsaw with or without the battery. But it is cheaper to get a battery than buying an extra battery later. Also, it worth mentioning both of the saw has all the modern features.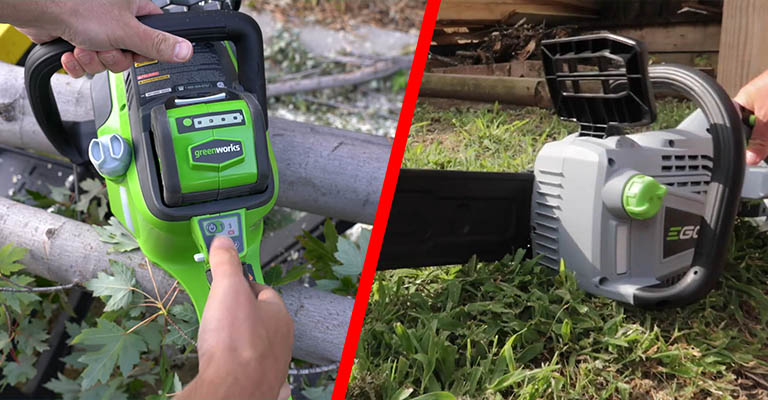 FAQ
Q: Are Green Works and Ego batteries interchangeable?
Ans: GreenWorks and Ego batteries are not interchangeable between these two company's product. But all GreenWorks batteries are interchangeable with other GreenWorks products. The same can be said for the Ego.
Q: Can you use a battery-powered lawn mower on wet grass?
Ans: No you can't. It is a general rule to not cut the grass while they are wet. Doesn't matter your machine is battery-powered or gas, wet grass can harm the machine.
Conclusion
Ego is undoubtedly better than Green work in almost all cases at this point. Ego has better battery efficiency, better mobility, power, and most of all better durability. But Ego costs more than Greenworks. So, if you have the budget then Ego's products will certainly be better than Greenworks.
If you don't want to buy a lawn mower but you need to do some work in your lawn then you can call Trugreen. Trugreen will take all the responsibilities to beautify your lawn according to your requirement. So, what are you thinking about? Is Trugreen worth it?