To identify a ceiling tile for replacement, one should look at a combination of factors. They include tile size, edge detail, face pattern, grid width, and the manufacturer's code at the back if there is one.
As a homeowner or facility manager, you can take help from the websites of different ceiling tile companies as well. Still, if you are unable to find an identifying characteristic, your best option is to seek the help of an accredited professional.
How Do I Identify Ceiling Tiles
Decorative ceiling tiles have become much popular over the years. However, as the manufacturers tend to produce very similar-looking ceiling tiles, it becomes notoriously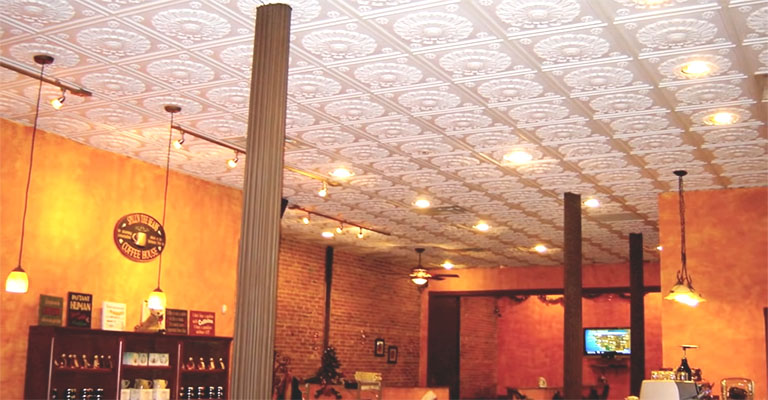 difficult to identify them when matching them with the existing ceiling tiles. Each ceiling tile is made of a variety of different combinations.
Tile Size
Initially, you have to decide on which size of the tile is most suited to your ceiling. This may be either a square size with a dimension of 595mm x 595mm or a rectangular tile with a dimension of 1195mm x 595mm. Therefore, the identification of your ceiling tiles hugely depends on the size of tiles you have used.
Edge Detail
After you have selected the size, you will have to choose the edge detail. You have two options, you can either choose a square edge tile or a tegular edge tile. A square edge tile is the most common edge one. It has a 90° squared edge and sits flats on the ceiling. On the other hand, a tegular edge helps the tile sit below the level of the grid. 
Grid Width
The grid width is a vital factor to consider after you have chosen the correct edge detail type. This is because whether or not the new product will fit depends on it, especially for a tegular edge tile. To check the grid width, all you have to do is to look above at the ceiling and measure the width of the metal section dividing the tiles.
The grid width comes in two sizes. The most common one being 24 mm suits the square edge and tegular edge tiles. On the other hand, the 15 mm grid is associated with only micro-look ceiling tiles.
Face Pattern
After you are done with identifying the size, edge, and grid pattern, it comes down to matching the face pattern of the tile. The popular patterns include fissured patterns, sand texture patterns, plasterboard-based wipable tiles, and insulated fiberglass-backed glass.
The styles are chosen based on the level of performance they offer to suit certain types of environments. Offices, schools, toilets, and kitchens use different styles to ensure maximum efficiency.
Company Name and Product Code
In some cases, the manufacturers will put important information such as company name or product code at the back of the ceiling tiles. It helps with further identification.
Website System
The famous Armstrong Ceiling Systems uses a website that will help building owners and facility managers quickly identify the damaged ceiling tiles. As a result, they can easily take proper measures to replace them. 
The facility managers get all the interactive tools they need to identify the ceiling panel finish, figure out edge details, find the replacement of the product, and manage a distributor to carry the replacement ceiling tiles. All of these are done via the website. Besides, the users can also chat live with an online specialist through the website.
What To Do If I Have Asbestos Ceiling Tiles
The first thing you can do when you find asbestos in your ceiling tiles is to not touch it. Regardless of whether it is in good condition or not, your best choice is to leave it alone.
In case you suspect your future activities to damage or disturb it, you should contact a trained and accredited "asbestos" professional. You can easily avoid asbestos exposure by locating the asbestos materials in your home and observing the current condition.
Frequently Asked Questions
How do I know if my ceiling tiles have asbestos?
Old but not all ceiling tiles contain asbestos. They are often square or rectangular in size. Their identification is done through trademark pinhole markings and powdery appearance.
What is a tegular edge ceiling tile?
Tegular tiles are made of compressed fibers. These tiles are typically a type of acoustical panel used in suspended ceiling applications. You will see flanges or tabs on all four edges. These allow the tiles to drop into the metal grid that holds them in place and extends beyond them.
Can you lay tile over osb subfloor?
You can lay tile over an OSB subfloor, but you should put a membrane between the floor and tiles to ensure that a bond is made between them–even if you are looking for new subfloor options. OSB is inexpensive and makes for a good floor.
Conclusion
Although identifying ceiling tiles for damage can be a bit nagging, it is a task of great importance. Besides, a defective tile among a set of ceiling tiles damages the aesthetic aspect of the property. Therefore, extensive care should be taken to avoid further damage and when choosing an apt replacement.