The coldness and deficiency of an unfinished basement make the lighting selection of it quite intricate. The bleak concrete walls can't reflect light properly. Also, the disclosed floor joists often make odd shadows. Thus the main concern while lighting an unfinished basement should be the function of the light rather than its look. 
How do you light an unfinished basement
Different types of lighting can be used for an unfinished basement. The best lighting option would be the fixtures which use soft white bulbs providing a warmer light. Track lighting is also a preferable option. It is better to avoid fluorescent lights as they can be harsh and uninviting in soggy basements.
Unfinished Basement Lighting Considerations 
Unfinished basements are usually gloomy and moist. So the lighting should be different from a finished clean basement to get a proper view. Here are the aspects you should take into account before choosing a light for your damp basement.
Area and State of the Basement
Low ceilings and wide space require specific lighting to provide a comfortable working experience. Hanging lights are better to avoid in this case. Also, consider how much work in your basement is undone. The state of the walls and floor joists are also important to consider.
The Amount of Natural Light
In the case of walkouts or a basement with large windows, you get ample natural lights. However unfinished basements with walkouts could still feel dark due to the dampness. If your basement has plenty of natural lights, you have to select a light keeping that in mind. However, if it's dark enough, go for a soothing yet powerful light perfect for working.
Purpose of the Room
The lighting often depends on the use of the room. The need for lighting for a media room and an art studio is not the same. An art room requires plenty of light as you need light to focus on your art. However, a media room doesn't need ample light; rather it prefers mild lights to avoid glares on the screens. 
Style of the Room
The entrenched decor and style you're going for in your unfinished basement impact the lighting largely. If your lighting doesn't match the theme, the overall deficiency of the unfinished look will come out more sharply. Suppose if you want to gain an industrial look, exposed recessed lighting can be the best option.
Cost
There are various lights available in the market. Like any other home remodeling, you should consider your budget strongly before looking for the perfect light. If your budget is pretty low, you can go for simple exposed lighting. You can replace it easily without much money at any time as well.
Make a Plan
It is always suggested to list the things and make a plan before running into work. when it comes to renovations, it's more important as the hassles of replacing are quite frustrating. Examine your unfinished basement by each corner. 
Establish a lighting plan and ensure if you have enough outlets. By the end of the day, if you work accordingly, you will achieve proper illumination in the spaces you need it. 
How Much Light Do You Demand?
As an owner, if you want to figure out the whole thing all by yourself, it can get confusing how much light you actually need to get the desired illumination. To avoid confusion, the 1000Bulbs Lighting Blog says, "It's time to stop thinking in Watts and start using Lumens." 
To be specific, to deliver enough light to floor spaces, 20 lumens per square foot is suggested. For raised surfaces like tables and others, 30 lumens per square foot will do good. For tasks, 50 lumens per square foot is sufficient.
Besides, there are some online tools such as 'Visual Interior Tool' that help to figure out the amount of light your fixtures will contribute to your space. These tools function by calculating the average luminance according to the variables which you enter and specifying important information for the basement lighting layout.
Lastly, don't forget to consider the time of the day you would work mostly. As mentioned before, even if you have a small window in your unfinished basement, it will affect the overall lighting during the daytime. On the other hand, if you mostly work at night, you know surely that you'll need a brighter light. 
Preferable Lighting Options for an Unfinished Basement
As damp basements are more disparate than the rest of the house, the selection of lighting might be tricky. Not only do they serve an offbeat purpose, but also they're usually undergrounded. Keeping the factors in mind, some of the best lighting options are given below.
Flush Mount Lighting
Flush mount lighting delivers both function and style. These lights are easy to install and they sit flush against the ceiling. Therefore, they will be fully out of your working space. Depending on the size of the basement, you might need a few of these. Try to position them on top of the areas that you want to be more highlighted.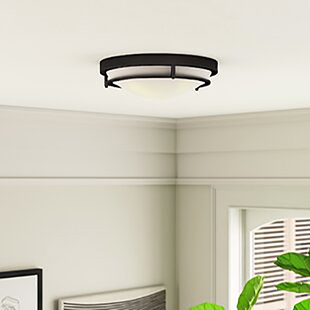 Also, to mount them you need a flat space. If your basements don't have much flat space available, then these lights might not be the best option. However, as there are different styles and sizes available for these lights, you can make them work if you want. 
Track Lighting
For unfinished basements, track lightings are considerably one of the best options. It is because they are not only easy to install but also they usually come in line. Moreover, they fit really well in between ceiling joists and rafters. One track includes multiple lights. That means, by installing one, you will get the advantage of installing more.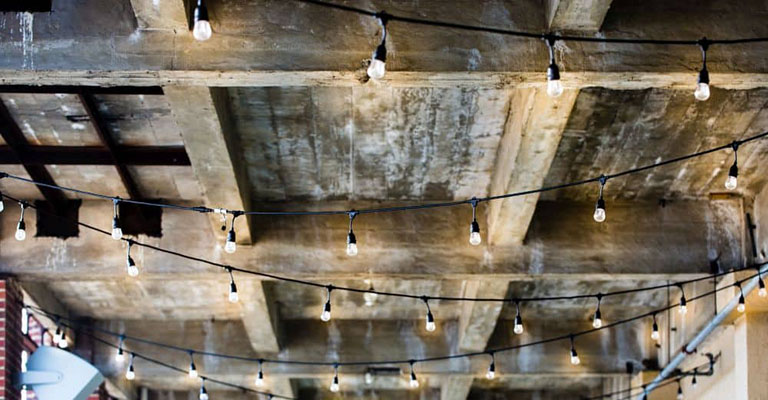 String Lights
String lights are quite famous for decorating outdoor spaces. However, they also fit well in unfinished basements, usually in media rooms. Besides, industrial looks, also look great. They not only function well but also give an artistic look. they are also easy to maintain as all you have to do is plug them in.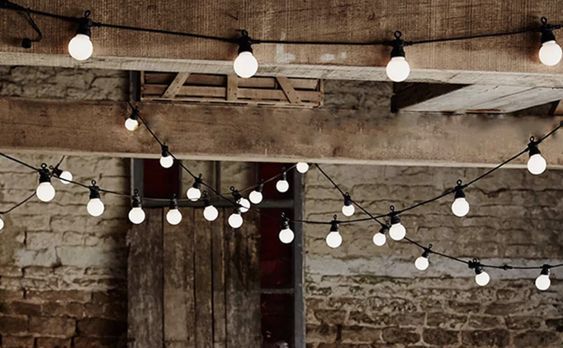 Round LED Lights 
Round LED lights are similar to flush mount lights. The difference is round LED lights are smaller, you can find them easily in battery-powered varieties and they are flatter against the ceiling.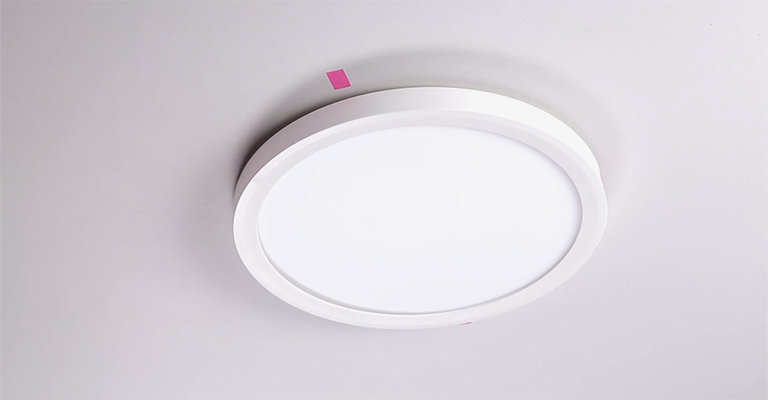 LED Light Bar
LED light bars are not much attractive but they are thorough functional. They operate similarly to standard utility lights. They are moderately large and occupy broad areas. However, depending on your basement, you might need more than one light to cover the entire space.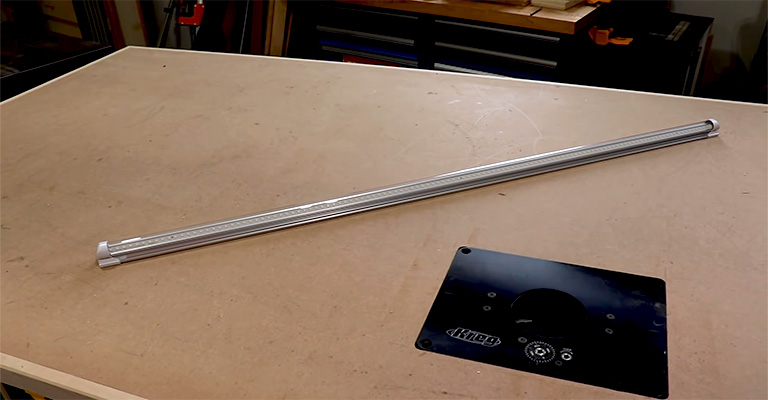 Lights to Avoid
To improve lighting in the basement, harsh lights are never suggested for an unfinished basement. Fluorescent lights are a warning in that case. They don't work well in places with cold temperatures or high humidity. Both conditions are found in the basement.
Besides fluorescent lights, incandescent bulbs should also be avoided. They also possess the harsh, yellow light attributes that don't propose a comfortable and welcoming ambiance. 
Also, keep in mind the clearance of the light you want to install. If your basement has notably low ceilings, you should steer clear of the hanging lightings such as pendant lighting.  
FAQ
What should I do to make my basement brighter?
Aside from finding the best light for your basement, try to do some additional works to get the best output. Adding more lights can simply make your basement brighter. However, the most effective solution to make your basement instantly brighter is adding some paint to the walls and the ceiling.  
Can I set up recessed lighting by myself?
Yes. If you have a power source nearby, you can easily set up recessed lighting without anyone's help. But if you have to bring in a power source, you need some time for the project. If you can write your own circuit, you can do this work by yourself as well. But in this case, it's better to seek help from an electrician.
Conclusion
The functionality of the lights can vary according to the factors of your ceiling. However, soft and warmer lights are better options. Find a light that not only suits your needs but also the needs of your damp basements. No matter how unfinished your basement is, perfect lighting can bring out its fullest potential.