There are a few reasons for wanting to remove tile flooring. One is because it has been damaged and needs to be replaced, another is because it is old, and you want a new one installed. 
Removing tile flooring is a frustrating and time-consuming process. This DIY job is always filled with unknowns – how thick is the concrete underneath? Will the old grout be able to take it? What if I have to remove more than just tile?
Is It Difficult To Remove Tiles?
This project could be very intense, and maybe not worth the bother. The process can be particularly bothersome when the tiles are thick, layered on top of one another, or unleveled. If you need to remove tiles for any reason, it's somewhat difficult to do so on your own. 
Tile flooring over concrete is installed for durability and to make sure that it's not easy to damage it. If you are looking for a quick way to remove tile flooring without causing any permanent damage, you should consider using a tile saw or wet saw.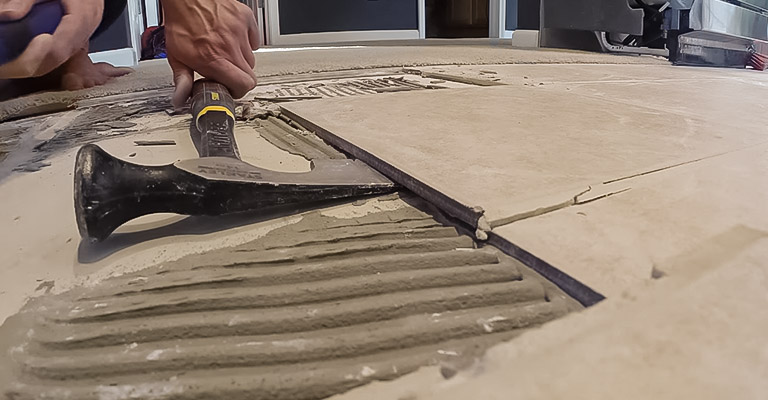 Tile saws and wet saws are both effective, easy-to-use tools that allow for quick and efficient removal of tile flooring. They work by using a blade to cut the tiles into small pieces, then scraping off the old adhesive. 
Using these tools can save you time and money by reducing the amount of flooring damage that will need to be fixed later on. 
Is It Expensive To Remove Tile Floors?
You could easily say that the price of removing the tile floor would outweigh any benefits, but does that mean it's not worth doing? You should always do your research before taking action and make sure you have all the facts.
Yes, it can be expensive especially if you don't know how to do it yourself. However, there are ways that you can do this yourself that will not cost a lot of money and save you time as well. 
Some solutions for this problem include renting a power saw, hiring professional cleaners, and using power tools like jigsaws or grinders on your own. 
Can I Remove Tile Flooring Myself?
Many people want to remove tile flooring and replace it with a different type of flooring. Can I remove tile flooring myself? Yes, but only if the tiles are installed correctly and you have a good level of experience in removing flooring materials.
You should also make sure to use a tile removal tool to make the process easier and safer for yourself. If you don't want to get help from professionals, then you should follow our step-by-step tile removing guide.
How Long Does It Take To Remove Floor Tiles?
When you need to take down your tile flooring, it takes time and effort. If you're not careful, you can damage the floor or even cause a fire. Removing tile flooring takes a long time. It is considered normal for a professional to spend over an hour removing one tile. 
Why Would You Want To Remove Tiles?
Tile floors are an integral part of most homes. Tile flooring is a durable and flexible surface that can be installed on a variety of surfaces. However, they can be a difficult task to remove and replace with something else.
Several factors may compel a person to remove tile flooring from their home. A person might also want their floors to be more comfortable, or they might want a new style in their space. 
Tile flooring is also a choice that may be made for many reasons such as:
When tile flooring starts to look bad or needs replacing due to wear and tear, the decision may be made to remove it and replace it with something else.
Tile flooring is not very eco-friendly and the cost of removing and replacing it with another material is worth the effort.
If there is damage caused by pets or small children that cannot otherwise be repaired, tile may need to be removed before further damage is done.
Tile is not the best option for some types of homes, such as those made from brick or concrete. Tile also does not work well in kitchens or bathrooms with high humidity levels. 
How Much Does It Cost To Hire A Professional For Removing Tiles?
Tile removal is one of the most common home repairs. It is a DIY job that involves cutting tiles and removing them from the floor. With the help of professional tile removal services, it can be done in just a few hours.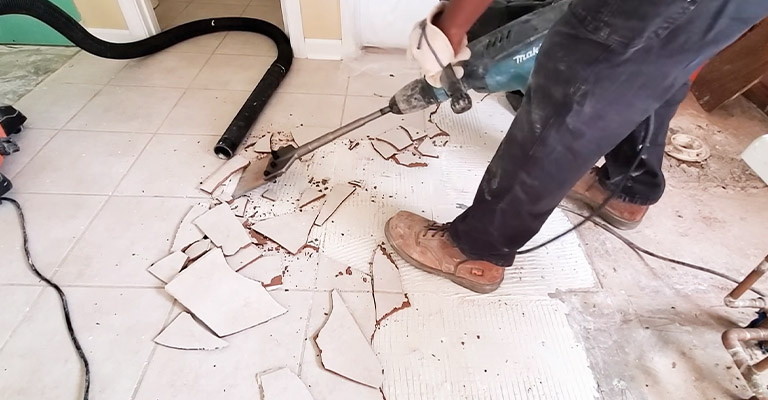 If you are thinking about hiring professionals for this job, you should know that the cost depends on how many tiles you need to remove and where they are located in your home. The total cost also includes the equipment needed for tile removals, such as safety gear and tools.
The cost to hire a professional for removing tiles varies from one region to another. In the United States, people typically spend about $1,000 on average. They also provide homeowners with an estimate of what they can expect to pay based on the specific area of the house and their tile removal needs. 
Tile removal service costs vary based on location, size of the job, and customer service. The cost also depends on the type of tile being removed. For instance, the removal of ceramic tiles can be more expensive than removing vinyl tiles because they are harder to remove.
Final Words
When your tiles gets loose, cracked, bulged, leaking water then you must have to seal the tiles, or remove them completely for fixing.
Removing tile flooring from a home is no easy task. There are many steps involved in the process. You need to remove all of the tiles from the floor, sand them down, and then put a new one.
With a little more effort, you can also replace it with wood or carpeted flooring that will be easier to maintain and clean. At the end of the day, is it worth it? Typically, yes because you will save on time and effort in maintenance and cleaning by not having to spend as much time on these tasks.