On average 5,000 to 10,000 dollars should be a decent amount to resurface a pool in any state in the US. But as there are many factors related to the cost of resurfacing. The cost may range from 1,000 to 100,000 dollars. To resurface an inground pool, you may have to spend between 5,000 dollars to 10,000 dollars. 
And for the fiberglass pools, the cost is around 8,000 dollars. As far as concrete pool is concerned, the average cost is about 10,000 dollars. For fiberglass and concrete pools, the cost will vary a lot depending on what finishes you want to have. To know how much does it cost to resurface a pool and more, keep digging further.
How Much Does It Cost to Resurface a Pool
The swimming pool is pretty amazing considering how relaxing and enjoyable they are. But also, they are quite high maintenance. Because it takes a lot of effort as well as money to maintain your pool in a decent shape. And this maintenance is required every 8 to 10 years or so.
The cost of resurfacing a pool increases if it has some physical damages. Also, you have to think about if you want to upgrade your pool or not. Technology is evolving, and new features are coming every day. So you might not want to keep your pool old school.
As there are numerous options ahead of you when it comes to resurfacing your pool, you can choose whatever you like and that's where the cost of the resurfacing will vary. However, here we are going to suggest what options are there in front of you and how you can budget the cost of this task properly.
Average cost
The average cost to resurface a pool in the US varies from 5,000 dollars to 7,000 dollars per 1,000 square feet. And that is 5 to 7 dollars per square foot. Well, that may vary a little bit, considering which state or which city you are living in. Also, what kind of pool you have plays a great role in this estimation here.
And considering everything, the expected budget for resurfacing can vary from 1,000 dollars to 100,000 dollars. However, the cost of labor and materials are also included here in this estimation. 
Mostly, people prefer hiring professionals to do the job for them. Because this is not a DIY job for everyone. The cost of labor will also vary in different states in the US. Usually, the labor costs between 45 dollars to 65 dollars per hour.
And the cost may increase if your job has more detailed work to do. In that case, the job will require more time and the cost will increase quite significantly. On average, this might take 1 to 2 weeks to complete the job. And you can expect the contractor to charge around 3,000 dollars.
Moreover, the material cost might be slightly higher than the labor cost. You may end up spending around 1,000 dollars to 10,000 dollars on materials like tiles.
Types of restoration and resurfacing
Here in this part of the article, we are going to cover some popular types of resurfacing ideas and their estimated costs.
Above Ground Pool 
Compared to the inground pool, above ground pool is quite cheap to restore. And restoration process is pretty easy as well. As all the required materials can be accessed without any hassle and repairing and restoration require less effort and time.
So the labor cost and material cost will be quite affordable. It might take up to 2,000 dollars to replace the pool. 
Inground Pool
As far as the inground pool is concerned, the resurfacing cost may go up to 5,000 dollars, considering the pool has not taken a lot of damage. But sometimes, due to severe damage, you might have to start the restoration process from the scratch. In that case, the cost might rise to 30,000 to 50,000 dollars.
Fiberglass Pool
Nowadays, fiberglass pools are getting quite popular due to their durability. As they are built to last almost a lifetime, they hardly require any resurfacing or restoration. But if you are up to transforming your old pool into a new fiberglass pool, the average cost should be around 8,000 dollars.
Also, the cost may increase, if you plan to use some fancy materials or finishes for better quality. For better finishes, you can consider epoxy and polymer powders. To cover a medium-size fiberglass pool, it may cost up to 15,000 dollars if you use polymer powders.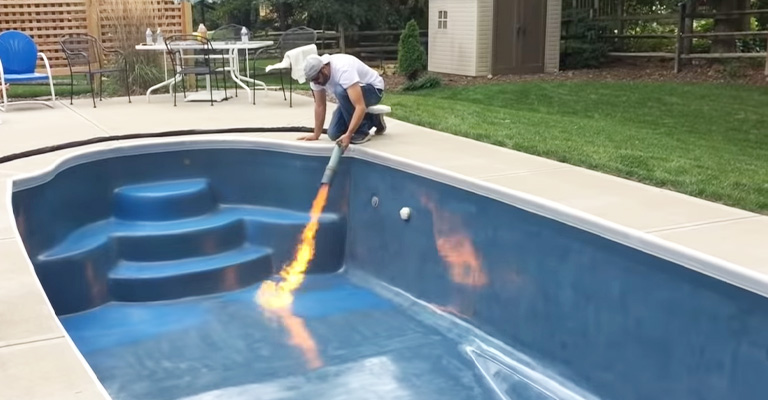 Even though they are way too much expensive, they do a great job in protecting your pool from harsh weather or chemicals. On the other hand, if you are a little short on the budget, you can go with epoxy which costs up to 1,500 dollars on average. 
Epoxy suits perfectly with your fiberglass pool as well as the concrete pool. After applying epoxy to your pool, you will have to wait for a week or two to get a better finishing. Also, be careful when you are applying an epoxy coating to your pool, especially with gases and fumes when proper ventilation is absent.
Concrete Pool
Resurfacing a concrete pool usually costs about 10,000 dollars. And then you have to consider what kind of finish you want to have for your pool. For that purpose, finishes like paint, plaster, tiles, and other aggregates are on the table for you.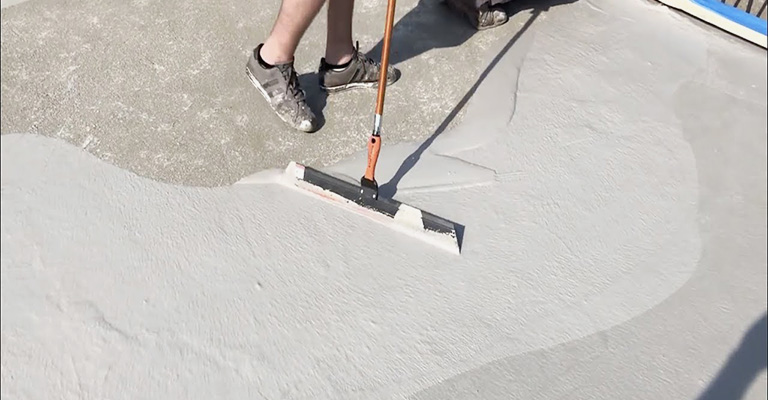 Paint
Nowadays paint finishing of the swimming pool is rarely seen in the US. But still, some prefer paint finishing for the concrete pools because they can have more color options, better design, and costs less money. For the medium-sized pools, it costs up to 1,500 dollars to do the finishing with paints.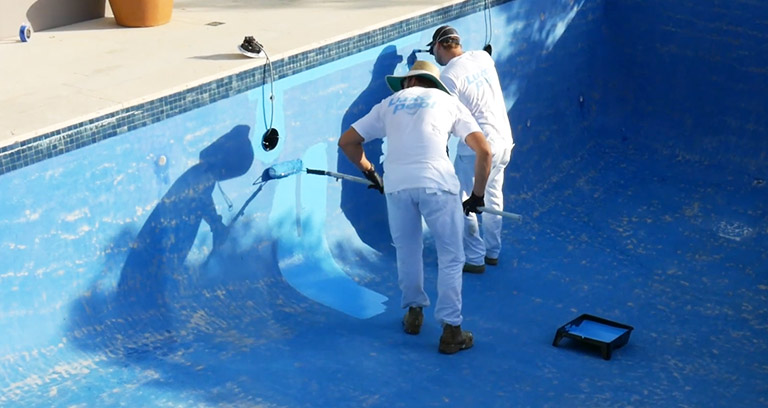 Plaster
Though plaster looks better than painting as a finishing of your pool. But the cost is quite high here. To have a finishing with a mix of cement, sand, and water, you may end up paying 7,000 to 10,000 dollars or maybe more than that considering the damages.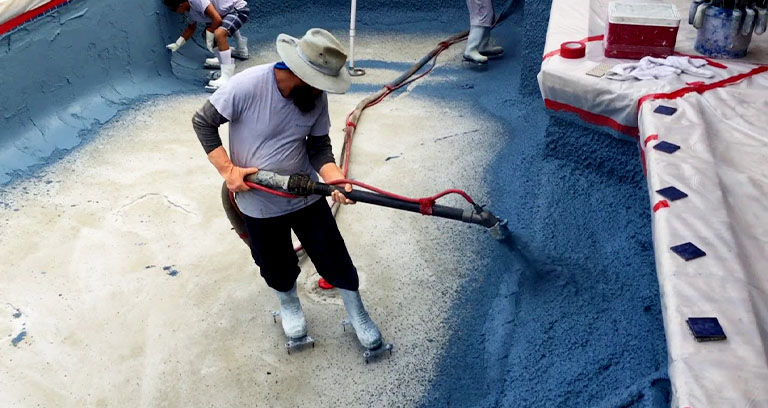 Tiles
The most attractive as well as durable option among all for the finishing of a concrete pool is the tile. But the cost is for the tile finishing is quite pricey too. Tiling for the first time might cost up to 30,000 dollars and it may vary depending on how many areas you want to cover with the tile.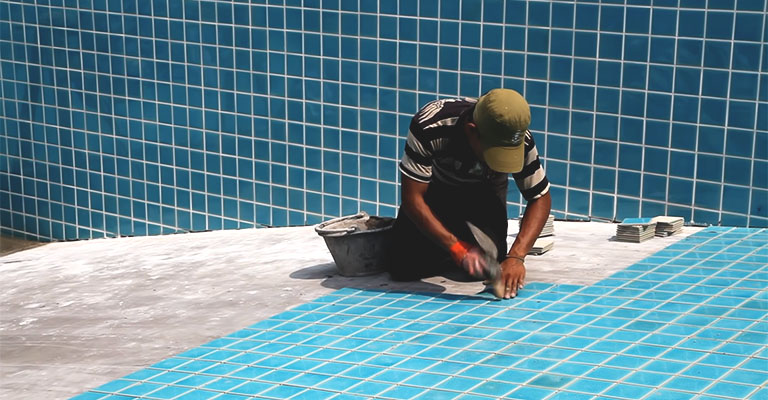 Frequently Asked Questions
How long does pool resurfacing take?
Depending on the size of your pool, the duration of the project can vary. Usually, for a mid-size pool, it takes up to 4-5 days to resurface. But if your pool is larger than 1000 to 1200 square feet, it might take longer to do the finishing. 
What happens if you don't resurface your pool?
Resurfacing is a must after a certain time if you have a concrete or inground pool. Because in around 10 years, the pool starts to be vulnerable to damages, cracks. Also, the weather and some chemicals destroy the evenness of the pool.
Can You Paint Cardboard Ceiling Tiles?
Yes, you can paint cardboard ceiling tiles! It might sound like an impossible task but it's not. You just need to do it properly and with the right process in mind.
Conclusion
Maintenance and repair are a significant part of the regular cost management of your house. And that cost increases if you have a pool in there. But as there are lots of options ahead of you here, you can just some up your budget and then calculate how much does it cost to resurface a pool and choose the best option available for you.