Encapsulation of black mastic is the treatment of black mastic-containing tiles by sealing them within a protective shell. The process, thus, prevents the hazardous black mastic fibers from being airborne. 
Anyone in a situation having to decide whether to encapsulate black mastic or not must have an idea of how alarming black mastic can become. Because it often contains hazardous asbestos. In this article, we will guide you on how to safely encapsulate black mastic on your floor.
How to Encapsulate Black Mastic For Good
For people trying to get rid of black mastic, encapsulating it is probably the best idea within a sound budget. However, Before starting on how to encapsulate black mastic, we need to consider some key factors first.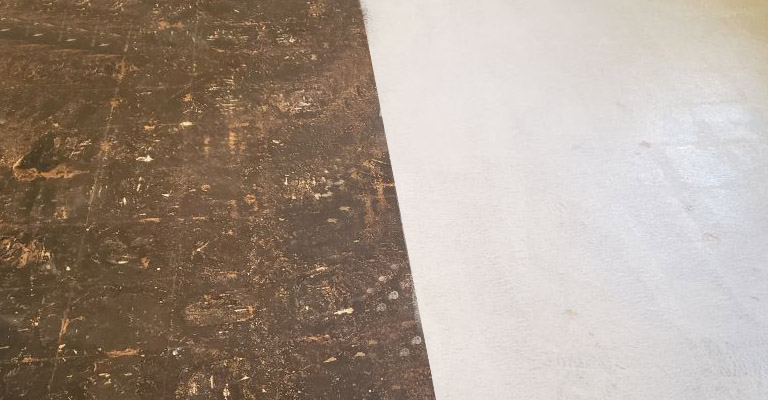 If you want to encapsulate black mastic for good, there are three most common non-toxic ways to seal it without removing the surface.
Using a cement overlay material such as Ardex,
A coating-like sealer such as Fiberlock, or
A sealer/ primer such as PerfectPrimer or PerfectPaint.
All of these products work best if applied in layers and allowed to dry completely before applying additional coats.
Be sure that your chosen product has been specifically designed for this type of application; incorrect use could lead to peeling and chipping of the paint finish.
Once completed, your project should look like new with no signs of wear or tear – perfect for protecting your investment.
These products are easy to use – just apply them like you would paint or wallpaper.
There is no need for special skills or tools – all you need is some patience and some basic supplies like paint rollers and brush applicators
Finding out if the black mastic contains asbestos
The probability of black mastic in your house containing asbestos is pretty high. And why not since most adhesive companies had used this dangerous material during the late twentieth century. 
If your house has 9″x9″ tiles, the probability is even higher. Yet you can't be hundred percent sure whether the black mastic contains asbestos or not. However, you can buy an asbestos testing kit or you can contact professionals to test it for you.
Moreover, it is essential to ensure the presence of asbestos in black mastic. In case the tiles turn out to be free of asbestos, it can spare you a lot of unnecessary expenses. 
Condition of the floor surface
The most crucial factor for encapsulation of black mastic is probably the condition of the floor surface. You need to consider whether the tiles are chipping off, or the black mastic is scratched or exposed.
If the black mastic is nearly about to expose or in a dangerous situation, it would be best to do a penetrating encapsulation like sealing. Otherwise, if the floor is in a good condition, some people may consider bridging encapsulation such as covering the floor with carpet or floating floors. However, bridging encapsulation is not a permanent solution and can again cause problems soon. 
Safety precautions
Encapsulation of black mastic is not a simple or light task. One needs to be careful during encapsulation. Black mastic is a delicate substance. Therefore, a little scrape or erosion can cause the asbestos fiber to be exposed and airborne.
So, It is probably the safest idea to contact the local professionals as they are experts. Nevertheless, with little precautions, you can do it yourself if you use gloves, eye protection, a respirator, and other necessary equipment.
Secondly, you have to prepare the black mastic floor before applying encapsulants. The Procedures you need to take for it:
Cleaning the black mastic floor
The first task is to clean the floor thoroughly. You have to clean the surface with a neutral cleaner. Anything reactive towards black mastic can upset the asbestos fiber and cause harm. Beware not to scrape the surface while cleaning as it may expose asbestos.
Choosing the right products
There are a lot of good black mastic sealing and coating products available in the market. You have to consider all the factors and buy the one that is ideal for your floor condition. Either you can take professional guidance or can research on the products.
Furthermore, these days some very good black mastic encapsulation packages can be found in the market. You can directly buy those and encapsulate them very easily according to their instructions. 
Finally, you can start sealing the floor containing black mastic.
Sealing black mastic
First, read carefully the procedure and instructions given with the encapsulation products and then mix them with water accordingly. Maintaining the proper ratio of water and encapsulants is important since the rate of penetration depends on the mixture. The more perfect the ratio is, the better the sealing turns out to be. 
Make sure to use professional spraying equipment as it makes sealing easier. 
Removal of black mastic vs black mastic encapsulation
Removal of black mastic is a very expensive procedure. Besides, you can't risk doing it yourself. You must hire an asbestos removal company to do it professionally. Considering the number of removal costs, professionals these days also suggest encapsulation which is much more budget-friendly and also easier.
But if you don't have to worry about the budget, then you can remove black mastic if you want. Also, there are a few situations where encapsulation becomes impossible with the floor condition being very bad and asbestos fiber being exposed, thus it is safer to remove the black mastic permanently. Again it depends on the condition of the floor surface, so you can always ask for professional guidance. 
How is black mastic dangerous 
We know that back in the mid 20th century, black mastic had been widely used as a flooring adhesive. And most of them contained asbestos as people thought that asbestos helped the adhesive to be more durable and fire-resistant.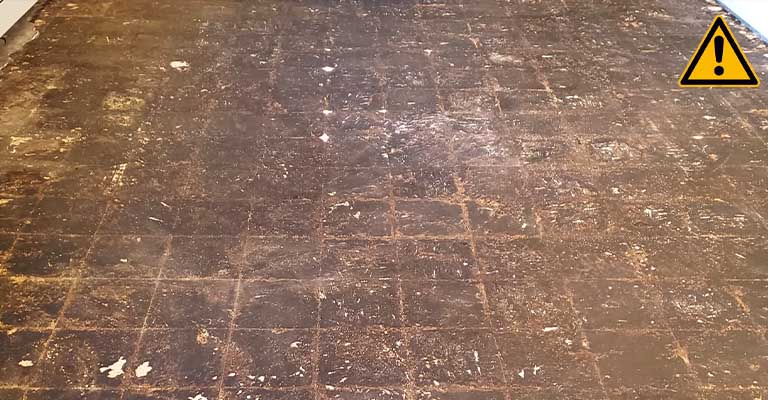 However, after asbestos regulations were raised around the 1970s, people came to know about the danger of asbestos as well as black mastic. Asbestos can be extremely dangerous when airborne. Moreover, Exposure to asbestos fiber can cause chronic diseases like mesothelioma, lung cancer, asbestosis, pleural thickening, or pleural plaques.
Unfortunately, a lot of us still have asbestos-containing black mastic at our homes. So to remove it or encapsulate it, we have to be extremely careful in case we don't get exposed to asbestos. 
Things to Avoid
If you are in the market for a new sealant, black mastic is a great option to consider.
This product is used to seal and protect wood surfaces from water damage. It can be applied using a brush or sprayer, and it has a long life expectancy.
1. Never sand or buff black mastic or tiles that you suspect to have asbestos.
If you are unsure if a piece of mastic has asbestos, do not attempt to remove it yourself with sanding and cleaning tools. Black mastic is often covered in a thin layer of cement which can be easily damaged by these methods. If there is any doubt about the material's safety, seek professional help.
2. Chemical strippers should never be used as they can upset the integrity of the black mastic.
Chemical strippers may seem like an easy way to get rid of black mastic, but this could actually lead to its destruction and release of asbestos into the air.
Instead use a gentle solvent such as water or hydrogen peroxide that will not damage the surface area while removing the adhesive residue left behind by mortar repairs or tile installation
FAQ
Is encapsulation sustainable?
Yes, encapsulating black mastic is possibly the most sustainable solution. It is, in fact, the most budget-friendly and useful technique as well. 
What to do if someone gets exposed to asbestos?
No amount of asbestos is considered safe. So if you fear that you have been exposed to asbestos, you should consult doctors.
What are the benefits of Encapsulate Black Mastic?
Encapsulating black mastic can help protect it from fading, warping, water damage, mold growth and other deterioration caused by environmental factors.
Sealing your Masonite surface with an appropriate product will prolong its life and prevent any unwanted changes from happening over time.
To Conclude 
Encapsulation of black mastic isn't as hard as it seems. With proper guidance and precautions, you can encapsulate black mastic easily and safely within a fair budget.