As far as I am aware, the only way to remove it is to crowbar it up, which will result in them being damaged. You could just replace them, depending on how the deck is finished. However, it would require more effort than simply crawling.
That being said, there are other methods as well. In this article, I'm going to show how to remove deck boards without damage. There are some DIY projects that you can do with decking boards. 
You can even use old decking boards for some DIY projects. You may be able to recycle old decking boards if you remove them from your deck without damaging them.
If you want to reuse decking boards, removing them can be tricky. The majority of decking removal methods today involve tearing the boards down.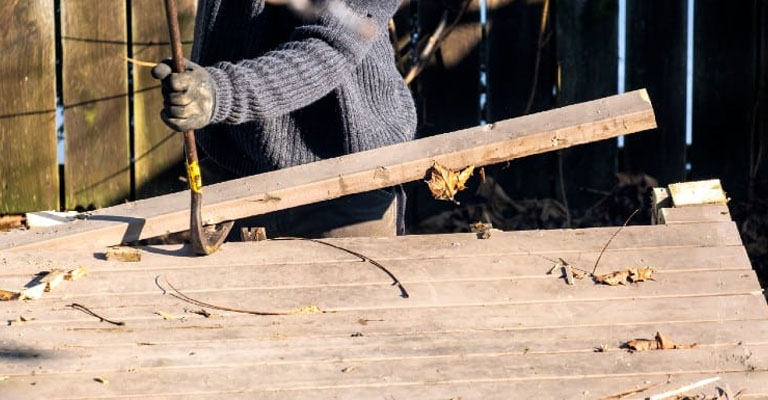 How Do You Pull Up Decking Boards Without Damaging Them?
Decking boards can be pulled up in several ways without damaging them. Different methods work depending on what kind of nails or screws you used. These are some different ways that you can try to remove composite decking boards safely.
Cutting The Decking Boards
There are a few things you can do without damaging the decking boards if you can't remove the nails or unscrew the decking boards. Cutting the boards may be one solution.
In addition to making removing them easier, it can also prevent the boards from being snapped or broken. Decking boards won't be useless if they are properly cut, so long as they are cut correctly.
You should plan where you want to make your cuts before cutting any decking boards. To avoid damaging the joists, you should also be aware of where they are.
You will also need to know the thickness of the deck boards so that you don't end up cutting through the joists. If you want to mark your deck boards, you can use chalk. Once you've marked them, use a circular saw to cut them.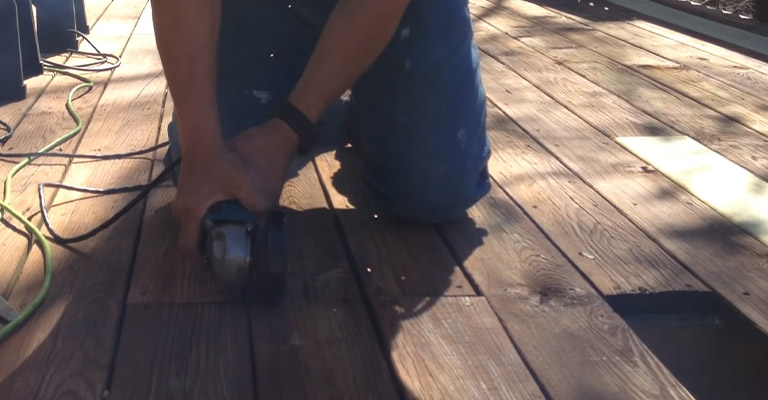 Using Plug Cutters
Plug cutters can also be used in this situation. Plug cutters make holes in boards by drilling into them. To reach nail or screw heads easier, you can use a plug cutter to make recesses. Once the recesses are created, you can proceed with removing the heads as described above.
The alternative would be to use plug cutters to cut through the boards. The decking boards can then be effortlessly pulled up from the deck. Nevertheless, you will need to understand how deep you will have to go without causing any damage to the joists.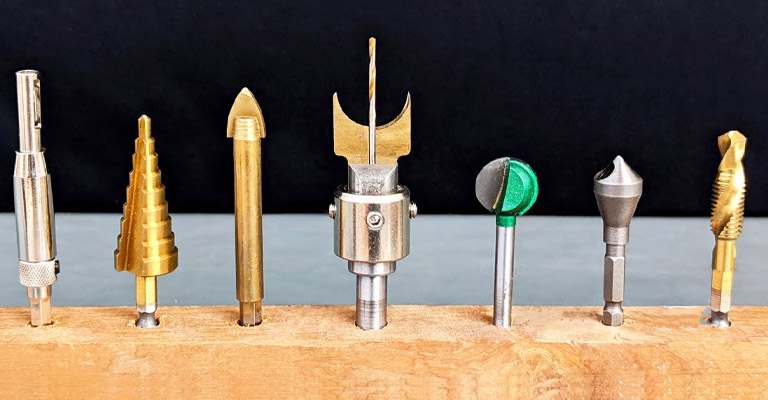 Unscrewing Decking Boards
Screws can either be harder to remove or easier to remove than nails, depending on the situation. Screws are not recommended for prying out decking boards. You risk harming the wood and frame owing to the screws' sheer grip strength. Instead, you should look for another method.
To begin with, you should attempt to unscrew the screws. Grab a pair of pliers and unscrew the screws from the decking boards manually if they have exposed heads. You will have to exert some effort.
You can also use a drill chuck and an electric screwdriver set in reverse. By doing so, you will be able to unwind the screws from the wood. When you're dealing with flushed screws, things become trickier and more challenging. It may be difficult to reach screw heads since they are buried deep within the wood.
Various screw extractor sets can be used for these tasks. Essentially, these extractor sets are special drill bits for punching holes in boards and extracting screws.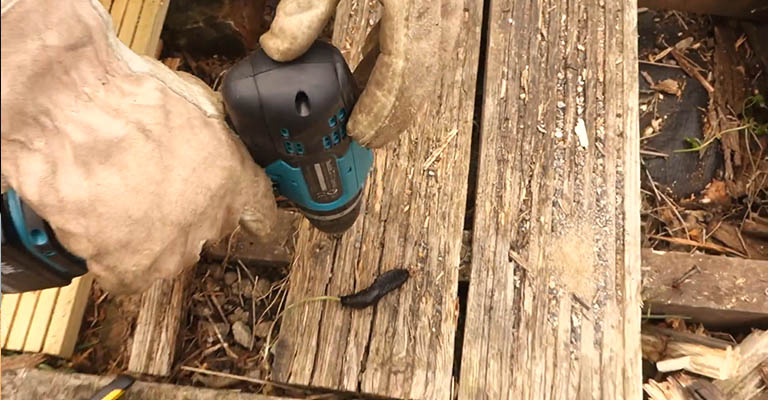 Prying The Nails Out
The first thing you need to do if you have nailed boards is to pry the nails out. Pry tools, such as a crowbar, can be used with the claw side of a hammer. However, how can nails be pulled out without damaging the boards or nails?
Additionally, you can remove the deck nails using nippers. When prying out deck nails from decking boards, you can try to remove them from the backside. Your decking boards will be less damaged this way.
Use a block of wood or another material under a hammer if you are using one. This will provide leverage to make it easier to pull the nail. This will also prevent any scratches or dents from being made to the boards. You can gently rock the nails out sideways when you remove the decking nails. By doing so, you minimize the possibility that the boards will be damaged and torn.
In addition to a hammer, there are other tools that you can use. If you want to reach flushed nail heads, you can use a tool called a cat's paw. This is done by positioning the claw near the nail head while hammering it to dig through the wood. To remove the nails, pry them out with your hammer. You will, however, see some marks.
How to Remove Deck Boards With Nails Without Damage?
It may be necessary to remove composite decking boards for several reasons. Rotten boards may need to be replaced or decking may need to be resurfaced. Whatever the case may be, removing old decking boards must be done carefully. Although it may seem easy, it can be quite tricky.
It is possible to damage the surrounding deck boards and the frame of the deck if you aren't careful. What is the best way to remove deck boards? Is it safe to remove boards that are nailed down?
Removing Nailed Deck Boards
It is possible to remove old deck boards from a deck in several ways. You can remove it any way you want if you're building a new deck. On the other hand, there are times when replacing a few boards or resurfacing the deck is just the thing you need.
Deck boards can also be used for other DIY projects if they are still in good condition. Listed below are some tips and methods you can use to safely remove decking boards.
Using Special Tools
It is possible to try to remove the nailed boards using special tools designed to do the job. A variety of these tools are available online. Similar to pry bars, they work in almost the same way. You can find many of these tools on the web if you do a quick web search.
Saw The Decking Boards
Circular saws can also be used to saw the boards. You may have trouble prying up the long decking boards without damaging the surrounding decking boards or the substructure when the boards are long. 
Measure the length of the decking boards and see how far it extends halfway. You can saw the deck boards into smaller sections and pry them apart piece by piece if you can't remove the remaining portions of the deck. 
You will want to be careful not to accidentally see the joists if you are reusing them. Using crowbars or prying tools, remove the boards once they have been cut.
Start From the Bottom
Starting from below can make it easier to remove decking boards from an elevated deck. The nails need to be pried out by gently prying on the decking boards. You can then ram the boards upward using a hammer or another tool. To prevent damage to the joists, be careful not to exert too much force.
Using Crowbars
Using a crowbar and hammer is the easiest way to remove decking boards. Using two crowbars will make the job easier. The first step is to gently pry the end of the decking board off with the crowbar. Use the second crowbar to pry along the length while keeping the first crowbar weighted down.
The crowbars should be alternated to lift the board inch by inch while minimizing breakage. Similar tools, such as cat paws, can also be used to lift decking boards gently bit by bit.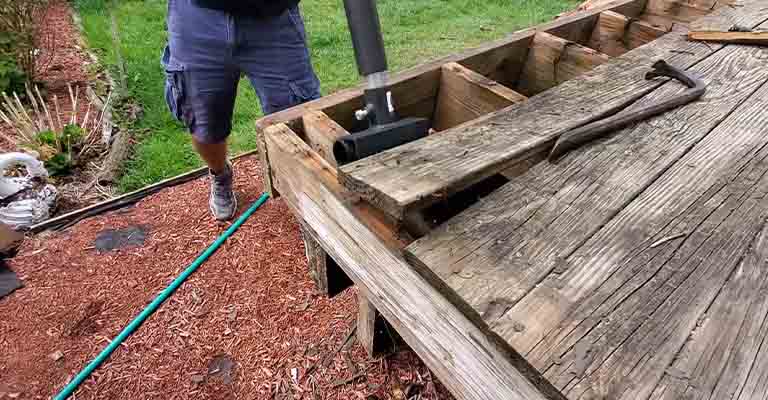 Contact A Professional
You can always ask for help from a professional if everything else fails. Decking boards can be removed by professional contractors with better tools without causing damage to them. Consult with friends and family for recommendations. Social networks and forums are excellent sources of information.
Final Words
There are a few things you can do after you remove old decking boards. Any wood that's still in good shape can be repurposed. You might find them useful for your DIY projects. For example, you could build planter boxes and garden shelves.
As well as tables and chairs, you can also make frames out of them. If the boards are no longer useful, you can recycle them and throw them away. If your deck needs to be resurfaced, you can use new material. Consider using composite decking instead of wood if you have been using wood for your deck.
Splinter-resistant, rot-resistant, and fungi-resistant, composite decks are resistant to all of these problems. In addition to being low maintenance, they are long-lasting. You will also like composites if you are a big fan of wood's rustic look.
Contrary to other synthetic materials, they look natural and wood-like. Despite being slightly more expensive than wood, their advantages outweigh the price difference. That is why it is important to know how to remove deck boards without damage. 
Also Read-