A great way to run ethernet cables from one floor to another floor is through the ceiling. You might need to do some drywall repair to access the joists between floors.
When Ethernet Cables Through Floors Is Wise
Even though wifi has become a quick fix to the trouble of connecting wires to every device for receiving internet, it can't be as efficient as ethernet networks at times. Ethernet cable ensures maximum internet speed with a reliable connection that wifi can't provide.
If you are a professional programmer or a gamer or want to open an office at your house for working from home, you are probably thinking of establishing an ethernet network since it is the best option for a secured and stable internet connection. 
How to Run Ethernet Cables Between Floors
Running Ethernet cables within a single floor is quite simple and trouble-free. On the contrary, running ethernet cables between floors can be a little tricky since you have to access wires from one floor to another. 
Now we will guide you on how to run ethernet cables between floors without having to call in an electrician. 
Primary Tasks
Running ethernet cables between floors can be done in several ways. However, most people prefer running the wire through the ceiling, avoiding running through exterior walls since it contains insulation. Nonetheless, before starting to run wire, at first you will need to do some primary tasks that are simple but necessary. 
Following the local building codes
The first thing you should do before any other task is to check the building codes whether you have permission for wiring Ethernet cables in your area. Ethernet cables being low voltage are allowed in most areas, still, it's better to confirm the local codes. 
On the other hand, if you are renting a house, then you should ask the homeowner if you're allowed to run wires in his house since running wires requires drilling through the wall and ceiling. 
Planning the wiring
You should make a detailed plan on how you're going to install the ethernet cables before running them practically. Because a perfectly calculated plan will save you from the predicament of falling short of wires or drilling at the wrong position.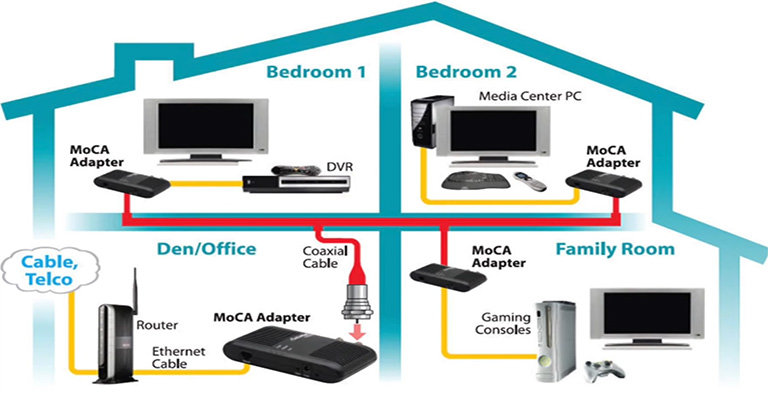 source- https://www.youtube.com/watch?v=2GneearSPL0
The most important task is to select the perfect route to run the wire. Therefore, you should choose a place away from already existing electrical lines or pipes, or studs. To avoid hidden weirs or lines, you can use stud detectors that will help you detect whether there's an obstacle inside the wall or not.
After selecting the location and route where cables will run, you better measure the number of cables required. It is always safer to buy 10 feet of extra cables than the calculated amount in case they may fall short unexpectedly.
To make the process smoother, you can mark those places and routes where you have selected to run weir with a marker or chalk. It will make the work easier and will leave fewer options for the project to go wrong.
Collecting the necessary tools
Another important task you should do is to make a list of tools that will be needed while running weirs and buying or renting them straight away. Otherwise, It will be quite unpleasant if your work gets stuck only because you can't find a certain tool.
Tools needed for running Ethernet cables are:
1)Measuring tape
2)Stud Finder
3) Drilling machine
4) ¾ " drill bit and 12″-16″ drill bit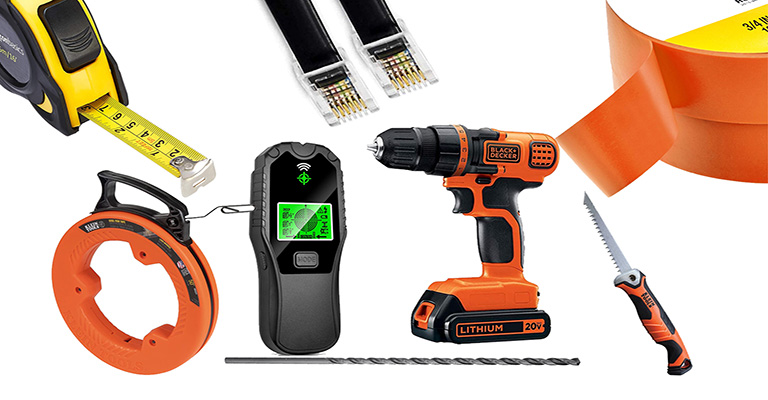 5)Electric tape
6)Drywall keyhole saw
7) Fish tape or wire coat hanger.
8)Straight through ethernet cables
Finally, you can start to run the wires.
Running ethernet cables between floors
Suppose, you want to pull the wire from downstairs to upstairs. For this purpose you have to run the wires through the wall cavity, letting the wire pass through the entrance of the ceiling between two floors. Therefore you'll have to drill into the floor along with the walls.
Step 1: First, select a spot on the wall of both floors where the outlets will be. Keep in mind to consider all those factors while selecting a location that is discussed above.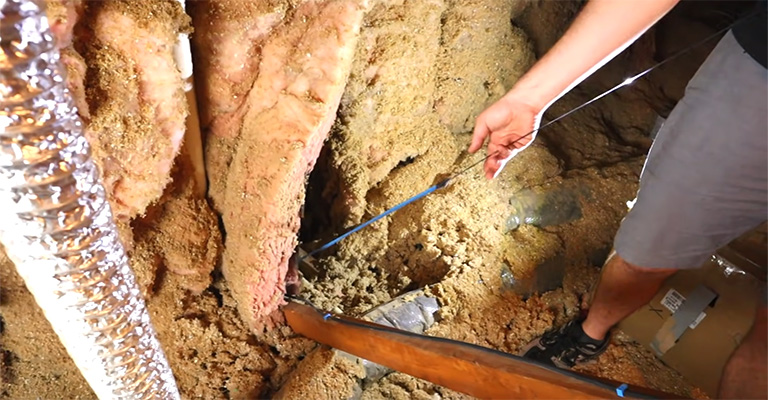 Step 2: Now turn the electrical power off to avoid any kind of accident. Next, drill a small hole on the spot of the outlet wall downstairs and make sure the hole is obstruction-free, using a metal coat hanger. Then enlarge the hole by cutting it to the size of an outlet box if the hole is safe.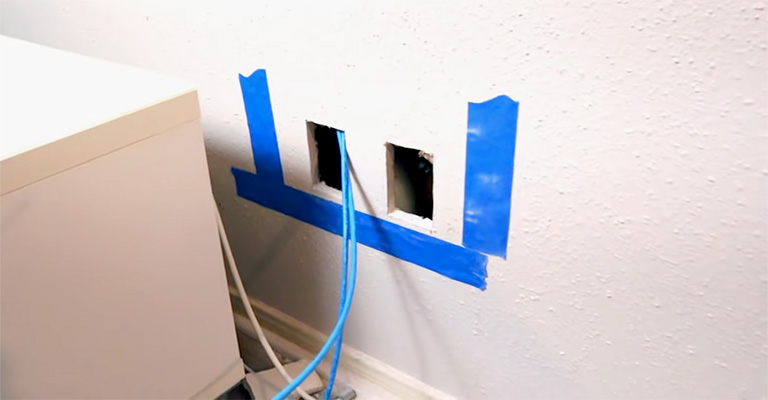 Step 3: Repeat the same for the outlet wall upstairs. Make sure this outlet isn't too far from the floor. Then you have to drill into the floor inside the wall cavity to let the cable pass through it from one floor to another.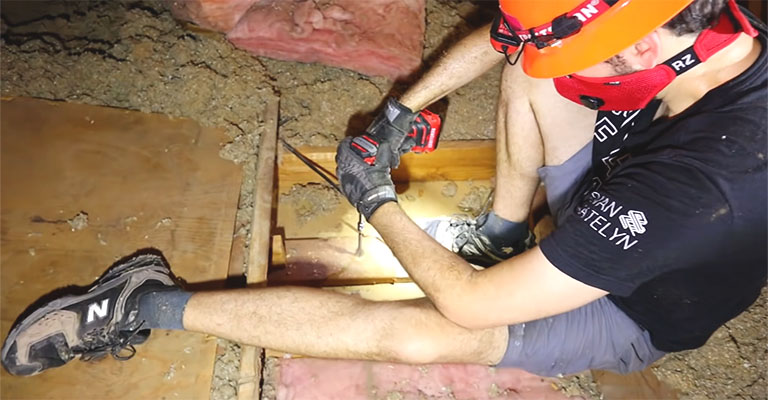 For drilling into the floor, use a ¾" drill bit holding the drill at a 90-degree angle up to the floor and subfloor. Later using a 12 to 16-inch extension to the drill bit, cut through the ceiling below.
Step 4: Now after the drill work is done, attach the cable to the fish tape or coat hanger with electrical tape. Now you can slip the cable attached with the fish tape through one outlet of the upper floor, and letting it pass through the ceiling hole, pull it through the outlet of the lower floor.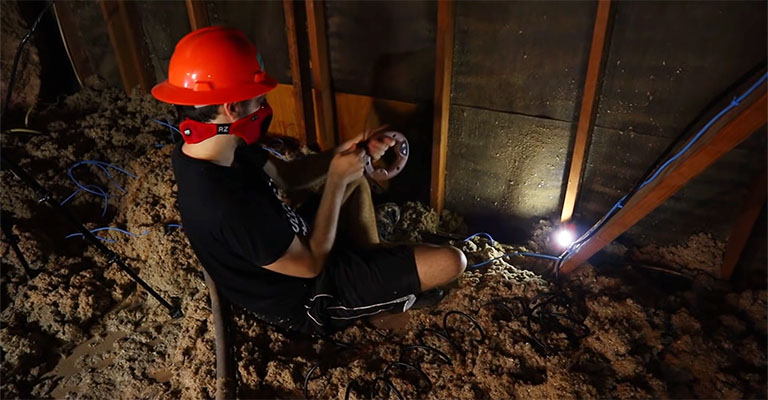 Step 5: You're done! Now you can remove the fish tape and refill the holes that you may have cut unnecessarily.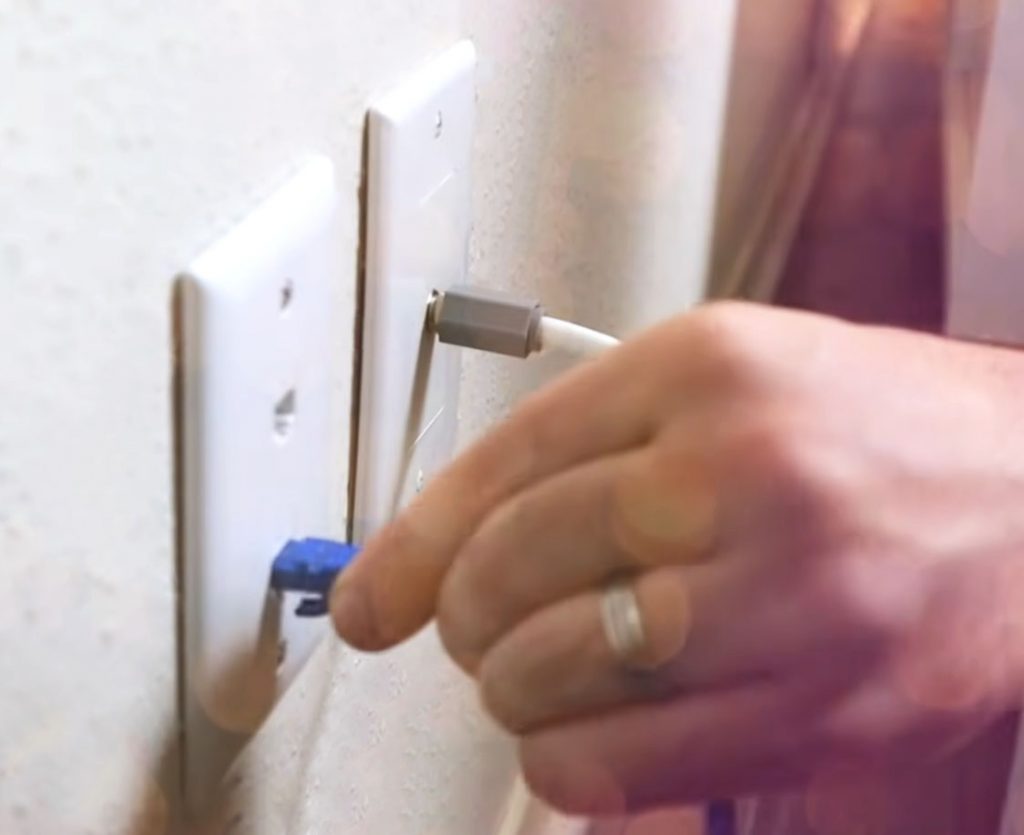 FAQ
Is ethernet better than wifi?
Ethernet is undoubtedly better than wifi since it provides speed many times faster than wifi, and also ensures a stable connection. On the other hand, you can access the Internet from any place in your house through wifi without needing to connect any wires.
Can I share the internet from one pc to another?
Yes, you can share the Internet from one pc to another via crossover ethernet cables.
Can I run an Ethernet cable between floors without drilling?
A Powerline adapter might be the closest option you can use. Try to get yourself a good quality adapter as it could cause problems with TV boxes for satellite or cable TV. But, if you want to run ethernet cable through exterior walls, you might need drilling.
Conclusion 
After you're done, fill any errant small holes between the gaps with matching wood putty and a mixture of sanding dust and epoxy glue for the larger ones. With proper planning and basic skills, you can run ethernet cables without spending extra money. 
However, if the task seems too tricky for a different house layout, don't hesitate to reach out to professionals.