Follow the building code and other protocols, and get necessary electrical equipment to run overhead electrical wire to detached garage. First, set the cables up outside in a conduit, run a guy-wire to reinforce the power cable, and fix the power wire to the guy wire using tie-wraps.
How to Run Overhead Electrical Wire To Detached Garage
Running underground electrical lines to a detached garage due to obstacles such as patios or driveways can be a bummer. One common and useful solution for this problem is to run overhead wire. 
Supplying the electricity from the main panel of your home to your detached garage through wires running above a certain height from the ground is what you call running overhead wire. In this article, we will guide you on how to run overhead wire to a detached garage.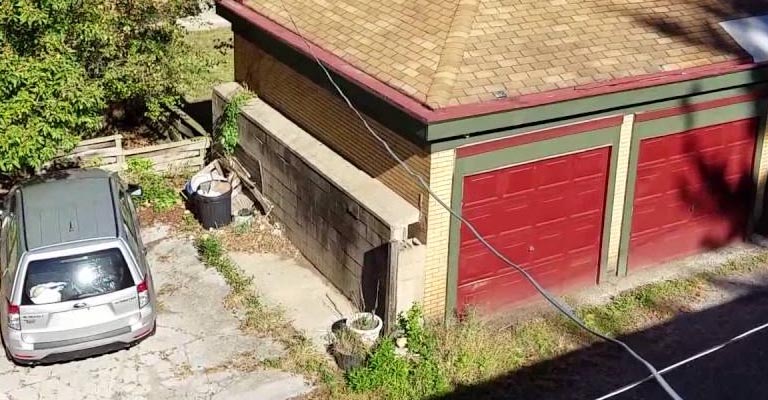 For houses where underground wiring becomes an issue, overhead wiring is a possible handy method to supply power to detached garages. Therefore, the factors you need to consider to run overhead wires in your detached garage are:
Following the local utility codes
Any kind of modification or new electrical connection in residential houses requires inspection and permission from local government utility services or needs to maintain the necessary codes. Thus, before starting wiring to your detached garage, you have to contact the local office to evaluate codes and laws regarding overhead wiring.
Moreover, A lot of municipalities don't allow overhead wiring or have special requirements for it. Therefore, you must have your house inspected and ensure permission to run overhead wiring.
Ensuring clearances around wiring surroundings 
The overhead wire lines should be at a safe distance from public areas of the house such as the entrance, patio, and garden.
Overhead conductors should have a 3 feet clearance from porches, balconies, doors, and windows in the open state.
The overhead lines should be at a safe distance from trees or electrical poles.
The overhead wires must be away from water sources such as swimming pools, hot tubs, and spas. They should at least maintain a safe distance of 10 feet horizontal and 22.5 feet vertical according to utility codes. 
The clearance for public areas like streets, roads, parking areas should be at least 18 feet.
These distances may vary with utility codes of different states and municipalities. So you better do your research and follow your local codes.
Buying the necessary electrical parts
It is important to buy the right parts for overhead wiring connections. Therefore, you can ask for guidance from an electrician for the equipment you will need for wiring your garage. The number of cables and wires will depend on the distance between the main panel of your house and the garage you want to run power.
Also, it will depend on whether the space between the garage and your home has any obstacles or not. The quantity of these parts will vary from house to house as the dimensions are different. However, the common parts that are required are:
Weather-proof mastheads
Turnbuckles
Guy wire
Guy wire clamps
Cable
Cable ties
Rigid conduit
Insulators
Running overhead wire to detached garage
The process of running overhead wires to your garage is not a difficult task at all, but you need to have basic carpentry and technical skills related to electrical work. Moreover, you must have the necessary electrician skills and tools to be able to run overhead wires from the main panel to the detached garage. 
Otherwise, you can take help from expert electricians in your local area. They will get your work done without you having to take any trouble. However, if you have basic electrical knowledge and you don't want to spend extra money paying the electricians, you can do it yourself by the following procedures:
Step 1
First, take out the cables from the main panel and set them up outside in a conduit at least 13 feet high from the ground. Install another conduit on the side of the detached garage.13 feet is a safe clearance height for any vehicle to pass through the ground. Also, remember to use weatherproof masthead.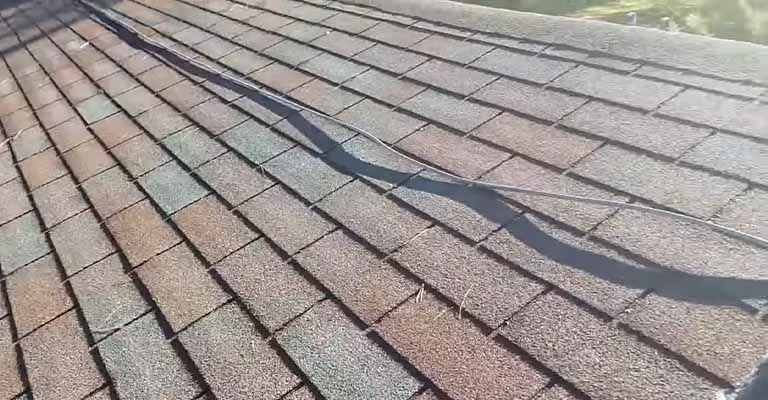 Step 2
Next, run a guy-wire to reinforce the power cable since they are unable to support their own weight. Remember to set up additional supports to connect the guy wire. Run the guy-wire allowing some slack since wire length changes with temperature.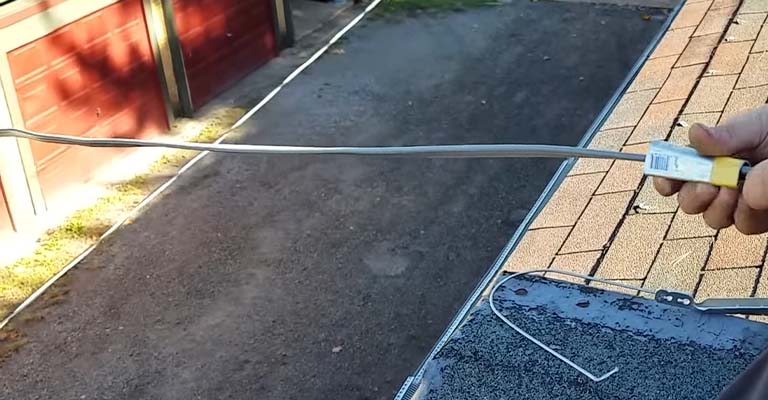 Step 3
Finally, using tie-wraps, fix the power wire to the guy wire about every 12 inches. Or you can also wrap power wires around the guy wire.
Why choose overhead wiring?
The more conventional and well-approved method of running electrical service is underground wiring. But in some cases, it is practically difficult to dig underground as the ground sometimes is rocky or there are concrete structures in the ground. In such circumstances, the overhead wiring method is the more effective and easier way.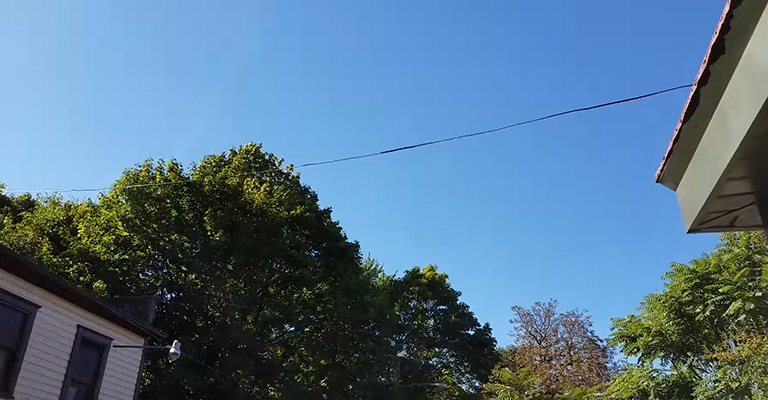 FAQ
How much does overhead wiring to a detached garage cost?
The cost depends on the wire lengths. Also, the cost of wire, conduits, and service masts vary depending on their quality. However, $1000 to $2000 should be enough to get the work easily done.
Do I have to use conduits for overhead wiring?
Yes, you must use conduits. The electrical cables can't remain exposed outside as extreme temperature and rainwater may cause danger.
What type of conduits should I use for overhead wiring?
The ideal type of conduits will be rigid metal. As the conduits will be directly exposed to sunlight, rigid metal conduits will give longer protection. 
What size wire needs to run power a garage?
12 AWG copper conductors with a 20-ampere breaker and 14 AWG copper conductors with a 15-ampere breaker are the ideal choice for a garage. 
How to Run Ethernet Cable Through Exterior Wall?
To run an ethernet cable through the exterior wall, first, you should drill a hole in a suitable place through the exterior wall, run ethernet cable on the desired location of the exterior wall and finally seal holes around the cable for preventing water.
To conclude 
Running overhead wires to your detached garage isn't much tricky once you know the technical skills required to do the electrical work. Besides, you can always take professional support from an electrician. Last but not least, ensure to follow the general electrical, building codes, and security precautions to avoid any kind of inconvenience.