Imagine taking a nice hot/cold shower; then you notice some tiny creatures that turned out to be bugs in your bathroom. And there goes your happy shower after a long day that you've been looking forward to.
These creatures usually find their way up the drains because of moisture, and they can creep you out quickly, no doubt in that.
Some even carry diseases, and some do not, but it's better to get rid of them permanently. There are quite a few proven ways to get rid of the bugs. So that's what you will find out on how to stop bugs from coming up the drain.
Why Do Bugs Tend To Come Up The Drain?
Like all living things, insects or bugs need the three necessities to survive; food, shelter, and water. What's more, your drain provides all three of these for the insects.
The drains provide adequate food, water, and shelter from predators that may harm these insects. Several bugs crawl up the drain pipes searching for food and water; your bathroom has the perfect checklist for the insects.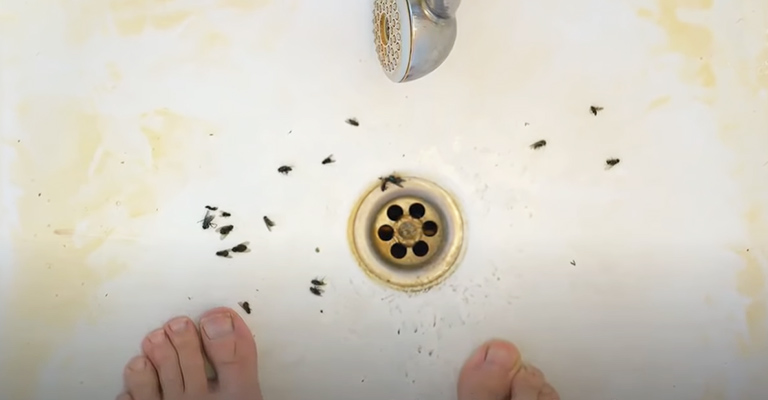 Gunks and the darkness in the drain are some of the reasons for these insects to stay in your drain because gunks, in fact, are a source of food for the insects.
Debris is also one of the reasons that bugs come up the drains because they can nest in the trash and even breed eggs and larvae in them, making a one big happy insect family. 
Which Bugs Come Out Of The Drain?
Not all insects or bugs like the moisture, for instance, the moth, which you are unlikely to find in your drain. Different types of bugs crawl out of the drains in other regions. Some of the most common ones include
Cockroaches
Earwigs
Drain flies 
Silverfish 
Centipedes
Water bugs (Variety of cockroach and carries as many diseases like them)
Phorid flies
Fruit flies
Psocid mites or booklice
Fungus Gnats
How To Stop Bugs From Coming Up The Drain?
The crucial part is how to stop bugs from coming up the drain. Here are some ways that professionals recommend.
Cleanliness
Cleaning is an essential aspect of keeping the bugs out of your bathroom. First, identify the drain that the bugs are coming out of. Then unclog and clean them on a weekly basis because clogged drains contain decomposed materials on which the bugs feed and lay eggs. Remove any food waste, hair, dirt, or other buildups too.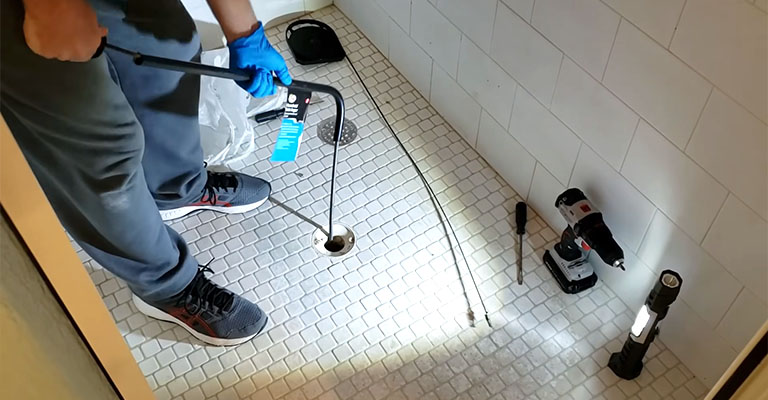 Minimize Moisture
Moisture is one of the main factors that draws bugs. Drains are supposed to hold water but try to keep it dry as much as possible.
You can try using a dehumidifier that can dry up the moisture quite quickly or use the air ceiling vents during and after the shower. Also, ensure that your ventilation system is functioning correctly.
Cut Off Their Food Source
The foremost way to remove these bugs is to remove their food source, which is fungus or gunks, down your drain pipes. Use a drain snake to clean up the fungus that grows down the pipe, ensuring that these bugs cannot make your drain pipes their habitat. 
It is crucial to note that fruit flies are attracted to certain types of food containing sweet-smelling, sugary, and fermented scents like banana, mango, or watermelon, for which you may see them crawling up the drain. 
Pour Hot Water
Pouring boiling hot water is a great short-term solution for removing fungus bugs like drain flies in your drain. Boiling water eliminates the gunk down the pipes, therefore, eliminating the breeding ground for the bugs.
Check Your Plumbing
Water leaks in the plumbing are opening for the bug to get inside your drain pipes as they look for damp places. Well, there is actually no fix for this by yourself at home except for calling in a professional.
Secure Points Of Entry
Cleaning entry points usually keeps the bugs away from entering. Seal up the cracks on the wall or torn windows. Just cleaning the surface of the openings after everyday use and deep cleaning weekly should do the work. Do this for your bathroom and kitchen drainage system. 
Using toxic products to cease the entry of bugs can be helpful too. Look out for consistently moist areas because bugs can enter through other ways. Few things you can consider covering the drain to stop them from entering, like drain cover, drain stopper, and metal drain screens.
Call A Professional
Last but not least, if things get out of hand and bugs are crawling everywhere, call for professional assistance.
Frequently Asked Questions 
1. Does pouring bleach down the drain get rid of roaches?
Yes, pouring bleach down the drain indeed kills roaches but isn't really recommended as bleach weakens your drainage system.
2. Can bug come up sink drains?
Yes, bugs come from your bathroom's drain, but they can also crawl up through your sink drains or even build a habitat from the waste you threw in the sink.
3. How do I get rid of bugs in my bathroom sink?
Try using a natural bug repellent by mixing half a cup of salt with baking soda and then flushing it with one cup of white vinegar.
4. Does Drano help drain flies?
Drano is an Iye based product that serves as an unclogger of tough gunks in your pipes. Pouring it down the drain will indeed eliminate flies, eggs, and larvae.
5. Why do I keep getting bugs in my bathroom?
One of the foremost reasons is moisture. Without proper ventilation or absorbent floor mats, the tiles can easily collect water, attracting bugs.
Final Words
So, wrapping up, we now know the reasons why bugs come up the drain and the remedy for it. Maintenance is the key here. The more you keep your gutters clean, the less of those creepy creatures. So, check your drains for any signs of bugs once in a while. 
If the given ways still don't resolve your bathroom problems with the bugs, then consider seeking professional help before they start breeding more and infesting your house.