A nail gun of the right type equipped with the correct size of nails is great for fencing. The right type will let the user assemble boards much quicker. Also, repair and replacement can be easily done as well.
The best gun for this job is a coil siding nail gun. Thanks to its galvanized ring shank nails. As a more affordable option, framing nailers work quite well as well.
Is Nail Gun Good for Fencing? Which One?
Nail gun is good for fencing. However, there are different types of nail guns and the best option is coil siding nail guns.
Why? Lets talk –
Is Coil Siding Nail Gun Good for Fencing?
A siding coil nail gun is said to work best for fencing. This is because this nail gun can be used with 1 ½″ galvanized ring shank nails. As the nails have a larger head, this type of nail gun is more effective in securing the nail to the picket and paling. 
Moreover, you can easily secure these nails with little force applied. However, make sure that the nail is properly galvanized. Otherwise, it will rust quickly.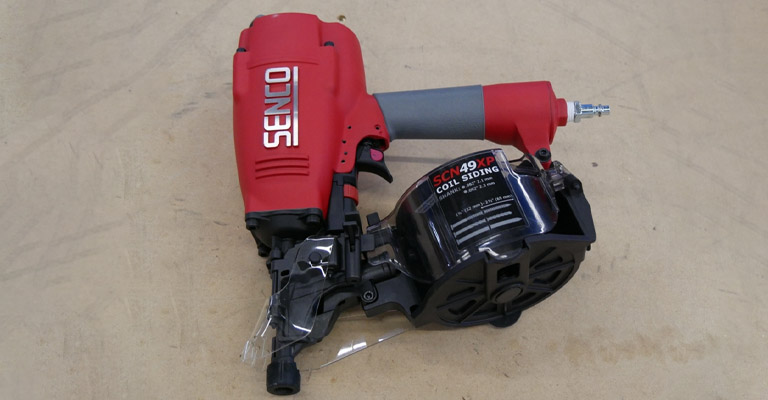 Can I use Framing Nailer for Fencing?
The framing nailer can be a less expensive choice. But only if you can find the right size and type of nails that will fit the nailer, it's a valid option. The nails that you are going to use for fencing should be less than 2 inches, galvanized, and ring shank-type.
These nailers are designed for heavy-duty jobs such as roof sheathing, deck building, and sub-flooring other than framing. They sink larger gauge nails, from 0.113" to 0.131" in diameter, with lengths ranging from 1-1/4" to 3-1/2". Such nails are mostly used for nailing larger pieces of wood. Therefore, these guns are one of the best choices for fencing projects.
So, Yes you can use faming nailer for fencing, but the nails should be less that 2 inches, galvanized and ring shank type.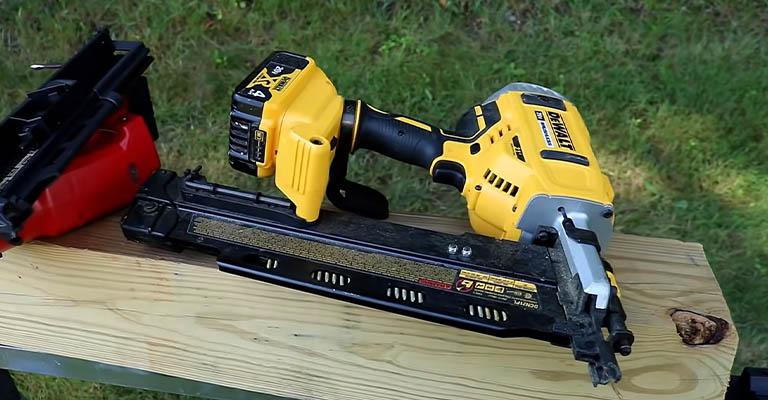 Framing Nailers | Not Always
However, there is an issue with framing nailers. When working with pickets and palings, there is a blow-through which can prove to be problematic. But it can be avoided with proper measures. Besides, framing nailers only work with relatively small nails. Not to mention, misfiring at the end of the clip is also an issue of headache. 
When to Use
If you are working on projects involving the fastening of boards or wood planks to wooden posts, then a framing gun is the tool to use to carry the day. In projects involving building privacy fences, pet fences, post or rail fences, etc. a framing nailer is best used. To carry out such jobs, you will require a framing nailer that shoots nails with a length of 2" to 31/2" inches.
Staple Guns
These guns are specially-built framing nailers that are more suited to jobs where heavy finishing is required. Staple guns are mainly used to fasten slats and detailed pieces alike.
When to Use
A fence stapler is best used when affixing wire or mesh to fence posts. Projects such as barbed-wire fencing, garden fencing, pet enclosures, electrified single-wire fencing, etc. are some of the fencing projects where you can make the best use of a fence stapler. 
Also, these guns can be employed for practically all types of welded wire fences. Despite being a handy machine, these guns tend to be lighter and way easier to nail with than their framing nail gun counterparts.
Nail Size for Best Performance
Your nail gun should have enough power to deliver a nail of a particular size without splitting the picket. If we assume that you are going to nail 5/8″ pickets to 2×4″ rails, then 2-inches long nails are what you should be choosing. You may find the 2-3/8″ long nails to be more available, but they will protrude out of the rails.
With the increase in gauge size, the security of the nail in the wood will also increase. Although, going too big will create a detrimental effect and damage the wood. The 6d or 8d nails will work quite well. 
What not to choose
These nails will offer the size you need with little danger of doing damage to most types of wood. If you are not sure, you can get a practice board or two of the same size as the picket or paling and observe the results.
What to choose
You better use ring shank nails as they work the best for fences. These nails have concentric ridges that go all the way down the shaft. The rings will get hold of the wood properly and secure it for a long period. 
Beware of a pit-hole
However, keep in mind that they are difficult to pull out. Therefore, if something goes wrong with the nail or you need to replace the paling, you will have to go through some additional work to get it out.
Nail Gun for Fence Rails
For fence rails, you should make use of nails that are 16d or 3 ½″ long to secure the fence rail to the fence pole. Another option is to use a 20d nail in case you are securing a 2×4 fence rail to a 4×4 post.
Although, it is recommended that you go for 4-inch screws to attach rails to the fence poles. The reason behind this is that screws are much more secured. For best results, make use of stainless steel or hot-dipped galvanized screws.
Screws Vs Nails for Fencing 
For most cases, the right size screw is arguably better than a nail despite both being capable enough to secure the pieces together. The screw will help to hold better while preventing the boards from warping. Most importantly, screws tend to stay in place no matter what the circumstances are when compared to the unsettled nails.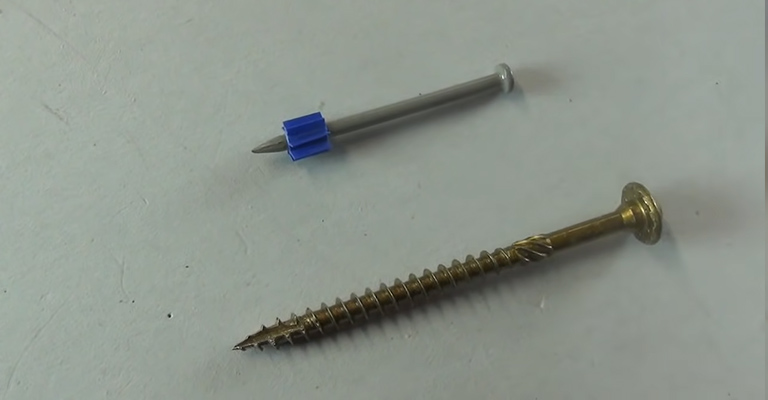 Another advantage of screws over the nails is that they can be removed. You can also do some rework them when required. The right screw cam lasts for a long time, without you needing to replace them frequently.
However, the installation time for the screw is longer compared to a nail gun. If you want to make sure that the boards stay in place do not want the nails moving about, then go with screws. On the other hand, opting for nails from a good nail gun will work as well.
Frequently Asked Questions
Can I use a finish nailer for fencing?
You cannot use a finish nailer for fencing. The diameter of a finish nail is too small for fencing, so they cannot hold the boards in place securely.
What screws are best for fencing?
Galvanized or coated screws are best for fencing. This prevents the wood from rusting around the screw heads. 
Can I Put A Cement Board Over Drywall?
Yes, You can put a cement board over drywall as long as the screws you used, are long enough to Tap into the underlying studs of the Wall.
Conclusion
It should be clear by now that a nail gun is undoubtedly a time-saving and effective way for easier completion of fencing projects. Therefore, they are certainly worth every penny. However, care should be taken to analyze some important factors discussed above to get the best out of the nail gun.