If you find yourself tugging a little harder at your sliding door, if it makes noise during opening and closing then it is time to clean the door. WD 40 is a popular cleaner for both metal and non-metal surfaces. You can use it to clean your sliding door. 
But the question is – is WD 40 good for sliding doors?
We will discuss the Pros and Cons of WD 40 so that you can understand whether it is good for sliding doors or not. But before that, we will discuss how to use WD 40 to clean sliding doors? It is important to use a cleaner in the right way so that you can get the maximum advantages and avoid the disadvantages.
How to Use WD 40 for Sliding Doors Properly? 
Step 1: Inspect the Door Track
Inspect the upper roller and its relative door track for dirt and debris. It needs to be cleaned and lubricated. You need a screwdriver and a vacuum cleaner for this purpose.
Step 2: Clean the Dirt, Dust, and Other Debris
Unscrew the upper covers of the door on both sides using the screwdriver. Then clean the dirt, dust, and other debris using the vacuum cleaner.
Step 3: Apply WD-40
Apply WD-40 along the sliding door track, wheels and rollers, as the dense, fast-acting formula allows long-lasting lubrication.  Once you are done with the lubrication process of the door track reapply WD 40 the upper covers.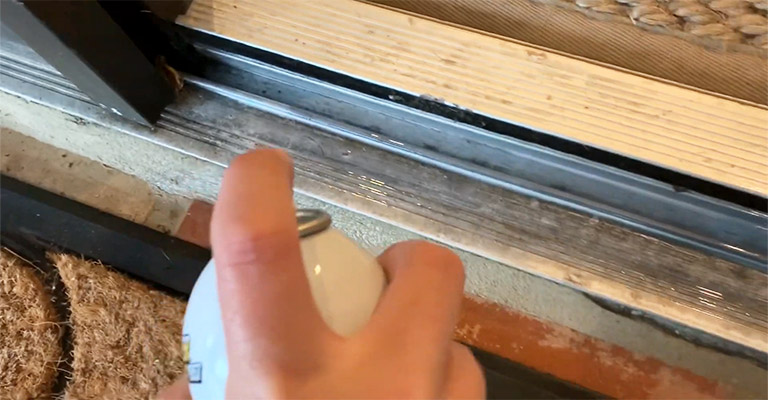 WD 40 Pros
WD 40 is a water-resistant silicone lubricate that protects both metal and non-metal surfaces, such as rubber, plastic, and vinyl surfaces. 
It dries fast and leaves a clear, non-staining film so that dirt is not attracted.
VOC compliant
It can withstand extreme pressure.
It is great for cleaning grease and grime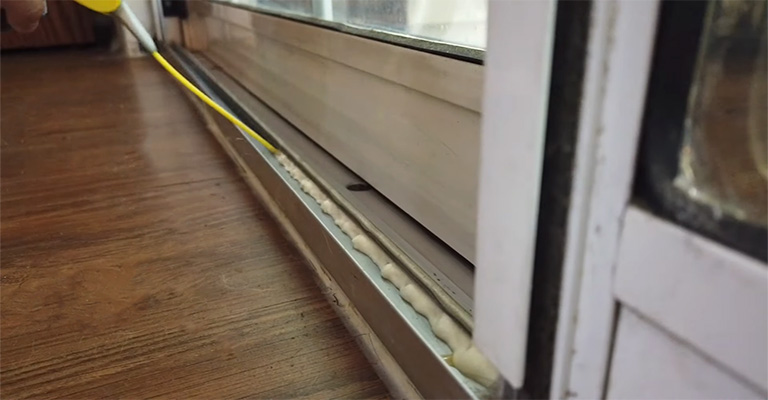 WD 40 Cons
You should be careful while using WD 40. You must use a mask when you are spraying WD-40 on your sliding door tracks because if you inhale it, it may cause nasal and respiratory irritation and central nervous system effects such as headache, dizziness, and nausea. 
The WD-40 is harmful to your skin. You should be careful so that it does not contact your skin in any way. 
A little skin contact with WD 40 may cause moderate skin irritation with short-term exposure with redness, itching, and burning. Prolonged and/or repeated contact may cause an allergic skin reaction and serious dermatitis issues.
Eye contact may cause redness, stinging, swelling, and tearing.
The WD-40 always should be kept out of the reach of children. If it is swallowed it may cause gastrointestinal irritation, nausea, vomiting, diarrhea, dizziness, drowsiness, and other central nervous system effects. 
Final Decision
So, what do you think? Is WD 40 good for sliding doors?
Well – my opinion is yes, the WD 40 is good for sliding doors, also a good silicone lubricant for windows but not good for your health. You must be careful while using it and also should keep it out of the reach of children.