Has your fluorescent tube started flickering again?
Not to mention the loud humming noise that comes with it sounds pretty annoying, right?
Well, my friend, it looks like it's time for replacing that faulty ballast again!
Traditional fluorescent bulbs require a ballast to stabilize the light. And when this bad boy gets degraded over a time period, you have no other option except spending extra cash to replace it!
LED tubes, on the other hand, are pricier than the fluorescent ones if you consider the initial cost.
However, when you compare the long-term cost behind these two options, LEDs are a clear winner as they don't even have a ballast, let alone replace one! What's more, they are 70-80% more energy-efficient, contains 0% toxic material and lasts a solid 50,000 hours on an average in its lifetime!
Need another reason to start searching for the perfect light fixture to replace fluorescent tubes in your house?
Take a look at some of our collection and we are sure you will find a few on your own!
Best Light Fixture To Replace Fluorescent Reviews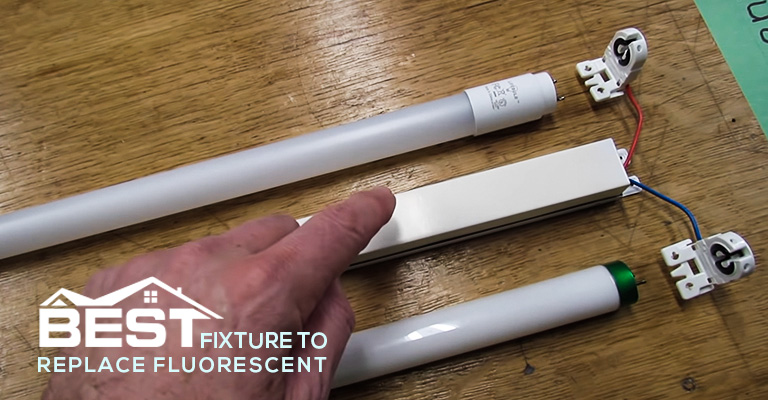 1. CNSUNWAY LIGHTING 8FT LED Bulb, 96″ 45 Watts T8 Single Pin LED Tubes with Clean Cover
Fluorescent lamps can go for years without any replacement. But are they worth it?
Probably not, when you consider the amount of electricity they consume!
Meet the CNSUNWAY LIGHTING 8FT LED Bulb, which saves up to 55% of the utility bill!
The 45-watt T8 bulb is capable of replacing a 100-watt traditional bulb with the help of its top quality LED chips. No flickering, no annoying sound and no harmful chemical to trouble you with, what else can you ask for from such fixture like this!
The 4800-lumen bulb is covered with a clean glass cover that helps amp up the brightness even more. With 6000k of cool color temperature, it can cover a wide space pretty easily and therefore, is widely used in warehouse, garage, basement, gas station and other large areas.
Fortunately, you don't need to go for much trouble installing this LED light fixture to replace fluorescent tubes, as it fits easily in the place of T8, T10 and T12 fluorescent lamps.
Just make sure to bypass the ballast system or remove it altogether to enjoy hassle-free service for a lifetime!
Highlighted Features
It doesn't contain any flickering or buzzing noise.
It only requires you to remove the ballast before installation.
The fixture provides 100 to 110 lumens of output per watt.
It saves up to 55% on your electricity bill.
It doesn't contain any harmful elements.
2. Barrina 8 Foot LED Bulbs, 44W 5500lm 6500K, T8 T10 T12 LED Tube Lights
Does your kitchen tube light look a bit burned out? Have the ends of the lamp started to blacken recently?
Well, clearly, it needs an update!
The moment you replace fluorescent light fixture in kitchen with LED alternatives, you will start to see stuffs in a brighter light!
Take a look at the Barrina 8 foot LED bulb, for example. With over 5500 lumens of output, this champ works like a pro while consuming only a mere 44 wattages of power! Ergo, this 8-feet bulb is well capable of replacing a 140-watt traditional bulb in a heartbeat.
The Barrina lightbulb also features a dual row design that has great heat dissipation ability and therefore, lasts longer than a traditional bulb. The lamp comes with a CRI rating of 85+, which allows you to see the object's true color while enjoying its maintenance-free service!
All these facilities and you would think this fixture would cost a lot, right?
NOPE!
In fact, it saves up to 65% on your electricity bill every month and ends up lasting 10X times than a conventional lamp!
Highlighted Features
It has a dual row design that dissipates heat in an effective way.
It doesn't contain mercury, UV or IV radiation that's harmful to human health.
The fixture saves up to 65% on your monthly utility bill.
3. Luxrite 3FT LED Tube Light, T8, 16W (25W Equivalent), 3000K Soft White, 1600 Lumens, Fluorescent Light Tube Replacement
Nothing bugs me out than replacing an electric component.
Are you like that too?
Meet the next addition of our list, the Luxrite 3FT LED Tube Light, which works like a pro once installed and ends up lasting 3X longer than a traditional bulb does!
With crisp light of 1600 lumens, the Luxrite LED tube shines bright enough to illuminate your home, basement, garage, supermarket or any other large spaces.
The 3-ft bulb is compatible to work with direct voltage connection of 120V to 277V. And, if you already have an instant ballast in place, it can work with that too!
The 16-watt bulb works as good as 25-watt fluorescent T8 bulb. In fact, it helps trim down your electricity cost by 36% while producing a better result. With the help of its 3000K soft white light all around your room, you won't be missing the daytime when the sun goes down!
Highlighted Features
It comes with a long 45 years of working lifespan.
The 25-watt tube helps save 36% on your electricity bill.
It works with both direct voltage connection and instant ballast.
The 1600 lumens of output is perfect for illuminating a large space.
4. LightingWill LED T8 Light Tube 3FT, Daylight White 5000K, Dual-End Powered Ballast Bypass
Time doesn't stop for anyone.
Yet when the tube lights take a long time to fire up, it DOES seem like time has come to a complete still!
To save you from situation like this, the LightingWill has come up with a 3FT LED T8 Light Tube that lights up in an instant!
The tube is covered with a clear cover which helps maximize its output and lowers ocular energy loss at the same time. And the aluminum shell helps provide excellent insulation that keeps the fixture cool even when it's been lit for a long time.
Producing a generous amount of 1600 lumens output, this product is suitable for installing in garage, basement, storage area, workshop and other large spaces. The package comes in a pack of 4 tubes, where each of them features 5000K of daylight white color temperature.
Although it works as good as a 32-watt traditional bulb, this particular model consumes only 15 watts of power to do so! Ergo, your electricity bill gets cut down by 60% as a result!
Highlighted Features
It provides you with a long 50,000 hours of hassle-free service.
The 15-watt fixture works equivalent to a 30-watt fixture.
The fixtures are all RoHS-compliant, CE and FCC certified.
It is an excellent replacement for traditional bulbs.
The clear cover on top helps maximize its output.
5. TRLIFE 4FT LED Tube Light, 22W 6000K Cool White T8 4FT LED Light Bulbs, Replacement LED Bulbs
How many homeowners does it take to change a light bulb?
Well, if it's the TRLIFE 4FT LED Tube Light, then you can single-handedly do this job without an issue!
Installing this light fixture in your existing system is a breeze as it doesn't require any additional setup. You can fit it in the place of your T8, T10, T12 fluorescent bulbs quite easily. All you got to do is to make sure you bypass/remove the ballast of your previous tube and voila! You are done!
The 22-watt fixture with a G13 base works as good as a 60-watt tube. Even better as it helps save 65% on your electricity bill at the end of the month while providing you with 2640 lumens of brightness!
Built with high-quality LED chips, the fixture doesn't generate any buzzing sound or flicker at the wrong moment. Once installed, they have a rated life up to 50,000 hours, which roughly converts into 22 years if you use it for 3 hours per day.
Highlighted Features
The fixture fits perfectly in place of T8, T10 and T12 fluorescent tubes.
It saves you up to 65% on your electricity bill.
Built with high-quality LED chips, it lasts for a long time.
It's widely used in super shops, warehouse and other wide spaces.
The 6000K cool white light helps see everything clearly.
Frequently Asked Questions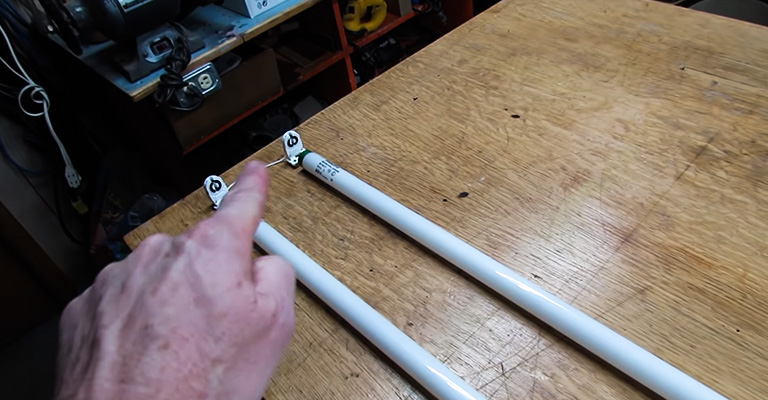 Q: Should I Replace Fluorescent Light Fixture With Recessed Lighting?
Ans: Yes, you can always opt for recessed lighting if that suits your style.
However, instead of attempting to illuminate the whole room, we suggest placing the lamps in a strategic way so that they can highlight a particular object or architectural feature in your house.
Q: What Is T8 Tube?
Ans: T8 stands for the size of the fixture. It means the light is 8 eighths of an inch or 1-inch in diameter. These fixtures are available in both LED and fluorescent forms.
Q: How To Bypass The Ballast?
Ans: First, turn off the breaker switch. Then, take the fluorescent tube out and unscrew the casing to get close to the ballast. Once it's uncovered, look for the hot wire (typically, black/red), neutral wire (exists on the same side of the hot wire) and cut them off.
You will also need to cut the lead wire (red and blue), which is located on the other side of the ballast. Once it's free, you can unscrew the ballast safely.
Q: How To Replace A Fluorescent Tube?
Ans: To take out the fluorescent tube, first, you will need to prepare a stepladder underneath it. Then, gently hold the installed tube with both hands, rotate it by 90-Degrees and slide the lamp out of the fixture.
Q: What Do I Need To Replace Fluorescent Light Fixture With Track Lighting?
Ans: Track lighting with excellent features can be a good alternative to fluorescent light. Fortunately, you don't need any additional wiring to replace your fluorescent tube with track lighting as it can be connected to the same wiring!
All you need is a junction box, anchor hardware, wire nuts and a single connection to set up the whole system in just one afternoon.
Conclusion
When you install an LED light fixture to replace fluorescent tubes you get to enjoy a brighter, better lighting environment as well as cut the electricity by 50-80%! In addition, these fixtures don't contain mercury or any other chemicals that are harmful to human health.
Fluorescent tubes, on the other hand, starts to malfunction over time due to degraded ballast.
And we all know how one single flickering fluorescent bulb is enough to turn the happy ambient inside your home into a haunted one! You wouldn't want that, would you?
So, while choosing your next replacement fixture, make sure it's energy-efficient, long-lasting and doesn't give you the trouble of replacing a burnt-out ballast as a fluorescent tube does!