Moen is a very reputed manufacturer of cartridge faucets. It is one of the most trusted brands in the industry. This company specializes in designing and manufacturing one of the best brands of high-quality plumbing fixtures and accessories. 
Moen 1200 and 1225 are two excellent options that are compatible with various styles. Moen 1200 and 1225 are amongst the most effective faucet cartridges available in the market. 
They require less maintenance than other cartridge models as well. The design also provides for quick installation without messing around with nuts and bolt connections as other faucet cartridges do.
Now, this question is, is Moen 1200 the same as 1225? No. Moen 1225 is an upgraded version of the Moen 1200. It has a firmer, higher-quality cartridge than the previous model.
Moen 1225 Faucet Cartridge
Replace a broken or damaged cartridge from a single-handle bathroom faucet with the Moen 1225. Featuring an added twisting cap designed to ease the installation of cartridges, it is an improved version of the Moen 1200. Significant amounts of water can be saved with a water discharge rate of 1 GPM.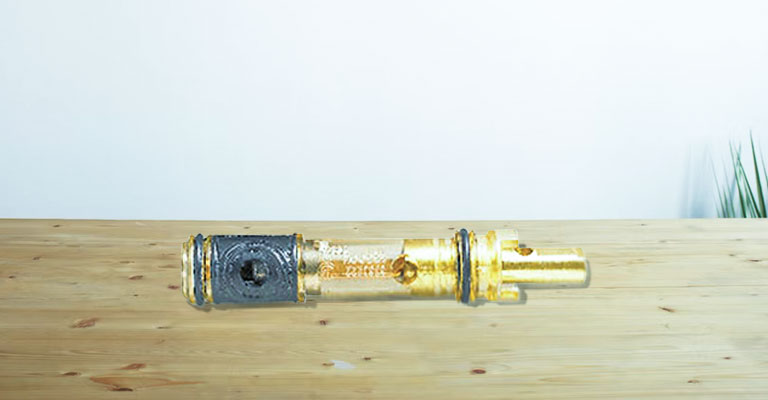 Compatibility
The Moen 1225 cartridge can be used with virtually any single-handle faucet in the bathroom or kitchen. There are, therefore, no compatibility issues with this faucet cartridge. It is important to note that the Moen 1225 is an easy-to-install cartridge that does not require any expertise.
Design
High-quality material is used in the Moen 1225. Brass is used for the inner part, while stainless steel is used for the external body. It looks beautiful and is lightweight. Almost any single handle faucet can be used with its 180-degree rotating angle.
Longevity
This Moen 1225 faucet is brass, plastic, and stainless steel. On the outside, stainless steel and plastic are used, while brass is used inside.  Although it is corrosion-resistant, it is not as sturdy as the Moen 1200.
Installation
Moen's 1225 kitchen and bathroom faucet offers you a comfortable fitting. In addition, its bent cap is faster and easier to reinstall or remove without requiring tools. These features make Moen 1225 a simpler and easier fixture to install.
Moen 1200 Faucet Cartridge
In comparison to other versions, the Moen 1200 series cartridge replacement is one of the best cartridges for single-handle bathrooms and kitchens. The Moen 1200 has many incredible features as well as a simple replacement procedure, making repair work easy.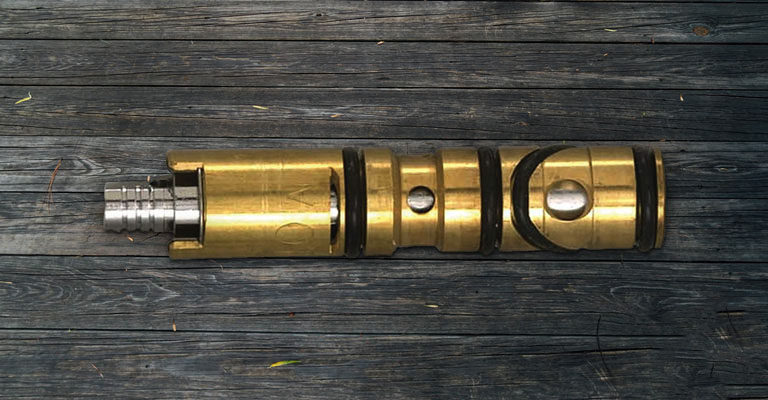 Additionally, this cartridge replacement works with the majority of one-handle Moen kitchen and bathroom faucets. Moreover, the cartridge's robust build quality surpasses that of most other reputable brands. As a result, this is perhaps the most effective version currently available on the market.
Compatibility
Cartridges for Moen 1200 faucets can be used with almost any type of faucet. The top surface of this product provides an excellent repair option and is easy to install and use. Unfortunately, Posi-Temp valves aren't compatible with Moen 1200 faucets.
Design
An important factor to consider when selecting a faucet cartridge is its design. Moen's 1200 cartridge has a unique design that stands out from the crowd. Moreover, its brass design makes it more expensive than its competitors due to its high quality. Nevertheless, Moen 1200 stands out when it comes to design.
Longevity
The Moen 1200 is exceptionally well built. Moen cartridges have certainly been designed with durability in mind. Solid brass construction and sturdy design make Moen 1200 one of the most reliable products in its class. 
Your cartridge will last longer, thanks to the solid construction. This means that you will be surprised by the longer life of the Moen faucet cartridge.
Installation
The Moen 1200 allows for an easy and rapid installation process. When you need to replace the cartridges in your bathroom or kitchen faucet, it is easy to do it. During the replacement or upgrading of a cartridge, its all-around solid brass construction makes installation more secure. This is a great repair option because it is easy and simple to install.
Moen 1200 Vs. 1225
Moen cartridge replacement parts for the Moen 1200 series and the Moen 1225 series. Although they differ in a couple of ways, both are single-handle bathroom cartridges. In addition, each one is designed differently, with different attributes.
Most users and plumbers find it difficult to select the best cartridge when it comes to fixing their leaking shower and kitchen valves with this brand.
We will distinguish between the Moen 1200 and 1225 cartridges based on design, functionality, unique features, and other important aspects you need to know.
Durability
They repair tools or parts that need to be durable, just as sustainability is vital for kitchen and bathroom faucets and shower valves. Replacement cartridges for Moen kitchen and bathroom faucets are designed to last.
Because of its all-around solid brass construction, the Moen 1200 cartridge series stands out as the most durable and sturdy in this case. You will be pleasantly surprised with its longer performance when you use it to replace your faucet cartridge.
The outer surface of the Moen 1225 cartridge is made of stainless steel and plastic, while the inner part is brass. In consequence, it's less likely to accumulate minerals and corrosion than the Moen 1200 version, but it may last longer than the Moen 1200.
Usability
Another critical factor should not be overlooked. Although each style of the cartridge can be used to replace cartridges in kitchen and bathroom tubs and shower valves with leaks or broken parts, they all have slightly different ways to restore functionality.
Moen 1200 cartridges are designed with a perfect repair option on the top surface for easy installation and use. As far as other faucets are concerned, it works with all except Posi-Temp valves.
Moen's 1225 cartridge series includes an easy-to-install bent cap to make installation as simple as possible. The fact that their cartridges are compatible with all single-handle shower and tub valves without pressure balance and menthol valves simplifies the process of restoring broken or leaking cartridges.
Difference In Design
Morn kitchen and bathroom brands are also known for their innovative design. However, because the Moen 1200 series is designed with brass materials of the highest quality, it is more expensive than other versions from this brand.
Despite being the first and original series, the Moen 1200 is still among the best in terms of design. A similar cartridge to the Moen 1200 series is the 1225 series, which is also made of quality materials and designed well.
They are designed with a handle that rotates 180 degrees, allowing hot water to be easily changed to cold. Among their great features is the ability to fit on most single-handle kitchen and bathroom faucets.
Can The Moen 1200 & 1225 Cartridges Be Interchanged?
Absolutely! This pair of Moen cartridges are completely interchangeable. Because the Moen 1225 cartridge updates the Moen 1200, the majority of its parts should be compatible.
Water volume is controlled by pulling upwards and downwards, and water temperature is changed from hot to cold appropriately by pulling left to right.
How To Replace A Moen 1200 Or 1225 Cartridge?
There is no difficulty installing either of the cartridge replacement parts. To replace an old or damaged cartridge, simply follow these steps. You can replace the filter easily without wasting water if you turn off the water supply first.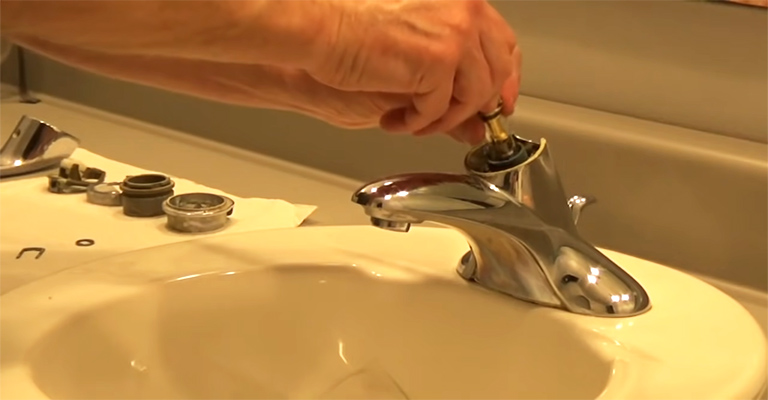 Disassemble the handle, locate the cartridge, and remove it using the tools you need, including the flat-bladed screwdriver. After you reinstall the cartridge, you can reassemble the handle. After you reassemble the handle, you can test the cartridge by opening up the water supply.
When Should You Change Your Shower Cartridge?
When the water temperature changes from hot to cold, you should replace your shower cartridge as soon as possible. Besides, if your shower cartridge has cracks or gouges, it needs to be replaced.
Final Words
Both cartridges have an easy installation process, as we can see from the comparison. Installation would therefore not require specialized knowledge. The Moen 1200 has undoubtedly proven to be the best in terms of build quality and design. The Moen 1200 is an all-around brass design that ensures longevity.
Nonetheless, the Moen 1225 can offer you better performance with its 1 GPM water discharge rate. Moen 1200 is incompatible with Posi-Temp shower valves, while Moen 1225 can be used with virtually any faucet. Both cartridges have a one-year warranty from the manufacturer.
Also Read- Why Water Not Coming Out Of Shower Head Properly?