RedGard is the perfect solution for tile installation, stone installation, and more. When used on the surface of porous surfaces, RedGard creates a watertight seal that prevents leaks and protects against mold and mildew growth. 
With an easy-to-apply formula, it goes on quickly and dries quickly, so there's no need for waiting hours or days before finishing the job. It is designed to be used on any surface, including ceramic tile, concrete, wood, metal, and stone. 
This product saves time by eliminating the need for tiling professionals in your home or business. Now, the question is, can you put RedGard on the HardieBacker board?
Yes. RedGard is a popular product that is used to protect surfaces from water and stains. It is often used on floors and walls. However, it can also be used on concrete as well as the HardieBacker board. 
Why Would You Want To Apply RedGard On HardieBacker?
First, let's talk about green board. It has been in existence for quite a while and was traditionally installed with tiles directly to it. 
Depending on how well they were installed, they'd last upwards of 3-20 years. They can just be replaced when they start to fade and break down due to age or moisture.
On the other hand, HardieBacker is durable and lasts much longer than the traditional green board. In addition, this type of backer board can be installed quickly and easily, making it an attractive choice for new construction projects.
If you are worried about the future of your tile installation, then you should consider applying RedGard to it. 
The membrane will make sure that your tile lasts longer and doesn't suffer from any damage. The RedGard isn't crucial, but it is better if you have more protection.
Is It Possible To RedGard Cement Board?
With RedGard, you can create a waterproof and crack-resistant membrane. If you can paint a wall, you can use RedGard. RedGard can be applied to cement board panels in two ways: Roll it on the wall with a 3/4-inch nap roller or spray it on the wall.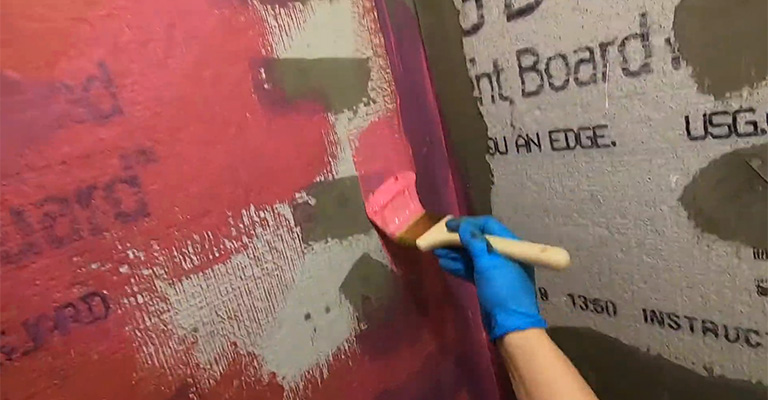 RedGard On Hardibacker Board
Waterproof showers are the trend today, so RedGard is an excellent alternative to cement boards that act as vapor barriers. Visit the Schluter site to find out more about the Kerdi shower from Schluter. It requires no cement board and can be used over drywall.
The installation will never leak if your grout never cracks. However, if it does, you will be responsible for leaks. You won't get any crack isolation or waterproofing from applying it beforehand.
Is RedGard Necessary For The Bathroom Floor?
The bathroom floor does not necessarily need to be waterproofed, but any shower (walls or floors) or bathtub surround should be.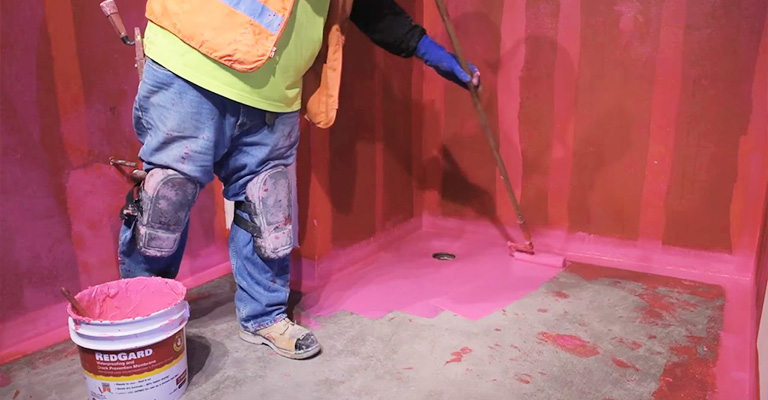 What Is The Best Way To Remove RedGard?
You can lift RedGard from areas like that if you can get under an edge, as it generally peels off easily. However, thick RedGard may prove more challenging.
You might think this is odd, but if the cover is more like a film, try using an eraser. This method can remove pinstripes from a car, so it may work for this. I'd love to hear if you give it a try, and it works. 
Do HardieBacker Boards Have Waterproof Properties?
You can use it on walls, floors, and countertops because it is long-lasting and waterproof.
Can Thin Set Be Applied To RedGard?
The RedGard waterproofing membrane does not adhere well to premixed thin set mortar. A powdered mortar will help your tile adhere well to a waterproofed surface that has been treated with RedGard. 
This mortar has to be mixed with water, but it will ensure that the tile is firmly attached to the wall. And that is all there is to it.
Also Read – How do I Make My Shower not Slippery?