When it comes to installing refrigerator water lines, the copper vs plastic battle boils down to two possible outcomes. If your refrigerator sits out in the open, you cannot go wrong with either of the options. Still, copper will be the better long-term investment since plastic is susceptible to environmental stress. 
However, plastic water lines will turn out to be the most viable option when the spot your refrigerator resides at is hard to access. That is because plastic has more flexibility compared to copper. Besides, plastic being relatively inexpensive can help you save a few extra bucks.
Copper vs Plastic Water Line: What to Expect
Before we dig deeper, here is a brief overview of what both the options have in store.
Copper Tubing for Fridge
What we love about copper lines is the singularity, with no mind-boggling choices to make as seen with plastic. Yet, that alone does not define copper's supremacy as it has been the go-to water line solution for decades. Plus, it is highly durable, long-lasting, and an approved method throughout the entire world.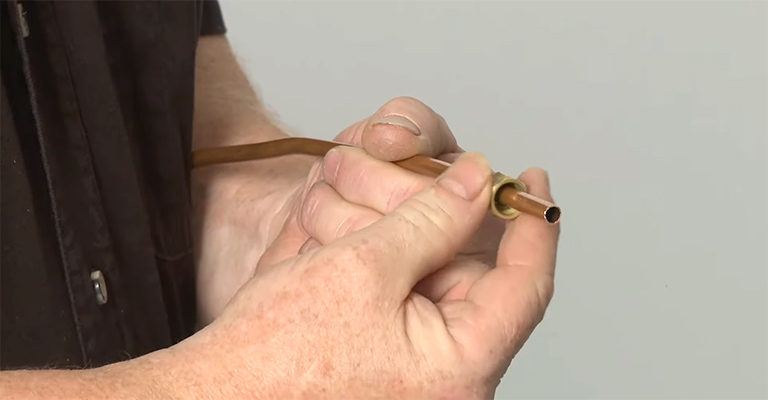 However, it is not entirely void of downsides, the biggest drawback being its stiff nature. So, running copper lines through the cramped rear area of refrigerators can be a hard nut to crack. Besides, specific soldered fittings are required to install copper water lines which is not a sustainable option.
Plastic Tubing for Fridge
Plastic water lines come in a wide variety of options, among which PVC and PEX are the two most popular.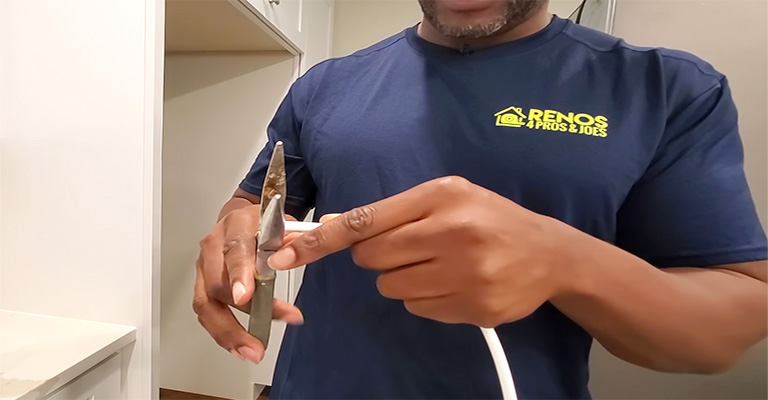 PVC Refrigerator Water Line
Unlike copper, PVC has both a flexible and a rigid form though not nearly as durable. But the trade-off in terms of durability is somehow justifiable, considering PVC costs way less than copper. Other than that, installing PVC lines is a breeze, for the most part, thanks to their flexibility.  
PEX Refrigerator Water Line
PEX (Crosslinked Polyethylene), not being sensitive to extreme temperatures, is more durable than PVC. Also, it is even more flexible than PVC, hence, a viable choice for refrigerator water lines. Plus, deterioration is no longer an issue as it now comes manufactured with necessary antioxidants.
Refrigerator Water Line Copper vs Plastic
Both copper and plastic have pros and cons of their own. Hence, we categorized their performance into five major aspects to help you get a better understanding.
Flexibility
As the rear portion of refrigerators is usually very compact, flexible water lines are inevitable. Thus, flexibility can draw the line between copper and plastic, which seems to be straight-up better with the latter. Clearly, copper is not as flexible, requiring a lot of elbow grease during repairs and replacements. 
Plastic lines, whether PVC or PEX, are hands down more flexible than copper. So, they install way faster and effortlessly than copper does. However, you might want a bit more stability, especially if you plan on keeping your refrigerator outdoors. In that case, copper lines being more rigid will stay put even long after installation.
Durability
In terms of durability, copper is undoubtedly superior to plastic as it can take on rough usage pretty easily. Hence, you won't have to replace copper water lines as often unless pinhole leaks appear. Usually, you can stretch their replacement interval up to a little over five years, almost thrice of that with plastic. 
Moreover, plastic is prone to contraction and expansion, which can cause certain water lines made of PEX to break down. Especially if your refrigerator sits outside, the environmental stress will sooner or later take its toll. And in such cases, plastic can get cracked pretty easily despite being abrasion and corrosion-resistant.
Anyhow, the equation seems to change when you take temperature sensitivity into account. Copper is sensitive to extreme temperatures when used for cooling or anything of that sort. Besides, copper tubing can fail in the long run due to frequent expansion and contraction. 
In contrast, plastic, especially PEX, seems to handle extreme temperatures pretty well or at least better than copper. Moreover, it is not susceptible to condensation or freezing and so an overall better solution for refrigerator water lines.
Impact
Certain materials can have diverse effects on the water flowing through the lines. Although it does not matter as long as you are not tasting it directly, there might be an unwanted odor in ice makers.  
For example, copper water lines can sometimes produce a metallic hint (most likely due to corrosion). Hence, you might want to consider plastic for an odor-free experience. That is because both PVC and PEX tubing are corrosion resistant and thereby have zero impact on the flavor of the water.
Installation
Installing refrigerator water lines has a lot to do with flexibility as you have to deal with tight spaces. And such compact areas require tubing that is easily bendable, certainly not what we encounter with copper. Therefore, copper lines are usually the hardest to install and even harder to fix or replace.
On the contrary, the lack of flexibility gets omitted in the case of plastic water lines. Both PVC and PEX are more flexible than copper and pretty convenient to install. Most interestingly, the resilience of PEX is even higher than regular PVC, which helps cut down the installation time to its lowest.
Maintenance
Once installed, copper water lines are the easiest to maintain in the long run because of their long lifespan. However, you have to constantly keep an eye out for pinhole leaks to make sure the lines are well functioning. Unfortunately, they are not the easiest to spot until the water starts to leak. 
Plastic lines, on the other hand, do not have longevity comparable to copper. Yet, they manage to hold up against environmental stress and extreme temperature as long as you keep the refrigerator indoors. Nevertheless, you might be able to get a few more months' services by moving them outside the reach of direct sunlight.
Frequently Asked Questions
Do refrigerator water lines need to be copper?
There are no restrictions on what type of refrigerator water line to use. As long as the material (usually plastic, copper, and braided stainless steel) is suitable for the ice maker, you are free to use it. Therefore, refrigerator water lines do not necessarily have to be copper.
Are all fridge water lines the same?
In terms of tubing size, almost all fridge water lines are identical. The outer diameter of the copper refrigerator water line is ¼-inch regardless of the manufacturer. But some of the flexible plastic ones can have an outside diameter of up to 5/16-inch.
When should I replace my refrigerator water line?
The recommended interval between replacement projects is around 5 years. If you further delay the process, the refrigerator water lines will be at a greater risk of leakage.
Should I replace my main water line?
It is common for water lines to have problems if it is more than 50 years old. Also, it can cost extensive repairs or replacements. So, you should replace your water line if you notice any issues with it.
Wrapping Up
Copper, with almost all the bells and whistles, is worth your hard-earned money. However, plastic is not far behind as it lets you install refrigerator water lines at a fraction of the price. But bear in mind that as plastic needs frequent replacements, you might end up spending more in the long run than the upfront cost of copper.