Electrical outlets are used for the power supply of various devices and appliances. They are also used to charge different types of devices such as laptops, cell phones, and tablets.
If your top outlet is not working, but the bottom one is, it might be a sign of a problem with the wiring in your house. Moreover, this can be for various reasons, including a faulty circuit breaker, a faulty fuse, or a loose wire connection.
A lot of homeowners don't know what to do when they have an electrical problem. As a result, they might try to fix it themselves without any knowledge or experience in the field, which can worsen the problem.
There are a lot of things that can cause an outlet to stop working. If you have one side of your outlet that doesn't work, it is usually pretty easy to tell if it's just a loose wire or if there is some other underlying problem.
If you have other outlets in your room that are not working, then it's probably worth getting an electrician out there to check everything out. If you notice any exposed wiring, broken sockets, or anything else that looks out of place, you should call someone immediately.
How Come My Top Outlet Isn't Working, But The Bottom Is?
An electrical outlet sometimes works on half of it and not the other half. You should call an electrician to examine the issue because multiple factors could cause it. Several factors may have contributed to this outcome: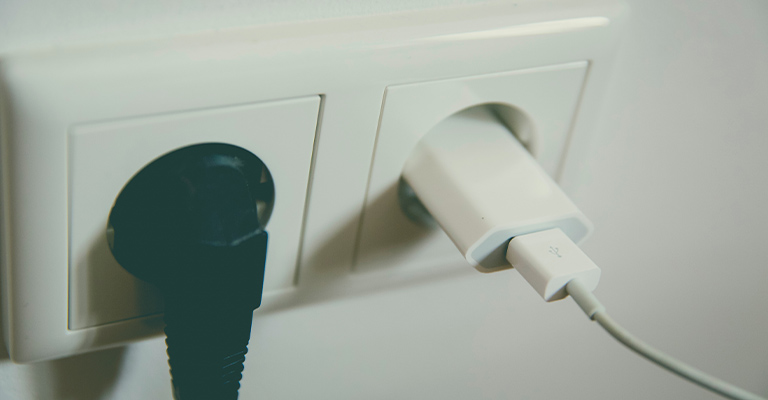 Ruined Wall Switch Or Tab
The switch or tab might need to be replaced if you have a dead outlet. It is common for outlets to come with tabs that allow one outlet to function while the other doesn't.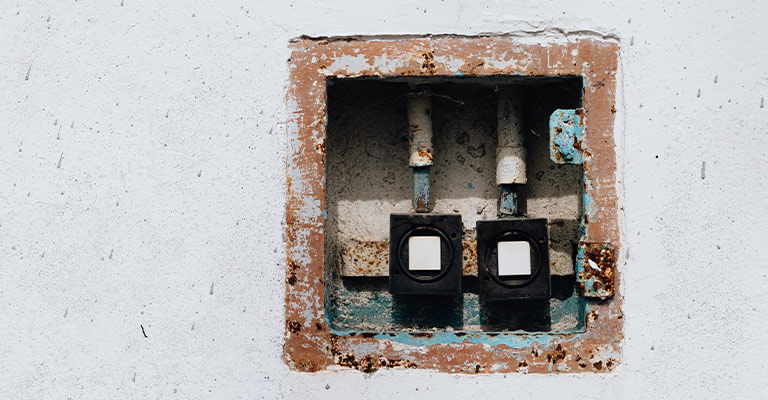 By doing this, you can customize the rate at which the electricity travels and stagger the power. This is important when you're trying to figure things out.
If you can't use the wall switch or tab, you might have this problem. There is a possibility that it got stuck or broke. A dead outlet will have to be replaced to ensure that the new tab performs as it should.
Outlet That Has Been Damaged
The outlet is likely damaged when half of it stops working. You may be able to see what's going on inside the faceplate by opening it up. However, you won't find anything in most cases since the outlet can wear out naturally over time.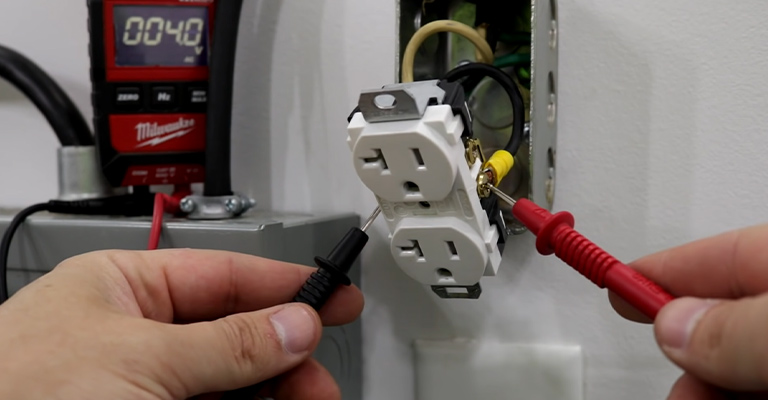 It is normal for older properties to have this problem. Depending on the age of the outlet, there's a possibility that the top outlet won't work. It is better to replace the entire piece when this happens to ensure it returns to its original state.
Keep away from the outlet, as it will also go out if you continue to use it. Sooner or later, it will happen. In this case, waiting things out is not a good idea and can cause substantial damage to other parts of the circuit. The bottom outlet should be switched as soon as you realize it is no longer working.
Usage Of Different Types Of Wires
The two most common metals used for wires are aluminum and copper. There are many devices that are compatible with copper wiring since copper is stronger. On the other hand, aluminum breaks easily is brittle, and also has high electrical resistance. 
As a result of high resistance, heat builds up inside the outlet, causing the wiring to burn out. It is also possible to cause this issue by using wires incorrectly. Copper and aluminum are the most common metals used for wires. 
Because copper wires have high conductivity and are sturdy, safe, and ductile, they are the preferred wire to use. However, since aluminum is brittle and has a high resistance to electricity, the wiring inside the outlet can become overheated and burn up. Therefore, outlets should be wired correctly.
Wire Nuts Are Used Incorrectly
An electrical wire nut is a device that holds wires together and covers them. Wire nuts are used by some electricians to connect wires. An outlet will stop functioning properly if it is not used properly. If you want your wires properly connected, you should call a professional.
There Is A Wiring Issue
Standard plugs and switches require wires to be curled around screws before they are tightened. The wires can be checked by removing the outlet plate and taking out the receptacle from the box.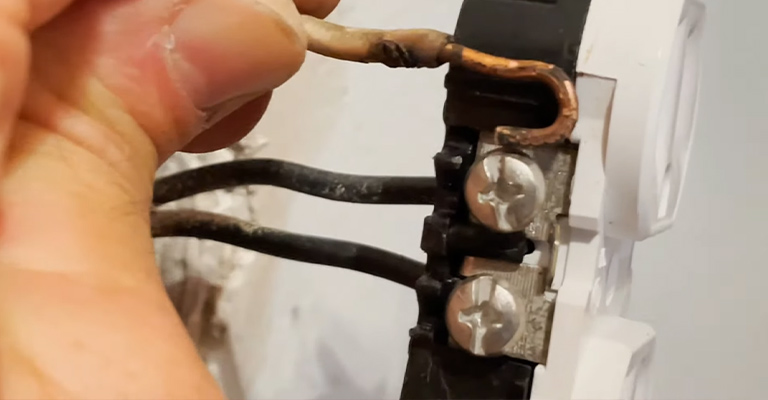 Wires that have been backstabbed instead of systematically wrapped may have a loose connection. Electric companies can fix issues with cables if you find any.
Wiring Done Backwards
A standard plug or switch can be wired in two ways. First, the wire should be coiled around screws and tightened. Pushing the wire into the connector that grabs the wire inside is the wrong way to backstab the wire. 
As a result, a loose connection is created that is easily prone to burning out. It is possible to check this without the help of a professional, but if the problem needs to be fixed, it is recommended to hire a professional. 
The outlet plate should be removed from the outlet box and the receptacle should be removed from the outlet box. Afterward, check to see if the wires were properly wrapped or backstabbed.
Half-Hot Outlet
It may occur as a result of a switched outlet or a half-hot outlet. These outlets usually have two receptacles and can be found in bedrooms, living rooms, or areas with floor lamps, or nightstands. Two devices can be plugged in simultaneously.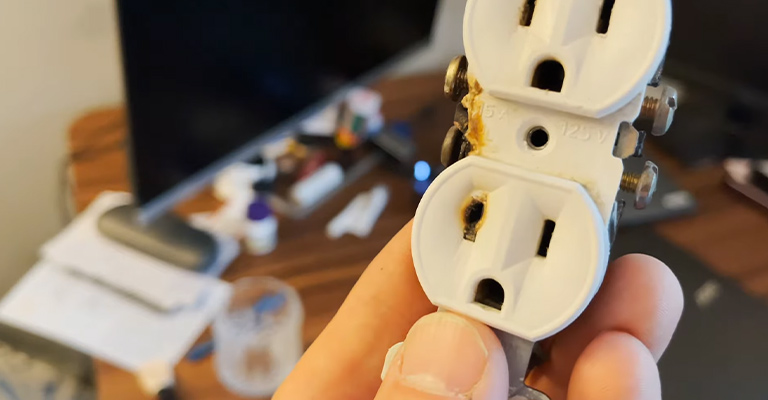 For half-hot outlets, one-half of the switch provides electricity permanently, while a wall switch controls the other half. It simplifies the process of turning on and off lights without having to turn the switch repeatedly. Ensure that the outlet is switched if only half of it is working.
Switched Plugs
Lastly, check to see if the outlet has been switched. The majority of homes have duplex outlets that allow you to plug in two devices simultaneously. An ordinary wall switch is responsible for turning on and off the other half of a half-hot outlet (or switched outlet).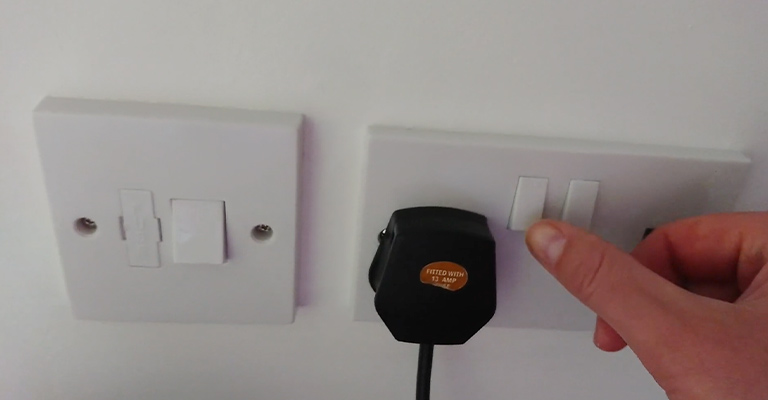 The type of outlet you see here is commonly found in modern construction and in rooms without overhead lights. The switched side of an outlet is usually found in living rooms and bedrooms where lamps need to be plugged in. You can easily turn a lamp on and off by flipping a wall switch.
Try Plugging In Something Else
You can try plugging something else into the same outlet if you suspect it might not be the electrical outlet but rather your cell phone charger.
Final Words
There is a considerable amount of risk involved in working with electricity, so do not attempt DIY repairs. Instead, you should always contact a company for any electrical problems in your house, such as outlets, wiring, or electrical installation. 
Depending on the task at hand, their electricians have the tools, equipment, and expertise to complete it safely and efficiently.