A wet basement is an unsightly and potentially dangerous problem. Sometimes it can be caused by a leak, but it's also possible that your dog or a child may have tracked water into the basement.
Wet basement carpets can be caused by a variety of things. The most common causes are leaks in the building's foundation, poor drainage, and water seepage from the ground. It can cause mold and mildew to grow, as well as damage to your home's structure.
This is a common problem that many homeowners face. The most common solution to this problem is to hire a professional carpet cleaner. However, these professionals are expensive and time-consuming.
If you find yourself with a wet carpet in your basement, don't panic. It's not the end of the world, and there are ways to fix this issue without having to replace your carpet entirely.
Why The Carpet Got Wet?
There are a number of reasons why your basement might be wet. It could be that the water is coming from an outside source, such as a leaky faucet, or it could be due to condensation from the air conditioning system.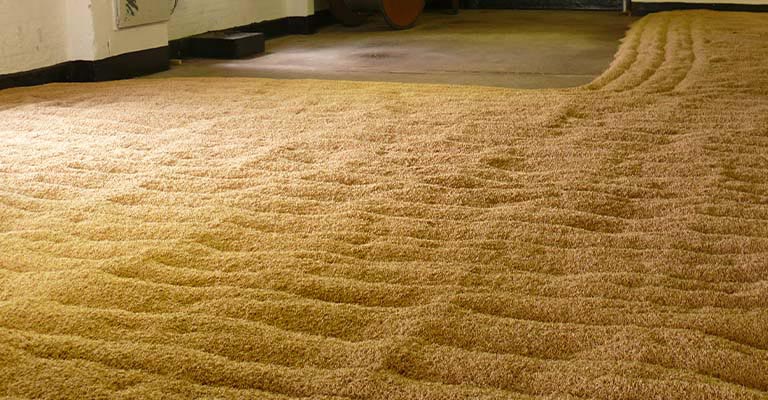 Here are some of the reasons why your basement might be wet:
The drain pipe was clogged, resulting in excess water collecting in the basement
The sump pump stopped working and backed up water into the basement
You have a broken pipe or fixture
Why Is My Carpet Wet In My Basement? – Possible Reasons & Fixes Explained
The basement may have moist carpets due to the location on a cool concrete slab; however, moisture intrusion from outside is more common. If leaks occur inside the walls, opening the wall may be required. However, grading the exterior, managing water, and upgrading windows should be the first things to be addressed.
Identify The Type Of Water Damage
If you have water damage, you should identify its category. It is common for water damage to occur in three different categories; the type you are dealing with is category 1 and isn't dangerous if handled immediately.
Categorized water damage levels two and three are more dangerous and require a specialist's care. Contaminants and others that could negatively impact your health can be found in those waters, such as greywater or sewer backups.
This type of water damage should be handled by water damage restoration professionals who can handle it properly.
Interior Moisture
There is probably no more common complaint among homeowners than water in the basement. In general, two main causes can be identified: interior moisture or exterior leaks. Fortunately, a moist floor is typically a simple problem to resolve.
Plumbing and heating systems are often susceptible to leaks or condensation, which can go undetected until something gets wet. Identifying where the heating equipment, drains, and supply pipes are located above the wet carpet, or nearby areas may provide a quick solution.
The next phase of investigation should be to observe the home's exterior if these mechanical systems are not malfunctioning.
Open Windows And Remove Moisture
Following the removal of the wet carpet, you'll want to remove any excess moisture in the air by opening the basement windows and having fans remove the moist air.
You should use all methods possible to help eliminate moisture from the air and promote air movements, such as exhaust fans, dehumidifiers, and wet-dry vacuums. There may be a delay in the drying process, depending on the amount of water in the basement and the length of time it has been there.
Sump Pump Failure
It is possible that your sump basin filled up with water if there was a power outage overnight. Water from this source is most likely to have caused the flooding and the carpet damage in your basement.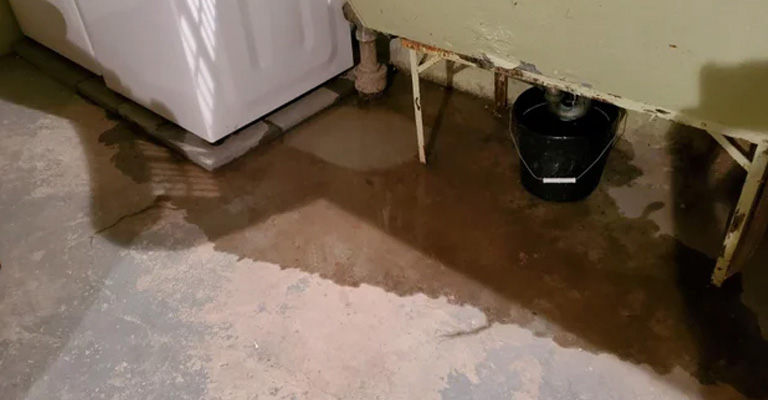 In addition, it could indicate something is wrong with your sump pump if you've noticed that it hasn't been running consistently or that it is constantly running.
You should ensure your sump pump is working properly and perform regular sump pump maintenance. If that is the case, the water in the basement will need to be pumped out properly with a new sump pump.
In addition to installing a sump pump, you can also install a battery-powered backup. While some of these other repairs will cost you thousands of dollars, fixing a broken sump pump is relatively inexpensive and easy.
Poor Grading Around The Home
Damaged eaves and downspouts are likely responsible for leaks into a basement and poor grading around the home. A downspout termination is typically near the source of leakage in most homes with wet basements.
The downspouts need to be fixed if they are dumping directly next to your foundation wall or are damaged and leaking directly onto your walls. 
The problematic moisture may be channeled far enough away from the house by replacing a downspout with an open seam and repairing loose or missing extension pipes. Verify that the soil isn't eroded and isn't sloping toward the foundation if they're still in good shape. 
Although the eavestrough runoff is managed well, poor grading can cause precipitation to pool against the foundation. The second simplest item to take care of is constructing a slope away from the walls of the foundation.
Basement Walls Leaking Water
Water can begin to leak through cracks in your basement walls and pool on the ground if you have cracks. Water seeping through basement walls can be detected in several ways, including a pool of water on the floor of an outer wall and bubbling paint.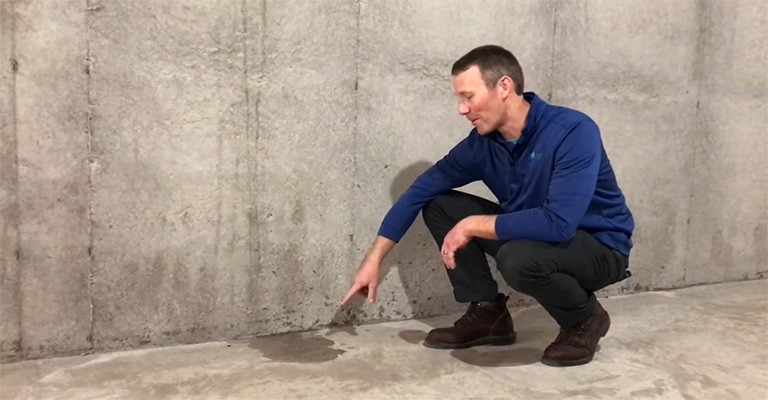 It's normal for your drain tile to deal with this water, but if you have an old house without subsurface drainage, the water will remain in the drain tile, looking for an entrance.
The Basement Window
Assuming all of the above issues are functioning properly, the basement window is the remaining culprit. It is not uncommon for older windows to leak, especially wooden ones in basements.
The window flashings rarely have drips, and water often pools around the bottom and leaks through rotten frames, sashes, and the window buck. A new PVC or fiberglass window can stop leaks during rain and snowmelt by replacing an old, damaged window with a highly moisture-resistant one.
In addition to preventing excessive snow accumulation against windows and filling the window wells, window well covers are not much good against serious water ingress.
Leaking Pipe
The pipes leaking in the basement can also cause basement flooding and carpets to become wet. In addition, your pipes can become corroded inside and crack eventually, causing water leaks. You can easily identify the plumbing in the ceiling if you can see it.
Check The Wall Coverings
If none of these common causes appear to be the problem, it may be necessary to remove some wall coverings. For example, the concrete foundation wall can be seen when you remove the wall coverings, air/vapor barrier, and insulation around the basement window.
A visible vertical crack, especially one surrounded by white efflorescence, is likely the source of the leak. The cause of seepage will also deteriorate from ties if you see small, rusted holes with water stains below.
It may be necessary to do some exterior excavation and foundation repair, but this is normal in older houses. A more extensive exterior foundation repair may be required if there are any large diagonal, or especially horizontal, cracks.
If there is a movement of the foundation walls or the home, these signs can be used to detect movement to stop further damage from developing.
Cleaning, Disinfecting, And Sanitizing The Basement
The formation of mold can result from water damage left unattended. Mold can cause health problems to you and your family if it is not dealt with immediately. If you don't deal with mold right away, you may suffer health problems in the future.
A restoration service company can remove mold from your home. There is a good chance they will come out to deal with this—it would be the best thing to do. However, there may be things that need to be done that you cannot see with your eyes.
Mold can form behind wet walls, for example, if the walls have become wet. Consequently, most restoration services strip down all walls, including the foundation walls. After that, they spray them with mold-fighting chemicals.
It will be necessary to insulate, drywall, and patch the basement walls after this. To prevent mold from spreading in your basement, it is a good idea for them to do this.
Ensure The Problem Has Been Resolved
The problem that caused the wet basement needs to be fixed before you finish your basement again. Now is the time to replace the sump pump, waterproof the basement, or install proper subsurface drainage.
You will have to go through this process repeatedly unless you do this. Depending on whether it was just a one-time issue, like a leaking washing machine, you may already have addressed it. Make sure that you fix the problem while you're finishing drying your basement.
If You Have An Insurance Claim, Contact Your Agent
Thousands of dollars in repairs may be required if your basement floods. Whether or not you should file an insurance claim depends on the extent of the damage. A claim with your insurance company may be necessary for a variety of reasons. 
Depending on the size of the basement, you may need to file a claim. You might want to file an insurance claim if you have flooded your entire basement, your belongings have been severely damaged, and you need to move out.
Frequently Asked Questions
1. Does carpet mold pose a threat?
Wet basement carpets are a common problem, and most homeowners know that they should be dried out before mold can grow. Wet carpets are the perfect breeding ground for carpet molds. 
The spores of mold grow quickly in areas with high humidity levels and warm temperatures, which are the ideal conditions to make them develop. In order to keep your carpet mold-free, you should regularly clean your basement and dry out wet carpets as soon as possible.
2. How quickly will a wet carpet dry?
It will not dry by itself. To remove a small amount of water, sweep it up with a vacuum. In general, it will take several days for a wet carpet to dry if it is not in direct sunlight and there is no airflow.
3. After water damage, does the carpet need to be replaced?
Water damage from a contaminated source or carpets that have been wet for more than 72 hours should be replaced. In the absence of immediate treatment and drying, replacing the carpet is the only option.
4. What is the time frame for drying flooded carpets?
When you have the right equipment, it is usually possible to dry wet carpet in your basement within 12 to 24 hours. However, when a large area has been flooded or if it is a large space, this process may take longer. 
If you use regular house fans or don't lift the carpet, it could take up to five times longer to dry. Acting fast is essential since mold can grow in as little as a day.
5. How do you dry your carpet?
Many of these above suggestions will not apply if you find that only your carpet is wet. However, to stop the spread of mold, you will need to act quickly. Hire a carpet cleaner or wet extractor to remove most of the moisture from your carpet.
In order to help the carpet to dry faster, you will need a dehumidifier and large fans that push the air out. Trying to remove the moisture from the air with two dehumidifiers may seem appealing, but the best thing you can do is to squish the water up with a carpet cleaner of some kind.
6. Is a dehumidifier capable of drying a wet carpet?
The purpose of a dehumidifier is to remove moisture from the air. For example, a wet vacuum will be required to remove it from a carpet.
Final Words
The most important part of your effort should be to determine whether the wet basement carpeting comes from inside or outside the house, but outside sources are most often responsible.
If there is no damage to the foundation itself, upgrading the grading and eavestrough, water management will provide relief. However, a foundation contractor may need to be called in if the water persists after all of these issues have been addressed.