Common bolts and screws carpenters use every day have their small area of application and they are not strong enough for bigger projects. However, there is a versatile screw named lag bolt, lag screw, or coach screw which is one of the toughest fasteners and is very good for a wide range of applications. 
From carrying a light load and making small projects hard to separate, the lag screws can even be used to bear an intense load. They are good for use in wood, metal, brick, concrete, or any heavy construction projects. Lag bolts are also suited to be used in medical treatment and mechanical projects. 
What Are Lag Bolts Good For? 
A lag bolt or screw can be used in different kinds of materials and hundreds of types of projects. Depending on the types of lag bolts and types of material you can use, there are so many applications that these screws are good for. This section covers the area of application that the lag bolts are good for.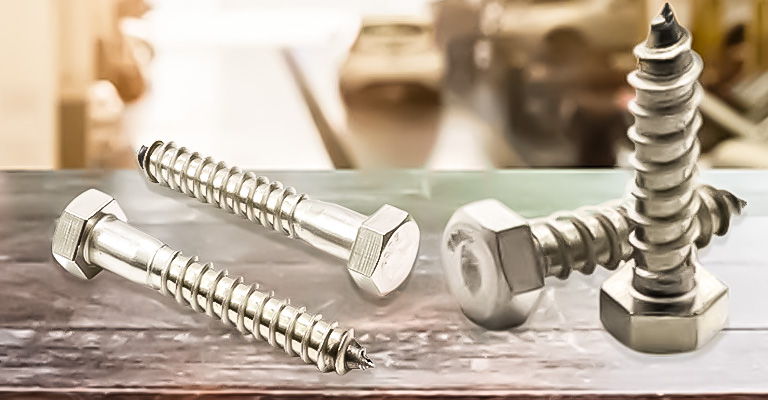 Wood 
Lag bolts are good for any kind of wooden project, although they are not used to fasten toys or very small objects because their size is not suitable for those projects. You can use these bolts to make and repair wood fences, panels, wooden stairs, deck boards, furniture, bamboo materials, and many other projects.
Metal 
You can use the lag bolts to attach metal plates together or with woods or any other objects. Some lag bolts have rust or corrosion resistance properties, they are most suited for attaching metals that will often come in touch with water or harsh weather.
Brick 
Lag screws can also be used in brick or mortar joints. If you install them in your brick walls, you can hang heavy objects easily. These screws can also be used in other masonry materials and applications.
Concrete
Concrete is one of the toughest composite materials used widely in construction projects. Normal screws are not very suited to be used in concrete, that's why lag screws are the better choice for concrete jobs that carry heavy loads.
Treatment
Lag bolts are even suited for utilization in medical treatments. They are usually used to attach fractured bones in one place. Since these screws can carry an intense load and fasten things tightly, they are the most suited for this job.
Depending on The Types of Lag Bolts
There are several types of lag bolts available, 4 of them are the most common types. One is the zinc-plated lag bolt that comes with moderate protection against rust, so they are good for indoor jobs. Another one is the stainless steel 18-8 lag bolt which is highly corrosion resistant and used in exterior and marine projects.
The silicone bronze lag bolt can provide more strength and better corrosion resistance than brass. This copper alloy is good to use in wood and boat building. The thick coated hot dipped galvanized lag bolt is much more corrosion resistant than the zinc-plated one and it is suited for exterior use in coastal areas.
How To Install Lag Bolts
Installing lag bolts is pretty simple if you follow the steps. The first step is to make sure that all the materials you want to screw together are perfectly aligned since the project will mess up if they are not aligned in the planned way. After aligning, use clamps to hold the material pieces firmly in that place.
Then use a drill bit to make a pilot hole for the lag bolt. The opening must be deep enough for the entire screw but slightly smaller in diameter than the lag screw and must be created before the installation of the bolt. After that, you can fasten the lag bolt and use a power drill to tighten it.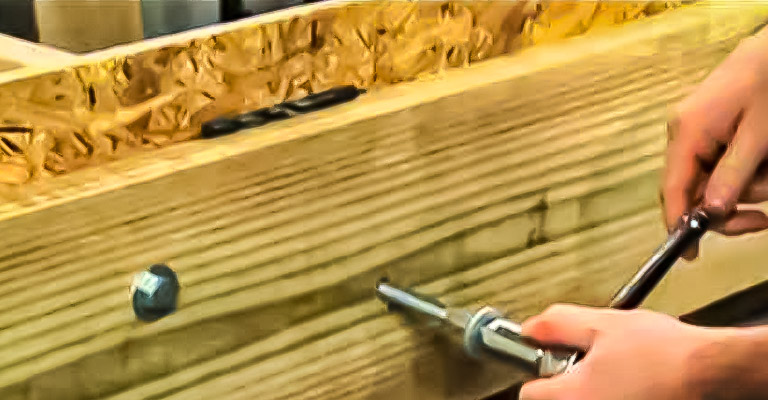 FAQs 
How much weight can a lag bolt hold?
A lag bolt of 3/8 inch can withstand up to 200 pounds per inch load. The larger the screw will be, the more weight the lag bolt will be able to hold.
Is there any difference between a lag bolt and a lag screw?
Normally a screw is a fastener that is installed by spinning the head of the fastener and a bolt is tightened by spinning the nut with it. But in the case of the lag fastener, both the lag bolt and lag screw indicate the same fastener.
Are construction screws stronger than lag screws?
Yes, the structural or construction screws are stronger than lag bolts and they make longer-lasting connections between the attached parts.
Final Verdict
Knowing what are lag bolts good for is not enough to have the best results with them. For the best-case scenario, always use a pilot hole to install lag screws or they will get crooked. Also, don't install these bolts slowly, punch them in for the best. And don't forget to use the right screw size with using the right tools.