The Tiffany Studios are famous for producing numerous lamps made from leaded glass. In the early 20th century, when they were first introduced, they became a strong international sensation.
Stain glass pieces are arranged in decorative designs on Tiffany lamps. Tiffany lampshades are made by soldering tiffany glass pieces together with copper foil.
"Tiffany style" is most commonly used in lampshades on tiffany table lamps or tiffany floor lamps, but it can also be used in lighting fixtures such as chandeliers.
Tiffany glass shades reflect light and illuminate stained-glass pieces when the light is turned on. I love the lit glass of the Tiffany lamp – it is magnificent and very attractive.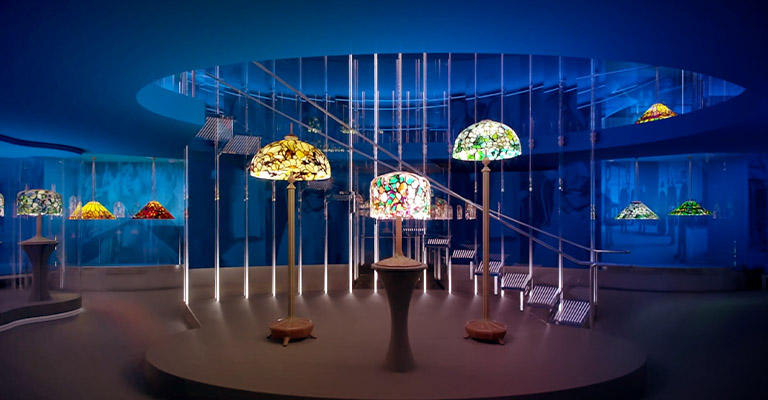 The Origins Of Tiffany Studios
Tiffany & Company is a jewelry company founded by Louis Comfort Tiffany. In addition to being an artist, decorator, and designer, he created furniture. The former painter and interior decorator decided to switch to stained-glass windows following successful careers as a painter and interior decorator.
It was only natural for him to create leaded glass lamps. For almost 40 years, his Queens factory manufactured decorative objects and a wide variety of other items.
Craftsmanship
As a result, Tiffany worked with the finest artisans in America to bring his artistic vision to life. Glass for lampshades was selected carefully among thousands of sheets available to cutters, with each small section being painstakingly cut.
The Base
It's equally important, if not more, to choose the right base. Tiffany's foundry in Queens made most of them out of bronze, while others were enameled or mosaiced.
While these hybrids can be interchanged with various shades, the design will never be compromised. It is perfectly acceptable to rewire and has no negative effect on value if it is done carefully.
Using the lamp safely is crucial, but collectors should be careful not to scratch the original patina or to use new sockets that could lower the value.
Most Expensive Tiffany Lamp
A Tiffany lamp sold at Christie's auction in 1998 for $2.8 million was one of the most expensive ever sold. Today, few of these "Pink Lotus" lamps exist.
In addition to a beautiful mosaic base, the department says the design possesses many unusual elements. For an attractive geometric-shaped Tiffany lamp starting at $5,000, Tiffany leaded glass models are more common. 
How To Spot A Fake?
A variety of fakes are available, with varying degrees of quality. In the 1970s, even Tiffany's competitors began making similar pieces, but there was a marked increase in reproductions.
While "Tiffany Studios" might be on a lamp, this is not guaranteed to be original. Distinguishing a real Tiffany lamp from the good fakes is hard. To determine its value, an expert must examine the lamp's design and condition closely.
Where To Find New Tiffany Lamps For Sale?
Small bits of glass and Tiffany designs have become more common than a century ago. Tiffany glass is also a popular choice from companies with long histories of producing it, such as Dale Tiffany and Meyda Tiffany.
There are fewer and fewer companies specializing in Tiffany lighting. A Tiffany lamp may cost more than one made from another material. Tiffany lamps are extremely expensive, but their quality is worth the price because of the amount of work and craftsmanship that goes into their manufacturing.
Top 5 Modern Tiffany Lamps
Tiffany table lamps are still a very popular way of using tiffany. In tiffany table lamps, a light socket and a switch are mounted on the lamp base, upon which the lampshade is positioned.
As a result of the shade, the harsh light of the bulb is protected from your eyes. The tiffany shade will also be illuminated, allowing the color of the tiffany to be displayed beautifully.
1. WERFACTORY Tiffany Lamp Table Lamp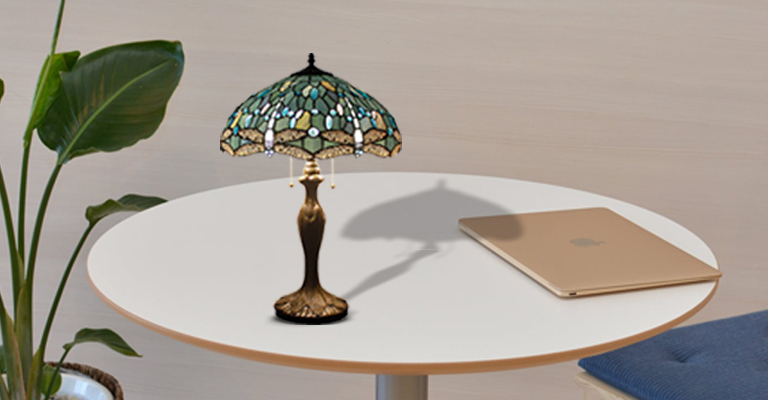 Buy on Amazon
Beautiful Tiffany Lamps are crafted by hand and will add a sense of elegance and creativity to any room. Designed by Art Nouveau artists, these lamps will make an incredible centerpiece in your living room.
In addition to providing good stability, the heavy base can also guarantee safety and stability. A gift of these lamps is of the highest quality, and the recipient will most certainly be astonished. Soft, warming lighting creates a cozy, warm environment.
The colors don't overwhelm the space. Werfactory Tiffany Lamps combine intelligent design with stained glass stained in vibrant colors. Additionally, it can also be used as a handcrafted art craft to display in your home.
Stained glass is not painted; it is the color of nature. Tiffany lamps have a high value of collection because they are unique, and the colors may vary according to the location. Decorative and reading Tiffany lamp. A great bedside or end table lamp at an affordable price, this lamp is an interpretation of one of Tiffany's most famous designs.
2. Tiffany Lamp – Bedside Lamp with Stained Glass Shade
Buy on Amazon
It is a perfect size and will add a splash of elegance to any room of the family house. When your family is around, this small table lamp creates a nice, comforting feeling. Reading is possible thanks to the good decoration effect.
Our bedroom is filled with just the right amount of light to make it feel relaxing and comfortable. There is a little oil on the shade when it is received, but a cleaning cloth is included to wipe off excess oil. This is only a problem because the leaves and vines are wrapped tightly around the stem.
All the leaves except the one at the top are facing the same way. This lamp perfectly illuminates my bedside table; it produces just the right amount of light. My first impression was wrong; it's even bigger than I thought it would be. There's a lot of weight to it, and it's well-made.
3. Capulina Tiffany Floor Lamp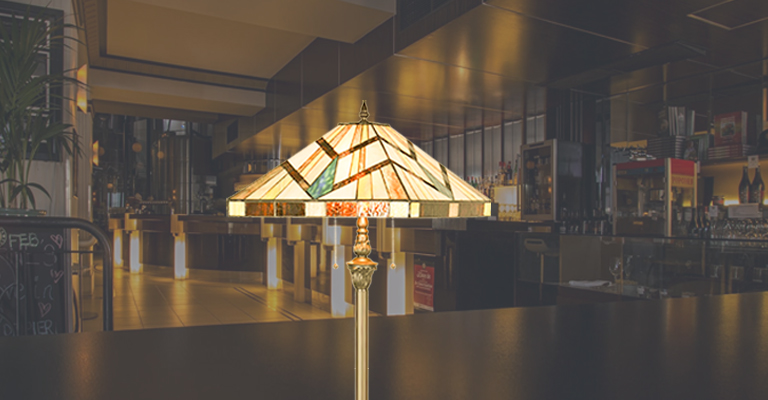 Buy on Amazon
The lampshade was made by skilled artisans. Lampshade pieces are spliced together by copper foil. Despite their small size, the lamps are extremely sturdy. The colors on the lamp are amazing. Regardless of the level of dimming, they look great.
With a tiffany lampshade, you can let the light filter in a while, simultaneously softening the heat and creating a stunning color effect throughout your room. Ideally suited for living rooms, board rooms, and entertainment rooms, etc.
The lamp looks as if I spent twice as much money as I actually did. The stem and base are very robust, and it sits level. In my opinion, if you're a fan of gold tones, this glass is perfect for you. Easy to assemble and very well packaged. Shades come with mineral oil applied to protect the glass, according to the instruction paper.
A description on the website says they can only take 60 watts of bulbs, but the label says they can take up to 100 watts. There is no need to use more than 60 watts. I highly recommend it. This is an unusual and good value item. Almost all Tiffany-style lamps feature dragonflies.
4. Lavish Home Tiffany Style Bankers Lamp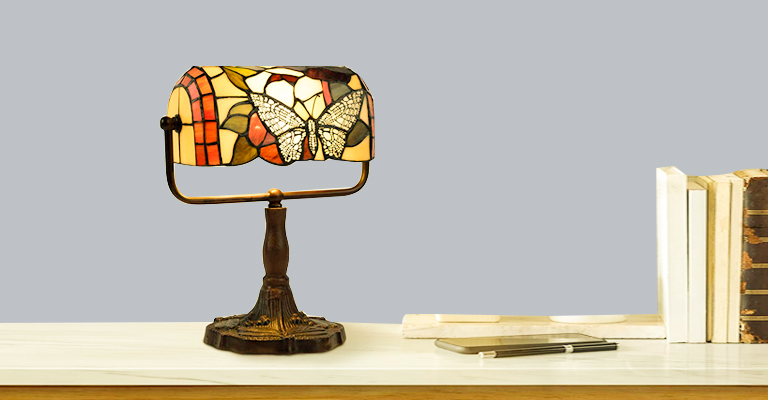 Buy on Amazon
96 pieces of stained glasses are handcrafted into each charming banker lamp, making each one a unique piece of art. A butterfly perches on the bloom of a beautiful flower in this design. LED lightbulb with 400 lumens that measure 4 Watts (equivalent to 40 Watts incandescent).
This lamp has a swivel arm that allows you to adjust the light's direction, and the bulb is ETL-listed and has a 25000-hour life span. This nature-inspired lamp makes an ideal gift for birthdays, weddings, anniversaries, and housewarmings with its intimate glow.
With its UL-listed construction and durability, this lamp will last for decades to come. Whether you are looking for an accent light for your living room, your office desk, piano, or as a nightlight for the bedroom, this lamp makes a nice choice. 
The product seems well made and sturdy. The shade is made entirely of glass, and the base is made entirely of metal. I like this lamp a lot!
5. Cotoss Tiffany Table Lamp Night Light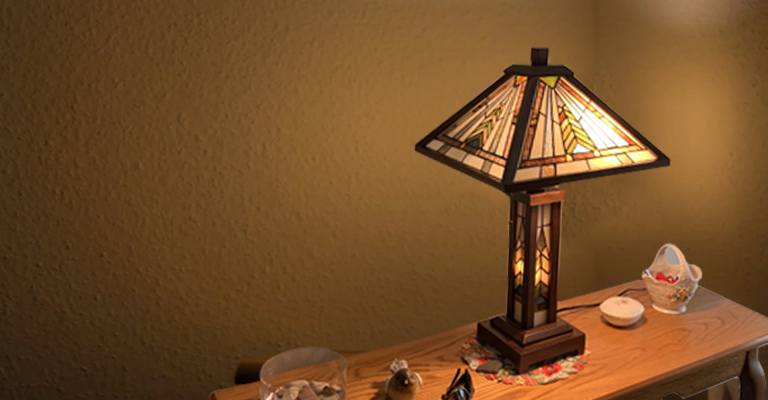 Buy on Amazon
This stained-glass lampshade is sturdy and made from the best materials. A very high temperature is used for the soldering of tin to join the stained-glass pieces. All lampshades are inspired by Louis Comfort Tiffany. The process is entirely handcrafted, and the color never fades.
Through the glass, the lampshades shine the light and create a beautiful pattern. Light on the artwork reveals colors that have vibrant tones and are evenly toned. It will definitely add character to the living room and bedroom and be the focal point. Your friends and family will also appreciate it.
Among all their products are decorative tiffany lamps, handcrafted tiffany-stained glass torches, and much more. Vibrant and evenly toned colors are seen when the light is on. This piece will definitely add character to a room. A beautiful light enhances the decor of a room.
Types Of Tiffany Lamps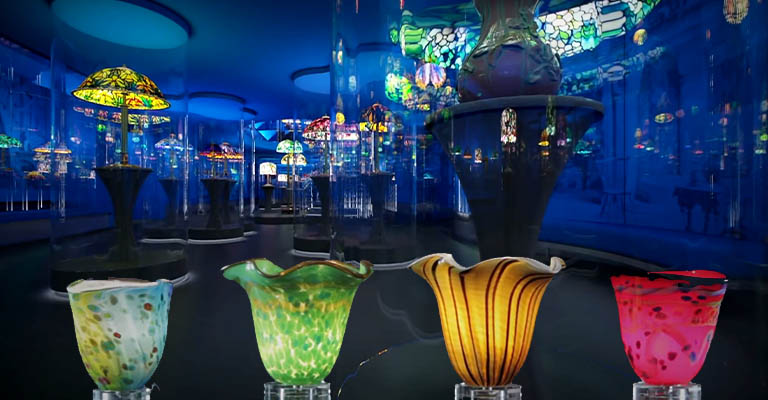 Typically, toughened or art glass is used in modern Tiffany lamps. Compared to traditional glass, this is lighter and more difficult to break. This process ensures a longer-lasting Tiffany lamp.
Tiffany Table Lamps
Tiffany table lamps are still a very popular way of using tiffany. In tiffany table lamps, a light socket and a switch are mounted on the lamp base, upon which the lampshade is positioned.
As a result of the shade, the harsh light of the bulb is protected from your eyes. Tiffany table lamps are also known for their beautiful display of color, thanks to the illumination of their shade.
Tiffany Floor Lamps
Tiffany floor lamps make great companions table lamps. Standing Tiffany lamps with long poles are larger and stand on the floor. Light sources are located at the top of the chandelier, while a large tiffany shade shields your eyes from glare.
Typically, a floor lamp stands over shoulder height and is positioned over a chair so that the shade casts downward light. There is a greater amount of light provided by a tiffany floor lamp than a table lamp.
Tiffany Desk Lamps
In a compact and adjustable lamp design, Tiffany desk lamps offer the beautiful designs of tiffany glass. Table lamps are similar to Tiffany desk lamps, but they can generally be repositioned easily to shine light above a desk or on certain documents.
A banker's lamp that represents the Tiffany style is also available, similar to those normally used by bankers to show off their paperwork and financial matters.
Tiffany Accent Lamps
Additionally, Tiffany lamps come in small styles called accent lamps or small tiffany lamps. Regardless of their size, these small tiffany lamps are comparable to a tiffany table lamp, or they can be more compact, customized designs that do away with the typical lamp base.
Adding a touch of art and color to a room with these miniature Tiffany lamps makes them excellent art pieces. As accent lighting, a mood-setting light, a night light, or for pure enjoyment, they do not contribute significantly to the light in the room.
Tiffany Lighting
Besides the light bulb, all lighting fixtures are usually equipped with a kind of shade or shades that conceal the bulbs to a certain extent. Tiffany lighting shades may not be necessary to block light, and in fact, they might even serve to enhance a fixture's design and character.
Final Words
In case you are getting too excited about having an original, let us set the record straight. For more than 40 years, Tiffany and other fellow artists crafted lampshades and bases that are now valued at anywhere between $5,000 and $3 million.
Stained glass is used in the Tiffany Lamp to create an intricate pattern with small pieces arranged in a small space, typically on top of a bronze base.
In addition to stained glass, mosaics, and enamel, many of the bases are also decorated with stained glass. It's okay if you can't afford to dedicate thousands of dollars to lighting your home in style. Tiffany-style lamps can almost pass for authenticity when produced by many companies around the world.