Shower wall materials have been here since ancient Romans and Greeks prevailed. But it seems like a modern bathroom is their ideal place, once you know using tiles is too mediocre to be a choice. So, what are these materials, and what can you use for shower walls instead of tile? 
There are a lot of options available like acrylic, stone resin, marble, and whatnot. But they all have their pros and cons, which you first need to consider along with your taste and budget. If you don't want to break the bank, acrylic panels are the way. But marble slabs are your best bet if you can afford an opulent shower.  
Can You Have a Shower Without Tiles
Theoretically, you can have a shower without tiles but not without waterproofing altogether. Usually, tiles do the job of sealing wet areas of a bathroom or inside the shower enclosure. However, it is not the only way of waterproofing as it used to be in the past. Plus, alternatives have come so far that they can replace tiles entirely.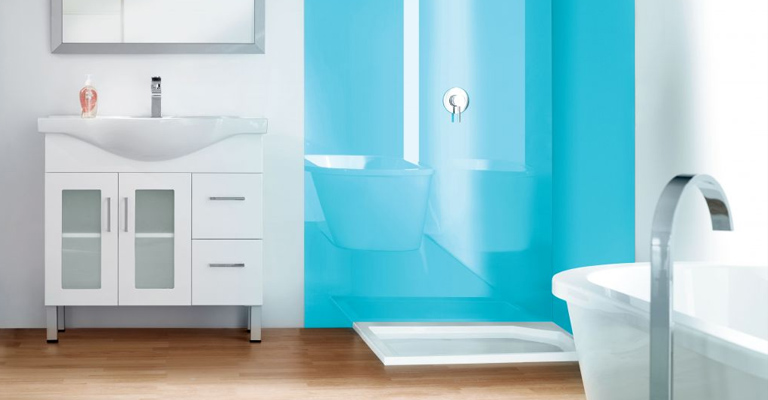 Why Should I Look For an Alternative
Even the price of regular tiles is not so pocket-friendly, let alone the high-end aesthetically pleasing ones. Therefore, you might want to look for alternatives if you are a bit tight on budget. And the few extra bucks you save there can come in handy if you wish to throw in some additional design elements. 
Also, installing tiles takes a hefty amount of your time which you can reduce by opting for other materials. Besides, with tiles comes the hassle of cleaning grouts. It is something you cannot avoid if you want your shower free from mold buildup. On the contrary, materials like acrylic panels are free of such drawbacks.
What Can You Use for Shower Walls Instead for Tile
Below are the most popular choices when it comes to building or renovating shower walls. Aside from them, you will find materials like fiberglass and wood. However, they could not make their way to this list due to having more drawbacks than upsides.
Acrylic Panels for Shower Walls
Mainstream tiles and acrylic panels have one thing in common, the overall look and feel. Apart from that, the latter brings a lot more to the table, especially in terms of fighting moisture, mold, and cracking issues. And the credit goes to its non-porous material that lets almost nothing (mostly water) pass through. 
Speaking of that, these panels are exceptionally sturdy while being scratch and stain-resistant. Furthermore, they are pretty versatile, fitting in perfectly to cover an entire wall or portions of it. Last but not least, acrylic comes at a much lower price tag than tile and thereby gets the job done without breaking the bank.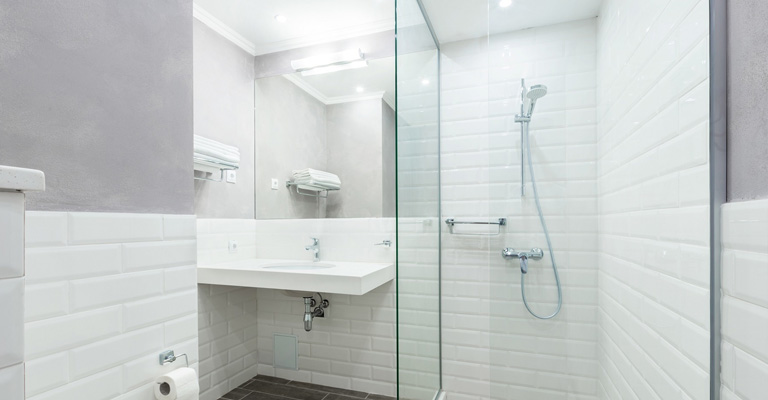 PVC Panels
Generally, PVC doesn't need much heft to form a strong structure. Likewise, PVC panels for shower walls are naturally pretty durable despite being lightweight. Even if they somehow get damaged, you won't have to splurge on replacements. That is because they come at a fraction of the usual cost for tiles.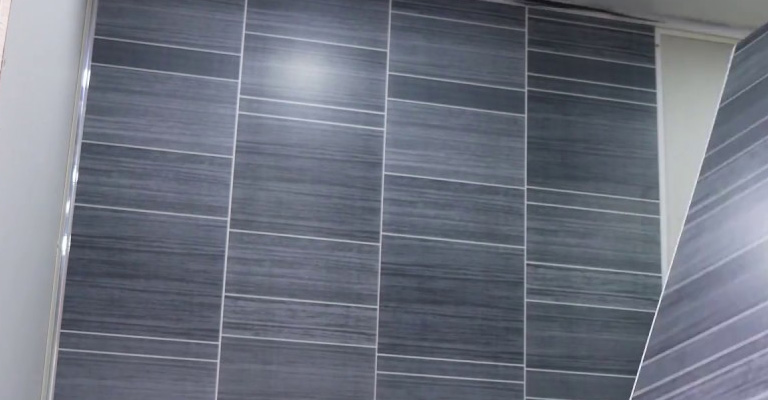 Most importantly, PVC panels are 100% water-tight, eradicating the chances of any leakage whatsoever. And since they are seamless and hard-wearing, they leave no scope for mold buildup. Hence, you can finally live a carefree life. 
Besides, these panels come in various colors and styles that you can take advantage of to make your shower a bit colorful. Plus, they let you cover more areas with minimum effort, thanks to their larger footprint.
Marble Slabs
Who doesn't love the classic elegant look of marble shower walls? Marble slabs are the symbol of luxury and, when installed, represent your take on aesthetics. Plus, their timeless look makes tile walls seem something out of the past. So, if you can afford it, marble slabs are hands down the best alternative to tiles.   
Moreover, marble slabs are usually pretty sturdy, unlike inexpensive options like PVC panels. Thus, they can last a lifetime if you take care of them the right way. Needless to say, they are 100% mold resistant.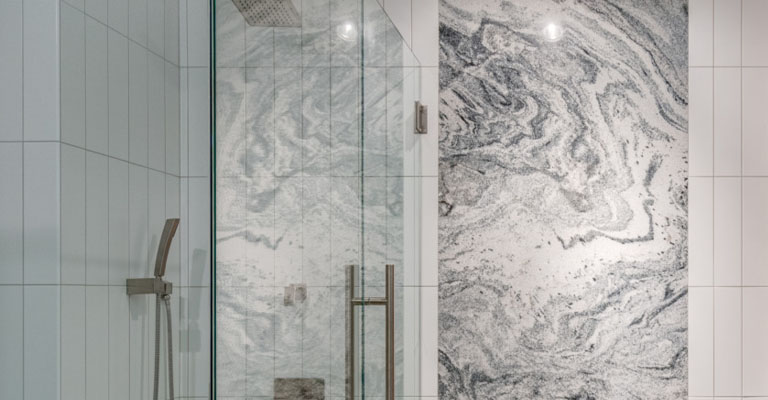 Sadly, marble slabs are not the most budget-friendly option out there, taking the buying and installation costs into account. Moreover, they tend to lose their sheen over time, which requires further polishing and brings more expense. Lastly, they are prone to catching stains from acidic substances, demanding extra caution.
Cultured Granite Wall Panels
Cultured granite panels can be ideal if you're in the market for something sturdy. Measuring at around 3/8-inch, these are pretty thick, which, paired with the added heft of 100lbs, makes them virtually indestructible. Hence, they are likely to last the era of your grandchildren as well.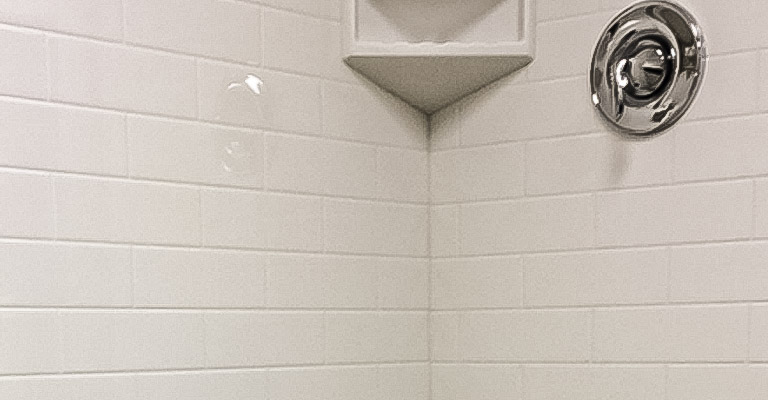 Durability aside, these wall panels are not the prettiest of the bunch. Usually, they look somewhat outdated as compared to most modern renovations. Yet, you can go for them if you prefer a vintage vibe over clinical-looking modern showers.
Stone Resin Panels
Stone resin is a mixture of acrylic resin with epoxy, bauxite, and some marble dust. Thanks to such a combination, it is non-porous for the most part, helping you construct seamless shower walls. Colored in eye-pleasing pigments, it makes a perfect substitute for natural stones and marbles too.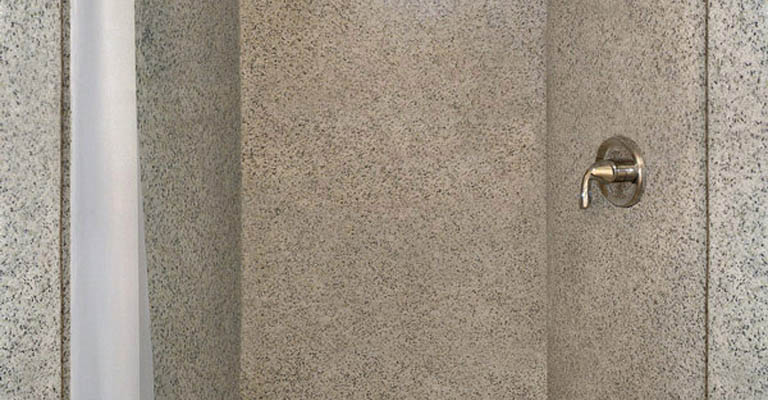 Other than that, stone resin panels usually have a good track record in withstanding rough use cases. So, you can expect it to avoid cracks and scratches in the long run. And as they are not that cold to touch, you can go for a warm and cozy vibe.
Decorative Metal Panels 
For those unaware, metal shower wall coverings do exist. However, they have not become so streamlined yet. As of now, their presence is limited to shower walls of those DIYers on Pinterest. Yet, if you're willing to put in the effort, you can also achieve unique fun-looking shower walls covered with stainless steel or copper.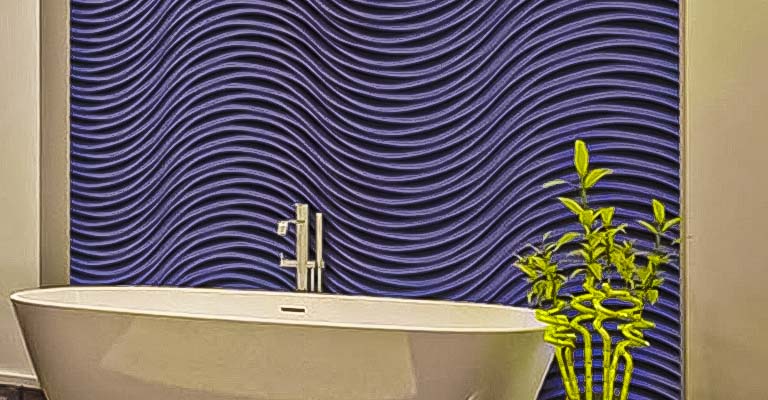 Stainless steel, unlike tiles, is easy to cut and resize. But this method is not free of caveats as metal panels, despite being resistant to most chemicals, might not be entirely waterproof. That's why it has not arrived as a proven system of decorating residential showers.
Frequently Asked Questions
What kind of drywall do you use for shower walls?
Since shower walls demand waterproofing drywall, cement boards can be the go-to solution. Usually, these are capable of performing under wet conditions similar to that in showers. However, you will have to add a moisture barrier beneath the boards to get the most out of them.
Can you use wood on shower walls?
Yes, you can use wood on shower walls to add an extra layer of natural and warm touch. But don't hop onto it right away if you don't have any form of ventilation going on in there. Also, wood being susceptible to warping requires a lot of effort behind upkeeping in the long run.
The Takeaway
Choosing what to use for shower walls instead of tiles brings a lot of options to the surface. For example, you can skip the above options and grab waterproof bathroom paint if you have budget constraints. But if you choose to stick with a mainstream option, make sure you take note of the upkeep costs.