When the power cord of your refrigerator is too short to reach the wall power outlet and you can not rearrange the kitchen set up, an extension cord might be the best option you have. But there comes the matter of safety. 
As the wrong extension cord might cause a fire hazard or electric shock, knowing what extension cord is needed for refrigerators is a must. For that, choose the extension cord that has twice the current and fuse rating of your refrigerator. Also consider the length of the cord, wire gauge, and plug type for the best performance.
What Extension Cord Is Needed for Refrigerators
Kitchen power outlets are often located in a tricky position where sometimes it becomes hard to access and use for appliances like refrigerators. As a result, you will be needing a nearby power outlet for convenience. And if you do not have one, the only way to solve the problem is to buy an extension cord for your refrigerator.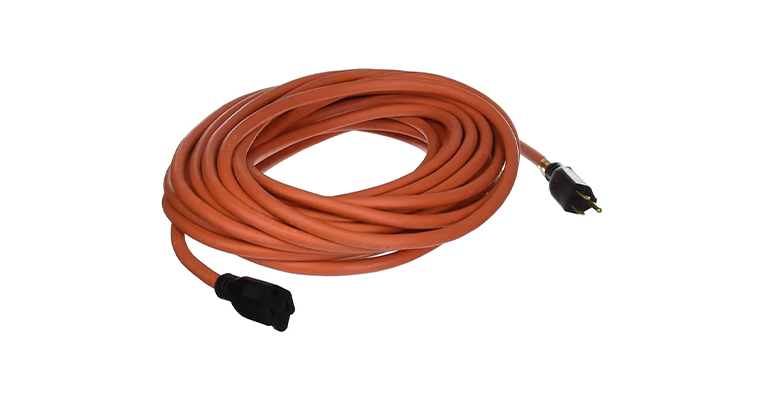 You do not have to think about buying an extension cord at all for simple devices like a fan or lamp. But for major appliances which might be highly vulnerable to electric damage, the type of extension cord matters a lot. And choosing the best extension cord for the refrigerator can be an exhausting experience.
Because a heavy-duty extension cord that can handle the energy requirement of your refrigerator can be a little tricky to find if you do not know what you are looking for. Also, the extension cord needs to be compatible with the device as well. So let's find out what the key things are that you need to know before buying an extension cable.
Before buying an extension cord, make sure that the cord has at least a 50% higher current and fuse rating than the refrigerator's requirement, the thickness of around 14-gauge, the short length, and proper insulation properties. But why all these are so important?
Current and fuse rating
With a lower-powered or undersized extension cord, the risk of fire hazards or overheating increases a lot. If the cord can not handle the current that is required for the refrigerator, it finds trouble to deal with the extra energy. And that is the reason behind over-heating. And if you run out of luck, it might lead to a fire hazard.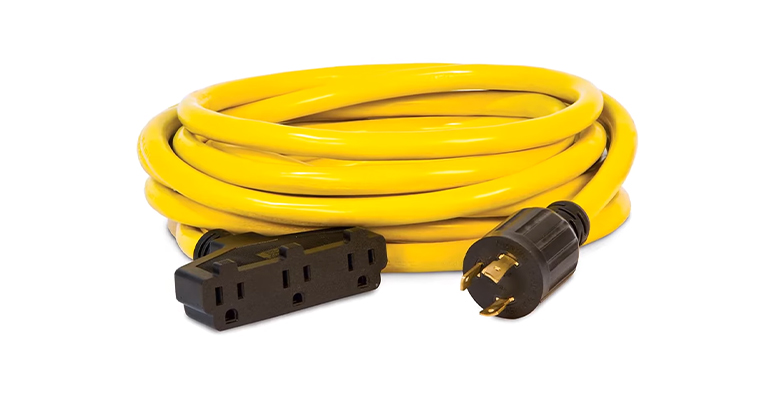 Wire Gauge
Wire gauge simply means the thickness of the wire in diameter. And the lower the gauge is, the thicker and more powerful the wire is. And to prevent the overheating issue, you should go with the thicker wires.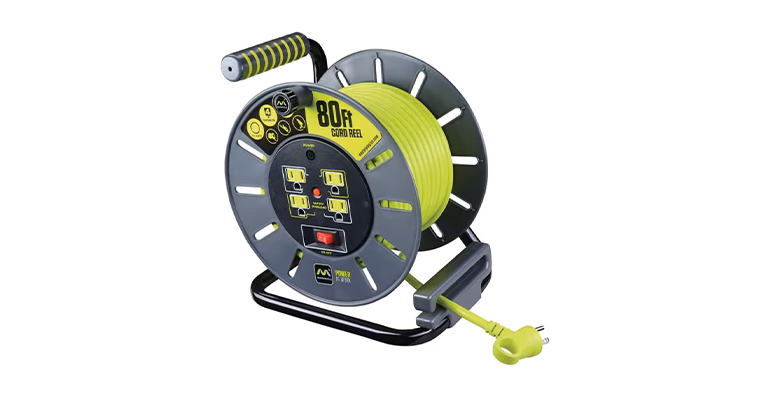 Also, the insulation of the wire largely depends on the gauge rating of your wire. However, for your refrigerator, a cord with a 14-gauge rating would be decent.
Length of the cord
As longer cables are usually capable of handling less current here, a thick and short cord is always preferable. For a refrigerator with an amperage of less than 15 and less than 9 ft distance to cover, 14 gauge should be a perfect choice.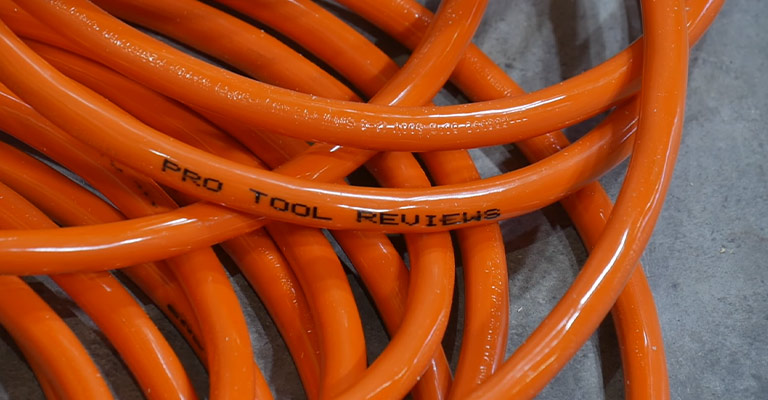 But in the situation of long-distance and higher amperage, you can go with the cord with 14 or 12 gauge.
Three prongs or two-prong?
As your refrigerator has got ground built in it, it will require a three-prong outlet. Because three-prong outlet has got a ground wire, neutral wire, and hot wire. Whereas the two-prong lacks the ground wire. So when it comes to minimizing the risk of fire hazards or electric shocks, three-prong plug types are preferable.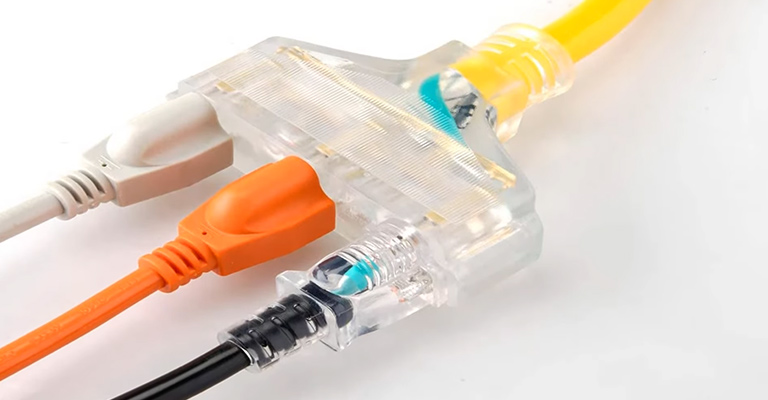 Multi-Socket
For your refrigerator, an extension cord does not go with the multi-socket option. So it would be best if you stick with a single socket, as your fridge has to deal with a huge amount of electricity constantly. To avoid overloading the outlet and the cord itself, the single socket is the best option here.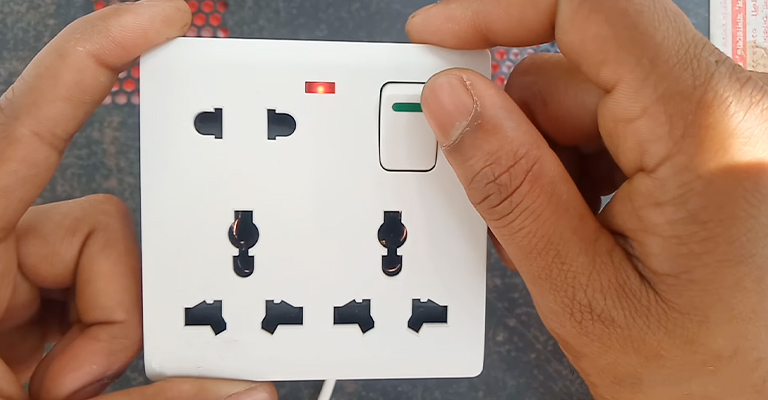 Socket Multiplier
If you are planning to use an extension cord because there are not enough power outlets in your kitchen, then don't. buying an extension cord is not the best option here. Using a socket multiplier is much simpler than this. Besides, there will be no risk of fire hazards or overheating. But make sure that the multiplier is properly rated.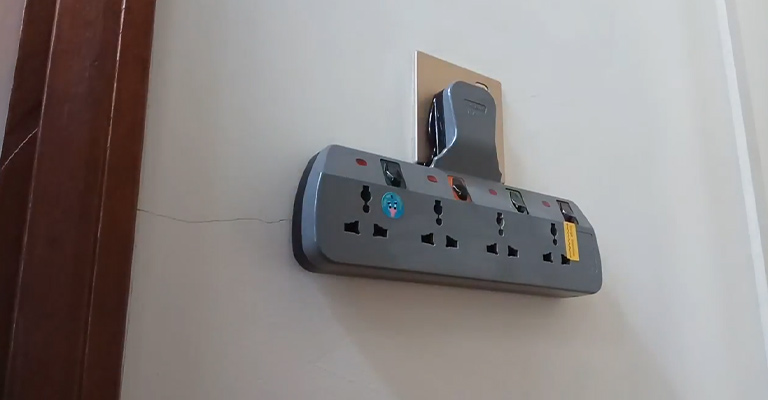 A socket multiplier works as a device with multiple inputs and a plug that should go into your power outlet in the wall. And this tool will allow you to use multiple devices in the same wall outlet. 
Risks of using an extension cord
As we said earlier, high electricity-consuming electronic appliances like refrigerators, air conditioning, or microwaves are quite vulnerable to electric damage and inappropriate wirings and extension cords. And below are the reasons why you should avoid using extension cords for your refrigerator.
Fire Hazard
Compared to regular house sockets, the thickness of the extension cord is a little less. And that might create a chance of failure. And if the extension cord is not correctly rated or the wattage is lower than required for the refrigerator, it can cause a fire hazard. 
As the refrigerator runs 24/7, it will not give a moment to rest on the extension cord. So using the main cord of the refrigerator is always advised.
Performance
Thinner wiring always offers greater resistance. And the longer the cord is, the more electric resistance there will be. And these two factors might lead to voltage drop. Frequent voltage drops might reduce the efficiency of the compressor of the refrigerator. So eventually, it might get damaged permanently. 
Safety Tips
While plugging the extension cord into the power outlet, do not use any adapter.
Make sure that the extension cord is in good shape.
Do not buy cheap quality extension cords.
To avoid overloading, make sure that the voltage rating is suitable for your refrigerator.
In outdoor use, be sure that the extension cord is out of reach of water or snow.
Avoid using extension cords through walls, windows, or doors.
Always prefer to call an electrician to solve any major problems and do not try to solve them yourself.
Frequently Asked Questions
Why are fridge cords short?
For heavy-duty electronic appliances, short cords are used because the manufacturer does not want you to use extension cords. As extension cords increase the risk of fire hazards or electric shocks, plugging your devices directly to the power outlet keeps you safe. For refrigerators 10, 12, or 14-gauge cords are mostly seen. 
Can you plug two refrigerators into one outlet?
If you can avoid such situations, you should. But if you must, then make sure that it meets the circuit capacity and code before you do that. However, it would be preferable if you can use a split wire receptacle to plug two refrigerators at the same time. 
How much does an extension cord cost?
To buy a decent extension cord, you might have to pay between 8 to 20 bucks. Though there are some cheap options available in the market. But as it is highly related to your safety, we would suggest you spend a little extra and buy from a trustworthy brand.
Conclusion
Now that you know the ins and outs of what extension cord is needed for refrigerators, it would be easy for you to decide. As the experts suggest, you should avoid using an extension cord if you can. And for long-term planning, you should rearrange the kitchen setup. Because an extension cord is not the permanent solution.