Modern kitchens are filled with an assortment of different materials that are often used to create the perfect kitchen countertops. Kitchen counters are a crucial part of the kitchen, and they need to be made from a material that suits your needs.
These countertops can be made from a wide variety of materials. With so many options to choose from, it can be difficult to make the right decision for your needs. The most popular types are solid surface and laminate countertops.
Solid surface counters are more durable and stain-resistant than laminate counters. They also do not require any special care and maintenance, which is a big advantage over laminate counters.
On the other hand, Laminate countertops are cheaper than solid surface counters and come with many different styles to choose from. 
What Is A Laminate Countertop?
Laminate counters consist of a wooden core that is covered with multiple sheets of thin plastic-like veneer. A variety of patterns and colors are available on these plastic laminate sheets, which can be personalized according to your kitchen's design and needs.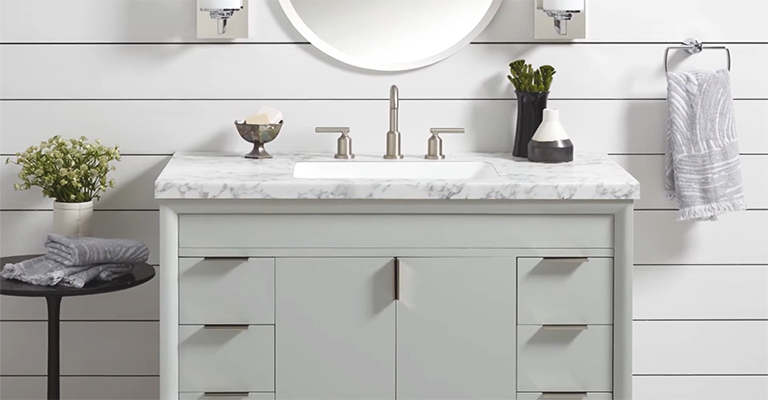 They're not as strong as counter surfaces made of natural stone, like granite or marble, because the wooden core of the laminate is usually a cheaper pressed wood, like MDF or particleboard.
Yet plastic laminate countertops remain popular in many kitchens around the country because they are cheap and easy to clean. Furthermore, plastic laminate for counters can be easily changed, so they are a good choice if you like to update your kitchen decor frequently.
What Is A Solid Surface Countertop?
Quartz dust is usually mixed with several resins, polymers, and pigments to form a solid surface countertop. Unlike natural stone surfaces like granite and marble, solid surface countertops can be made to resemble many different colors and patterns.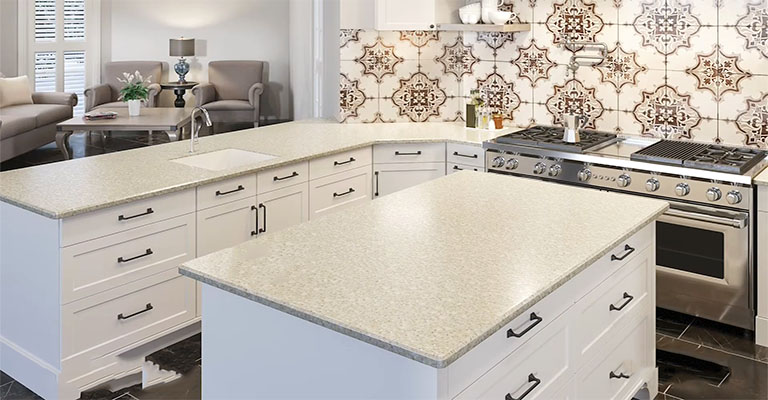 Corian is sometimes used as a name for solid surface countertops. Among the most popular solid kitchen counters are Corian countertops. Corian was created in the 1960s by a company called DuPont.
Because of this, you may hear generic solid surface countertops called "Corian" despite having no connection to DuPont. 
Wood or natural stone countertops, such as granite, cannot match the twirls, swirls, and curves that can be created on solid surface countertops. Solid surface countertops are also great because they can be molded into different shapes and sizes.
Difference Between Solid Surface And Laminate Countertops
Many people ask, "Which one is better for kitchen countertops?" The answer to this question will depend on the person asking. Some people prefer the look of a laminate countertop, while others prefer the durability of a solid surface. It depends on what you are looking for.
The choice between the two depends on what you need your kitchen to do for you. If you need an easy-to-clean and maintain kitchen, then laminate is the way to go. But if you want a kitchen with a modern look, then a solid surface might be better for you. 
Cost
These days, many people are looking for affordable and high-quality products. Solid surface and laminate countertops are both good options for those who want to save money while still getting a quality product.
Solid surface countertops are made from natural materials such as quartz or granite. They are perfect for those who want the best quality but don't want to pay a lot of money. On the other hand, Laminate countertops are cheaper and easier to maintain because they don't need to be sealed as solid surfaces do.
Laminate countertops are cheaper than solid surface ones. They are also less durable and scratch more easily. However, they are still a good choice for those who want to save money and don't mind the drawbacks.
Solid surface countertops are more expensive than laminate ones, but they last longer and can be customized to suit your needs. If you want to invest in something that will last for years, this is the best option.
Kitchen Use
A laminate countertop is a type of countertop that is made of a thin layer of wood or other natural material. It is usually less expensive than a solid surface countertop and can be easily replaced if it gets damaged.
A solid surface countertop is more durable and long-lasting than a laminate countertop. It is also more expensive, but it can be installed in any kitchen without the need for an underlayment.
Maintenance 
Solid surface countertops are made up of natural stones such as quartz, granite, marble, and soapstone. They're durable and require little to no maintenance.
On the other hand, Laminate countertops are made of a layer of plastic or wood that is bonded to a layer of melamine. As a result, they're cheaper than solid surface countertops and can be easily replaced if damaged.
As well as being perfect for changing out designs often, laminates can be easily switched out for another design. 
You can also use solid surfaces countertops to create a unique kitchen design with flexible curves and swirls. Despite the ease with which these countertops scratch, most scratches can easily be buffed out.
Consistent Design
Solid surface countertops might be the right choice for you if you are looking for something that doesn't have visible seams. These counters can be bought in various colors and designs and can all be seamless to ensure a flawless finish.
Choosing laminate countertops as your kitchen counter is the best choice if you prefer a cheap countertop. The cost for these counters ranges from $10 to $30 per square foot and is one of the cheapest you can find.
You should also keep in mind that laminated counters are very easy to cut with knives, so you should avoid them if you do a lot of chopping.  
Heat Resistance
When it comes to heat resistance, laminate is terrible compared to solid surfaces. Using many hot pots and pans will require a butcher block because it can only withstand temperatures of up to 150°F (65°C).
The high price of solid surfaces does not prevent them from burning fairly easily. Solid surfaces can only withstand temperatures up to 212°F (100°C). However, in terms of kitchen temperatures, that isn't very hot.
Final Words
There are so many advantage and disadvantages of laminate. Laminate counters are a cheaper option for homeowners. They are easy to clean and maintain. However, they are not as durable as solid surface countertops.
Solid surface countertops have a more luxurious look and feel. In addition, they are more durable than laminate counters and can suit the homeowner's needs.