Buying a new washer and dryer can be difficult because you have to consider so many factors. First, you need to consider the most important type of technology you like best. 
This will help you narrow down your options so that it becomes easier to make a decision on what kind of machine you should buy. When buying a new washer and dryer, consider adding pedestals to your purchase as well.
Pedestals for washers and dryers can also be used to create an elegant display of your appliances. Whether it's for your laundry room or the kitchen, having a pedestal will give you an instant upgrade. 
Pedestals are not just for washing machines and dryers – they are also great for other appliances such as refrigerators and ovens. They can be used on any appliance with a round base. 
What Is A Laundry Pedestal?
A laundry pedestal is a stand that is designed to go under a washing machine, dryer, or other types of appliances. These pedestals are stands that go under front-load washers and dryers to lift them from the ground so that they can be easily loaded and unloaded.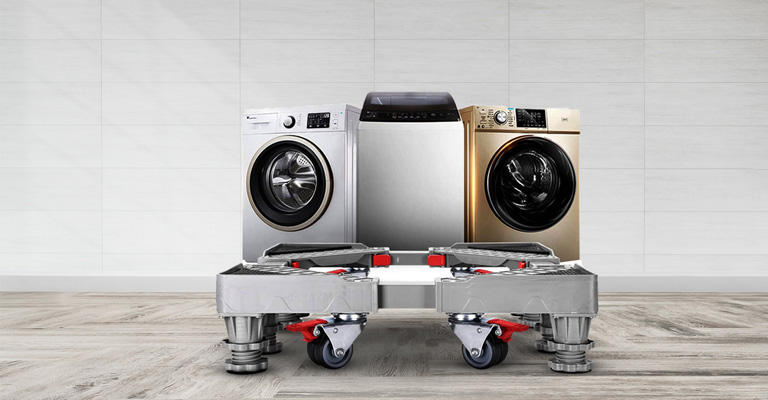 These stands are designed for front load washers or dryers and provide several advantages such as easier loading and unloading, less bending, and more efficient water drainage. 
You can also find laundry pedestals with drawers that can be used to store your detergent and other laundry supplies. Laundry pedestals both with and without built-in storage are becoming popular. Most have a washing compartment for smaller loads too. 
Advantages & Disadvantages Of Using Laundry Pedestal
Would a washer pedestal be worth it? We list some of the advantages and disadvantages of one:
Advantages:
You don't need any additional floor space
Washing small loads separately is possible with pedestal washers
Adds additional storage space
It makes loading and unloading laundry easier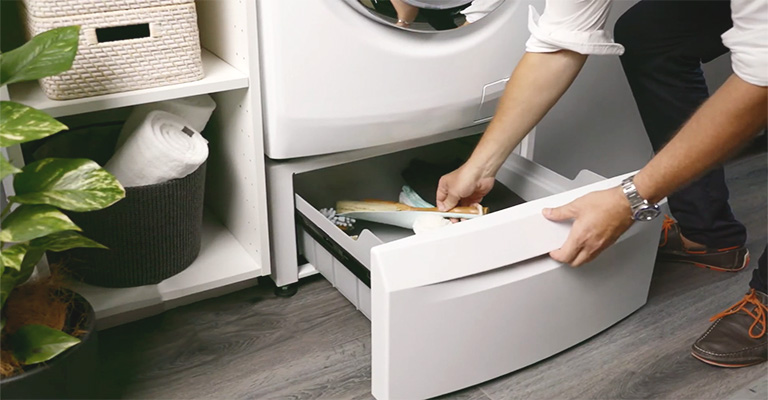 Disadvantages:
When on a pedestal, top-load washers can be difficult to reach inside, making this washer stand not suitable for them.
Are Pedestals For Washers & Dryers Worth It?
Washer and dryer pedestals are an upgrade to your current laundry room. They provide more space for your laundry and save you money in the long run. Is a washer and dryer pedestal worth it? Let's take a look at that. 
Prevents Back Pain
We can experience back pain when doing various tasks while cleaning our homes. Keeping your back from having to bend nearly so much is crucial for preventing back pain.
Having to bend over at an awkward angle is often the cause of back pain. Using a washer pedestal will allow you to stop bending over so much, which will reduce the strain on your back. You can reduce back pain if you use a pedestal for your washer and dryer.
You will likely be surprised to learn that you barely need to bend to reach your laundry, depending on the height of the pedestal you use for your washer or dryer.
Furthermore, you will not have to reach over the top of your washer and dryer to get to the bottom of your clothing. There has always been a challenge for those who are shorter to reach the things on the bottom of the washer.
Can Add A Small Washer
You can also add a small washing machine to the storage space under the pedestal of your washing machine. You'll have to pay a bit more for this concept since it's a fairly new technology. However, if you ever find that running a full load of laundry is unnecessary, the mini washer will also be a good option.
When people don't need to do an entire load of laundry, they love the mini washer because they can do a few things like towels and dishrags. A mini washer is also a smart choice if you like to separate your colored and white clothing. Alternatively, you can put the whites on top and the colors on the bottom.
No matter what, you should be able to split things up and make doing laundry and sorting it easier. Families with a lot of laundries can benefit from the mini washer. By keeping track of laundry, you can avoid turning around on a Friday afternoon and finding that the whole laundry room is full of dirty clothes.
Unless you were looking to add one of these washing machine pedestals to your laundry room space, you probably wouldn't have considered the mini washer as a great way to save space.
A major investment like this will cost more money, and if you add another washer, more things could go wrong, but in the end, it's a good choice.
Ideal Add-On For Front Loading Washers
These pedestals are well worth the investment for front-loading washers and dryers. These pedestals for washers and dryers will greatly improve the functionality of the appliance as well as its ease of use.
A pedestal won't always save you money if you have top-loading washers and dryers. In this case, you have difficulty reaching the laundry when you need to take it out, and as a result, the product is less effective than it is thought to be.
Increased Storage Space
Our favorite of these benefits is that adding this pedestal to your laundry routine will give you some additional storage space. In spite of the fact that the washer or dryer needs to be raised, the pedestal does not necessarily need to be solid. As a result, pedestals are often designed like storage drawers.
The drawer can be pulled out, allowing you to fill it with laundry supplies, clothes for another season, or dryer sheets. This is a great option if your laundry area does not have much space or if it could benefit from some additional organizational features. It is highly recommended that you use this option to the fullest.
The option for extra storage is something that you may want to consider if you are planning to purchase pedestals for your washer and dryer that don't come with it. It is always better to choose the option that provides greater functionality and performance, even if it is a few dollars more.
By not doing this, you will be losing an opportunity to increase the efficiency and organization of your home.
Doing Laundry Without Bending Over
Because of their convenience, front-load washers are popular. With a front-loading washer, you won't need to bend over to reach them, and you can also store things on the top.
There is no place for detergent or other supplies on the top of a top-loading washer, so people cannot store things there. With a front-loading washer, you may be able to have your kids help you with the laundry because they can easily place their clothes inside.
Some people prefer the front-loading unit because they can see how much laundry is piling up and if they need to start on another load of laundry before it's too late. This list of advantages of the front-loading washer is extensive, but none of them are available to you without a slightly elevated front-loading washer.
A pedestal underneath the washer will prevent it from being too close to the ground. To reach and remove the clothes from the washing machine, you will need to bend over at an awkward angle.
You can usually do a lot more laundry with the pedestal since it makes things easier for you to grab. It's a good idea to get a pedestal if you want convenience.
Do Washer/Dryer Pedestals Come In A Variety Of Sizes?
There is no universal pedestal for a washer or dryer. If you plan to purchase a pedestal, you will have to make sure that your existing washer and dryer are compatible. You might still be able to raise your washing machine or dryer with a pedestal that is not the same brand as your washer and dryer.
You must, however, do the proper measurements and make sure they are compatible. The retrofitting of such a pedestal is difficult. Your washer and dryer will vibrate and rotate if the fit is not perfect, and they may not work as well as they used to.
When it comes to pedestals, you won't want to skimp. Keep looking until you need to replace your washer and dryer until you find something that matches the exact model that you have. You will experience some long-term problems with your washer and dryer if you move them unnecessarily.
How Much Do Washer & Dryer Pedestals Cost?
The pedestal washer and dryer can offer you a number of benefits. It is also important to consider the price of these items. You may have to abandon this idea altogether if you cannot afford to pay for it. You may be surprised to find out how expensive pedestals for washers and dryers can be.
Basic ones cost about $175-$200, but you'll need to spend more than $500 if you want one with a mini washer. If you are looking to replace your existing washer and dryer, this can add quite a bit to the overall cost.
It can be frustrating to have to pay this amount because it will be an expense that can't be avoided. That being said, if you do a lot of laundry, you'll notice a significant difference in your daily household activities.
If you combine your washer and dryer with pedestals, the final price will probably be well over $1,000. Considering the numerous functions that these pedestals are capable of offering, the price may seem high for something like a box to raise your washing machine or dryer. 
Is It Necessary To Purchase Pedestals That Are The Same Brand As The Washer And Dryer?
A lot of people still think that pedestals need to be the same brand as the washer and dryer. The pedestals do not have to be the same brand as the washer and dryer. They can also be compatible with brands like Whirlpool or Bosch.
However, this is not true. We have seen a lot of brands coming up with their own pedestals for their products. Many factors contribute to making a pedestal for a dryer or washer.
If you're looking for a new pedestal, it's important to check if the manufacturer of your current model is compatible with your new pedestal. It's always better to buy two matching products than having one that doesn't match properly and has quality issues.
Can Washers And Dryers Be Placed On Pedestals Safely?
Now that the pedestal washer and dryer are much taller, some people are concerned about their safety. Of course, there will always be some mishaps, but as long as your pedestals are installed correctly, you shouldn't have any problems with safety.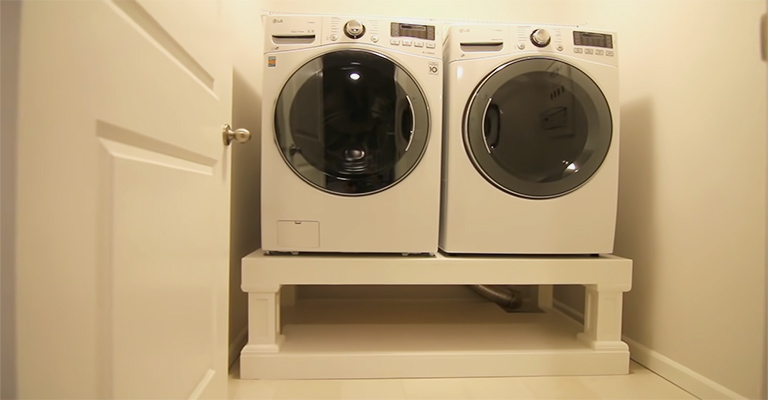 It's important always to be aware of the safety procedures when it comes to front-loading washing machines and children and their tendency to play with small objects. However, you shouldn't have too many long-term problems with these items so long as they are installed and maintained carefully.
Is A Pedestal Necessary For Every Washer And Dryer?
There is no need to have a pedestal in a reliable dryer. Nevertheless, your back will be relieved by having one. Also, there is no need to stand in awkward positions while moving clothes between the washer and dryer, thanks to pedestrians.
Final Words
Clearly, laundry pedestals are worth the investment. The cost is the only disadvantage, but there are plenty of other benefits. Once you consider the functionality of these, and once you can get past the cost, you should have no problem finding this to be an excellent solution for your home.
The pedestal has the advantage of typically lasting longer than the machine. If your washer does not fit on top of the pedestal, you can always replace it with something else.