A stackable washer and dryer can be placed on top of each other thus they don't occupy too much space. But the question remains where I can actually set the stack. The simple answer is anywhere. 
You can set the stackable washer and dryer anywhere in the house. But you will need to fill three conditions to set up. These are the availability of water, electricity, and vent. As long as you fill these three conditions you can set these machines anywhere.
Factors to Consider for Setting up a Stackable Washer & Dryer
You need to consider a few things before choosing a place for your stackable washer and dryer. A safe electrical port, good water flow, and Ventilation are just a part of it. Here we will discuss each condition separately to inform you what you will need to place a stackable washer and dryer.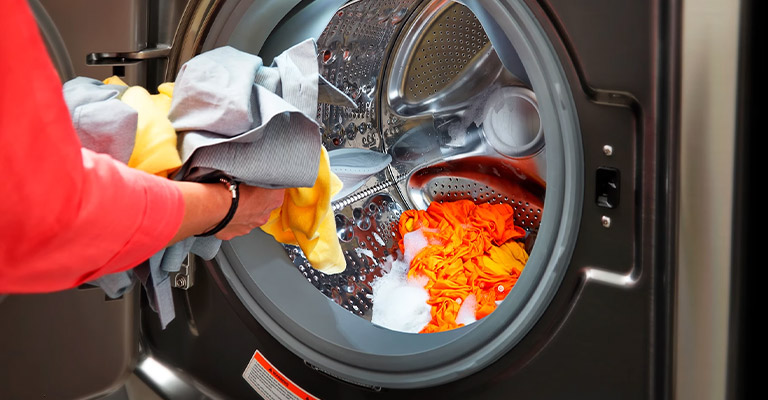 Electrical Port
You will need two separate electrical ports: one for the washer and one for the dryer. Both of them need to be plugged in separately. You can use a single port to exchange the plugs of the washer and dryer but this can be too much of a hassle.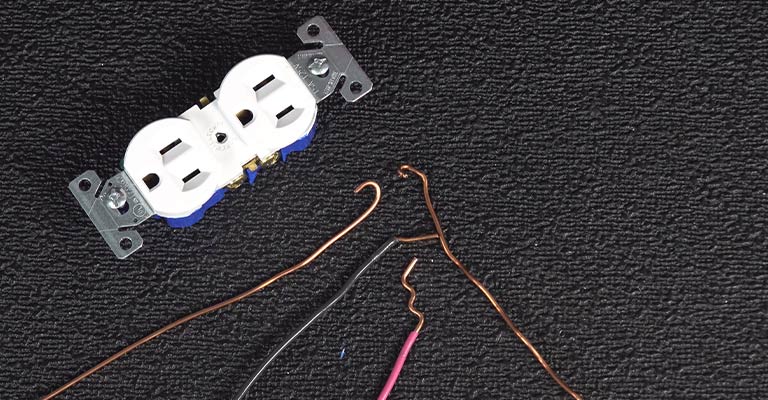 Since the washing machine deals with water and wet clothes, changing the plugs can lead to an accident if you are not careful and touch it with wet hands. So having two electrical ports is very necessary. But if it is not possible to get two ports one is enough but you have to be careful while changing the plugs.
One more thing is, that you should never use extensions for the washer and dryer. These machines use too much power that will damage your extension cords and potentially lead to an accident. So always plug your washer and dryer directly into the wall.
Water Line
The washing machine needs a direct water line for washing clothes. So you need to have a water line near it that can be connected to the washing machine. Some vapor dryers also use water to heat up into vapor. So they often also need their own dedicated water line.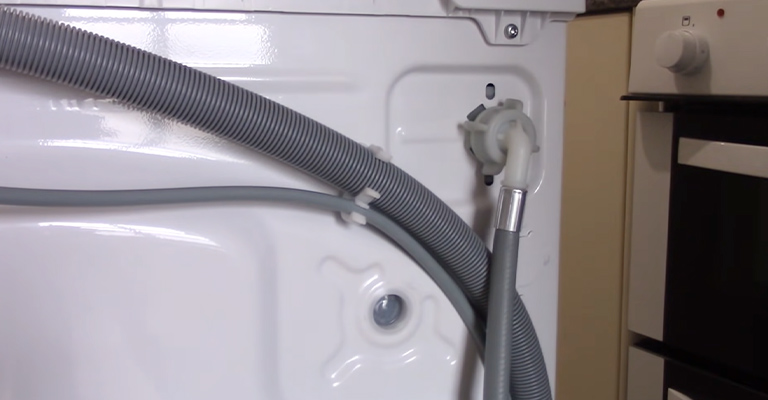 If you have one line it isn't hard to make it into two lines with some plumbing. So wherever you place your stackable washer and dryer, you need to make sure you have an accessible water line that you can connect to the machine.
Of course, you don't need to always choose a place with a water line. You can choose a place and use a plumber to make a water line near the place for your washing machine. But this method is going to be more costly than using a pre-existing line.
Drainage & Ventilation
Just as the machines need water, it also needs to drain the water after using it. So along with a water line, you also need a drainage line that will be used by the machine to take out the used water.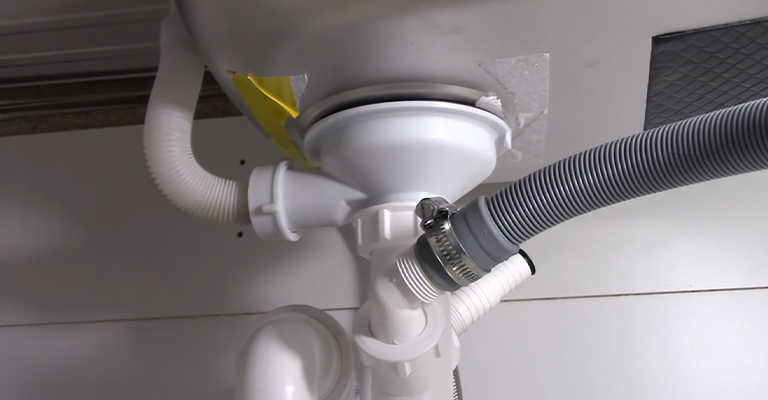 As for the dryer, it needs a ventilation system that will take the moisture to the outside. The vent hose of the dryer will be connected to the ventilation system. So you need a ventilation port close by that is connected to the ventilation system of the house.
It is possible to use the dryer without ventilation. But this will make that all the vapor gets released inside your house. This will make the moisture of the house very uncomfortable. So it is not something anyone does or recommends doing.
Space for the Machines
Not all machines are of the same size. The American and European version of standard size also doesn't match one another. One of the main reasons for a stackable washer and dryer is the less need for space. So having an appropriate size machine is important.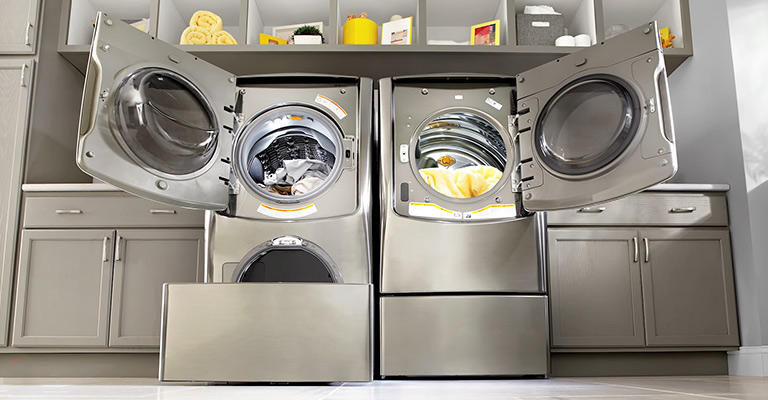 The smallest size of washer you can get is a 2ft x 2ft one. Other than that there are many shapes and sizes you can find. Make sure the machine size matches the space you have. The same goes for the dryer. The dryer cannot be larger than the washer since it will go on top of the washer.
Aside from the machine space, you will also need to keep some space for the installation and ports. You need to keep 2 inches of space free behind the machine and 1 inch on both sides.
2 inches behind will make sure you have access to all the electrical ports. The 1 inch space on both sides will make sure that the machine doesn't get damaged if it swings a bit while washing.
Stacking Kit (Optional)
This is an accessory that is not necessarily needed but good to have. The stacking kit connects the washer with the dryer. This makes that the dryer always firmly stays in place with the washer. So this is a good thing to have but it is not necessary. You can skip this if you are tight on budget.
Pro & Cons of a Stackable Washer and Dryer
There are a lot of pros to using a stackable washer and dryer. But like everything they also have some cons too.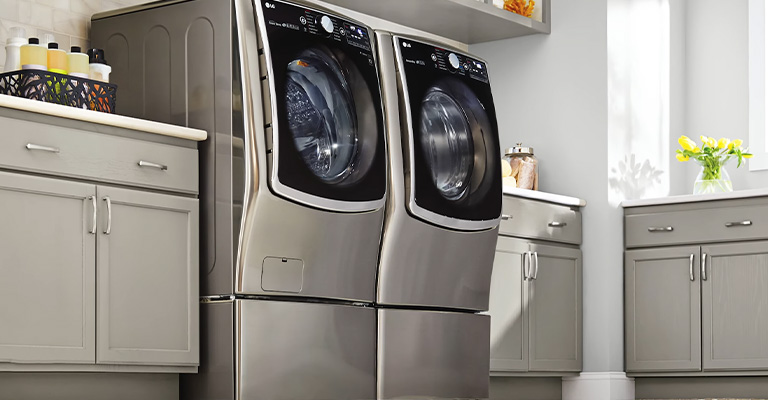 Pros
The most beneficial attribute of a stackable washer & dryer is its size. It is great for a smaller space. Other than that, these machines are more efficient at cleaning than their normal counterpart. This means they use less energy and water to do the same amount of cleaning. Thus they are also easier on your clothes.
Cons
The cons are its smaller size and thus the smaller capacity. These machines are also more pricy than their normal counterparts. Since it is a stackable machine, it may be out of reach for a shorter person. Also because of its front loading system, it needs a bit more maintenance than normal ones.
FAQ
Do a Stackable Washer and Dryer Need to Be Vented?
Ans: They typically need a vent. Because of its smaller size, they need a vent to put the moister outside of the house. You also don't need pedestals for washers and dryers.
How Long Do Stackable Washer Dryers Last?
Ans: On average a stackable washer and dryer last 13 to 15 years depending on use and maintenance.
Conclusion
Many houses have dedicated places for a stackable washer and dryer build. You can just use this space since they tend to have all the powers and connections needed for them. But you can make lines anywhere else to use them in any place of your house too.