There are many reasons why you may want to replace the main water line in your landscape. The reasons vary depending on what type of landscape it is and what level of care you provide for it.
The main water line is one of the most important parts of your plumbing system. As a result, replacing it should be a priority if you feel that your home or business may experience leaks.
The decision to replace your main water line should be taken only after careful consideration and consideration of the cost. This is because there will be many factors to consider when deciding whether or not to replace it and what type of replacement you will need.
It's also important for homeowners to know that different types of lines are available for replacement purposes. Often, homeowners will opt for copper water lines when they have old ones installed due to the durability and longevity those lines provide over time.
When Should I Replace My Main Water Line?
The main water line is the one you want to replace if it is old, corroded, or damaged. While replacing your main water line will increase your home's value – as long as you have paid off the loan – you may also be able to avoid a costly plumbing bill in the future.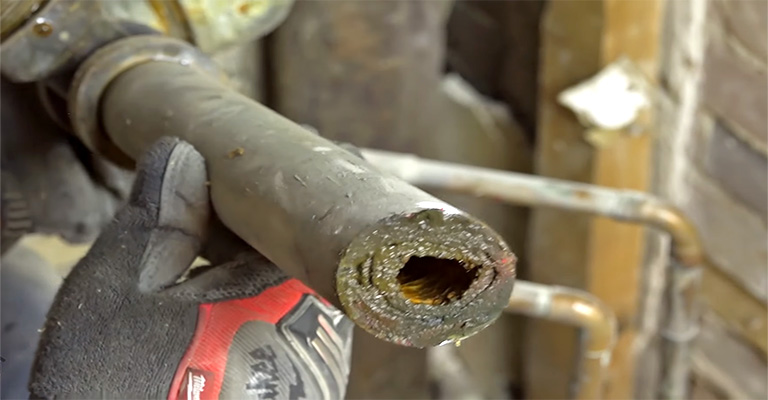 In a house's plumbing system, the main water line is often overlooked yet of utmost importance. The main water line undergoes constant wear and tear because it carries water into the home.
What Are The Signs That Your Water Main Line Has Broken?
It is generally difficult to miss problems with the main water line when they occur. Following are some signs that your water line may be having problems:
Contaminated Water
Dirt and debris can flow into the water and eventually reach the house when a water line is cracked or broken. If these substances get into the home's water lines, they can create a breeding ground for bacteria and pose a serious health risk to everyone inside. 
There's a good chance the main water line has been compromised if the water coming from the faucets is grainy, smells strange, or looks cloudy. You may also fetch problems like enough water not coming out from showerheads, faucets, sinks, and so on.
Pools Of Water In The Yard
There's nothing more obvious (or as serious) than a spot of wet grass or muddy water springing up from nowhere that indicates a water line break (or a sewer line break if there's a foul stench). 
The problem should be addressed as soon as possible, even if the pressure within the home isn't seriously affected. Seeping water will slowly loosen the soil around the pipe and turn the yard into a swamp in the long run. 
Aside from causing water bills to soar, the mud serves as a breeding ground for insects. As a result, the home's water supply can become contaminated.
Higher Water Bills
A very small leak may not significantly impact water pressure, but since water is continuously flowing through the line, it will result in substantial waste. 
You may want to inspect your main water line if the water bill is consistently higher than normal after eliminating the usual causes like leaky faucets, damaged sprinkler systems, etc.
Drop-in Water Pressure
When there is a break or clog in the line, less water will get to fixtures and faucets since the pipe brings water into the home. 
Therefore, a drop in pressure directly at a single faucet or showerhead might indicate a problem with a line inside the house. In contrast, a uniform drop in pressure that affects the entire house is likely indicative of trouble with a supply line. 
How Long Do The Main Water Lines Last?
The average life of a water line can range from 20 to 100 years, depending on the material it is made of. Therefore, it is quite common for people to live in the same home for decades without ever finding out the location of their main water line.
How Much Does It Cost To Replace A Mainline?
Replacing a mainline is a big investment for any home. In addition to labor and material costs, homeowners are also required to pay for permits, fees, and construction insurance. Replacing a mainline can cost anywhere from $10k- $30k, depending on the location of your home and the type of materials you choose. 
If you aren't sure if replacing your water line is something you want to do, we recommend having a licensed plumber inspect your water line in order to estimate how much it will cost to replace it.
To save yourself time and money and avoid unnecessary headaches that come with failed or broken pipes, it may be best to have a licensed plumber inspect your waterline before replacing anything else.
How Deep Is The Main Water Line?
A lot of people mistakenly believe that the main water line is at the bottom of a well. However, it is actually located higher up in your home's foundation.
The main water line is located between the water meter and the main water line entering your house if you have one in front of the house. The main water line enters the house at ground level in warm climates as it ascends toward the house. 
A shutoff valve should be present here for emergency breaks. There will be a box containing the valve. It is not uncommon for water supply lines to enter the basement three feet below ground level in cold weather areas. 
A wall-mounted shutoff valve is usually present. Water will run straight into the home from a well into a pressure tank if you live on a property with a well.
What To Do If The Main Line Is Broken?
The next question to consider once the waterline has been isolated is replacing or repairing it. Oftentimes, it is not possible to repair the line.
Replacing The Line
Several states (including California) have banned the use of lead and galvanized water lines in new construction. They are also prohibited from being repaired in older homes built before 1960. Lead is harmful to human health in the long term, and galvanized pipe corrodes from the inside out.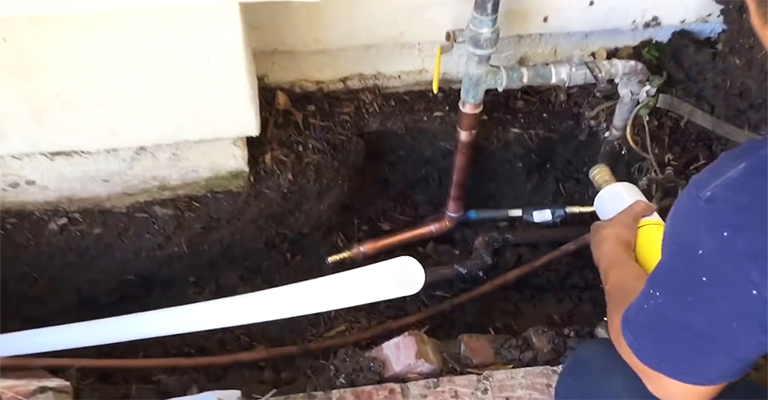 Additionally, repairing a pipe that has been previously repaired may address the immediate issue but also contribute to the likelihood that it will fail again in the future. 
The cost of these frequent repairs would likely exceed the cost of replacing the entire line very quickly. We must also take into account the age of the pipe overall. The material becomes more brittle with age, which makes it more susceptible to failure.
Assessing The Problem
A water line repair isn't always as straightforward as it might seem. If the house is far from the municipal line near the street, the plumber will need to locate the leak first, which is a labor-intensive process. Diggers may need to dig up the ground to find the leak. 
They may still have a hard time patching the break even after locating it. After all that digging, it would probably be more cost-effective to replace the pipe simply. Thanks to trenchless technology, modern repair and replacement are both more affordable. 
For example, an experienced plumber can repair water lines without digging up the old pipe by using the same pipe-lining technique used to protect sewer lines with epoxy-based resin. In addition, a trenchless solution can frequently be used to replace even older pipes that a plumber would not ordinarily be able to repair.
Final Words
The main water line is a pipe that carries water from the main source to your house. It's usually underground, but it's above ground in some cases. Sometimes, you might need to replace your main water line due to damage or aging.
Replacing your main water line is a big project that requires coordination with your plumber, gas company, electric company, and other water utility professionals. It will cost you thousands of dollars to replace your main water line.