Eze Breeze windows are a perfect solution for your screened porch. It is cheap and easy to install. But that doesn't mean it does not have any problem. But to be honest, the pros outweigh the cons by a long shot. 
Here you will find out about the pros and problems of installing Eze Breeze windows. This will help you decide whether you should also go for them or not.
Eze Breeze Windows | Pros
Eze Breeze windows provide various kinds of comfort that no other can. Its cost-effectiveness, temperature control, looks, cleaning are some of the great factors.
Cost-Effectiveness
The biggest pro of an Eze Breeze window system is its cost-effectiveness. You only need to spend a fraction of the cost you would have needed for a glass screen. Even then the result between glass and Eze Breeze is hugely different because of the material.
Temperature Control
Eze Breeze windows are made of 10mm thick vinyl. This makes sure that your inside and the outside temperature are not the same. In summer it makes the inside comfortable.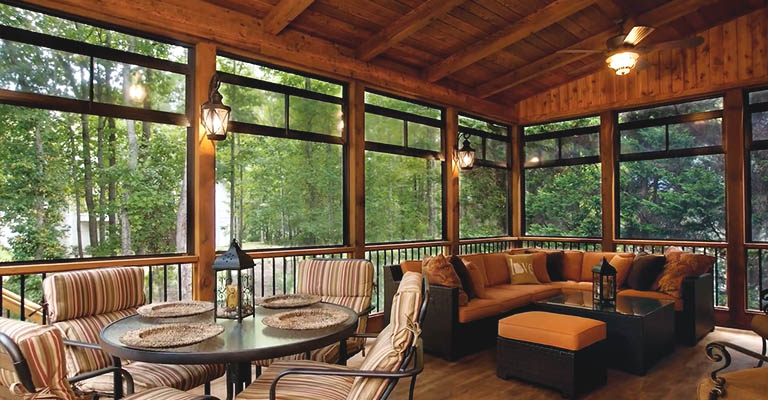 In winter, it makes sure that the inside temperature doesn't fall too much. In some cases, the temperature can differ up to 10 degrees Celsius between inside and outside.
Looks
If you want a fully screened porch then very few products can give you the screened look an Eze Breeze window can give. Its vinyl gives it a very clear look. This is ideal for sitting outside and enjoying the view. 
Ease of Cleaning
Cleaning is also very easy when it comes to Eze Breeze windows. The bigger windows come in four-compartment shapes. So you can easily take out each compartment and use a vinyl spray to clean the windows before putting it back together.
One thing you have to remember is that you need to put back the window as it was installed before. Changing the placement of the compartment will not fit properly and can lead to damaging the window frame if forced in.
Maximum Airflow
The four-compartment design of Eze Breeze windows makes sure that you get the maximum airflow when the window is open. You can slide the windows to the bottom or top. Thus you can open up three out of the four compartments of the windows. This also lets you enjoy the windy weather in all its glory.
Low Maintenance
Eze Breeze windows don't need much maintenance. The aluminum window frame is durable. So it can stay in place without any problem in any kind of weather. 
The window themselves are made of vinyl so they are a bit more prone to damage. But as long as they are installed properly they should be fine. The windows only need some cleaning every now and then. That is all the maintenance you will need.
Easily Installed & Replaceable
Eze Breeze windows are very easy to install. The frames are measured and custom-made before installation. Then put in place and screwed in the wall. As for windows, they can be freely slid in and out from the window. So it is a relatively hassle-free install.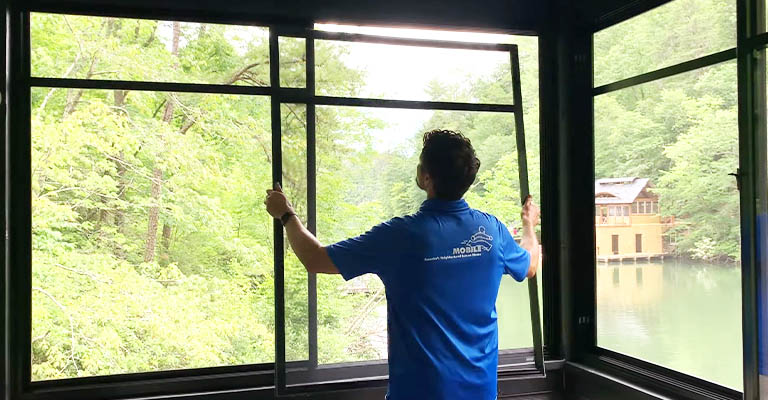 Not only is the installation hassle-free, but the replacement is also pretty easy. In case any of the windows get damaged, you can replace the panel by getting a new vinyl set into the old window frame.
Eze Breeze Windows | Problems/Cons
Like everything, Eze Breeze also has its share of problems. But that doesn't make it a bad product. Nonetheless, should be aware of the problems before installing it.
Cost
Even though it is a cost-effective product, that doesn't mean it is cheap. It is relatively cheaper than any other option but still pretty expensive. For context, a 20 compartment Eze Breeze window will cost you around 4000 USD. Of course, it depends on the size of the screen but this is just a generalized cost.
Cleaning
It is easy to clean but improper cleaning can leave a bad spot. So always have to make sure you are cleaning it properly all the way and not leaving any foggy spot. It may also need a lot of cleaning depending on the weather and placement of the screen.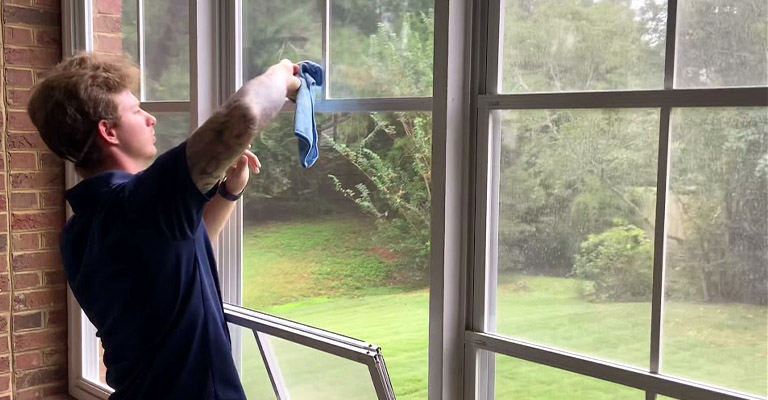 Weather Effect
Too windy weather can leave a bad effect on the windows of the Eze Breeze. There is a sticker on these windows that says to take off the windows if the wind speed is 65 MPH. But if you have a lot of windows it is a very difficult task.
Especially in a tornado season, you may not want to take out the windows since it can ruin the furniture and what is inside the windows. But leaving the window can also damage it.
But there have been many cases of vinyl windows surviving a tornado without any problem. So you can certainly take your chance if you want. You can install the best heat control window film that will make sure the right temperature for your home.
Many Moving Parts
These windows have many moving parts. These moving parts contain many springs and small plastic parts. These things break constantly if used too much. They are not hard to fix but it is an annoying issue for sure.
FAQ
Do Eze Breeze windows scratch?
Ans: Unlike glass, vinyl windows are flexible. It is hard to have a scratch on a flexible plane. With try, it is possible to get a scratch but it is fairly good against scratches.
How much do EZ screen porch windows cost?
Ans: It costs 350-450 USD per unit plus labor cost depending on the size.
How do you keep a screened-in porch warm?
Ans: Using a heater is enough to keep a screened porch warm.
Conclusion
In the end, Eze Breeze windows have their pros but they also have their fair share of problems. It is a very nice and cheap alternative to glass and other high-cost materials. Considering all things, the pros certainly outweigh the cons and it is not hard to recommend these windows to anyone who owns a porch.