In most cases, it is fairly easy to match engineered hardwood with the existing floor if you identify the key factors. These include- the type of wood, thickness, width, etc. Otherwise, you can mix different colors to add some interesting contrast to your floor.
How to Match Engineered Hardwood Floors
Engineered hardwood is one of the most chosen types of flooring nowadays. They are cheap, easier to maintain, flexible, and environment friendly. But like any other floor material, engineered hardwood can get damaged and need to be changed. Striping the whole floor and refurbishing is not an economical option in that case.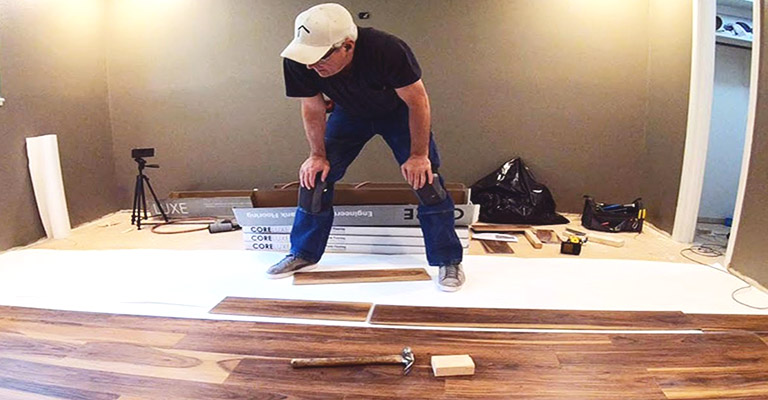 Here are some tips for you to match engineered hardwood floors with the existing ones as closely as possible.
Take Pictures of the Existing Floor
It can be hard to choose the right match from all of the flooring displayed in the shop by just memorizing how the existing one look. So, it is better to take some pictures of the existing flooring so that you can compare them with the ones displayed in the shop.
But sometimes pictures can be unreliable because a slight variation in lighting can make the engineered hardwood look a lot different. 
To avoid this, try to take the picture in bright or natural light and try not to keep any shadows. Also, clean the floor before taking pictures to remove as much stain and dust as possible. Although this doesn't guarantee one hundred percent accuracy, it can help you to get a more precise match.
Take a Sample
As said, even taking pictures in a good light doesn't mean that you can get the most accurate match. So, it is best to take a plank from the existing flooring as a sample. For this, you may need to tear one or two planks from the floor.
On the contrary, many flooring companies nowadays allow you to take a sample home with you to compare with the existing engineered hardwood floor. Ask the seller if they can provide a sample, as it is the most hassle-free solution.
Take Some Notes
Engineered hardwoods can be of great variety. They are distinguished by the type of wood, texture, color, width, thickness, etc. So, it can be frustrating to find an accurate match. But if you narrow down the differences to some factors, your work can get a lot easier. 
Here are some factors that you should note down to find a proper match without much of a struggle.
Species of the Wood
Oak is the most common species used in hardwood flooring due to its popularity in furniture manufacturing. However, other species like carbonized bamboo wood, maple, American cherry, birch, rosewood are also popular.
Different species of wood used in the manufacturing of hardwood causes variance in look, color, finish, and quality of the flooring. So, make sure to check the species used in the existing flooring.
Surface Finish
Consider the surface finish of the hardwood flooring for a polished look on the hardwood. Wood finish is the most common in engineered hardwood flooring, but the laminated finish is also an option. The laminate finish is completely synthetic and different from the wooden finish. 
Texture
Engineered hardwoods used in floors can have different surface textures. For example, they can have smooth, distressed, hand-brushed, or grainy textures, which may vary depending on the area they are used. So, inspect the texture of the hardwood to match the new ones.
Color
The simplest visual characteristic of something is color. Engineered hardwoods are manufactured in various colors, like, brown, grey, orange, black, white, etc. You must choose similar colored pieces, otherwise, they will not blend in perfectly.
However, engineered hardwood can change colors over time. The color may fade in direct sunlight or may darken due to regular stains and dust. Sometimes, particular species of wood tend to change color over a while. For example, Brazilian cherry may develop a much deeper reddish shade after some years.
As a result, even if you match the species and surface finish of hardwood, there is a possibility that the color may not match.
Plank Width
Flooring boards can be of various widths. The plank width can range from 3.25 inches to more than 5 inches. To fit with the other boards perfectly, you must know the width of the existing planks. To find out the width, simply use a ruler or a measuring tape. Mind the gaps between the boards while measuring to avoid errors. 
The Thickness of the Plank
The standard thickness of engineered hardwood boards used in floors is ¾ inch. But the thickness can range from ¼ inch to more than ¾ inch. Check the thickness of the hardwood because you will not want uneven height in the flooring.
Find an Exact Match
If you are trying to match existing flooring, it is better to find an exact match or go as close as possible. The slightest difference that you decide to overlook will constantly draw your attention towards it because the human mind seeks perfection.
It may not look as noticeable when you keep the two dissimilar planks side by side, but when you will install them on the floor, the contrast will be difficult to overlook.
Perhaps, a little difference will not bother you, as it all comes down to you how much perfection you want. Still, try to avoid such visual imperfection if you can.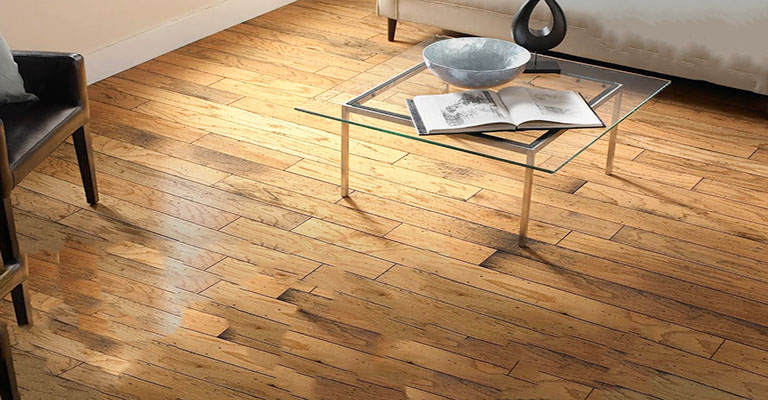 What if You Can't Find an Accurate Match?
Manufacturers keep changing the design and look of their engineered hardwood flooring products constantly. As a result, it is very much possible that you will be unable to find a proper match for your existing flooring. Here's what you can do.
Refinish and Stain
You can refinish the existing engineered hardwood boards to match with the new ones. Conversely, you can stain the new ones to match with the existing ones. 
Though you may not necessarily need to refinish or stain the boards, it can be a great solution to such problems. Keep in mind that both refinishing and staining should be done by a professional to achieve the shade that blends in perfectly with the rest.
Use Transition Strips
If you have to use two different types of hardwood, use proper transition between them instead of just putting them side by side. Transition strips can help you achieve a perfect blend of colors as you move from one space to another.
How To Change the Color of Your Engineered Hardwood Floor
There are a few ways to change the color of your engineered hardwood floor. You can use dye, an additive, or a sealer. The most popular way to change the color is with dye, sanding and refinishing. 
1. Consider The type of surface
Engineered hardwood floors come in a variety of types including: real wood, cork, bamboo and laminate. Make sure to choose the right type for your flooring if you want to change its color.
2. Preparing the surface
Before starting any sanding or refinishing work, make sure that the surface is completely clean and free from any dust or debris. This will help prevent damage during the project.
3. Manage the Supplies needed
To complete a successful job, you'll need some supplies including:
orbital sander with medium-high grits
80/20 mineral spirits/acetone mixture;
steel wool
white vinegar
rubbing compound (grit 600-1200)
chisels or cutting tools such as an X-Acto knife and Sawzall
lint-free cloths
Safety glasses
4 . Sanding Methodology – Sanding and Refinishing
There are several methods that can be used when sanding engineered hardwood floors. Sanding the most popular one.
Follow these steps to get started: wet sand first using 400-grit paper then move up to 600- 800 and 1000
After finishing off with 2000. If desired, use a vacuum cleaner equipped with a hose attachment to remove all loose particles before applying sealer or varnish.
Frequently Asked Questions
1.  Can you mix hardwood with engineered hardwood?
Answer: As the thickness range of hardwood and engineered hardwood are almost similar, you can mix them if they are of the same thickness. But keep in mind that mixing different kinds of woods in flooring needs proper planning.
2. Can you change the color of engineered hardwood floors?
Answer: It is possible to change the color of engineered hardwood floors. You can change the color by sanding and refinishing. Glazing allows you to avoid sanding and refinishing, but you should consider that the color of the glaze may mix with the stain of the floor.
Last Words
When you need to find an accurate match for your existing floor, matching an engineered hardwood floor may seem frustrating at first. But if you take dimensional and visual aspects into consideration, you can easily find an appropriate match.