In places where water is often present, such as a shower or bathtub, caulking is used to seal the joint between materials. Cement-based grout is used to fill gaps between tiles, stones, or glass panels.
It's better to use caulk when joining materials on different planes rather than grout. A caulked area can, however, become exposed to water damage when it dries out and shrinks.
Thus, it shouldn't be used in large installations such as bathtubs. It is preferable to use grout in these situations.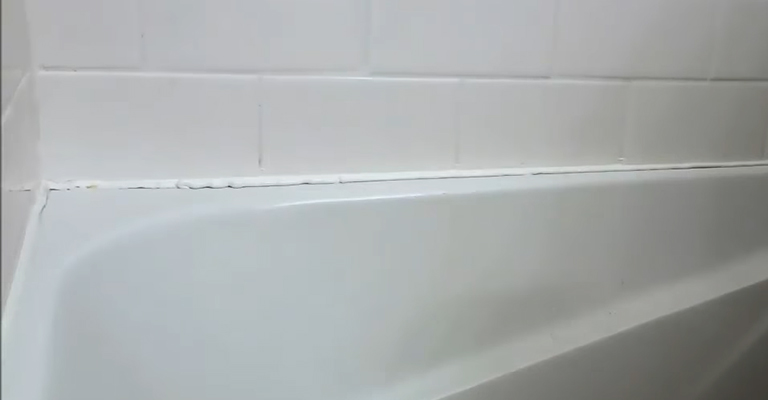 Caulk and Grout: Are They the Same?
The basic differences between grout and caulk must be understood before delving into whether you can use caulk over it.
What are the differences between these two materials? The first reason is that they are constructed from completely different components, which explains why they have different textures and react differently.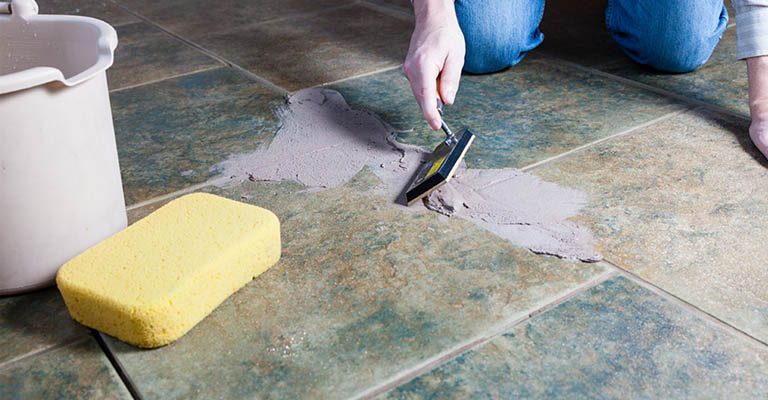 In contrast, grout is composed primarily of water, cement, and sand. It is available in powder form.
In most cases, it fills in gaps between tiles or joints. A paste can be made by mixing it with water and rubbing it in. In addition to forming a hard barrier, it will help hold the edges in place.
Grout makes a great binding agent, so it's common to find it between tiles and baseboards. However, this may cause cracks to form.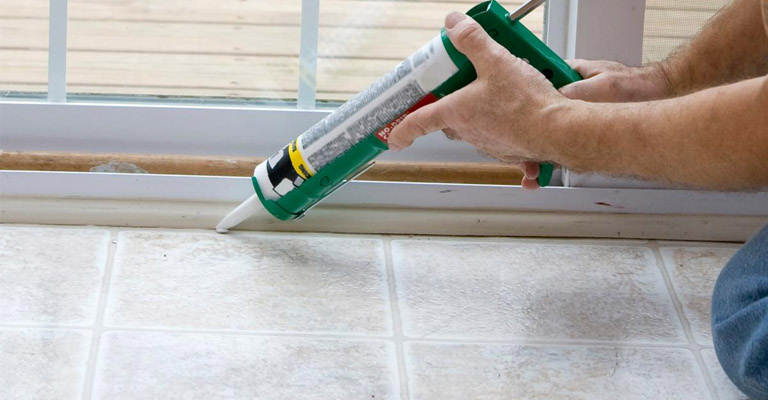 Latex, acrylic, silicone, or latex-based caulk is packaged in tubes in a liquid form. Consequently, it will retain a rubbery, flexible texture even after curing. It is therefore an excellent filler between tiles.
Caulk can be seen between your bathtub and the tiles in your bathroom, for example. The barrier prevents rust in your bathroom and acts as a waterproof barrier. Also, you may find that some floors have caulk used on their baseboards. This can also be done with grout. Now For The Main Part. 
Is It Ok To Caulk Over Grout?
It generally isn't a good idea to caulk over grout rather you can replace grout with caulk. Additionally, caulk may be a poor choice for sealing or connecting two materials not only from an aesthetic perspective, but also from a practical standpoint.
Caulk is an ideal material for making small connections, such as those between the shower wall tiles and the bathtub top. 
Whether you're trying to fill the spaces between tiles or replace grout between the bathtub and the floor, you're better off re-grouting.
In the rare instance where this is not possible, replacing all grout with caulk is still preferable to simply caulking over it.
Can You Caulk Over Sealed Grout?
Caulks and grout generally don't get along. These layers have different textures, which may lead to their separation, or their whole project could be ruined. Clean the grout with bleach before caulking to prevent these problems. Make sure the caulk blends in with the wall.
There's a huge difference between whether something can be done, and whether it should be done. Hence, before we consider caulking over the grout, let's first find out if it makes sense or not.
Why Is It A Bad Idea To Caulk Over Grout?
I'm sorry to be a downer, but I'd discourage caulking over sealed grout. The reasons for this are several, so let's examine them together.
Mold Growth Can Result From Caulking Over Grout
It would be easy for things to smell funky as well, even if they didn't look funky. The space between your bathroom's layers of caulk and grout is suitable for moisture accumulation.
A damp and dark environment is ideal for mold growth and bacteria to thrive. If this is the case, your walls may slowly lose their color as a result of an offending odor.
Separation Between The Caulk And The Grout Is Possible
Applying two materials with different textures on top of one another will cause them to separate. Furthermore, this is not only unattractive, but also fails to accomplish the goal of filling the gap between the tiles and the wall.
Grout And Caulk Have Different Textures
Caulk and grout are very different, as the latter has a rubbery texture, and the former has a more solid one. Caulk will not be able to seal grout cracks or damage due to this.
The two materials also set in differently, so it can look weird. Caulk may be eye-catching if used over sealed grout over a large and visible surface. This is not a good thing!
How To Caulk
Be sure that all the existing grout is removed with a grout saw before you caulk; it will take care of any dirt left behind. If you decide to wash the grout thoroughly, make sure that you vacuum any remaining dirt before caulking. 
Caulk can then be applied and smoothed out using a caulk gun's tip, a spoon's back or your finger. You should do a thorough cleaning and bleaching of existing grout before caulking it over. This will prevent any bacteria from being trapped behind the caulk and causing mold or rot.
Once the caulk is applied, use a caulk gun to back spray the caulk along the existing grout lines while applying tension to the caulk gun's trigger and moving slowly backwards across the grout. The caulk needs to be smoothed out before being pushed deeper into the joint to ensure a stronger connection.
Repairing Cracks With Caulk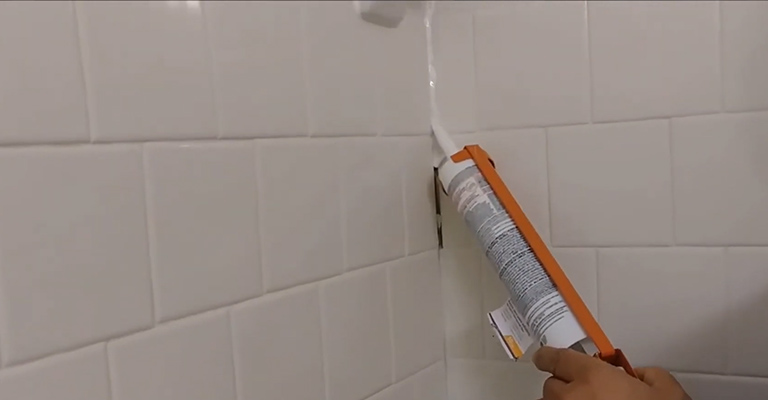 Grout is most commonly damaged by cracking. Grout on tiles begins to weaken as you walk, eventually showing unsightly cracks as a result. Using caulk, you can fill in these cracks and restore the grout's appearance.
To begin, use a grout saw or Dremel tool to remove all loose and cracked grout. Smooth the caulk down gently with a plastic spoon after you apply it to the cracks. Caulk can also be smoothed by hand by wetting your fingers.
Be sure you wait a minimum of 48 hours for the caulk to cure completely before walking on the floors. Heavy furniture should not be put back in place until it has fully cured. It is possible to purchase caulk in a number of colors and some types are made in a variety of types. The caulk should closely match the color of the grout.
Why Should You Use Caulk in Shower Corners?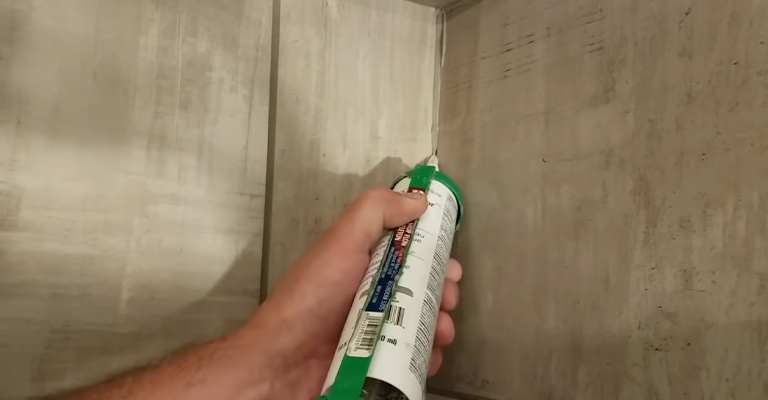 When caulking shower corners, make sure to use caulk, not grout. In corners, grout cracks and comes apart easily. The walls are affected by temperature changes since the tiles on the walls relative to each other expand and contract. 
This causes cracks in the corners because the grout cannot flex to match the changes. Sealing shower corners with silicone caulk ensures a waterproof seal and prevents cracks.
Final Words
So that's it from us for this topic! We hope you learned something new and enjoyed it. It is best if you avoid mixing caulk with sealed grout, unless you are at a loss for alternatives.