Putting furniture over a vent is something you should try to skip as much as possible. There are obvious reasons for that, the most important one being damage to the HVAC system itself. Blocking the intended airflow through the vents can cause your air conditioner to use more elbow grease. 
Additionally, you can damage your expensive furniture, especially the wooden ones, by placing them on vents. However, there are products like vent diverters that can help you with the process. But due to hardware limitations, they cannot eliminate all the problems either.
Is Covering an Air Vent Bad
Entirely blocking an air vent is harmful to both heating and cooling equipment. In the long run, covered air vents can cause coils in cooling systems to freeze. As a result, the compressors, alongside other components, get damaged over time. Worst of all, repairing or replacing them can literally break the bank.
Is It Ok to Put Furniture Over a Vent
While placing furniture in a room, we tend to prioritize convenience and aesthetics over functionality. Unfortunately, we don't try to keep vents free as much as we do for doors and windows, although both are equally important.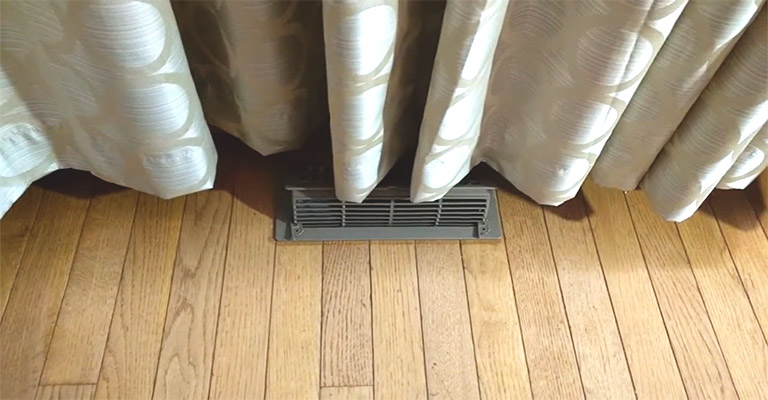 Consequences of Putting Furniture Over a Vent
Straight up, putting furniture over a vent is not a good idea in the first place. That is because a number of problems can arise if you do so, the most common of which are as follows.
Unbalanced Cooling or Heating
The primary reason for installing air vents is heating up or cooling our homes evenly throughout the corners. But that cause becomes obsolete once you block them with furniture. For example, a room with closed-off vents is likely to cool or heat at a much slower pace than one with fully functioning vents. 
In addition, one corner of the room may have a significantly lower temperature compared to others. Such uneven heat distribution can make two different areas of the same room feel like two opposite poles, causing discomfort in the long run.
Excessive Utility Bills
With each vent you block, you will be escalating the workload on your cooling or heating system. As a result, the system will have to use more energy to do the same task it would have done with ease otherwise. Plus, it will stay on for longer hours since it has a vent or two less than usual, increasing the utility bills.  
System Damage
As stated above, blocking vents causes the HVAC system to put in a lot more effort than usual to get the same job done. And the continuity of this process will eventually take its toll on the system's health. In other words, the components inside the system will wear down over time, demanding costly repairs. 
Furthermore, the heat exchanger inside the system is susceptible to overheating from blocked air. Also, condensers can get clogged with ice if the air circulation gets hampered. Consequently, all these add up to reduce the overall lifespan of the HVAC system.
Furniture Damage
Putting furniture over a vent has adverse effects on the furniture pieces as well. As the air released through the vents can be excessively dry at times, wooden furniture will end up shrinking. That, in turn, will result in broken joints. 
Apart from that, cooling vents can often leave condensation formed on furniture, promoting mold buildup. Because of that, you may have to apply new coats on them more often, which can be pretty expensive.
Ways to Place Furniture Over a Vent
Although blocking air vents is not okay by any means, you may be out of options other than placing your furniture over them. In that case, you can try tweaking your setup a bit.
How Far Should Furniture Be From Air Vent
The minimum distance between cold air vents and a piece of furniture should be 10 to 18 inches. Whether the piece is a chair, couch, or anything larger, the gap must not be smaller than that. That way, the vents will not be prone to blockage. Also, make sure the furniture has no drapes or curtains that can cover the air vents.
Vent Diverter Under Furniture
Vent diverters are transparent pieces of plastic that stick to the vents using magnets or adhesives. And their job is to redirect airflow from beneath obstacles, in this case, furniture pieces. Usually, they have a ground clearance of 10 inches, meaning your furniture should be significantly high. 
Once you have ensured the required gap, you can use one of these diverters to eliminate the above issues. However, if your furniture sits too low, using vent extenders may help.
Putting a Bed Over a Vent
Unlike other furniture pieces, beds are usually chunky and take up a lot of space. Therefore, they get in the way of air vents, causing several problems. Plus, vent diverters, despite working with small furniture, are pretty useless in front of king-sized beds. So, you should avoid putting a bed over vents as much as possible.
Frequently Asked Questions
Can I block air vents in the bedroom? 
You are good to cover air vents in the bedroom if the gap between the internal and external wall skins is large enough. However, having a smaller distance means you can cover up the inner skin only.
Can you partially cover a floor vent?
Covering a floor vent is allowed but to an extent where there is at least a 10-inch gap for easy airflow. However, partially blocking it means the HVAC system will not run optimally, causing uneven heating or cooling. Therefore, use either a vent diverter or keep the floor vent entirely open for airflow.
Conclusion
So, is it ok to put furniture over a vent? The answer depends on your circumstance. For example, if you have no other place to put that furniture, go for it but with diverters, of course. But do not put furniture over vents for aesthetics only. Instead, use solutions like paint or decorative room dividers to get them out of sight.