Lowes' SmartCore flooring has a beautiful contemporary appearance that is perfect for any room. The flooring is composed entirely of rigid-core luxury vinyl plank and is designed with a variety of color options to match any décor. 
SmartCore Naturals flooring is a smart choice for homeowners who want to add value and performance to their home. The product is environmentally friendly and sustainable with its 100% recycled content. 
It is also affordable while offering a lifetime warranty. This is a new flooring option that's waterproof and comes with natural grain patterns & textures. No two planks are the same. This flooring option is waterproof, tough, and durable.
SmartCore is a new, innovative, and sustainable flooring product that's designed with the homeowner in mind. It offers 100% water-resistant construction, durability, and slip resistance. 
This resilient floor is also easy to clean and maintain. If you are looking for a flooring option that will give you the most flexibility and style, then this is the right choice.
What To Expect From SmartCore Flooring?
Since 2013, SmartCore has been in business. A subsidiary of USFloors' COREtec brand, the company provides flooring solutions. Vinyl has increased in production and sales now that it is a part of a larger family. With the acquisition of USFloors by Shaw flooring, their quality has been further improved.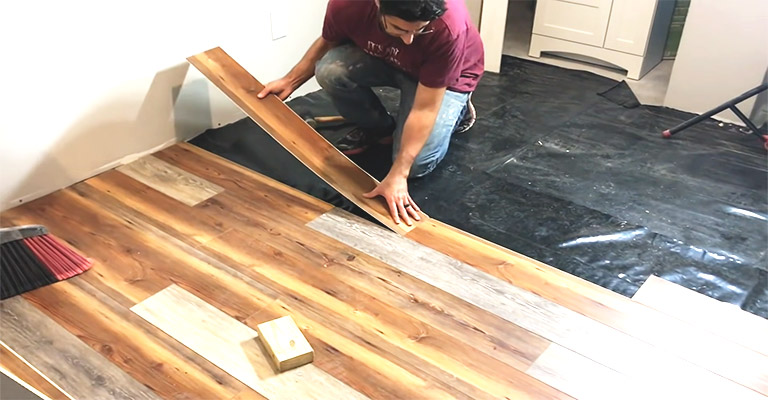 Mainly because of the higher quality standard. In comparison to the larger names in the brand, like COREtec and Shaw, SmartCore is a budget brand that is thinner and less durable. Yet, SmartCore now uses technologies from these high-quality brands.
SmartCore colors, styles, and thickness are included when you purchase SmartCore. This is in addition to the COREtec core layer system and the Shaw wear layer. It may not be as high quality as the other two, but it has improved dramatically over the past few years.
There are four styles (Base, Pro, Ultra, Naturals) that offer price, selection, and functionality.  If you need to cover a smaller area or are on a budget, this is the ideal flooring solution.
Planks have very good aesthetics, excellent wear characteristics, and a good warranty. Compare it side by side with some of the leaders in the flooring industry, and you will see what it lacks. Nevertheless, it is an ideal solution when installed in your home.
SmartCore Construction
There are four layers in each SmartCore plank. The layers all contribute to its overall look, durability, and construction. Four styles are available, and the main differences lie in the wear layer and the core layer. Let's examine each one.
The Underlayment
Usually, the bottom layer consists of rubber or cork. Two base layers are available with SmartCore. First, there is a pad that enhances acoustics. With this new underlayment, you will get softer planks and greater sound absorption from the Shaw brand. 
It is part of the Pro line, like the SPC core. It helps reduce the stiffness of SPC. Underlayment with a registered trademark is called UltraSoft (registered trademark). There is some sound absorption, however not as much as with an acoustical pad. 
In its place, it offers a flooring plank that is soft underfoot and almost spongy to the touch. A memory foam mattress-like effect is created by the planks that sink and rise. An underlayment available on the Ultra line, the UltraSoft adds comfort and warmth to otherwise cold and hard flooring options.
The Core Layer
These planks contain all their magic in the core layer. The core material is available in two options. Wood-plastic composite is the most commonly used. There is a high strength and durability provided by this combination of bamboo dust, wood pulp, and PVC plastic.
Stone-plastic cores (SPC) are included in the SmartCore Pro line. Using ground stone, pulp, bamboo dust and PVC, this composite is created.
The planks are more rigid and durable than WPCs and have a longer lifespan. There is one downside to the plank, which is that it is less forgiving underfoot, so it can be more solid or harder to walk on.
COREtec planks feature the patented COREtec WPC extruded wood core technology. SmartCore is not affected by this, as it would increase the cost in the long run, making SmartCore more expensive.
The Image Layer
A photo-realistic image layer appears directly below the wear layer. Simply a strip of vinyl with a picture on it, this thin layer is nothing but a representation of the picture. The majority of the images depict wood grain, but include stone, slate, and travertine as well.
During installation, it is important that you pull planks from the boxes at random so that the planks have a wood-like appearance (or look like stone, if you prefer). As each box will have varying imk distributions in the images, the floor will look more natural with slight color variations when installed correctly.
The Wear Layer
A clear protective layer at the top, often referred to as the wear layer, protects your feet when you walk. In SmartCore, this layer is 2-5 mils thick and offers scratch protection as well as a barrier between the upper and lower layers.
Water resistance varies from plank to plank, and some are even waterproof, but the wear layer provides the most moisture protection when the installation is complete. A layer of this material forms a watertight seal over the planks and reduces the dust and dirt that can accumulate between the planks.
Installation Of SmartCore Flooring
DIY installers can easily install LVP. Also, cutting Vinyl Planks is very easy. However, no matter how simplistic the installation may be, some people are not interested in taking on such a task. We can all relate to the feeling of not wanting to crawl around for several hours.
If you find yourself in this situation, you can hire a professional to install the flooring for you. A minimum of three quotes is recommended. While this is a feasible option, there are a few things to consider.
The price of materials will usually be included in the quote. You should make sure that the quote reflects the fact that your LVP has already been purchased. It's also essential to keep in mind that many contractors will include cleanup in their quotes. 
Even though this is ideal, some of them will be able to take the remaining materials. The boxes of LVP you have left over must be kept. When reviewing your quote, be sure to include all of this information.
The tiles can easily be installed over stucco, ceramic or porcelain. Some also like EVP over LVP as they are slightly more easier to install and durable.
Care and Maintenance
You will only need to perform periodic inspections and cleanings after the installation is complete. This is fairly straightforward.
Whenever possible, you should clean up spills or messes on this flooring. Despite its stain-resistance and waterproof qualities, LVP won't last forever. You only invite future problems when you leave spills on the floor, or colored liquids, mud, or other chemicals.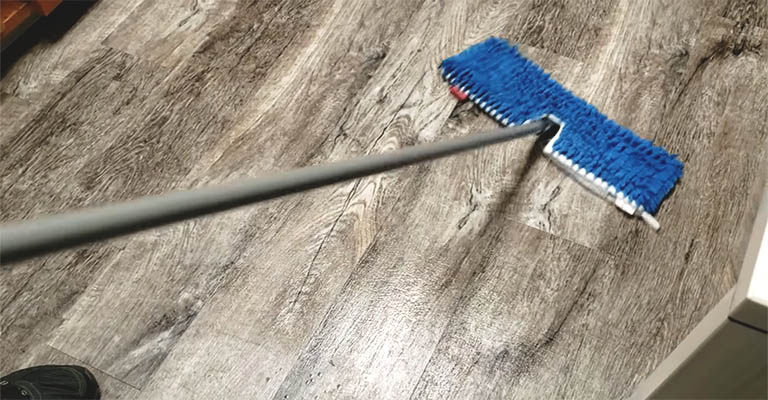 As well as these occasional cleanups, sweeping and vacuuming should be a regular part of your cleaning regimen. You should avoid vacuums with rotating brush rollers, or at least make sure you have one you can turn off.
The wear layer on your boards can be scratched by brush rollers, leaving them dingy and marred. Mopping will also be required from time to time.
If you are cleaning vinyl with specialized chemicals, warm water is an equally effective method. Cleaning the planks with warm water will remove dirt and debris, leaving them looking brand new. You don't need to wax or polish the planks.
Inspection of the planks should be done while cleaning. The seats must be seated correctly, and the bows and warping should not be apparent. In the event that a plank peels up, warps or bows, it should be replaced.
It is not possible to repair or sand SmartCore planks due to their thin wear layer. It is necessary to remove the broken planks and replace them, a daunting task, particularly if it is in the middle of the room.
Final Words
You don't have to use SmartCore for LVP. Brands come in many shapes and sizes, each with their own benefits and drawbacks. We explained the SmartCore LVP in this article.
With this information, I hope you have a better understanding of the brand and their LVP. You will save money and enjoy beautiful floors in your home by choosing them for your next flooring project.