Basements can be a blessing or a curse. They have the potential to flood and cause extensive damage when they do. But they also provide a dry, cozy place to store furniture or fish in during heavy rains. 
For these reasons, most basements are equipped with sump pumps which automatically engage when the sump well fills with water and pump excess water away from home. 
Sump pumps can be very effective in keeping water away from homes and protecting the foundation, preventing the home from being flooded. With constant rainfall and snow melting in recent months, homeowners should consider installing a sump pump.
Now, oftentimes, these pumps can become a nuisance. While pumps are often recommended but, in many cases, oil can leak from them due to the design of the pump. If you are dealing with a sump pump that is leaking oil, you will need to do a couple of things.
What Does Oil In Sump Pump Do?
A sump pump is a pump that is installed in a sump pit, usually built under the basement or other low-level area of a building. It is used to remove water from the lowest point in a building so it can be pumped out and discharged elsewhere.
The oil that's put into the sump pump helps to lubricate the moving parts inside, which prevents them from damaging themselves and keeps them running smoothly.
Can A Sump Pump Leak Oil?
A sump pump is an automatic system that pumps water out of a basement before it can spread. It is often used in homes and businesses to prevent flooding. But does it leak oil? Yes, some sump pumps can leak. 
An oil-leaking sump pump puts your motor at risk of lacking lubrication while it's working. This can cause damage to the bearings and other parts of the unit, which will make them less efficient and may even lead to a malfunction. 
Why Is My Sump Pump Leaking Oil? – Common Causes 
A sump pump is a primary mechanism that keeps your basement dry. It is imperative that it functions correctly and keeps water at bay. If certain areas of the pump become too corroded and begin to leak oil, it can have a disastrous effect on the motor and require repairs.
Sump pump oil is a sign that something is wrong. A buildup of oil can be the result of clogging in the sump pump, an over-filled sump pit, or a leaky drain line. It can also be caused by neglecting to maintain your sump pump properly.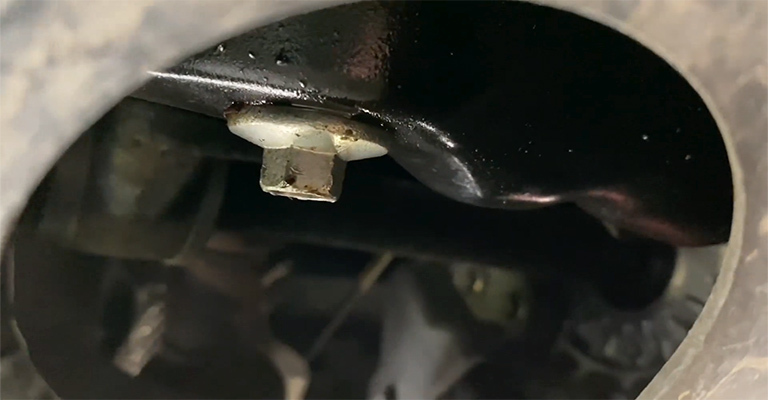 Some causes of sump pump leaking oil are lack of maintenance, clogged filter, and slow-working pump motor. If you suspect that your sump pump is leaking oil, it might be best to have a professional check it out to find out what exactly is causing the leak.
Leaking oil can cause a number of problems for an oil pump. It can also mean that water may be leaking into sensitive areas of the pump or cause the pump to burn out. As a result, it is important to act quickly in order to prevent any damage.
How To Stop Oil Leak From A Sump Pump? – Fixes
When your sump pump starts leaking oil, you'll want to know what to do with it. Luckily, this section has all the information that you need. Sump pumps can leak a variety of things, including oil. Here's what you should do if your sump pump leaks oil.
1. Inspection 
There will be a harder time finding the source of the oil if you have a submersible sump pump. An oil droplet floating to the surface of the water above and around it will usually be the first sign there's a problem.
It is easier to inspect a pedal sump pump and to find out where the oil is coming from since they are mounted on stands and are more open. Alternatively, you can visually inspect for oil puddles and drips by rubbing your hands over parts of the pump.
You should unplug and remove the pump so that it can be inspected for leaks. You might want to check your basement for another source of oil if you cannot find it coming from the pump.
2. Locating The Leak
A sump pit with oil in it almost always indicates a problem – you just have to look for it. Most of the time, you can find the oil leak source easily. 
It is as simple as turning off the pump, removing it from the pit, and inspecting the line and pump for leaks.
There is a possibility that oil could enter the pit from groundwater instead of from the pump. You will need to clean your pump and pit if this is the case.
3. Fix
We recommend the following steps if you find oil in your sump pump pit:
Taking the pump out of the pit and drying it
Find out where the leak is coming from
Oil should be refilled after the leak is repaired
Install the pump again and test it
If you find oil in a sump pump pit, we recommend that you contact a professional for service.
Return Of Oil Leaks
If it returns, it will be necessary to take more than just first-level measures to fix a leak. You should seek professional help at this point if you have not already.
It would be a waste of time to spend all that time chasing problems and fixing them just to realize you could have installed a new sump pump instead.
Pump Failure And Loss Of Oil
It doesn't matter how small a leak is; it can still cause damage to your pump. Sump pumps, which need to be lubricated, must expend more energy to perform the same task when they do not receive enough oil. Your pump will require more work the harder it works, and you will eventually need to replace it.
It is possible for water to get into parts of a pump that are not supposed to be in contact with the leak if the leak is positioned in a certain way.
During a big storm, you may find that you do not have any pumps to handle the rising water levels because of corrosion and electrical shorting.
A Leaking Seal Or A Faulty Housing
It is possible for both pedestal pumps and submersible pumps to leak from damaged seals or gaskets. Repairing a gasket is not a difficult process.
There will be a need to purchase and install a new pump assembly if the housing is cracked. Major repairs and material sourcing should be left to a professional sump pump contractor.
Don't Pollute The Environment
Whenever your sump pump leaks oil or contains oil contamination from another source, it pumps oil-contaminated water outside.
Oil Spill Alert!
If your lawn, streams, or natural features are near your home, then the oil is not good for them. Even if the spill is in your basement, make sure you properly clean it up immediately!
When you have nearby oil storage for heating, you are putting yourself at risk of contamination if the tank leaks.
What Kind Of Oil Does A Zoeller Pump Require?
Dielectric oil is used in Zoeller sump pumps. Mineral oils like this are light and work well in motors near water. You must use Dielectric oil instead of normal mineral oil – not your normal bottle of mineral oil.
Final Words
A sump pump is an important part of your home's plumbing system that removes water from the house while filtering it and returning it to the ground through a pipe. It can caught many problems like oil leak, pump cycling with no water running or something else. To solve the sump pump problems, you should have it inspected by a qualified technician as soon as possible.