Yellow spots on bathroom ceilings occur for various reasons such as water damage, humidity, cigarette smoke, paint issues, etc. After locating the proper grounds for the occurrence, take necessary measures such as preventing water damage, treating molds, cleaning off the stains using stain blockers, etc to fix this issue.
Yellow Spots on Bathroom Ceiling Causes and Fixes
Bathrooms being a very crucial part of our houses demand standard cleanliness since it affects our mood along with ensuring top-notch hygiene quality.  
But unfortunately, stains present on the bathroom ceiling make it look unattractive, and also question its sanitation standards.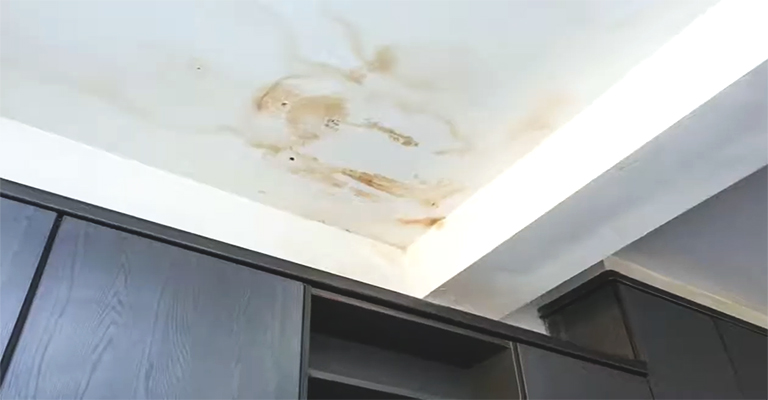 These nasty yellow stains in our bathroom ceilings are yellow spots that may occur for various reasons such as water damage, humidity, cigarette smoke, paint issues, etc. By finding out the proper grounds for the occurrence of yellow spots on bathroom ceilings, we can take necessary measures to fix this issue. 
In case your bathroom ceiling presents itself with such yellow spots, you need first to detect the causes of their occurrence, then you have to take necessary steps to fix the problems from roots so that the stains do not reappear. However, in this article, we will briefly discuss yellow spots on bathroom ceiling causes and fixes. 
Causes of yellow spots on bathroom ceiling 
If we find yellow spots on our bathroom ceilings, the first thing we have to do is to discover the root causes of those yellow spots. Moreover, it is important to find out the origin because not every stain is harmless as some yellow spots occur due to molds which may cause some serious health hazard, and also only after knowing the exact issues, the permanent solution to yellow spots on bathroom ceilings can be achieved. 
However, many possible reasons cause yellow spots on bathroom ceilings. The causes are listed below.
Water damage 
Water damage occurs if water pipes crack or break. The cracked pipes leak water letting it access the ceiling. Water may also come if there's any crack on the ceiling, causing water to arrive from outside or bathrooms situated above the floor. Leaking water heaters, clogged gutters, and blocked drains may also cause water damage.
However, water damage leaves yellowish-brownish spots of circular shape with a darker outer ring on their side. With passing time, these stains become darker.
Molds or Mildews
An alarming cause of yellow stains to occur on our bathroom ceiling might be molds or mildews. Mold is a type of fungi that occurs on damp surfaces. Mildew is a kind of mold with a lighter color and milder scent. Besides yellow, molds or mildews can be of black, purple, brown, or green color.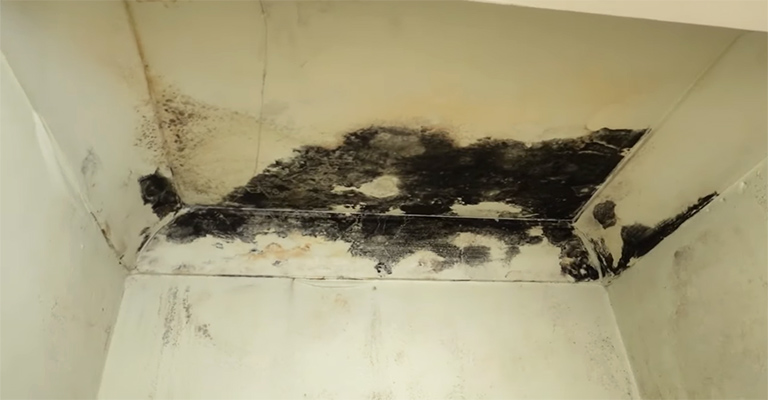 However, molds appear if the ceiling surface is damp and has high humidity levels. Water leak, lack of ventilation, water condensation are some main causes of this dampness.
Mold causes skin irritation, sneezing, cough, and some mild reactions. On the other hand, some molds become a serious health hazard. Therefore, immediate actions should be taken if molds or mildews are found on the bathroom ceiling. 
Painting issues 
Not necessarily all causes are water-related, but sometimes yellow stains may occur if the paint had insufficient dry time, or the quality of oil paint was poor. 
Sunlight on the painting may also cause yellow stains by discoloring the paint. However, in such cases, yellow spots may also occur on bathroom walls if the issue is painting-related. 
Smoke
Another non-water-related issue is smoking inside the house. Yes, you have heard right! It's not very uncommon for people to sneak into the bathroom to smoke cigarettes.
Smoke gets absorbed by the paint and thus nicotine and tar present in the smoke cause yellow stains to occur on the ceiling.
Yellow spots on bathroom ceiling fixes
Fixes don't necessarily mean just cleaning off the stains. Because if you only rinse off the spots without solving the root problem, the spots will surely reappear.
Therefore, after detecting the origin of the problems, you should take the necessary steps to eradicate them. A few possible fixes according to its causes are given below. 
Preventing water damage issues 
If the issue is water damage, some suggest using the sealant on the ceiling. Dried-up sealant works as a barrier from seeping moisture.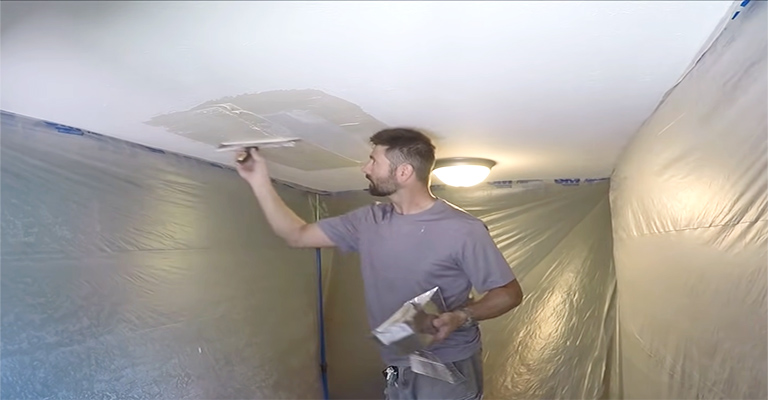 However, using sealants is not a permanent solution to water damage. Therefore the smartest way is to call a professional to find out the reason behind water damage and have the leaking water pipes or clogged gutters or other causes fixed up immediately.
Treating the mold issues
Mold is harmful to health has to be treated straight away once its existence is found on the ceiling.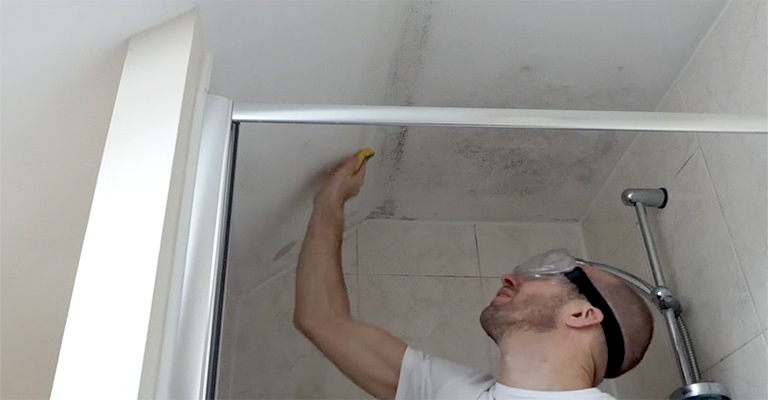 To fix this problem, the ventilation system has to be renewed or readjusted so that more natural light and air can pass inside the bathroom allowing the moisture to be consumed. A dehumidifier or adjustable fan can also be installed for this purpose.
Cleaning off the stains
If the spots have already settled on the bathroom ceiling, you may want to rinse them off.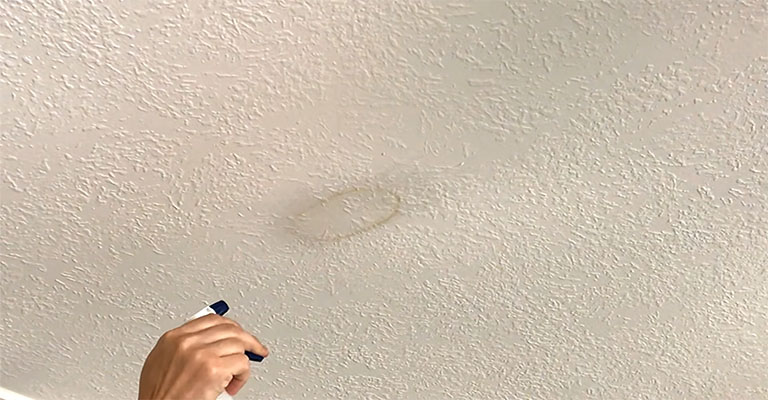 Using detergent mixed with warm water and bleach may clean off many of the yellow spots present on the bathroom ceiling. These homemade mixtures often come in handy for rubbing off smoke stains or spots due to water damage. 
Painting the ceiling
If the spots are not removed despite cleaning, you can just paint the ceiling. To paint, at first, you have to apply a stain blocker or sealer so that the stains don't bleed through the new paint.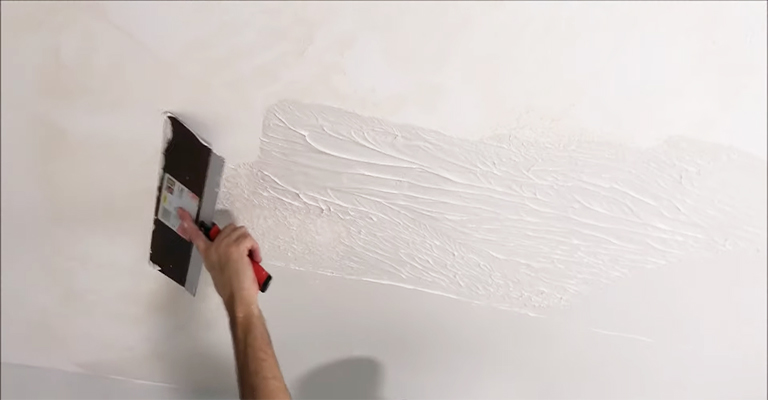 Moreover, two or three coats of paint should be enough once the sealer has been used. It is important for the coat to properly dry up before the application of the next coat.
FAQ
Is yellow mold dangerous?
Centers for Disease Control and Prevention (CDC) stated that all types of molds are potentially unsafe. Therefore no matter the stain color, whether it be yellow or purple, black or brown; there should be an immediate removal.
Why are my bathroom walls turning yellow?
Since bathroom walls are in constant contact with water, they may turn yellow mostly due to water-related issues. However, a few causes of bathroom walls turning yellow are soap stains, hard water, mildew, condensation, cigarette smoke, etc.
Why Are There Random Wet Spots on My Carpet?
Random wet spots on a carpet are caused by old moisture in the air. This causes the carpet to be wet and dark. The dampness of the air creates a humid environment that impacts furniture and causes excessive mold and mildew.
Old, moist air can cause the carpet to be wet and dark. This can impact furniture and cause excess mold and mildew. This can also impact the carpet pad, which is saturated with moisture.
Conclusion
The presence of yellow spots on the bathroom ceiling is not a foreign issue. Yellow spots due to water damage or smoke may not be harmful but if they occur due to molds, it's the source of potential health hazard.
Therefore, if you become aware of yellow spots on your bathroom ceiling, don't just ignore them, but figure out the root cause and take the proper initiatives as mentioned to put an end to the problem.