Peeling tubs are a common problem that homeowners have to contend with. Here, we talk about some ways you can fix your problem and keep your tub in good condition for years to come.
If you have a peeling tub, the first thing you should do is not panic. In many cases, peeling can be fixed without having to replace the entire tub. If the peel is only on one side of the tub or if it is very large in size, there are a few things you can try before replacing everything in your home.
Taking care of your property helps prevent further compounding damages to its value. Keeping up with any repairs around the house, including the bathroom fixtures, helps in this process.
Over time, bathtubs can accumulate damage from scratching and from external factors to their protective coatings. Sometimes this leads to peeling or scraping off the so-called "bathtub finish."
There are products available on the market nowadays that can help you restore a tub to its original shine. Some of them will even leave a protective sealer behind to avoid any future fading.
A do-it-yourselfer can fix chipped or peeling spots on the bathtub before it becomes necessary to resurface the entire tub, but it will take patience and a steady hand to achieve this goal.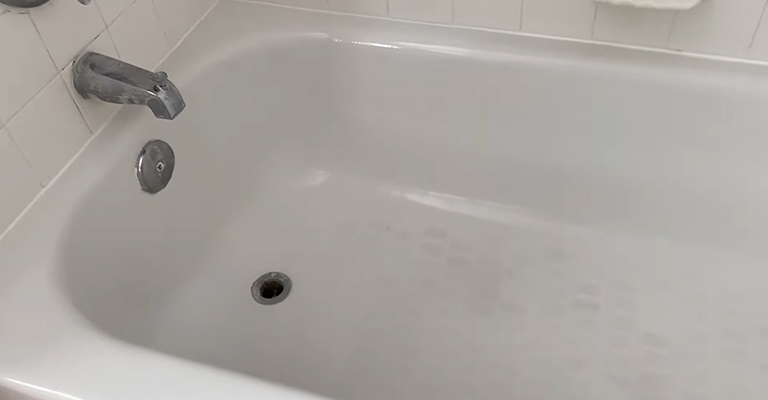 Why Is My Bathtub Peeling?
A bathtub has a layer of paint that separates the water from the tub. But sometimes, they peel off and cause damage. There are a few factors that contribute to the peeling of your bathtub. For instance, improper cleaning and maintenance may be to blame.
Before you can take any measure to solve the issue, you should identify the cause of the peeling problem. Bathtubs always seem to be peeling after a few months or years.
Some people may think that the bathtub is just wearing out and will need to be replaced. But it could be because of an air bubble in the tub, which can cause the peel.
Possible causes of a bathtub peeling:
Chemical residue from the previous occupant or from cleaning products used by the occupant before them.
Aging is caused by exposure to sun and rain over time.
Damage is caused by excessive heat, mechanical stress, or water damage.
Peeling occurs due to a lack of care for the tub's daily maintenance routine.
Peeling occurs due to a lack of proper upkeep on surfaces surrounding your tub.
Can You Fix A Peeling Bathtub?
Yes!
& no!
Many people have seen the bathtub that has a thin layer of peeling paint or a crack that has formed on the porcelain. The problem is, it's hard to fix it. There are different ways to deal with this issue, including using putty to fill in the crack and refinishing the entire tub.
The methods to fix a peeling tub are numerous because there are so many different types of materials used for these baths. When you use putty, you have to reapply it after time so that it does not dry out. This can be time-consuming and difficult for people who are not familiar with these types of repairs.
Things To Do If Your Tub Is Peeling
Before you start repairing a peeling tub, here are some things you will need to do. 
Before you start repairing your bathtub, remove all objects from around your tub that can get in the way of any repairs. This includes toys, shoes, towels, etc.
Prepare your workspace by covering it with old towels or sheets. You'll need this at some point during the repair process when you will need to clean up spills or materials, you'll be using during the repair process.
Place a bucket nearby for excess water
Gather all supplies needed for fixing your bathtub.
If your bathtub is peeling, you should consider the following options:
Step 1:
If you have a bathtub specific to your type, clean it thoroughly with a bathtub cleaner that is designed for your type of tub. Do not use harsh chemicals or abrasives. They may damage both the surface and the surrounding materials. Rinse the tub thoroughly and make sure that any soap scum or other residue is removed. Let it air dry.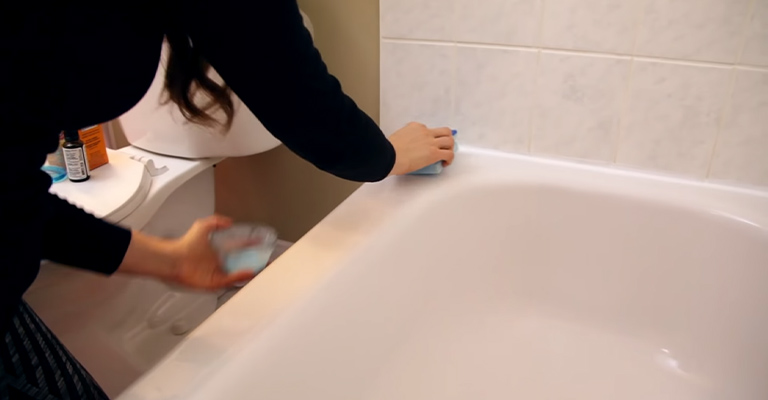 Step 2:
Rough the bathtub finish with fine sandpaper or 220-grit sandpaper. If there are flakes or loose edges in the peeling area, remove them as you sand. Using a tack cloth, clean the tub's surface of the debris left by sanding.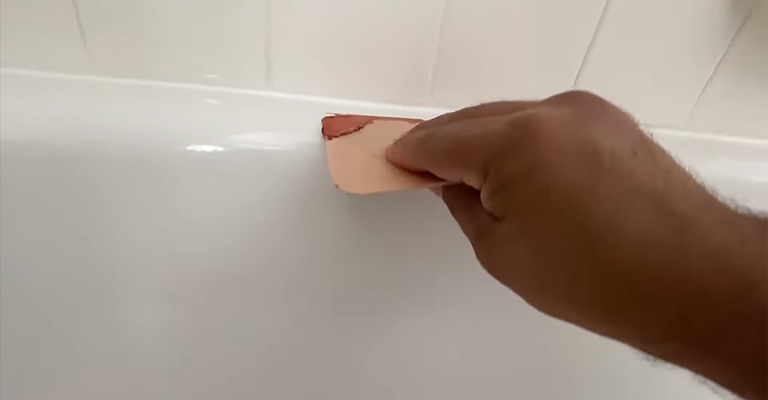 Step 3:
In a small disposable container, mix equal portions of the hardener and the filler in a bathtub repair kit. Combine the two substances using a craft stick. Fiberglass putty may also be used in place of the repair kit. Stir the putty according to the package instructions.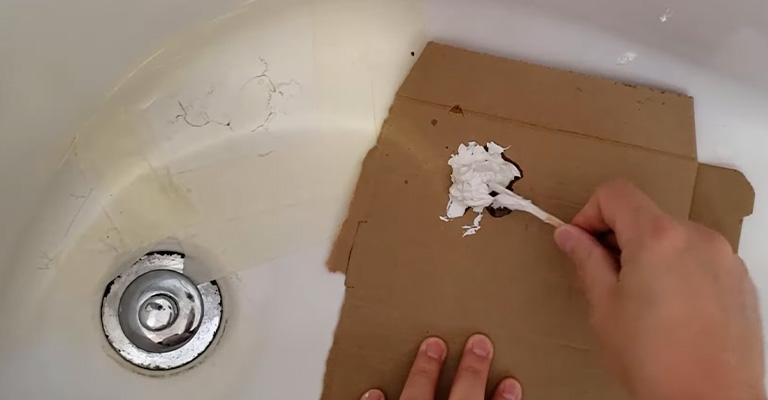 Step 4:
With a craft stick or the applicator provided with the repair kit, spread the repair mixture over the area you are repairing. Be sure no air bubbles remain when applying it to the entire damaged area.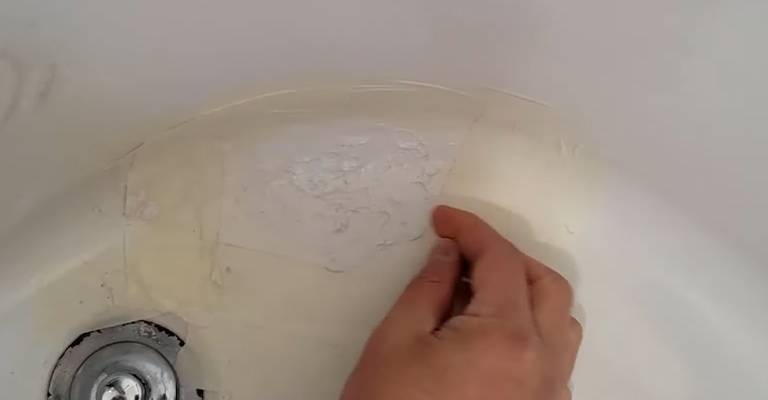 Step 5:
After the patch has dried for 30 minutes or as recommended by the manufacturer, sand the repaired area to a smooth finish. A tack cloth can be used to remove dust from the tub's surface.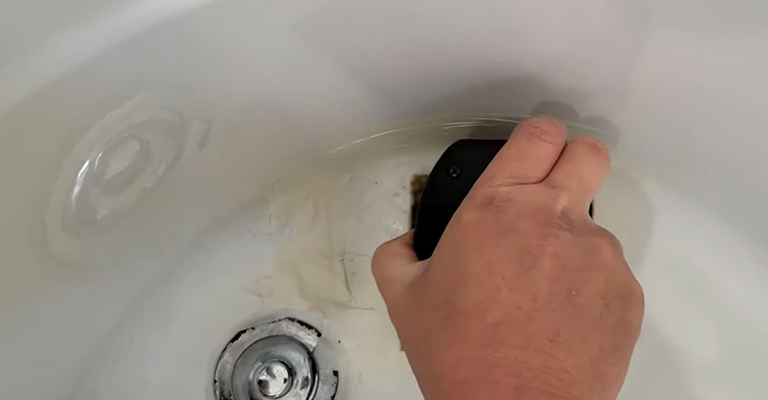 Step 6:
You should only expose the surface you are repairing by placing plastic sheeting on the tub. Use painter's tape to secure the plastic.
Step 7:
You can paint the exposed surface with acrylic urethane enamel by sprinkling a light coating. Spray paint is sometimes included in tub repair kits. Allow at least 15 minutes for the coating to dry. Allow each coat of enamel to dry before applying the second and third coats.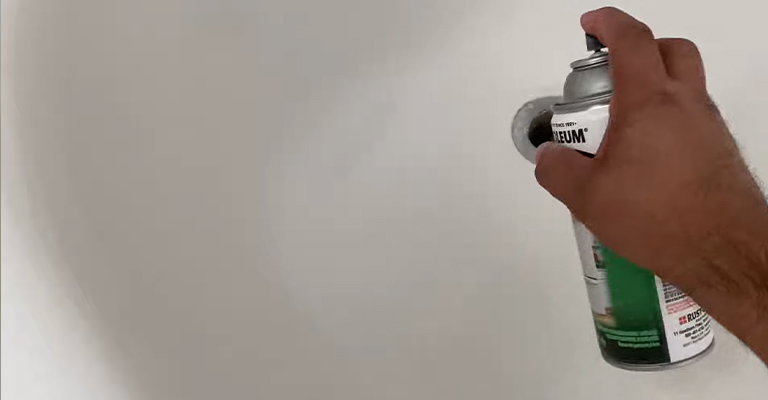 Final Step
The protective plastic sheet needs to be removed. To ensure that the patch dries properly, leave it alone for four days without using the bathtub.
How To Clean Peeling Tub?
A peeled or cracked bathtub can be a pain to clean up. One option is to use a scrubber pad and a bucket of water. However, this solution can be time-consuming and ineffective.
There are several ways to clean a peeling tub. This article will focus on the most popular one. The first step is to remove any loose or loose particles from the surface of the bathtub.
Next, you must spray a product such as Tilex or Ajax on the tub and leave it for a few minutes before scrubbing it with a stiff-bristled brush. Finally, rinse the stain with cold water and then dry it with a towel.
An easier way is to give your tub a deep cleaning using the power of steam with a steam cleaner. You just have to fill up the cleaner with water, add some detergent and let it do its work for you!
Alternative Solution 
Rust-Oleum Tub and Tile Repair is a high-quality, easy-to-use product that can help with a variety of bathtub issues. It is ideal for quick fixes of chip repairs, peels, tears, nicks, etc. It dries quickly so you can finish your project in just one hour!
The product is a water-based formula that fills in chips and peels in porcelain surfaces. It also has the ability to protect against water stains and mildew.
Tub and tile chips can be easily fixed with Rust-Oleum Tub and Tile Repair. It is the perfect product to use for repairing bathtub chips, peels, and other small surface scratches.
Final Words
We all know that the easiest way to fix a problem is to stop making other problems. In other words, prevention is better than cure. However, sometimes the only solution available is a quick fix.
A bathtub with peeling paint is a real eyesore. If you do not want to spend your time scrubbing at it, then you can just hire an expert to help you out.
I think that hiring an expert is a good idea when you have a large project that requires some serious work or when you are not sure if you can handle it yourself, but in most cases, I would recommend doing the job yourself.