For a drive pipe, the material can be reinforced concrete, corrugated steel, HDPA, vitrified clay, plastic, and so on. Plastic is highly preferred over others because of its lightweight yet strong structure. PVC pipes are also very recommendable.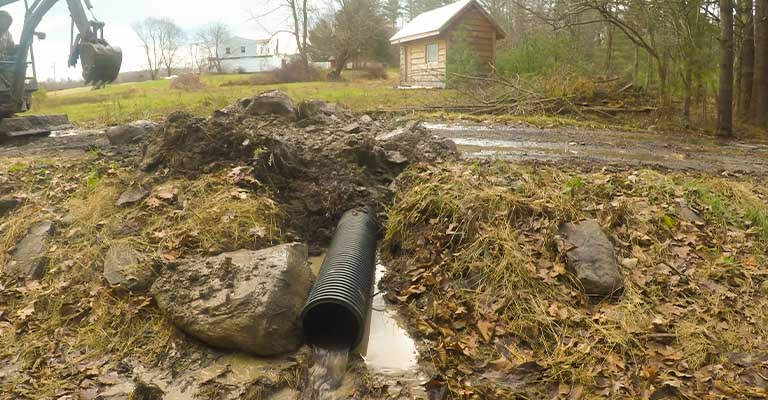 Drainage Pipe for Driveway – Should I Use Pvc or Corrugated
Some drains are likely to backups and increased wear depending on the equipment and craftsmanship. Thus, the pipe quality counts. PVC pipes are stronger in comparison to non-rigid corrugated NDS pipes. Corrugated pipes may be cheaper but not that durable. 
When it comes to drainage pipes, it's very important to use a material that has a rigid capability of withstanding extreme pressure. The pipes will be buried under weighty materials like soil. 
What Puts PVC Ahead?
Polyvinyl chloride aka PVC is durable and doesn't easily bend under pressure contrasting corrugated pipes. It consists of synthetic plastic polymer.  The interior of this pipe is also polished that decreases fluid resistance.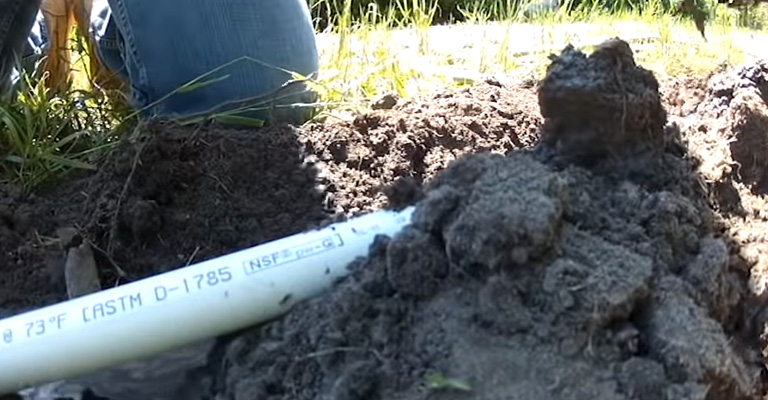 Why Corrugated Pipes are Decent Alternatives too?
Corrugated pipes are used sometimes for their low cost. The plastic used is not that rigid. However, it helps in the easy production of bends and joints. These pipes are also hard to clean. They may seem preferable in initial installation but for long-term output, PVC pipes are better.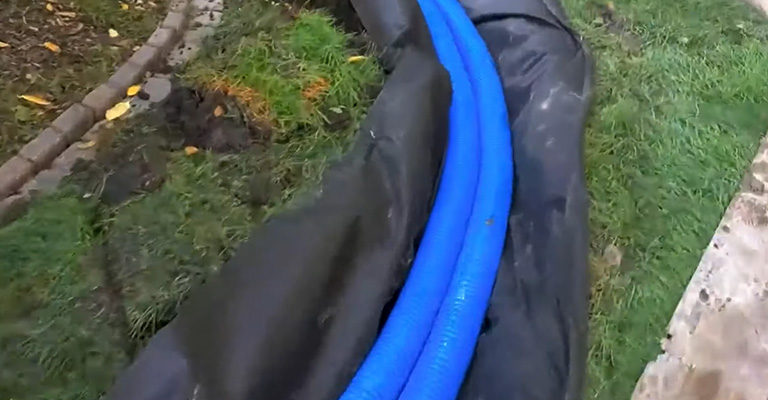 What Type of Drainage Pipe To Use Under Driveway
There are various pipe materials available in the market to guide water over and through the countryside. Different types of drainage pipes are listed below for your easy convenience. 
PVC Drainage Pipe Types
PVC pipes are highly appreciated in terms of the drainage system under the driveway. There are different types of PVC pipes available in the market. According to their features, each pipe has its own amenities. Some of them are given below.
PVC-U
Unplasticized PVCs are known as PVC-U which means a PVC-U pipe doesn't include any plastics in its compound. It is the most familiar PVC pipe type. These pipes are a safe choice for underground drainage. 
They are easy to manage and also economical. These pipes are extremely durable, provides great mechanical performance, extended chemical defiance, and protection against UV disclosure. Besides, these PVC-U pipes include positive environmental profiles and are fully recyclable. 
C-PVC
Chlorinated PVC aka C-PVC is quite similar to PVC-U. It is also a safe choice because of its high performance, great durability, resistance to corrosion, and impressive impact refusal. But its unique feature is its high chlorine content. It enables the pipes to endure a broad range of temperatures. The pipes are also more flexible and fully recyclable. 
PVC-O
PVC-O stands for molecularity-oriented PVC. It is the output of a production method that changes the amorphous construction of PVC-U into a layered construction. 
It also provides common advantages such as high resistant capabilities, impressive durability, and performance like C-PVC and PVC-U. But the pipes are particularly advantageous in terms of withstanding high pressure. Their hydraulic competence, flexibility, crack procreation, and impact and wear resistance make them one of the intact options.
There are another two types of PVC pipes available that are schedule 40 and schedule 80. The difference between the two only prevails in the thickness of the pipe wall. The higher is the suffix number, the broader is the pipe wall.
Perforated Drain Pipe
A perforated drain pipe includes holes or small slots to grant water to enter and exit effortlessly. They are known for being able to consume and strain excess water. Usually, a perforated drain pipe is used to drain rainwater away. It reduces the risk of rot and damage.   
HDPE/N 12 Corrugated Dual Wall Pipe
This pipe is made of polyethylene of great density. It is very strong plastic. The pipe has a steady interior wall and the rigid exterior wall that is regarded as exceptionally strong. It is identical in toughness to concrete pipes but is lighter, more affordable, and simpler to cut. 

SDR 35 Main Pipe
SDR pipes have a smooth interior and exterior. It is a strong pipe consisting of different sizes. The installation process of this pipe is cumbersome because of its rubber gasket connection. But the flaw can be neglected as this strong pipe is affordable and very much available.
Schedule 40 PVC Under Gravel Driveway
Schedule 40 pipes are used widely in various applications. It has a rigid construction with a sleek inner and outer surface. The design of the pipe is also very eye-catching. For low water pressure operation, this pipe is considered the best. 
It may not be strong enough like N 12 pipes or some other PVC pipes. But people can easily rely on the pipe if it's buried under a soil compacted after stuffing the trench. The site pvcfittingonline.com states that a schedule 40 PVC pipe of 1.5-inch diameter can withstand 954 pounds of tensile strength.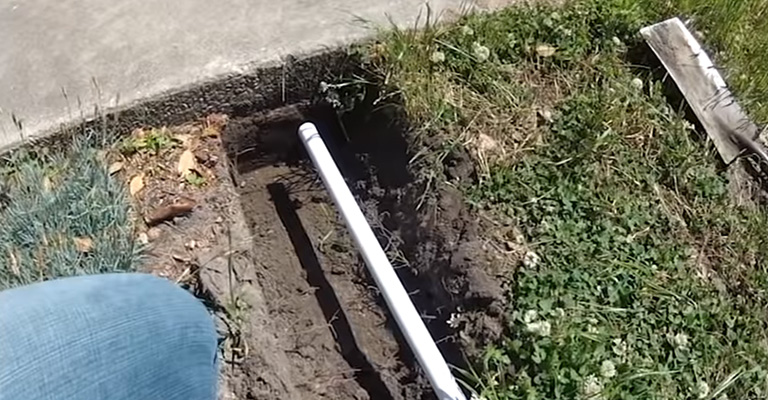 Best Pipe for Underground Drainage
As mentioned before, one of the major concerns of a drainage pipe is its capability of withstanding pressure. The pipes are buried under heavy soils and huge loads, shocks are being cast on the soils each and every second. 
Best for Installation 
Besides, installing a pipe is not an easy task. It needs digging of a large space. It also needs a lot of time and manpower. Thus the best pipe for underground drainage would be the pipe providing the highest quality, durability, and performance. Analyzing the aspects, it can be said that PVC pipes can be a great option.
What About Others?
However, if you don't want or can't invest that much amount of money, you can also go for other plastic pipes or corrugated pipes as well. It depends on the environment and the amount of water usage or flow. 
FAQ
Q: How deep can you install a drainage pipe?
Ans: All local governments or agencies don't provide rules and regulations in this term. Usually, for downspout drain lines, you can burrow a trench about 12-14 inches rooted. However, if the lot is very flat, the pipes will get lower the further they expand. So, it's better to dig 1/8 inch for every foot the pipes go in that case. 
Conclusion 
Drainage pipe is an important asset to keep a landscape proper and neat. Installing a drainage pipe under the driveway includes some major concerns and the type of the pipe plays a huge role there. Hopefully, this article has been successful in providing basic information about the type of pipes one can use. 
Also Read-  How Do You Build A French Drain in Clay Soil