Apart from indoor decorations, another part of our house that can be turned into a work of art is our yards. It might not sound like much at first, but with a few decorative lawn ornaments such as garden gnomes and fountains, the place can be turned into an aesthetic surrounding for you and your family to spend some quality time together.
Let me tell you about a piece of equipment or should I say an appliance that plays one of the most important roles in making our yard a pleasant sight to see but does its job so discreetly that we hardly ever notice its existence.
And that is; landscape lighting.
Apart from aesthetic beauty, it makes the place safer by ridding you of all dark spots and 'shady' places in your yard.
Choosing the best landscape lights can be quite confusing at times since there are so many varieties of them these days. So, here are the ones that I cherry-picked some of my favorites for you.
Best Landscape Lights You Can Go For
Now that we're done with the types of landscape lights you can get, let's get to my recommendations. On the list below, you'll find some of the top-notch products that money can buy in terms of functionality.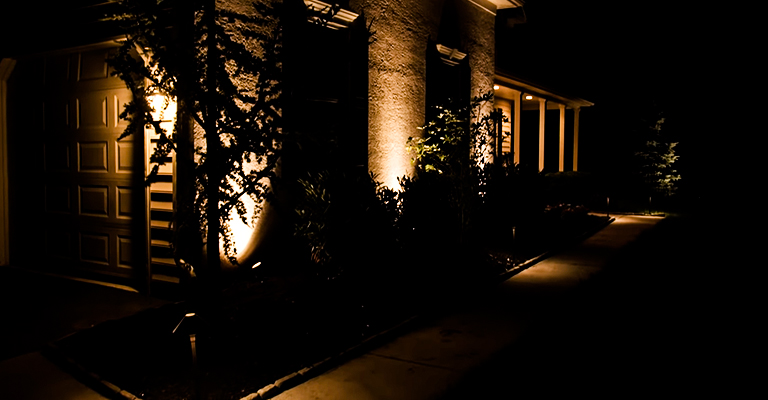 1. URPOWER Solar Lights, 2-in-1 Waterproof 4 LED Solar Spotlight Adjustable Wall Light
One of the key things that I prioritize when buying anything is, whether the product is good for the environment or not. Because I believe if we choose the right kind of products.
What I mean to say is the ones that save energy, or are biodegradable, or do not emit harmful elements to the atmosphere. This, in turn, helps out the ecosystem as well.
Hence, I have a soft spot for solar-powered path lights or solar-powered outdoor lights, I especially prefer this particular light. The 3rd generation solar power system ensures that. And when I say 'solar-powered', I don't just mean that it runs on solar energy only when you turn it on.
It turns itself on when the sun goes down and turns out automatically when it's up again. It also has two modes (high and low).
Not only that, but it has a lot of other features that actually count. So, let's dive in. The thing has 4 bright LED bulbs with 50 lumens in each LED, making a total of 200 lumens.
The built-in battery is 2200 mAh and is rechargeable. The battery capacity is enough to keep your yard well-lighted for at least 6 to 9 hours at a stretch when fully charged. I meant the solar charging as well. This thing takes only about 4 to 5 hours to charge.
Installing this thing is also easy. Easier than you think. I was skeptical when I read that it requires no tools to install. but it's plain and simple. You just put the pointy part into the ground and you're all set. It requires absolutely no wiring at all.
Another thing you might have been wondering when you were reading about the 9-hour battery life is, can it survive the weather when the nights are that much longer?
Well, it certainly can. The thing is, it's water-resistant (level IP64) and weatherproof. This thing is capable of withstanding adverse weather while being fully functional in excess heat and freezing temperatures.
The lights and the solar panels can be exclusively swiveled to be adjusted providing the best lighting while catching the maximum rays of the sun possible. The solar panels can be adjusted 180 degrees up or down following the sun, and the lights can be adjusted up to 90 degrees.
The package also comes with a bunch of screws that you can use to mount it on the wall. You might just end up needing them.
2. LITOM 12 LED Solar Landscape Spotlights
Another cool pair of landscape lights is Litom 1.2. Just like the ones previously mentioned, these also require no lighting. You just push the pointy bit into the ground and switch them on. Like the previous ones, these are also solar-powered.
But there's one thing they offer that the formerly mentioned pair of landscape lights did not have. It's a variety of colors. If you are the artsy kind like I am, you must be giving the temperature of your lighting some thought, because it has the power to affect the whole look of your exterior.
Well, if you prefer a bit of variety in taste, you'll be glad to know that this pair of lights comes in 3 color variants. These are Warm white, cool white, and multicolored. Choose the ones that suit the lighting condition, weather, and overall positioning of the lights in your yard.
One factor that the manufacturers spent some thought about is the waterproofing technology of these. The IP67 waterproofing technology. The combination of high-grade ABS plastic and unique design ensures quality waterproofing which can withstand all kinds of terrible weather and climate situations.
Speaking of the design, the patent of this product is certified by FCC, CE, RoHS, MSDS, UN38.3, and more. It has stood the test of 24-hour customer service for 45 days. It proved itself to be durable and efficient for me when it mattered the most.
Just like its predecessor, these sets of lights are also super easy to install. The 2 in 1 Function & 2 Installation options stick into the ground with stakes / Mount on the wall with the screws that come with the package.
Apart from your yard, you can also install these in your patio, porch, path, deck, pool, garden, garage, driveway, pathway or anywhere else you like. Just make sure there is enough sunlight for it to charge so that you can take full advantage of the solar power system.
These lights provide two lighting modes: Low-light and high-light, which can work up to 12 hours and 6 hours respectively. They automatically turn on and off detecting the amount of light around it. It'll you the trouble of having to turn them on and off every day.
Another thing that really surprised me with is, how smart these lights are.
It took me a few days to notice this feature, but when I did, I was so stunned that I thought either I was imagining it or there is something wrong with the product.
I checked online and finally came to believe that these lights can detect what lighting mode is required at the moment from the brightness of the environment around them! Can you believe it?
3. Beau Jardin Solar Landscape Lights
Let's get a little fancy, shall we? What you're seeing here is a set of glass landscape lights that look almost like those fairytale lanterns that we see in the movies.
Now hold on, I'm not making this up. The brand that made these lights is called Beau Jardin. They made these lights for the artistically enlightened (pun intended) kind.
But hey, they are not only food for the eyes, but they also work great too! Check them out.
Made with a combination of rustproof substantial glass and stainless steel, these lights measure 16.54 inches in height and 4.72 inches in diameter.
The watertight diamond glass light shade will magnify the warm, bright light that they produce, while the auto-sensor saves energy. The pattern on the glass of the light shade adds a fairytale effect to the light that comes out.
You can even add these lights to deck the halls along with your flowers and holly. These are perfect for Christmas decorations as well!
Speaking of Christmas, you must be wondering if these lights can stand extremely hostile weather conditions such as heavy rainfalls or blizzard. Rest assured, these beautiful lights are waterproof IP65 and are strong enough to endure rain, snow, frost or even sleet.
Just remember to clean the solar panels regularly so they can catch the rays of the sun and the batteries can get charged.
You've probably guessed by now that these beauties are solar-powered. But apart from that, the battery of each piece is 600 mAh (there are 8 pieces in the pack).
These batteries are NI-MH. The size is AA. The power they consume is 1.2V. Yes, they are rechargeable. Since they run on batteries, obviously they don't require any wires. They can be lit up till 8-12 hours on a single full charge of 6-8 hours. And they turn on and off automatically at dusk and turn out at dawn.
4. GIGALUMI 8 Pack Solar Ground Lights
Here is another set of solar-powered landscape lights to brighten up your day. I mean, night. Gigalumi is a trusted brand when it comes to landscape lights. These tiny little things right here might not look like much as a single piece but they team up in a pack of 8 to give you the shine you need in your life.
First things first, these lights are constructed with a design that says by the look of it that they are serious little fellas meaning business.
The lamps are protected with an override lampshell made of stainless steel, which means that these lights will not only withstand inclement weather but can also bear the weight of up to 100 KGs. Yes, you've read that right.
And speaking of installing, they'll give you no trouble at all. Simply turn on the switch under the cap and push the stake into the soil and it's done.
And like all modern-day landscape lights, these also come with the automatic turn on and off feature that goes on and off with the sun, just the other way around. 
But the one thing that makes these lights stand out. At least in my personal opinion, unlike other's 4 LEDs, these solar disk lights consist of 8 LED lights which means they'll be producing more light for your lawn. 
I would personally recommend setting these up on the sides of your driveway and let the lights guide you home. The whole experience will give you a warm welcome.
Oh yes, they can illuminate for 8-10 hours after a 4-6-hour charging time too. How awesome is that?
5. ZUCKEO 5W LED Landscape Lights 12V 24V Garden Lights
But what if you live in a place where it's not sunshine and rainbows all the time? What if it's gloomy and cloudy at times? And the power supply isn't that great as well? Fear not, I've got just the right landscape light that would be perfect for you. The Zuckeo garden lights.
As I said, they can charge even in voltage as low as 12V – 24V. This means these lights are compatible with most of the low voltage landscape lighting kits out there in the market. 
Make sure to get an additional extra-low voltage transformer required for installation. Those things are not provided with the package. 
Each of these LED lights is brightened by 500 lumens, which ensures an even distribution of light in the whole area. 
And when it comes to durability, these lights are designed for delivering you the optimum service in all weather conditions for a long time. 
The triple water-resistant thick aluminum body and glass lens cover design will heavy pouring rain and layers of snow and even frost. The Ip65 graded waterproof technology is here to ensure that. 
It would be unfair of me if I don't mention how compatible and versatile this thing is. The lights have rotatable & widely applied 90° beam angle, and 270 degrees adjustable head. Which makes them not only good for your yard or lawn, but also walls, flags, fences, and even trees. 
Say, if you're having a party in the backyard, these lights will offer you all the brightness you need. Plus, they'll also work as decorations!
Installing them is also no problem at all. You just insert the light spike stand into a suitable position on the ground. Although these require no tools for installation, you're going to need a few accessories to set the whole thing up properly. Such as transformer, wire connectors, and low voltage wires, etc.
I've been using them for the past 6 months. I've become quite a fan of these. I mean, they're not very fancy to look at, but they can make any place look fancy and glowing, literally!
6. MEIKEE 7W LED Landscape Lights
Another good choice for landscape lighting is the MEIKEE 7W LED Landscape Lights. Simple, compact, and yet very practical and efficient design. These lights will serve you a long time and in all sorts of weather conditions. And the best thing about them? They come in a hell of a cheap price!
The latest design of these lights just came in this year, right in time for Halloween, Thanksgiving, and Christmas. To brighten up your festivities, these lights have a metal structure that will survive and keep the lights functioning even in layers of snow and freezing temperatures.
Outdoor pathway light is made of all-aluminum, not only the lamp body case but the spike stand as well. These two make it work a long time for the outdoor environment.
Assembling them is a bit tricky. But not difficult in the real sense. In the kit, there is the light, a spike, a wall mounting screw kit (with 3 screws and wall anchors), a bell housing for wall mounting, an Allen wrench, and a small screw kit for the wall mount or spike installation to the light fixture/bracket.
Once all opened up and ready to go, take the Allen-head screw and place one of the small spring washers on it, followed by the flat washer.
Put this screw/washer assembly through the bottom hole of the bracket and hold it in place with one hand. Using your other hand, thread the spike to the screw, being careful to not cross-thread the screw into the spike.
Once the screw gets hard to hold, place the included wrench in the screw and continue to tread the spike onto the screw. Finish up and tighten the spike to the bracket by holding the spike and turning the screw with the wrench.
Once the spike is attached, carefully take the wire leads and connect them to an unplugged transformer. Plug it in and test each light. It should work fine If it doesn't, recheck the wiring to see if there are any lights unplugged/not set up correctly.
7. H*Sheng TPK Solar Ground Lights
These are disk lights that you can set up in your lawn, yard, or pathway, and they will hardly be visible. They will do their job of brightening up the whole place perfectly.
But there is a little catch. As you might have already guessed, these lights require no wiring. Well, guess what? They require no battery either! You can charge these solely on solar power! This is not only energy-efficient, but also saves you the hassle of replacing the batteries every now and then, and on top of that, are also good for the environment.
Here are a few tips and things you ought to keep in mind before you start using these lights so that you can get the best out of them:
Please make sure that you turn the switch "On" before using it.
Bring and keep it in sunlight for at least six to eight hours make sure it charges fully. If you encounter cloudy weather with insufficient sunlight, the charge won't last very long.
Make sure the panel remains directly beneath sunlight, I'd advise people to adjust the angle of the lights to make sure they end up lighting the perfect spot when they need to.
Yes, you need to put H*Sheng TPK where there's adequate sunlight. But don't put it in places where you'd get sunlight radiation like under the tree trunks or on soggy grounds.
The best thing is, these lights will automatically start working at night time. Be careful not to be setting these up when there's adequate lighting already present. Then, these lights won't turn on.
Some Guidelines for Choosing the Best Landscape Lights
I have already given you the list of landscape lights that I found were the best out there. But you might want to choose yours for yourself. Here are a few essential points that will definitely prove useful in your purchase.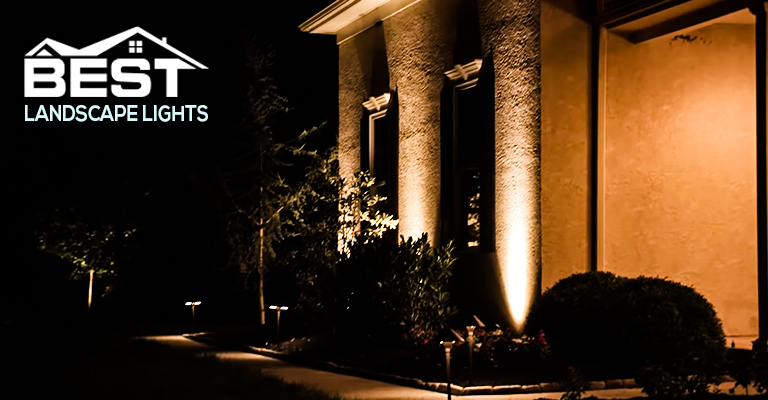 The Landscape Is a Key Factor
The thing you need to be sure about is what kind of landscape you are trying to light up. The lighting has to cover the right amount of space and illuminate the spot well enough. This can be the walkway, driveway or simply your own backyard.
Whichever the landscape maybe you have to measure the illumination power of the light itself. Just as if you have to light up the walkway, you need the proper measurement of placement. It would be a good idea to place a light every 5-6 feet apart in this case.
The Proper Type of Light Has to be Selected
Let's face it, not every kind of landscape light is the same. Each type of light serves a particular purpose and you need to know the difference. If you want a bit of intense lighting, you might want to go for deck lights.
Decoration might be your prime need, in that case, deck lights just won't do. You might be preferring a dramatic effect which can be very well provided by accent and floodlights. So, know your need and know your light before you place your order. Pretty basic right?
Transformers Do Play a Part
A transformer might not be an integral part of a landscape light. But it is a part of the whole system nevertheless. The right wattage is very much important for the particular light you are using. Voltage fluctuation is not good news in any way. So, choose wisely.
It is best to choose a unit that will allow you to use a built-in timer or an electric eye to enable auto features for turning the light on and off. Lighting in different areas will require separate transformers too. It is best to keep that in mind.
The Length of the Wire Matters
Wires are important too. The wire quality and length will have an actual effect on the performance of the light. Wiring is basically the transferring medium of power and transformers are not the only factors in the electric transfer.
That is exactly why you have to have a long enough wire. The length has to be accurate or more, but never short. Some have a huge backyard and they might find themselves in trouble if they find a shortage in the wiring. It's best to double-check the wire length before purchase.
Types of Landscape Lights
There are various types of landscape lights. A good idea would be to study all kinds thoroughly before coming to the conclusion about which lights would best serve your purpose and be the most appropriate for your use. Let's get through the types one by one.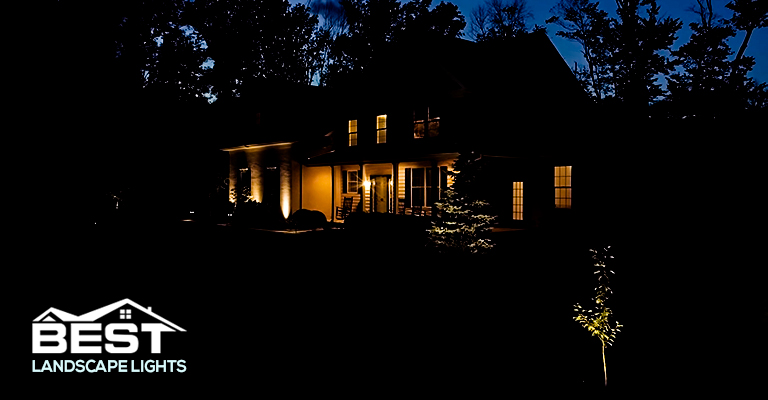 Heavy duty Ones offer Durability
These lights are built to last. Many brands make super durable lights in "Complete" collections. Meaning, you can match your landscape lighting to porch lights, hanging lights and post lights used elsewhere on your property.
Or you could also add heavy-duty lighting to your low-voltage lighting system that is already in use to add highlights to specific areas, for example, garden seats in your yard.
Spotlights Light Up an Area
These exist to highlight specific spots in your lawn or yard. For example, trees, fountains, etc. These come in various shapes and designs, such as pinpoint and flood, so the best idea would be to mix and match these things up to get the perfect light setup in your garden.
LED and LED Bulbs Are Energy Savers
LED takes up lesser energy than halogen or incandescent lights. You can use a less expensive transformer to power your system and it'll work just fine. And since they require next to zero maintenance.
You won't have to go through the trouble of changing the bulbs every once in a while. Choose landscape lights with dedicated LED modules, or, if you have an existing system, swap out the old bulbs for new LED designs.
Deck Lights or Step Lights
If you have a patio with a raised deck or seating area then thee lights will help you get the best out of those areas even at night. You'll get a great looking area, plus these types of lights make deck areas safer and more secure. Look for designs that can be installed on deck posts or added underneath staircases.
Submersible Water Pool Lights
These lights are ideal for pond areas, fountains, pools, and any area in your yard that has water. This type of light has a specialized design that is submersible and waterproof. You can even use them underwater and showcase the beauty of your garden!
Parting Words of Wisdom
Best Landscape Lights are those which do exactly what you want them to do. It might be lighting the entire lawn of yours or shedding light on a specific area. Depending on what you need to do, you'll have plenty of types. Choose the one which best suits your aesthetic preferences and needs.
As far as these products go, I'll recommend URPOWER Solar Lights. These are flexible and deliver the goods when you need them to. Consider my buying guide to make sure you get the ideal product of your choice if any of these items don't fit the bill for you. Do let me know which one works for you in the comments.