Chef's from all around the world are fond of one particular saying:
"We eat with our eyes first"!
And that's actually so true!
When we see what we eat and like its visual appearance, not only our mind tricks us into enjoying that food, but it also enables our body to absorb more nutrients from it.
Needless to say, good food leads to better conversation (where your kids learn to sharpen their wits!) around the dinner table.
Want to have such a happy ambiance at your home that keeps everyone lingering in the dining table for a little longer?
Install the best light fixture for dining room and you will be amazed to see how it changes the whole scenario to a more casual, carefree and comfortable environment instantly!
Just in case you don't want to settle for an ordinary lightbulb, we are serving up some decorative light fixtures in this article that are ready to glam up your dining space in a heartbeat.
Let's take a peek!
Best Light Fixture For Dining Room Review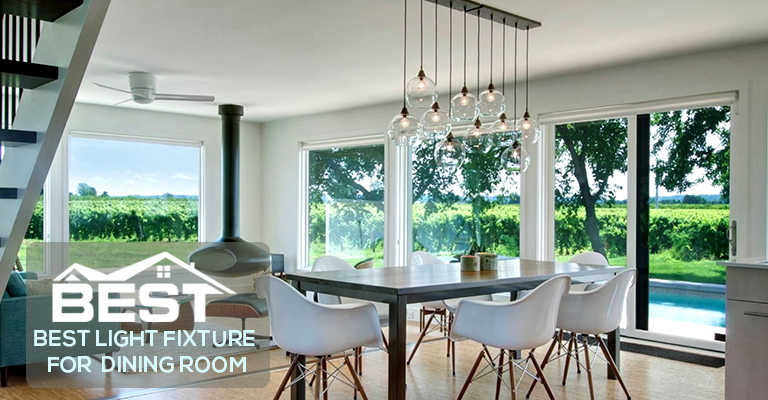 1. Design House 514455 Millbridge 5 Light Chandelier  
The dining room often creates the first impression of a home.
And that's why you want to have a WOW factor in this area that will add a luxurious touch to your house at the very first glance!
The 514455 Millbridge 5 Light Chandelier from Design House fits this scenario well with a dark exterior and an overall sleek appearance.
The crisp alabaster glass and oil-rubbed bronze-finished body of this lamp stand out from the rest of the décor and makes a  statement of its own. Made of formed steel, the lampshade is capable of holding 5 downwards lights altogether in its sprawled arms.
Instead of taking the whole room into consideration, we suggest basing your lighting around your dining table.
Why?
Well, that's the centerpiece of that room and you should take full advantage of it!
Ideally, the pendant above the table should be hanging relatively low so that it can brighten up the entire space evenly.
Keeping that in mind, Design House has included a 48-inch chain that allows you to hang this lamp properly even from high ceilings! This modern light fixture for dining room is rated for 120 volts and requires five 60-watt medium base bulbs to operate.
Highlighted Features
With alabaster glass and bronze-finished body, the lamp looks quite stylish.
It comes with a 48-inch long chain to help it hang from a high ceiling.
It requires only a screwdriver for the installation process.
The product is UL and cUL listed.
Made of formed steel, the lampshade is heavily built.
2. KingSo Three-Light Pulley Pendant Light fixture for dining room
Houses with high ceilings are GOALS!
Not only the wide space above the head looks effortlessly elegant, but it also takes away the cramped-up feeling that other apartments with low-ceilings possess.
On the downside, it's quite a challenge finding the right elements to decorate that huge space!
To help you out of this dilemma, KINGSO has come up with a Three-Light Pulley Pendant Light that's built to add an aesthetic look to any large spaces.
With a canopy that measures about 19×4.3 inches and a ball-shaped hanging structure in the middle, this pendant introduces a unique, geometric appeal to its surroundings as well.
One thing for sure, this lamp is quite big in size and therefore, requires at least 10-feet ceiling height to get installed properly.
However, being big in size didn't stop this lamp fixture from being flexible or awesome!
This pendant lamp comes with a massive 79-inch wire that allows you to bring the light closer to your dining table whenever you want! Just loosen the screw under the canopy and there you have it.
Although the entire thing is quite heavy and all, you can easily remove the ball in the middle and add it later after installing the device to make the installation process go smoothly.
Highlighted Features
The retro design of this lamp help add a rustic charm to your room.
It's suitable for any standard E26 bulbs.
You can adjust the cord length according to your wish.
Made of heat-resistant material, the lamp is quite durable.
3. MEEROSEE MD8825-864MNCW Crystal Modern LED Ceiling Fixtures Dining Room
Crystals are simply stylish elements that help create a romantic ambiance in any kind of home décor.
If you too have a little crush on beautiful chandeliers, then we must introduce you to the MEEROSEE MD8825-864MNCW Crystal Modern LED Ceiling Fixture.
This crystal piece has a look and feel of a royalty. The beautifully cut crystals shine like diamonds when illuminated, making your house look like it's straight out of a fairytale!
The chandelier consists of 3 adjustable circles that are made from polish stainless-steel and rich, top-class K9 crystals.
And when I say "Adjustable", I mean, you can literally change its shape a couple of times and give your room an updated look whenever the mood strikes!
Each of the circles in the chandelier is lit with energy-efficient LED strips that emit 6000K to 6500K of cool white light to brighten up your space. As each of the crystals are cut with precision, the sparkling structure refracts the light and cover a large space nicely.
The installation process is a breeze if you follow the directions that have been given. The product also comes with an adjustable cable that allows you to set it as close to the ceiling as you need for your convenience.
Highlighted Features
The crystal chandelier adds a fairytale touch to your interior.
The changeable shape of this fixture helps keep its look interesting.
The energy-efficient LED strips help save on your electricity bill.
The precisely cut crystals distributes light nicely all over the room.
The product is made of a high-quality stainless-steel plate.
4. DLLT 3-Lights Industrial Semi Flush Mount Light Fixture for dining room
If you are aiming for a standout fixture in your dining space, then the DLLT 3-Lights Industrial Semi Flush Mount Light Fixture might be the perfect match for you.
Why? You may wonder.
Well, for starters, this ceiling lamp is a mix of several different design elements!
On one hand, the drum-shaped structure with dual shades creates a delightful ambiance around the place it's installed in.
And on the other, this semi flush mount lamp with triple bulb sockets gives off a bold vibe that helps add a bit of drama to your dining space!
However, bright and bold lights do not suit all circumstances, do they?
Suppose, you want to have a candle-lit dinner, yet there's no candle in the house. What do you do?
Well, for situations like this, DLLT has made this particular model compatible with dimmers, so that you soften up the brightness and enjoy a little romantic moment with your loved one whenever you want!
Apart from dimmer bulbs, you can also install any US standard E26 bulb for it to operate smoothly. You can also use incandescent, fluorescent or LED as per your convenience.
Highlighted Features
This drum light fixture for dining room is compatible with different bulbs.
It features a modern, bold appearance in your room.
Made from Iron, Aluminum and ABS material, the product is quite durable.
It's compatible with dimmer switches.
It's suitable for mid-height or low ceilings.
5. VINLUZ Contemporary Modern Chandeliers Rectangle Black 5 Light Dining Room Lighting Fixtures
When it comes to dreaming, we aren't afraid to go big.
So, why not apply the same theory for pendant lights as well?
Keeping that in mind, VINLUZ has come up with a Contemporary Modern Chandelier Rectangle Lighting Fixture that creates a focal point in your dining room instantly!
This linear light fixture for dining room features an industrial design with its 5-light pendant structure. Suspended from two adjustable rods, the open rectangular canopy holds 5 clear glass shades in its arm that helps illuminate the dining space according to your wish.
When it comes to choosing the right bulbs for a chandelier, things can sometimes go south if they aren't available on the market.
However, that's not the case with VINLUZ!
This lamp works well with any standard E26 base bulb. You will need 5 of those for this particular model.
Now, the standard bulb is fine and all when it comes to having a regular dinner at home.
However, when you are planning a birthday surprise for the kids or a romantic meal for your significant one, keeping the lights a bit low and moody might be your best move!
To allow you to have that control over the lights, the manufacturer has made this chandelier compatible with dimmable bulbs and switches so that you can alter the brightness according to your wish.
Highlighted Features
The pendant lamp adds a modern touch to your interior.
Made of high-quality hardware, it lasts for a long time.
The chandelier is compatible with standard E26 bulbs and dimmer switches.
The clear glass shades illuminate the space nicely.
Frequently Asked Question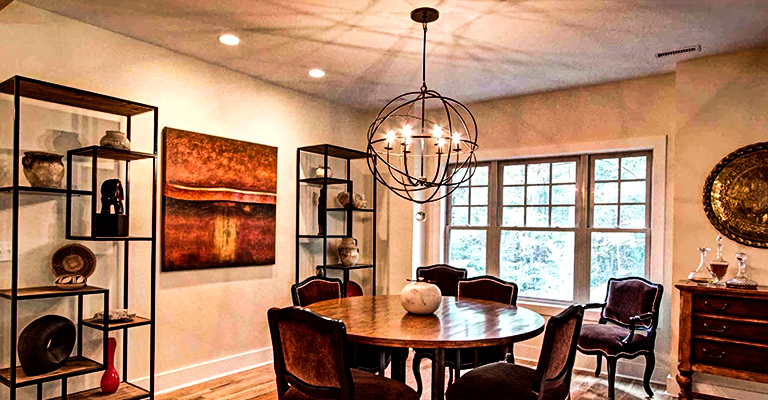 Q: Where Should I Place My Chandelier In My Dining Room?
Answer: It depends on a lot of factors. Like how big the room is, where is your dining table is situated etc. Generally speaking, chandelier looks at its best when it's placed at the center of a dining table.
Q; What Type Of Lamp Would Look Good On Top Of My Dining Table?
Answer: It depends on the shape of the table. If you have a rectangular-shaped table, then linear suspensions or a series of small to medium-sized pendant would look good above the table.
On the other hand, if the table has a round or square shape, then opt for a round central lighting fixture instead.
Q; How Do I Determine The Size Of The Light Fixture?
Answer: To determine the appropriate size of the lamp, first, measure the length and width of the room. Then, multiply those two numbers. Whatever the measures in feet, use the same result, but in inches for lamp measurement.
Q; What Type Of Bulb Is Best For Saving Cost On Electricity Bill?
Answer: You can use incandescent halogen bulbs, which tend to be 30% more energy-efficient than the regular ones. Or, you can opt for CFL (Compact Fluorescent Lamp) as they last 10X times longer than the incandescent bulb.
And if you want the most energy-efficient option out of all these, then go for LEDs that consume 5-6 times less power than other bulbs available on the market.  
Q: How Far Down Should The Lamp Hang From The Ceiling?
Answer: As a rule of thumb, a lamp should hang at least 30 inches above the surface of the table. Any lower than that, you might risk bumping your head into it and cause serious injury.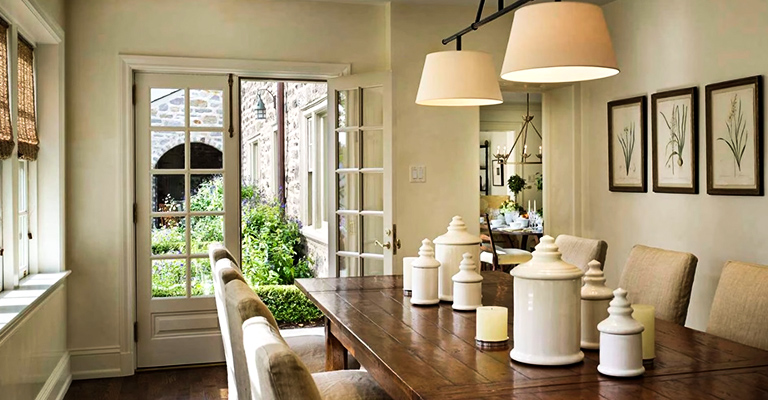 Conclusion
A dining room needs the best possible lighting more than any other area in the house.
It's the place where you entertain your guests with deliciously-cooked meals after all! So, you are totally excused if you want to go a little bit overbroad on this particular expense!
Have you decided on the best light fixture for dining room in your house yet?
While you are at it, make sure the bulb that you are purchasing doesn't have high wattage as that might lead to excessive table glare while eating!
Also, consider layering several different lights together if possible. It complements your home décor by adding a touch of sophistication and creates a comfortable mood that everyone can enjoy!