A closet full of stylish clothes.
Yet, when it's time to pick your outfit in the morning, the wardrobe turns itself into the jungle of "Narnia" where all the good ones seem to magically disappear!
"Where's that navy-blue pant that I bought last week?"
"And the white sneakers that I swear were here just yesterday!"
"Why does this have to happen every FREAKING morning?"
"Argh!"
You end up swinging open the closet door only to grab the same boring outfit in a hurry before getting ready for work.
Does this scenario seem familiar to you?
If yes, then this article is just for you!
Today, we are going to talk about how to make your wardrobe more organized, accessible and easy-to-navigate by installing the best light fixture for closet in your room.
Hey, who knows?
After seeing your old outfits under a new light, you might LOVE them so much that the closet will be your new-favorite mini-store from now on!
Best Light Fixture For Closet Review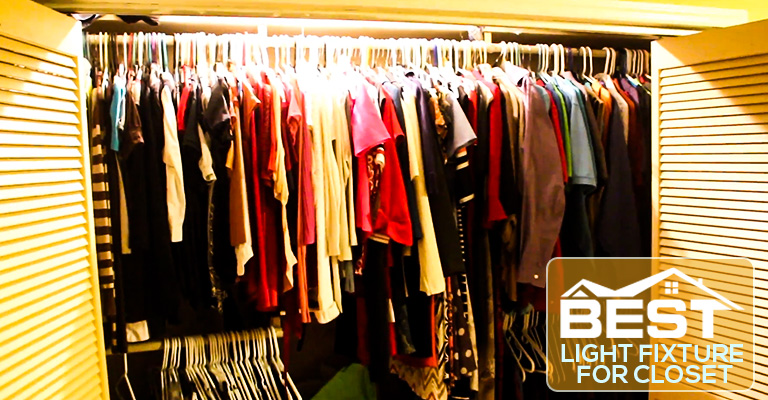 1. Airand 4000K Ceiling Lights LED Flush Mount 18W light fixture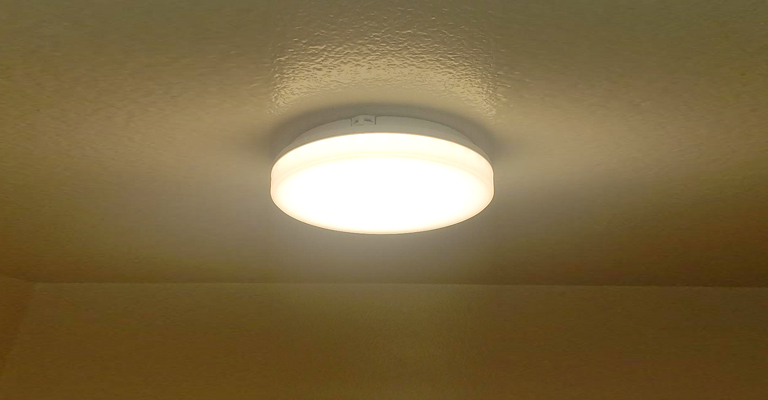 Buy on Amazon
Lighting a wardrobe is quite different than lighting other rooms in your home.
For instance, you don't want gentle lighting in this area that will help you relax! Rather, you need adequate lighting that will help you see everything clearly from top to bottom.
With 4000K of temperature, the Airand Ceiling Light emits a cool white color that's just perfect for this type of setting. Even in a packed closet, you will be able to find your favorite cloth with the help of its 1650 lumens of brightness!
Once you purchase and install this bulb inside your closet, you can just forget it ever existed.
With over 30,000 hours of working hours, this 18W lamp saves you from the trouble of replacing the bulb from the closet's ceiling. The lamp has also passed LVD, EMC, CE, ROHS certifications with flying colors, so you can count on its reliability.
Highlighted Features   
The bulb is built with durable ABS and PC materials.
It has an 80Ra+ CRI rating.
With 18 watts of power consumption, it saves up to 85% electricity bill.
The lamp is LVD, EMC, CE, ROHS certified.
2. Cloudy Bay Motion Sensor Ceiling Light fixture for closet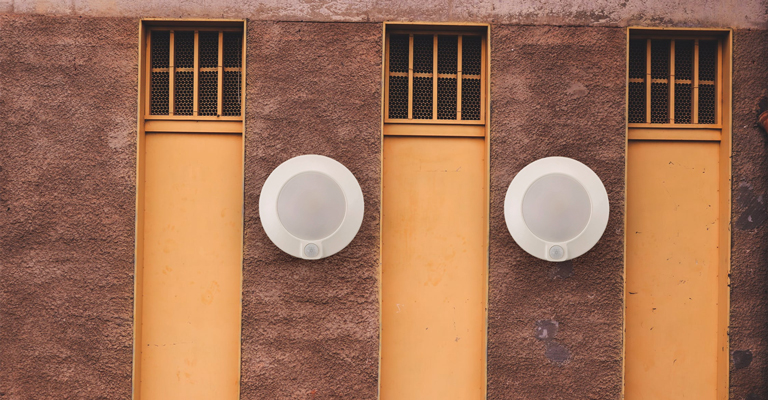 Buy on Amazon
When in a hurry, we often forget to turn the wardrobe's switch off.
And the lamp remains on until the next time you go in there and turn it off manually!
That's a little bit inconvenient, don't you think?
To help you keep your utility bill in check, Cloudy Bay has come up with a Motion Sensor Ceiling Light that brightens up your closet only when you open the door!
The bulb actually activates itself whenever it detects human movement within a 14-feet distance in its surroundings.  And turns off automatically after 30 seconds of inactivity saving you the hassle of even flicking a switch.
This plug in light fixture for closet also produces 640 lumens of brightness and is perfect for giving your closet an instant put-together and stylish look, I must say!   
With such a low-profile design, the 6.5-inch LED can be mounted on a shallow pancake box or even a standard junction box quite easily.   
Highlighted Features
It cuts down your electricity cost by shutting down automatically,
The motion sensor can detect movement within 14-feet.
The lamp is energy-efficient and ETL certified.
Its low-profile design makes it ideal for small spaces.
It generates about 640 lumens of brightness.
3. FaithSail 4FT LED Wraparound 40W 4 Foot LED Shop light fixture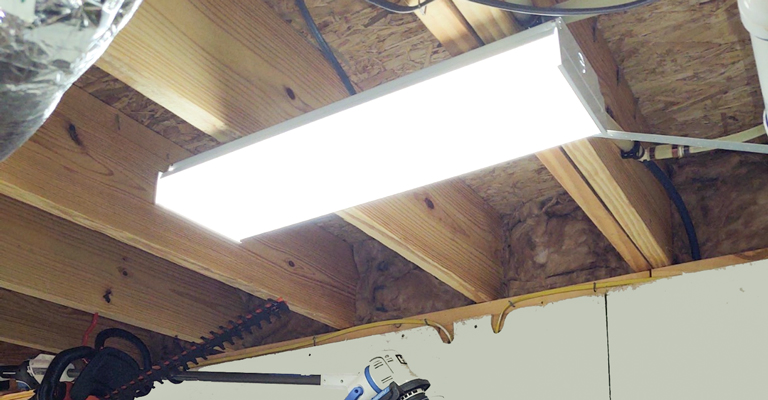 Buy on Amazon
If you are working with a big, open-space type of closet setting, then you are better off installing the FaithSail 4FT LED Light Fixture as it helps illuminate your wardrobe from head to toe with just a single source.
While this tube shines bright with its mighty 4400 lumens of power, it doesn't consume that much energy compared to that.
In fact, it reduces your electricity bill by over 70% with its 40 wattages of power consumption!
FaithSail has equipped this product with an acrylic prismatic lens that maximizes its power output and helps make your wardrobe look even bigger than it originally is. If one LED isn't enough to cover your space, then you also have the option to connect up to 20 of these tubes in line together.
The product is ETL certified and therefore, is suitable for residential and commercial use.
Highlighted Features
The acrylic cover on top of the tube helps distribute light evenly.
The energy-efficient LED bulb reduces electricity costs.
With 4400 lumens of brightness, it can cover large areas quite easily.
You can connect up to 20 of these tubes together.
4. Youtob LED Flush Mount Ceiling Light Fixture for Closets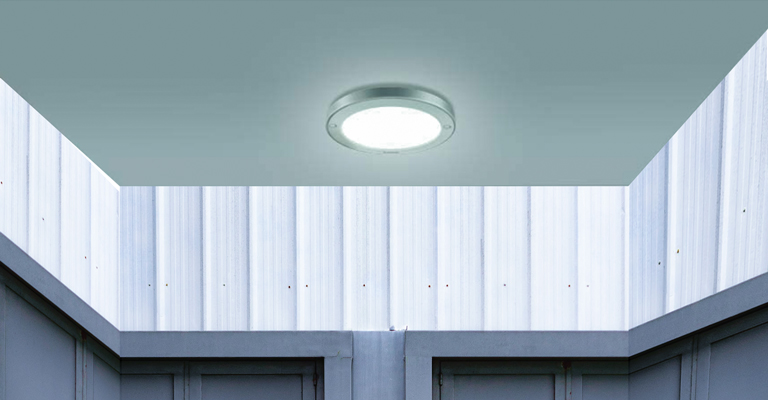 Buy on Amazon
Measuring 8.7×8.7×0.65 inches in size, the Youtob LED Flush Mount Ceiling Light has a slim, round and elegant design that catches people's eyes even in small spaces.
With a 360-Degree beam angle, the lamp casts a smooth shade around its surroundings that makes even a not-so-tidy wardrobe look decent enough! 
No matter how small your closet is, you will be able to see  every nook and corner as Youtob LEDs produce 1200 lumens of brightness and 4000K temperature of powerful light.
Don't judge by a book by its cover though!
Although the lamp shines bright, it consumes only about 15 watts and saves up to 85% in your monthly electricity bill. With little to no maintenance, this bulb can last more than 30,000 hours and performs efficiently throughout its entire lifespan.
Highlighted Features
It has a slim, round shape that's ideal for small spaces.
With a brushed silver exterior, the bulb looks pretty stylish.
All the mounting hardware required for installation is included.
It is energy-efficient and consumes less amount of power.
The 1200 lumens of brightness is pretty powerful.
It lasts over 30,000 hours with no difficulty.
5. AntLux 2FT LED Wraparound Flush Mount LED Garage Lights fixture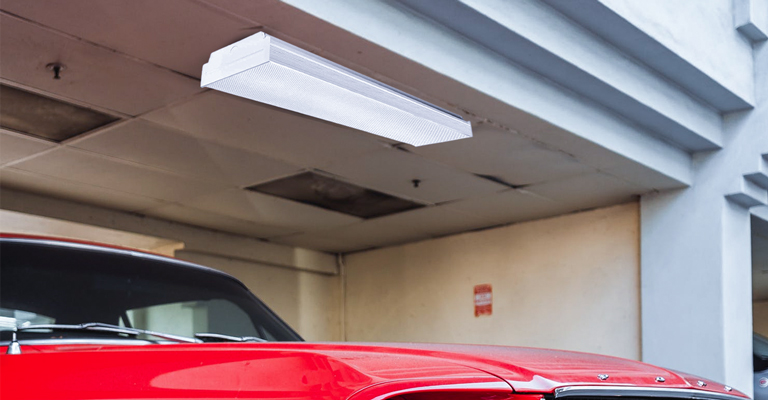 Buy on Amazon
The clothing that you have stored in your wardrobe will fade over time.
It's natural.
But you can slow it down if you want!
Incandescent and fluorescent tubes are known to produce a significant amount of UV (Ultra-Violet) ray that accelerates the fading of fabrics.
That's why, it's best to opt for a LED lamp like the AntLux 2FT LED Wraparound Flush Mount, which produces no harmful UV-ray and keeps your favorite clothes safe.
The 20-watt LED light fixture for closet produces 2400 lumens of output and gives you a chance of organizing your stuff inside the wardrobe regardless of what time of the day it is!
Although the bulb produces considerably more brightness than an incandescent or fluorescent one, it still doesn't consume that much power to do it. Once installed, it operates smoothly for over 50,000 hours without requiring any sort of maintenance.
Highlighted Features
It saves up to 70% on your utility bill.
The bulb doesn't contain any harmful UV-rays.
It comes with 50,000 of maintenance-free working hours.
Made with high-quality material, it performs efficiently.
The ETL certified lamp is reliable and safe to use.
6. Albrillo LED Flush Mount Ceiling Light fixture for closet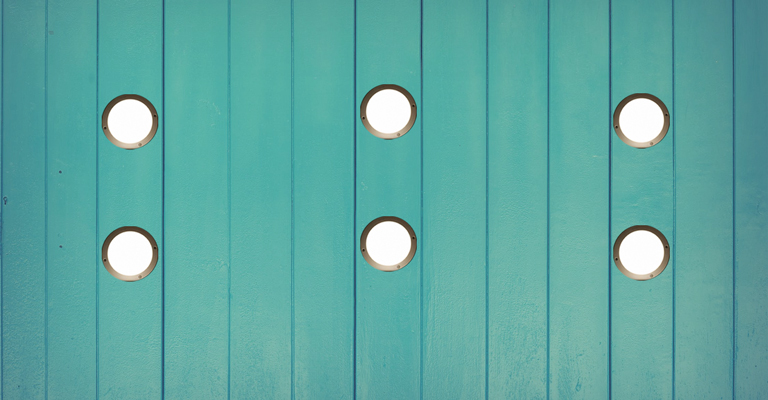 Buy on Amazon
When it comes to clothing, it's important to see the color as it is.
You might wonder, what does it mean?
Well, the bright red-colored shirt that you own might look a dull orange color under the wrong light! Especially, if the CRI (Color Rendering Index) of the lamp is below 80.
Fortunately, the Albrillo LED Flush Mount Ceiling Light Fixture ticks all the right boxes with its 1400 lumens of brightness and an impressive 80+ CRI score. The lamp is ideal for small spaces like walk-in closets, balcony or kitchen areas.
While installing a lamp inside your wardrobe, it's important that the light reaches all corners effectively.
With a 360-Degree beam angle, this LED flush mount lamp does that perfectly! The 3000K warm white-glow from the lamp is also ideal for closets that have a mirror inside it to showcase how beautiful you look in every outfit.
Highlighted Features
The acrylic lampshade cover helps protect your eyes.
The 18-watt LED saves up to 85% of electricity.
The installation takes less than 10 minutes.
With 30,000 working hours, you don't need to replace it frequently.
It comes with a 360-Degree beam angle.
7. Luxrite LED Flush Mount Ceiling Light fixture for closet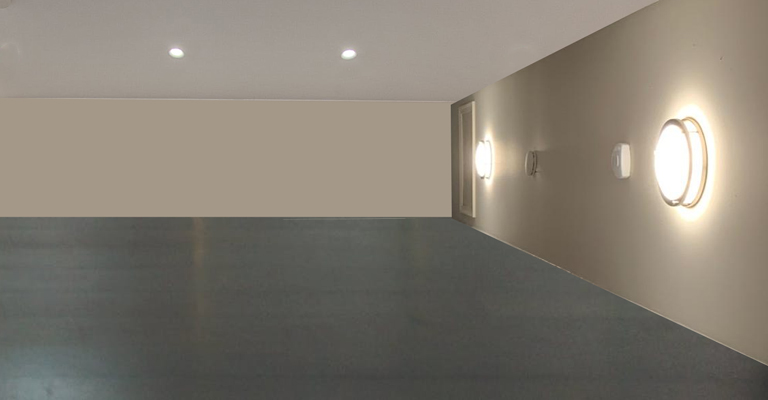 Buy on Amazon
While standing in front of the mirror inside your closet, you may have wondered if the grey suit that you are wearing would look that much smashing under different lighting.
Well, it's time you find out!
The Luxrite LED Flush Mount Ceiling Light comes with a dimmable feature that allows you to control its 100-5% output to suit your needs!
With 32 built-in LED chips, the lamp provides a whopping 1000 lumens of brightness for you to enjoy. The lamp doesn't flicker, switches on instantly and last for more than 45 years with little to no maintenance. Amazing, isn't it?
Wait, there's more!
Each of the 10-inch Luxrite LED lamp comes with 3000K of color temperature that brightens up your wardrobe with a soft white light that doesn't put strain into your eyes.
Featuring a brushed chrome finish and slim design, the lamp is stylish enough to suit all sorts of modern and traditional home décor.
Highlighted Features
The lamp is Energy Star and ETL certified.
It comes with 32 built-in LED chips.
The lamp produces 1000 lumens of soft white light.
The dimmable features allow you to see yourself in different lightings.
It has more than 50,000 working hours.
Frequently Asked Questions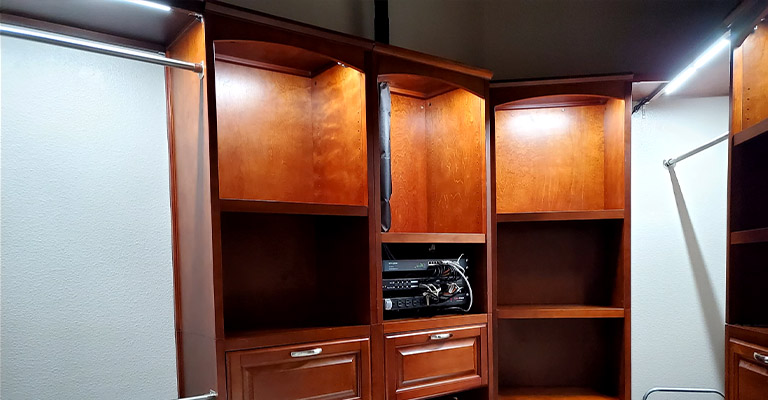 Q: What Type Of Lamps Are Not Suitable For Closets?
Answer: When it comes to brightening up a small, enclosed space like a wardrobe, it's best to avoid Halogen fixtures. These bulbs tend to produce a lot of heat and therefore, pose fire hazards if they come in contact with flammable materials.
Q: What Color Temperature Is Ideal For Illuminating A Closet?
Answer: It depends on your preference. In general, if the color temperature stays between the range of 2500K and 3500K, then it produces a clean, white light that allows us to see the fabric's original color pretty easily.
Q: Should I Get A Pendant Or Flush Mount Or Motion-Sensor Lamp?
Answer: A pendant lamp isn't suitable for such small spaces!
Flush mount lamps are better suited as they can fit into almost any place. Motion sensor lamps are the best if you like automated devices. You can also opt for pull chain light fixture for closet if that suits your style.
Q; What Type Of Bulbs Are Safe For Wardrobes?
Q: It's always a good idea to go with bulbs that are concealed with glass or a cover. Also, when you store your clothes in the wardrobe, make sure there are at least 12 inches of space left between the lamp fixture and your clothes.
Q: Should I Purchase A Dimming Bulb Or Not?
Answer: It's always good to have options in your hand.
If you have a big walk-in closet with mirrors inside, then you will be able to click some insta-worthy selfies while you are trying out different outfits! Dimming effects help soften up your appearance and create a relaxed environment at the same time.
Conclusion
Closet is a pretty confusing place, to be honest.
And it becomes even more chaotic when you are fumbling around trying to find a pair of sock in total darkness!
You don't want to feel like you've just entered into an interrogation room once you open its door, do you?
Then, install the best light fixture for closet, light up the whole space, get ready in style and feel like a VIP shopper while checking out your cool outfit in the mirror!
Hopefully, our article has helped you find the right one that makes your little space feel safe, bright and functional all at the same time.
Till next time, stay fashionable!