A room with a limited amount of space can be elegantly decorated with arc lamps. What about arc floor lamps? I came across this question on a forum while browsing around the internet for good ideas.
My arc lamp finally arrived, but I don't know where to put it. There are no nooks and crannies left in the living room, not even by the couch. The lamp should be positioned, so it doesn't compete with the artwork or decals.
In addition to lighting, arc lamps also serve as decorative elements. You may want to consider arc lamps. Lighting up a room with one of these lamps never goes out of style.
Consequently, they're going to change your home for the better. Since these lamps stand out, they don't blend in with your decor. Therefore, if you are thinking about getting one of these lamps, we will give you some decorating tips to make it look good.
The '60s saw a rise in popularity with these lamps. As a result, they were the exclusive property of wealthy people with modern houses. Arc lamps have now become affordable for everyone.
A lamp with good light output and a stylish stand is the best option. There are so many designs to choose from that it is sure to catch your eye and complements your home's decorative style.
Where Can I Put An Arc Lamp?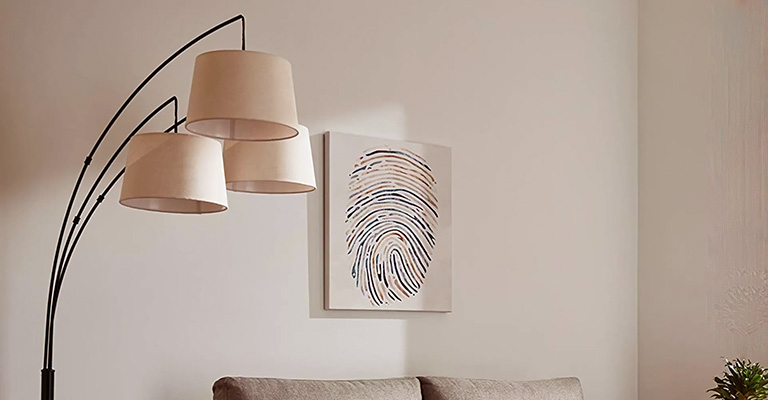 If you're not sure where to place the lamps, we'll show you how to decorate with them. It can be difficult to place arc lamps since they have a particular shape. The following are some places where arc lamps can be used to decorate.
Beside A Dining Room Table
Dining rooms and dining areas in houses usually include a large table with seats for the entire family. A lamp like this would work well here. Make sure that it is in a corner and preferably close to a wall.
Thus, it will not be in the way in a crowded area. The bulb should be shaped in a way that it can illuminate the entire surface of the table.
Reading Area
An inviting reading area can be created with just three elements that have a different feel than the rest of the room. 
Three of these items are an arc lamp, a rug, and an original sofa. You can set up this reading area, where you will also be able to relax, in your bedroom as well.
Living Room
Arc lamps are also perfect for the living room. The corner created by two perpendicular sofas makes a perfect place to place a lamp.
Arc Floor Lamp Ideas – To Place
Adding an arc floor lamp to a room has always given it a more sophisticated look. The over-extending arm of the furniture makes it easier to place it in a room due to its large size. Here are some of the best ways to incorporate an arc lamp into your interior.
1. In A Corner
The arc floor lamp base should be placed at an angle. Arc floor lamps look great in corners, so they would be an obvious choice depending on their design.
You should put that tall, far-reaching lamp in the corner if you have one. In order not to obstruct anyone's movement up and down, make it as wide as possible.
2. Close To The Wall As Possible
Arrange the arc floor lamp so that the base is as close to the wall as possible, ideally behind a sofa, but not directly on it. Although a little similar to the above idea, this one doesn't have to be hidden behind a sofa. A wall up against the ceiling is a good place to put it.
You may be able to put your arc lamp next to your favorite piece of furniture in the middle of your large living room if you have a large living area to work with.
If your room is smaller, you are just as likely to use an arc lamp. Large rooms are not the only ones they are suitable for.  It'll look great next to a wall.
3. Saving Table Space
Take up the entire tablespace, save the table lamp for the area where you are reading or studying. You can make sure that you have a lot of desk space with this simple but effective solution. By doing so, it makes the ideal workspace an even better one.
4. Behind The Sofa
Overreaching but behind the couch seating area. When you walk around, you can avoid the base of the arc lamp if you place it behind the couch.
Furthermore, it is conveniently located in case someone wants to turn it on, so they can light the main lighting without getting up.
Consider that it could interfere with getting up when you are standing. Please ensure that your headspace is clear.
5. Lighting Up Dark Corners
Lighting up the dark corners of a room by facing a corner. Psychological tricks such as this are always effective. Obviously, it will only work when there are other sources of illumination in the room.
You can make a room brighter and appear larger if you make sure light reaches every corner. This will help you feel more comfortable.
Decorating With Arc Lamps – Things To Consider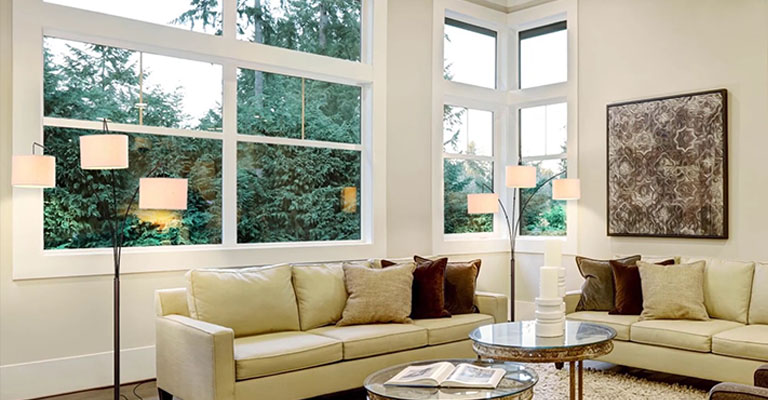 Home décor can be enhanced with the choice of home lighting. It makes it possible to create your own spaces and add warmth to each room. For lighting, you have a lot of choices. For example, floor lamps and table lamps are the two most popular lighting.
A floor lamp can be placed anywhere you have empty floor space, making arc lamps the most versatile. Depending on your interior design, you may find a variety of styles and designs on the market. An arc floor lamp can also be assembled quickly and without much difficulty.
How to Place an Arched Floor Lamp
Here how to place an arched floor lamp.
1. Take A Measurement Of The Room's Size First
This is the first thing. Lamps with arch bases tend to be tall. So, you must not ignore the height of the arc floor lamp. Before purchasing the lamp measure your ceiling. Thus, when you go to the store, you'll be able to decide on the right lamp for your room before you enter.
Between the lamp and the ceiling, there should be a distance of at least 30 centimeters. Unless this is properly achieved, the lamp will appear enclosed between the ceiling and wall. It will look ugly and unattractive.
Their bases are usually small. Therefore, even if you have limited space, there is still room to accommodate it.
2. Decorate The Living Room With Arc Lamps
The second part is to decorate the living room with arc lamps.  An arc lamp's spectacular design makes it a major feature in a room.
As soon as they are switched on, they produce an intense light that attracts attention. In addition to their decorative function, they are also an important design element when switched off. When decorating your room, make sure your lamp plays an important role.
With an arc lamp, the rest of the furniture and decorations can be influenced. By making it the focal point of a room, the lamp will stand out.
Put it on the floor where its height is equal to or higher than that of the furniture around it. In addition, don't surround it with anything that prevents you from seeing it.
Final Thoughts
If you want the lamp to stand out in the room, make it the central item and let it stand out from all the other items. Consider the chair backs when choosing an area to place it, for example, to illuminate a table. The same applies to places like a reading room or beside an easy chair.