Basements need extra thought and care since those sunken places can't get enough natural light and ventilation. To make your basement function as a comfortable space, you need to develop a solid lighting plan. 
If you are muttering to yourself, 'But how can I improve lighting to my basement? I need ideas', then you are in the right place. In this article, we have discussed the natural and artificial ways to improve the basement condition so that it doesn't feel like a cave. Let's have a look!
How Can I Improve Lighting to My Basement
There are several ways to improve the lighting condition in the basements. Some of these processes can be used when remodeling or constructing the house and the rest others at any time.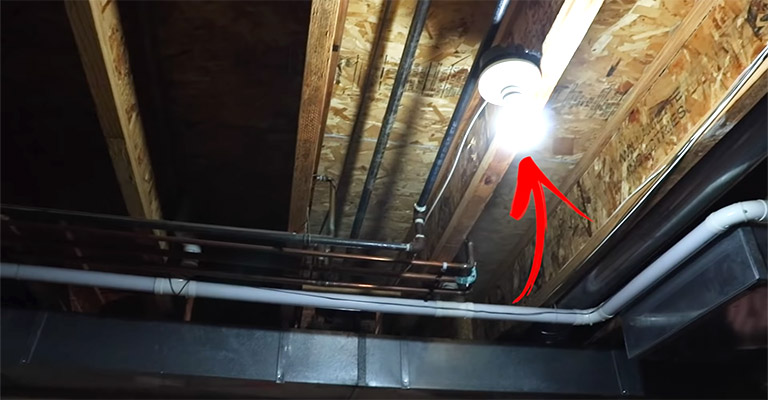 Build Egress 
You have most probably seen an egress window which is a bit like a well dug next to the foundation. These egress windows can provide more light into the basement than the half windows that are placed just above the foundation. To get more natural lights, you can add several egress windows in your basement.
Not just for the natural light, but to also follow the building codes you should add an egress window in the basement, specifically if you want to make a bedroom there. Because you need at least two openings in the room in case of emergencies.
In order to get a secure basement, make sure to buy egress windows with a lock system. You can also consider purchasing energy-efficient egress windows since they can cut down energy bills. You will need to make sure the installation is air-tight to get the best result.
Opening the Floor Plan
Another way to improve lighting in your basement is by rearranging the floor plan and the furniture. The walls and furniture can block the flow of light and make the basement look darker. Avoid building too many walls and especially not in front of the egress window.
Solar Tube
As the name suggests, the solar tubes, sun tubes, or light tubes are the tubes that are used to transmit solar or natural light using a series of mirrors. The tubes are usually placed on the roof or exterior walls based on the place that gets most of the light of the day.
You can light up the tight spots of your basement where the egress window can't even light up. The downside of this process is that it doesn't help at night, you can't control it or it is not suitable for every house and also you have to sacrifice closet spaces on the upper floors.
Mirror 
If you really get how the solar tubes work, you can understand that the mirror is the hero of the story. If you hang some mirrors in the basement, the light from the egress windows and any other source will be reflected throughout the basement, improving the lighting down there.
But you need to plan strategically to get the best result since a bit of change in the angle will affect the amount of light reflection. You can use a flashlight by placing mirrors in different angles and get an idea of how you will need to plan.
Different Light Types
Different types of lights are suited for different spaces and occasions. For example, recessed lighting is the perfect fixture for basements. Since recessed lights tuck out of the way, they work so well in the basement. If you are okay with general lighting and don't need light zones, you can try ceiling lights.
For the ultimate flexibility, you can use floor lamps in the basement. You can carry them to the place where egress or other light can't reach. Sconce lights are attached to walls; you can also add them to your basement.
Track lights are also super flexible and they are well suited for low basement ceilings that are less than 8 feet tall. Tray lights can also be installed on basement ceiling trays. You can attach rope lights or LED lights in the tray and control them using an app on your phone.
Brightness 
If you are remodeling your basement, you can try adding up some lights with more brightness. It can be costly at first, but being able to control the light and brightness can be worth the shot. The colors of your basement wall can improve light brightness, so try making the basement walls All-white.
Build-in Flexibility 
You can add some flexibility to your permanently built lightings. Maybe setting up lighting zones, adding dimmer switches, or installing switch-controlled receptacles help in improving the lighting condition.
Walk-out Basement
A walk-out or daylight basement is suited for a house located in sloped terrain. The downslope side can create an opening to the basement that can be used as a door as well as a source of light. Although creating this type of basement is too costly and elaborate.
FAQs 
How many lights do I need for basement lighting?
Since basements are dark, you will need about 5 lights depending on how large the spaces are. You can add one or two extra lights for any emergency.
Can I use a fluorescent bulb in an unfinished basement?
No, the unfinished basements are cold and damp mostly, that's why harsh unwelcoming fluorescent light should be avoided. You should go for the soft white bulbs that provide warmer light. Read this article to light an unfinished basement.
Final Statement
The answers to 'how can I improve lighting to my basement' are many. The best trick is to go for the options with natural light for daytime and controlled lights for nighttime. They may seem costly when installing, but the energy efficiency will pay you back a hundredfold.